Category: Suunto
A pre-able to tuesdays' race report for XTERRA USA Champs, Ogden.
Created on 28 September 2009
1 Comment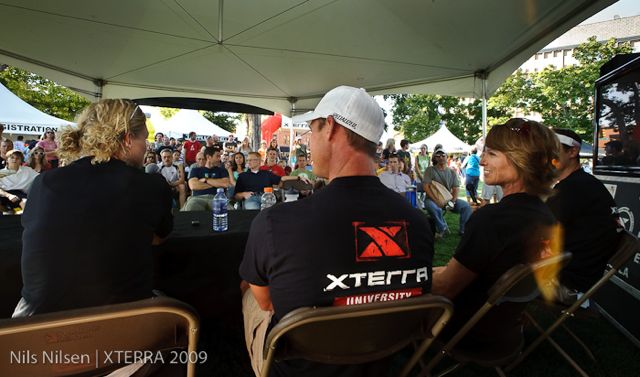 Melanie McQuaid, myself, Shonny Vanlandingham and Josiah Middaugh "teaching" The Art of XTERRA at the Paul Mitchell XTERRA University.  Pics by Nils Nilsen
I dont have 3hrs to write a good race report right now, but I know monday everyone spends half the day on their Facebook and reading about the weekends race results before real work starts, so here is a quick little something something about the weekend.
I'm driving to Reno today (9hrs) so I can get back to training for Maui in 4 weeks.
I finished 2nd behind Nico Lebrun on this mountain goat course, but nailed my 7th XTERRA USA Series title. More about this tomorrow.
This is a quick peek at this whirlwind weekend.
THE XTERRA U.S. PRO SERIES SHOWDOWN…err, THROWDOWN!
Created on 24 September 2009
2 Comments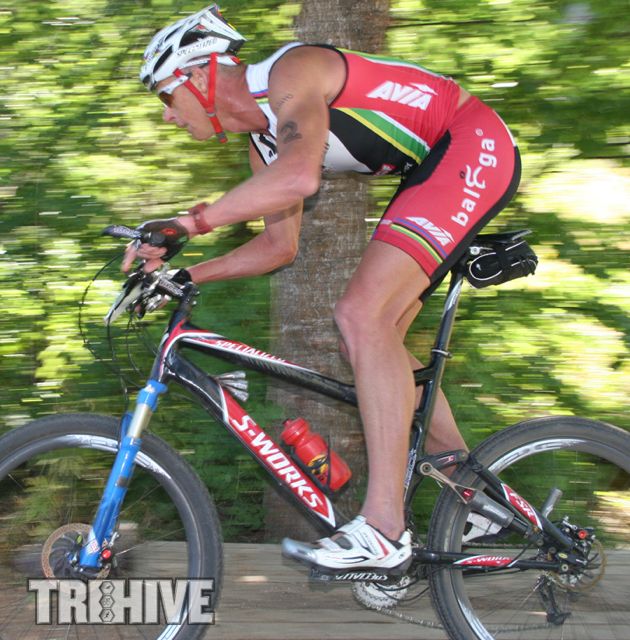 XTERRA Utah 08
Saturday I will toe the line for my 7th XTERRA USA Series title. The Series title points to consistency throughout the season. After consistently winning a few races earlier this year, I got a nail through the tire in Idaho, and cut my foot in Richmond. (go here to see those juicy pics again) Those setbacks, (setback seems to be  a Caveman consistency in itself) means that the points are closer than I would like. I really dislike this course- its lots of climbing and a little bit of down hilling.  2800ft of down hilling is lost with this point to point race up the site of the 2006 Winter Olympic Super G course.
That said, Ogden is a great town, the people are really welcoming and the scenery is amazing. The trees are turning red and yellow on the mountain slopes. The Utah Sports commission is putting a lot of money into promoting sport and sports events in the state, and they are quickly building a sportsman destination reputation.
I borrowed this piece below from the www.XTERRAplanet.com newsletter. For press info, and pics, say you are a journalist and want to be placed on the mailing list, email Trey Garman.   For video on previous XTERRA races, go to www.XTERRA.TV
"It all comes down to this.  The 8-stop XTERRA Cup Series for professionals that started in early May wraps up with the ultimate showdown of XTERRA's best on Saturday, Sept. 26 in Utah.   And when we say the best, we mean it as the top 13 ranked men and women are on the start list – the lone exception being fourth-ranked Dan Hugo who just suffered through two weeks of a severe flu and painstakingly decided to stay home in South Africa to build an 8-month-base of training so he could tackle 2010 with a vengeance.
2008 XTERRA athletes of the year
Created on 22 January 2009
2 Comments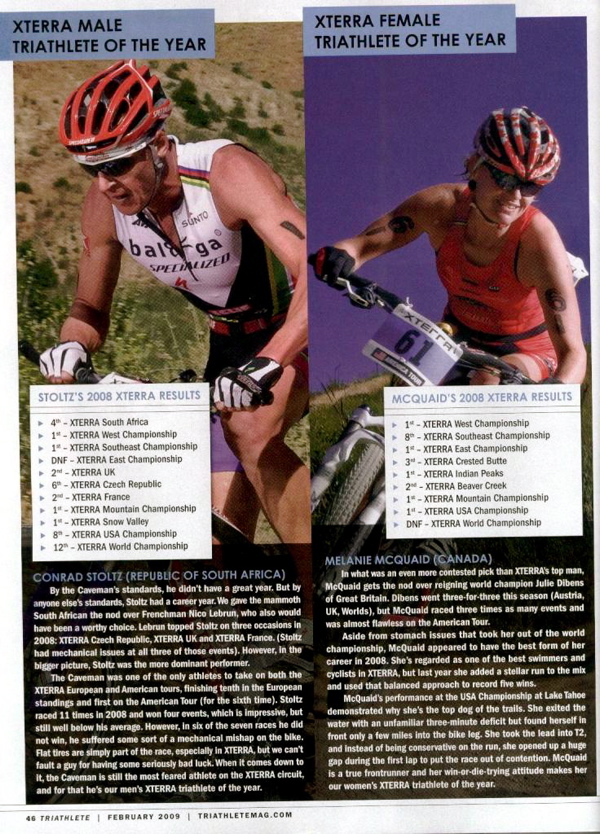 York Timbers Sabie Experience mountain bike race. 2008
Created on 17 December 2008
1 Comment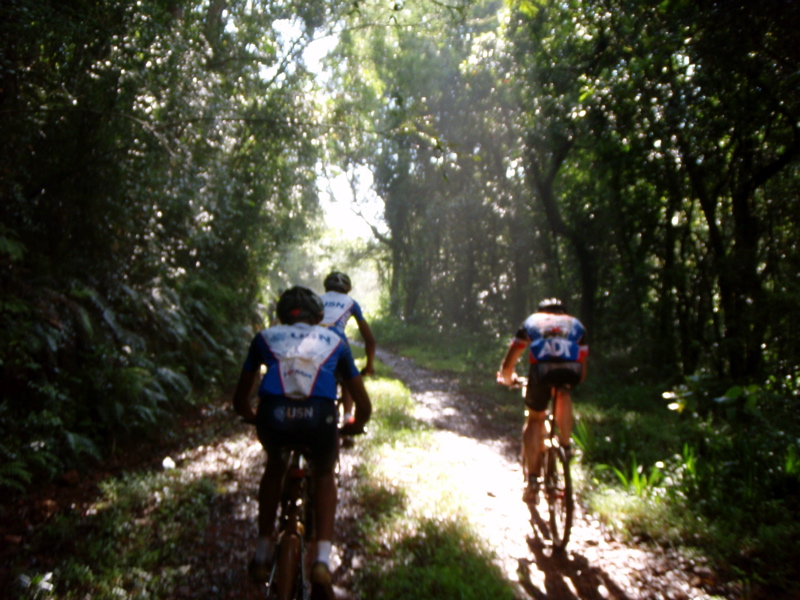 I just got back on the farm after riding 3 of the 4 days of Sabie Experience. Sabie is only 80km from our farm and when my good friend (and Specialized Factory team damager) Bobby Behan said we were invited to ride, we couldnt say no. Despite still being in the midst of "ice cream and beer season".
Turns out were were guests of Ian van der Walt and his newly formed DCM racing team. What a fun group of characters. After 3 days of hanging with these guys my voice box hurt more than my legs. Not they they are slow – its just that the amount and intensity of chatting, cajoling and prank playing was significant.
The Running Event: The Suunto Story
Created on 20 November 2008
0 Comments
The Suunto booth was just a few spaces from the Balega booth. As I went over to say "hi" I was pleasanty surprised by this poster they had. Larger then life. It was taken at XTERRA Snow Valley in CA, where I raced with my new limited edition, customized Suunto t6 Red Arrow. The one with the cool new transmitter belt. I also used the Foot POD, but between the altitude, the thick sand and the steep hills, the numbers were'nt impressive.
Thanks to Courtney and Susan for many a laugh at the Suunto booth.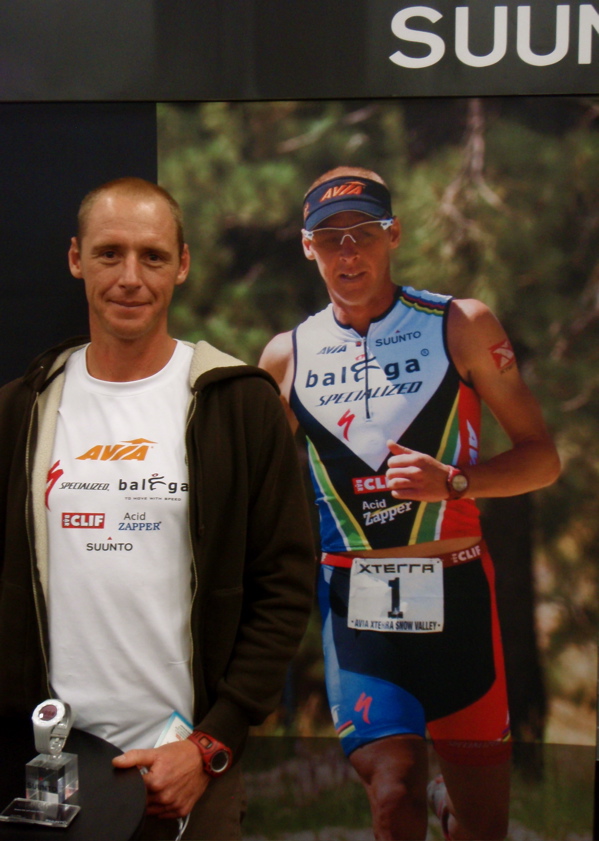 Photo by Rich Cruse 2008