Category: Power file
Caveman 3rd at South African Time Trial Champs
Created on 07 February 2014
12 Comments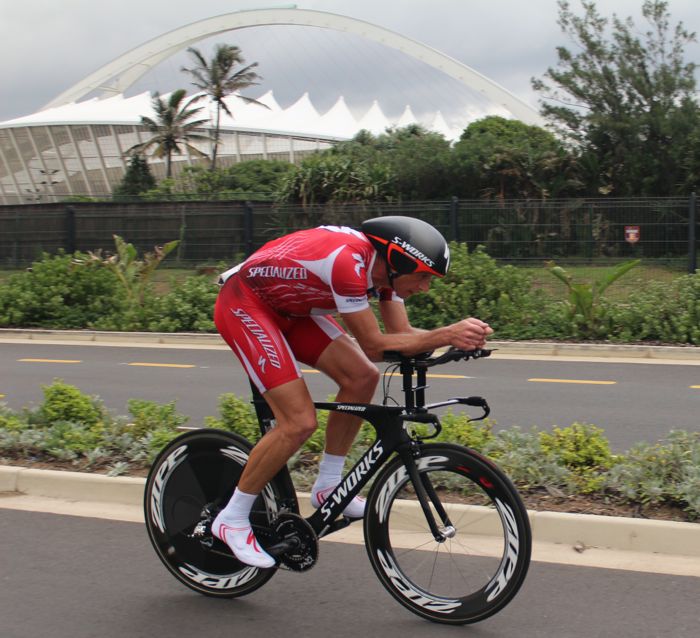 51:46 for 40km. 46.6km/h, 423W. Age 40.                                 All photo credits: Liezel Stoltz unless stated.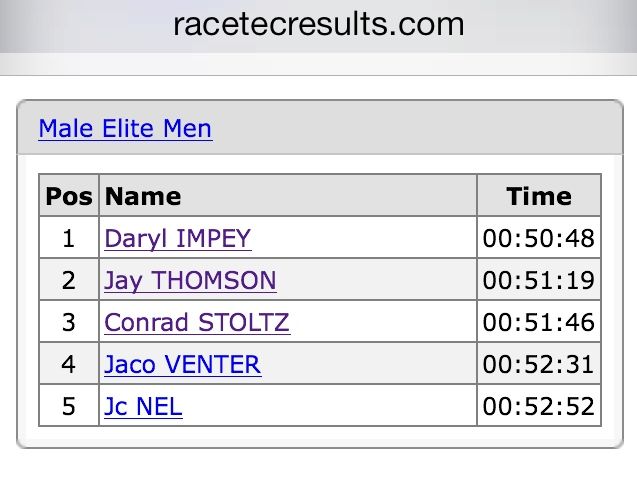 Hats off to Louis Meintjes, current U23 World Road Race Silver medalist who actually rode a few seconds faster than me to smash U23 Nationals. Keep an eye on the little climber…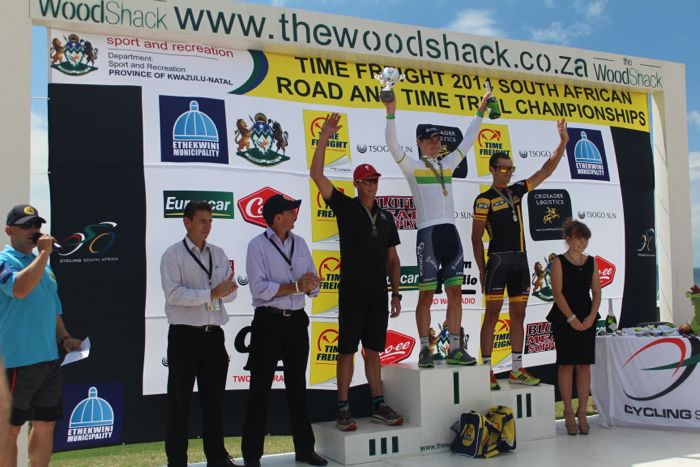 Its a huge honour to stand on the podium next to South Africas' cycling superstar Daryl Impey from Orica GreenEdge.
Daryl wore the Tour de France's yellow jersey for 2 days last year and was the 1st South African ever to don the coveted jersey. His team also took 2nd at the Team Time Trail (TTT) World Champs last year and he finished 7th in the Tour Down Under last week.
On the 2nd step there is MTN Qhubeka's TT strongman Jay Thomson. This is Jays' 4th consecutive 2nd place at SA TT Champs!
Technical stuff: Pacing, riding to power, warm up etc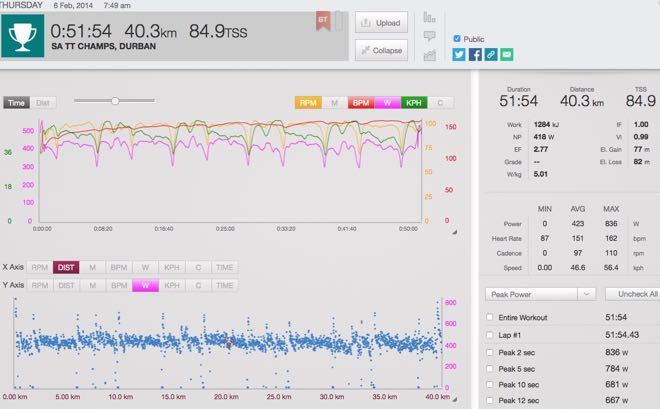 Click here for Training Peaks power file: http://tpks.ws/rBP
Course: 5 laps of 8.2km on a flat course with slight wind and 1 U turn and 2 other tricky corners. Hot and humid.
Caveman Lap times:
10.20
10.21
10.23
10.21
10.21
Warm up felt awesome, power was good, legs came round nicely after some much much needed massages earlier in the week. Click here for SA TT Champs Warm Up power file
1st 2.5 laps (of 5) felt awesome and went by real quick – holding 430W was no problem and I was sure it was sustainable. HR was good and low still. Into the windy stretch up the back of lap 3 I overcooked it just slightly,
Caveman's South African Time Trial Champs 2012
Created on 16 March 2012
0 Comments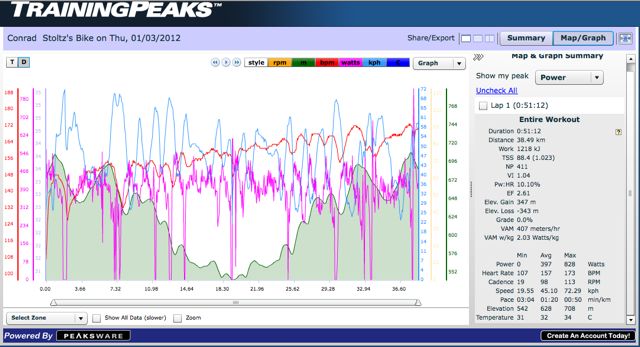 Caveman finishes 6th at South African Time Trial Champs

Time: 51.18. 38 Seconds behind the winner, Reinardt Janse van Resnburg. But only 4 seconds behind Darren Lill, who a year ago won and  beat me by a minute, and 18″ behind SA cycling legend Robbie Hunter.
Speed: 46.77 km/h (28.5 mph)
Position: 6th Elite man
Normalized power 411W. Average 397W. What IS normalized power? Because of the serious rolling hills in the course. I had a 55×11 gearing but still spun out at 72km/h(45mi/h)- so I tucked and saved the powa for the climbs on thee way back.
I was happy with my ride- considering the TT was only 4 days after XTERRA Grabouw – from which I had some seriously sore quads for 3 days.
For the geeks, here is the power file:
http://www.trainingpeaks.com/sw/KVEQMHS27LBP3YZHZRKLMQVOLA
As you can see on the graph, (Click on the image above of follow link below to Training Peaks power file) the course in Nelspruit was very hilly. Big rollers, losing altitude on the way out and climbing the nasties on the way back. The course had a whopping 347m in elevation gain over 40km or 38.49- depending how you feel about GPS measuring distance and speed over hilly terrain…
A power file for the bike geeks
Created on 11 August 2010
1 Comment
Got this new toy from the good folks at Specialized. Quarq power meter which I run through a Garmin Edge 500 ANT+ unit. I'm new at using these tools. All I really need is Watts and interval time, but this thing is loaded with info- easy to get lost. Disappointed in the vagueness of the power curve on "Charts". The "Splits" page has so much info- can one edit out items like speed, temp and calories to make space for the important stuff?  Was perplexed by the ghosting of the "Lap" button- it pressed itself a few times- hence the random intervals in warm up and cool down…  I'm using the free Connect Garmin software.  Suggestions welcome- Facebook is easiest way to communicate.
Coach Ian Rodger cooked up this session:
Workout: 8x5min hills at 440-450 W.
Actually it was 10 reps, but it was 93Deg F (34C) and 1500m altitude (5000ft) – instead of the 1100m (3500ft) where I was supposed to do this session- always leave a rep or 2 in the tank- didnt want to blow a gasket.