Caveman 3rd at South African Time Trial Champs
Created on 07 February 2014
Last Updated on 15 May 2015
12 Comments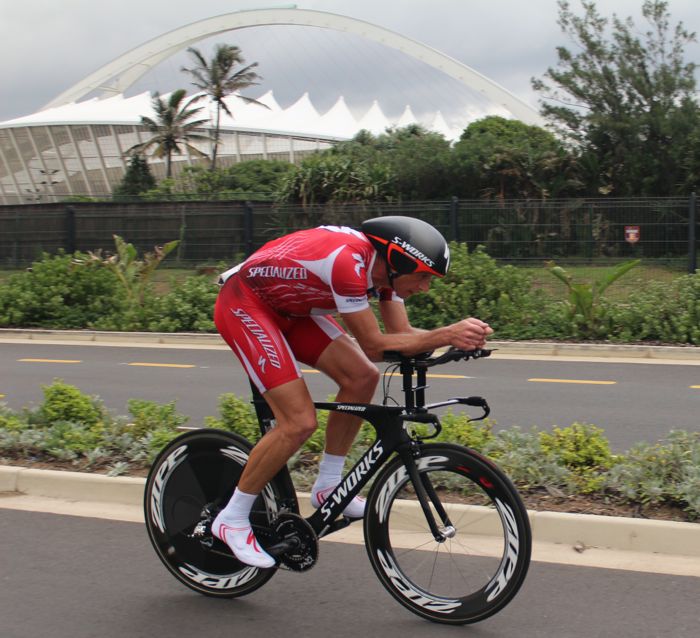 51:46 for 40km. 46.6km/h, 423W. Age 40.                                 All photo credits: Liezel Stoltz unless stated.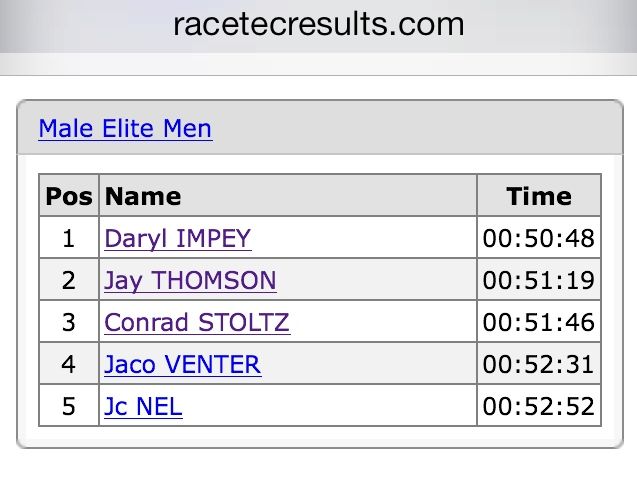 Hats off to Louis Meintjes, current U23 World Road Race Silver medalist who actually rode a few seconds faster than me to smash U23 Nationals. Keep an eye on the little climber…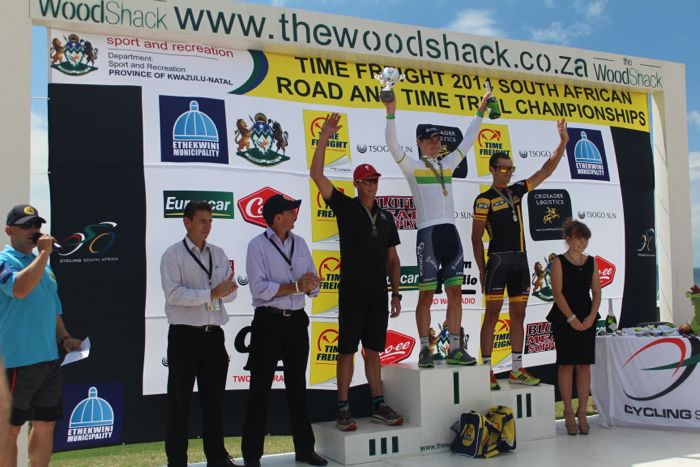 Its a huge honour to stand on the podium next to South Africas' cycling superstar Daryl Impey from Orica GreenEdge.
Daryl wore the Tour de France's yellow jersey for 2 days last year and was the 1st South African ever to don the coveted jersey. His team also took 2nd at the Team Time Trail (TTT) World Champs last year and he finished 7th in the Tour Down Under last week.
On the 2nd step there is MTN Qhubeka's TT strongman Jay Thomson. This is Jays' 4th consecutive 2nd place at SA TT Champs!
Technical stuff: Pacing, riding to power, warm up etc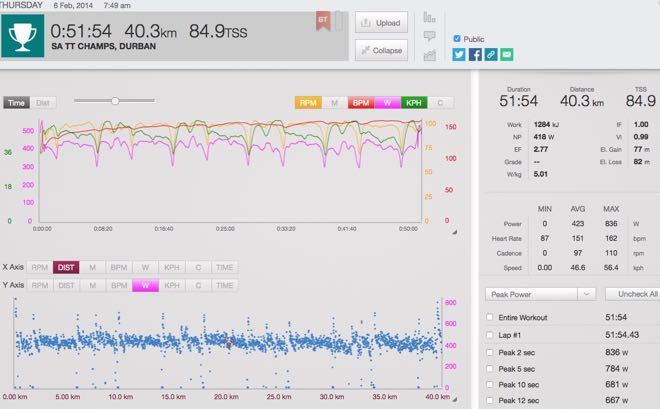 Click here for Training Peaks power file: http://tpks.ws/rBP
Course: 5 laps of 8.2km on a flat course with slight wind and 1 U turn and 2 other tricky corners. Hot and humid.
Caveman Lap times:
10.20
10.21
10.23
10.21
10.21
Warm up felt awesome, power was good, legs came round nicely after some much much needed massages earlier in the week. Click here for SA TT Champs Warm Up power file
1st 2.5 laps (of 5) felt awesome and went by real quick – holding 430W was no problem and I was sure it was sustainable. HR was good and low still. Into the windy stretch up the back of lap 3 I overcooked it just slightly, and instead of picking it up the last 2 laps, I was struggling to hold good, consistent power. Princess Hotstuffs sign language showed 3rd place, 30 seconds down.
I had to relax and stay smooth as much as possible- at this point, pushing hard would make the watts tumble. I rested a bit more into the U turn – careful not to sprint out too hard – also rested a bit in 2 other 90 degree turns- trying to relax every muscle instead of fighting the bike. Trying to bring the HR down bit.  Unlike roadies and serious TT riders, I'm not used to hang around the "red zone" (XTERRA is more like high Tempo-155HR for me) and found whenever I got too close, my legs would flounder. Kept it smooth and saved a big effort for the last km. 423W avs. Considering all the freewheeling into corners, its good power.  Happy with 3rd. Can still ride faster. Get more aero, train smarter. Will be back.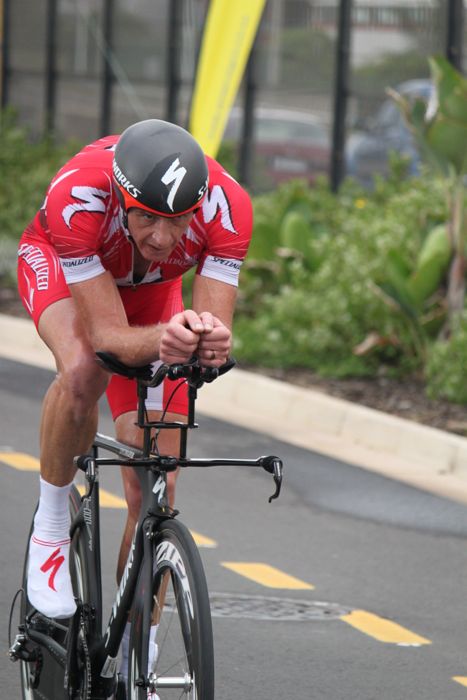 After 4 laps.                                                                     Photo: Bianca Kritzinger
Why:
Time Trialling, also known as "the race of truth" has always (since I started road cycling at the age of 14) been an integral part of  who and what I am. As a school boy, riding with the "grown up" triathletes, we had the mindset of "grinding at the front till nobody is left". Since my 1st triathlon in 1988, it was about riding hard and getting low for 20 or 40km – sandwiched between nearly drowning and running like the wind. (I started as a track and XC runner)
Even when drafting became legal at ITU racing, my Sydney Olympics memories are of myself and Olivier Marceau doing a 2 man Time Trial to build a minute lead into the run.
Riding as fast as possible by yourself is probably as pure and simple as cycling gets. No team tactics or luck (road racing) and no skills and/or kahunas to hide behind. (mountain biking)
Man, machine and clock.
I like the challenge of the TT. Even though I'm a triathlete who specializes in XTERRA off road triathlon (basically a triathlon with a mountain bike time trial cycling leg) I cant resist the allure of Man, Machine and Clock. It keeps you honest. Strava hardly counts- some people claim group rides, downwind rides, motorpaced rides and yes, some even drive "rides"…
Belief.
My coach Ian Rodger is a sport science genius. He lives and breathes cycling. His belief in me helped me stay positive in the TT and made me come back to Nationals "till we get it right".
The 1st time we met was when he did lab tests on the SA Triathlon short list team for the 2000 Sydney Olympic Games. As part of team selection, we had to do a Peak Power test on the King Cycle. He was the sport scientist at Sport Science lab in Cape Town where we ran the tests. I was barely done with the warm up when Ian looked at my heart rate and power numbers, and ran out to call his students to "come watch something special." Back in 2000 I wasnt really known for my cycling and I didnt know what a Watt was, (it powers light bulbs, right?!) but Ian was terribly excited when I topped out at 512W peak power. He said its a "lab record", and not even the SA Olympic Kilo (kilometer on the track) rider or the "supercharged roadies" does that, and he rattled on about what have I been training and how I should be using that power at the Olympics, what gearing I should use etc.
Fast Forward 14 years, Ian had been my coach for 5 years, we do just about every pedal stroke on power, and we constantly look for ways to put the power to good use: We tried:
– Pursuit (4km on the track) – I wound around the Bellville track at dizzying speed, pulling G forces I couldnt imagine- which also makes riding on the line really hard. Learning to go 55km/h (from stand still) around a 250m banked track on a bike with only 1 gear and no brakes will take "a 100 hours" in Ian's estimation. Its a real art. Those guys are awesome. Considering my already full XTERRA schedule I dont have 100 hours to become an apprentice.
– Olympic distance road tris and Abu Dhabi 2013- 3k swim, 200km bike, 20km run.  He said I needed at least 10 five to six hour tempo rides at 300-320W to get my body used to the new energy burning system and learn the tricky nutrition.  Was fun and all, but all that training ate into my beer drinking time. Abu Dhabi blog still floating around in "Drafts folder."
-TT.
2011- Finished 4th at Nationals in PE. Rode bad Watts (380) due to too low body position and learned Lesson 1. #aeroiseverything, but you must be able to put the power down.
2012- Finished 6th at Nationals in Nelspruit. Only 38″ behind winner, rode good Watts (419) but the very hilly course suited the smaller riders.
2014- Got the position dialed. Been riding the Specialized SHIV TT  since mid December, the flat course in Durban suits me (84kg), it fits in between XTERRA racing and spending a week in Johannesburg for some Specialized Concept store openings.
2 days before SA TT Champs I get valuable pacing and nutritional advice from Ian: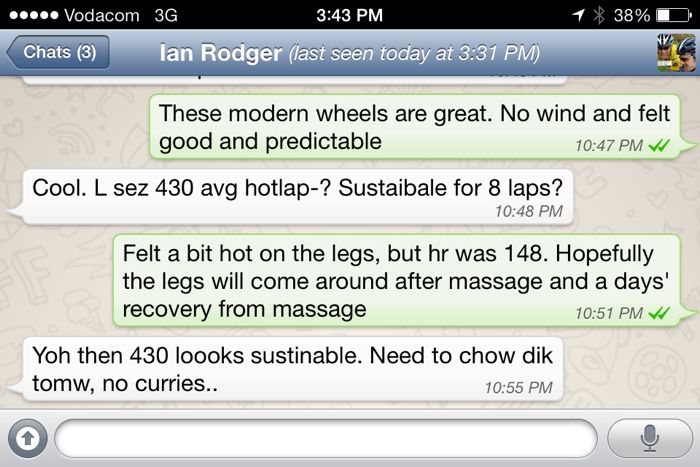 For the non South Africans: "Chow dik" means "eat a lot." Durban has a great Indian community, and is famous for its curries. I'm an adventurous eater and have been craving a Bunny Chow since my last Urban Rage MTB race in Durban. Bunny Chow = half a loaf of white bread, hollowed out and filled with meat, (often dubious origin) french fries, and thick, potent curry sauce. Usually best after a 3hr surf or a late night pub crawl.
So the TT has become our little pet project. Hours of fine tuning position – trying to guestimate the optimal power delivery vs aerodynamics, (a whole separate blog) and  long, hard rides filled with Tempo (370W), AT (420W), and short reps. (500W) Sometimes testing various Specialized helmets and equipment, and finally some "ranging shots" down a flat 10km stretch of Franschoek or Bottelary road to determine where I stand in fitness and what power I should be able to hold on race day.
Cant wait to get into Specialized's "Win Tunnel"  with Mark and Chris in a few months to take the guesstemating out of the aero vs power equation.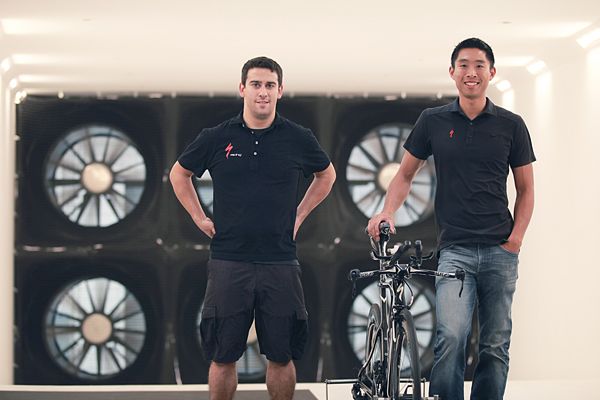 Mark and Chris waiting for me at the Specialized "Win Tunnel" in Morgan Hill. Pic Specialized.com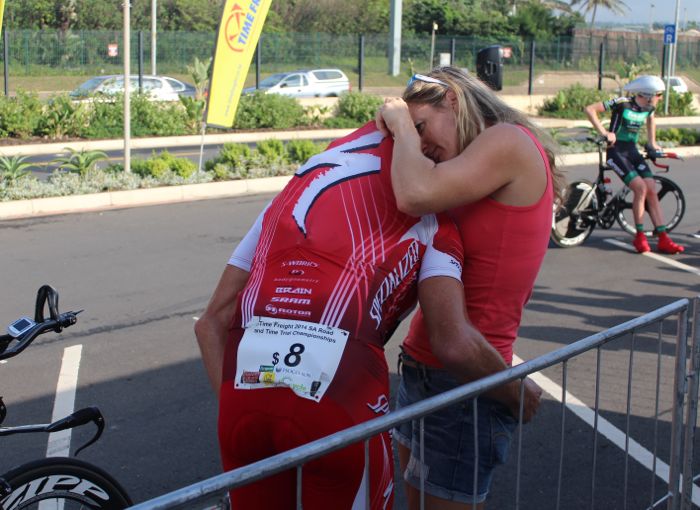 Princess Hotstuff was a champ! For a retired Pro Netballer she learns this curious disciplines' ropes quick. Here pinning the Camel Back with foil on top into my jersey. We even had an intricate hand signal system going to give splits- borrowed from Ian. With the aero helmet covering your ears, rushing wind noise and high speeds, you cant hear splits. So her left hand would show my current placing, and her right hand the amount of time behind or in front of the leader. 1 finger representing 10 seconds.  If the R fingers pointed down, it indicated time behind leader, and if it pointed up, I was in front and indicated time on whoever is chasing.
If she had the green scarf around her neck, it meant Daryl is in a league of his own and splits would pertain to the rest of us only.
The other riders did it the Pro Cyclist way-  team cars following with radios, spare wheels, spare bikes on roof etc. We rolled #Cavemanstyle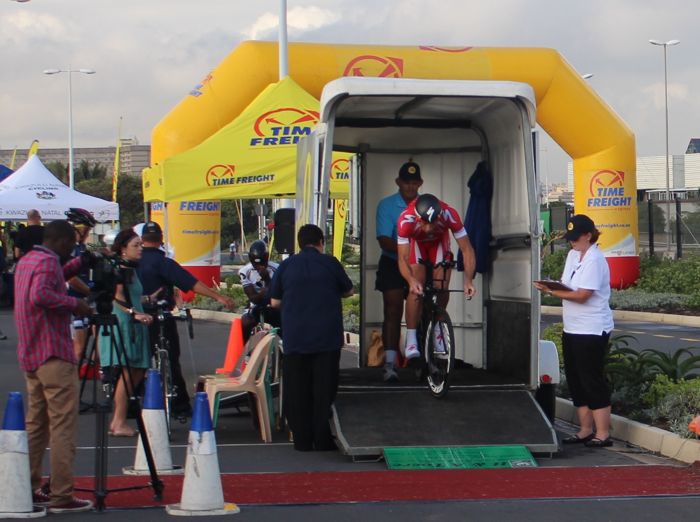 Rolling out of the horse box at 1 minute intervals.
Photo: Reghard Roets
The course required some skill. A 2 lane wide U- turn, some man hole covers in a corner, paint and wet pavement in places and curbs made staying off the brakes hard. I found I'm not as daring (reckless?!) as I was in my teens and 20s- when scraping pedals and running out of road was just part of the ride. Probably lost some time to the roadies there.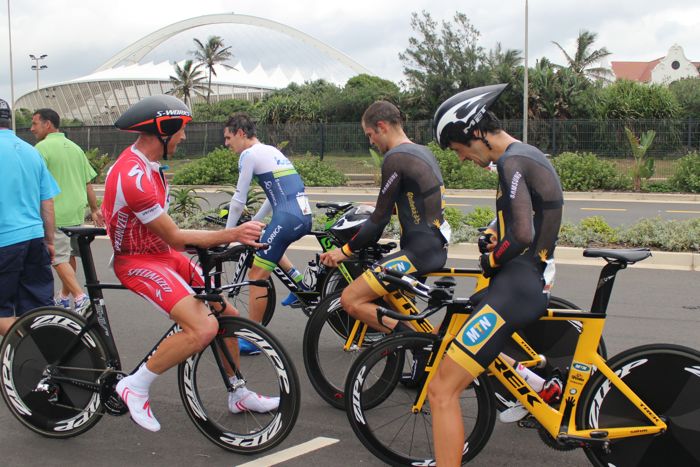 Woody Woodpecker get together. L to R: Caveman (3) Impey (1) Thomson (2) Jaco Venter (4)
Glad I rode the super fast Specialized McLaren TT helmet. It may not look long or " trick," but the technology is awesome and along with the Evade, is leading the charge in aero helmet design: Small air intakes behind the ear scoops air, channels it inside the helmet and much like a jet engine, the hole in the back of the helmet sucks the air out- filling the typical "dead air" (bad for aerodynamics) space behind the head. At high speeds, you can actually hear the wind rushing through the helmet with a dim roar.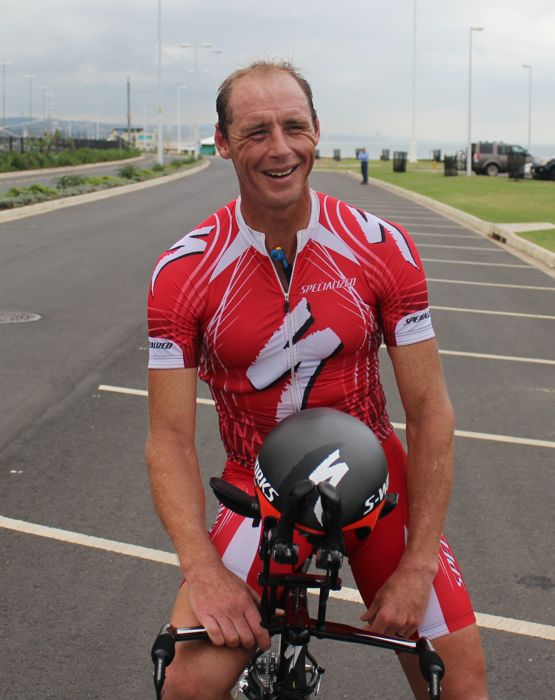 Its only funny once you're finished. The TT is probably the most painful thing you can do to yourself. Its totally self inflicted- you cant see anybody ahead or in front, the scenery is black with a white line, so you have to motivate and push yourself without knowing the outcome.
Because you're not allowed flat aero water bottles (UCI rule), I went with a totally frozen Camel back bladder under my jersey. (see the nozzle in my collar) You dont drink much durning a 52 minute ride, but with the heat, humidity, hot aero helmet and my body type (big), overheating is a problem, so I froze my drink solid and even put tin (aluminium) foil over the top (for insulation) and enjoyed a cool back and drink for almost the whole ride. I love innovation and thinking outside of the box. Ties in nicely with Specialized motto: Innovate or die.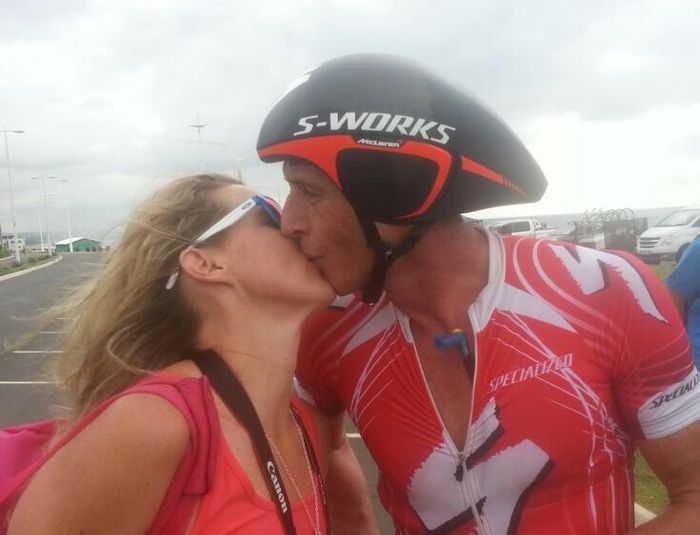 Behind every #aeroiseverything Caveman, there is a super supporting, loving #PrincessHotstuff
Also thanks a lot for all the support from Russell and Cathrine White (homestay, car & meals- but no Motocross- maybe a good thing!) , Reghard Roets (pit crew), Bob Russell Massage, Concept Cyclery Ballito (bike tune up and endless cappuccinos), Dylan van der Merwe (Specialized mechanic and getter of all stuff aero) and a special thanks to KZN cycling and Cycling South Africa for hosting a well run, safe event, for kids from U10 to ballies even older than me, including full road closure and drug testing, right in the middle of Durban. The sport is sure to grow and one day there may actually be prize money at Nationals.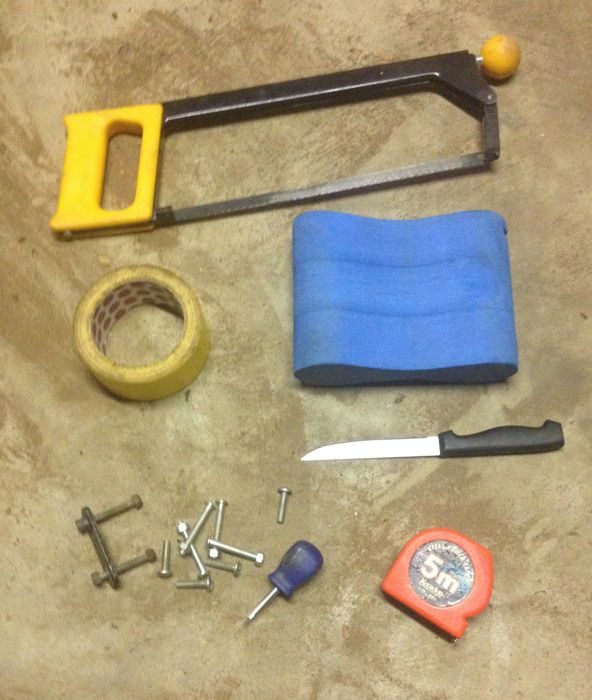 Caveman UCI bike fit emergency kit. I was fully prepared to do last minute handle bar shortening, lowering etc. (the swimming pull bouy would be cut and duct taped to my elbows to make up for lowered handle bar elbow rests)
The UCI bike rules are many and hard to keep track of-  they also keep changing- rules about how far forward the saddle can be, (5cm behind BB) how long the aero bars can be, (75cm from BB) how light the bike may weigh (6.7kg I think) and even the shape of the water bottle (it must be round) etc. I understand they want to stop the sport from becoming an "arms race"- see Chris Boardmans Lotus "Superbike", the frame cost 15 000 Pounds  in 1991.  The UCI also wants to keep the sport safe by eliminating Greame Obrees' famous (and dangerous)  "Egg" and "Superman" positions, but these rules are very restrictive for tall athletes, and quite a few riders had to do last minute chopping and changing to their positions.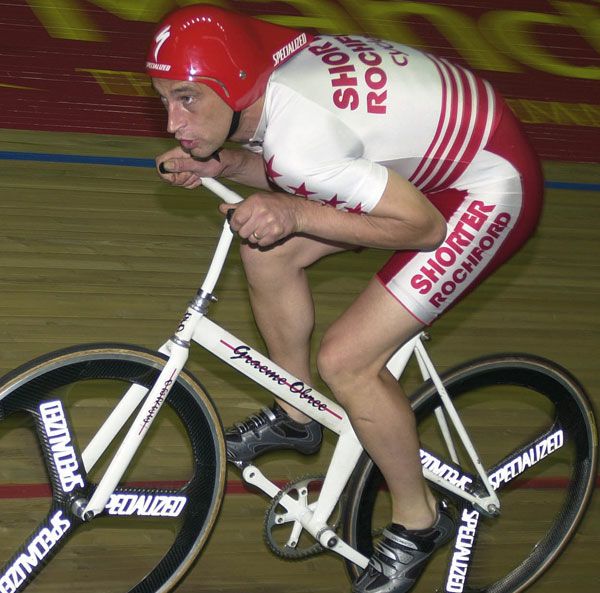 Graeme Obree Egg shape. It required quite a balancing act off the start line. Esp considering the gigantic gear he used to ride. All Obree pix offa da interwebs.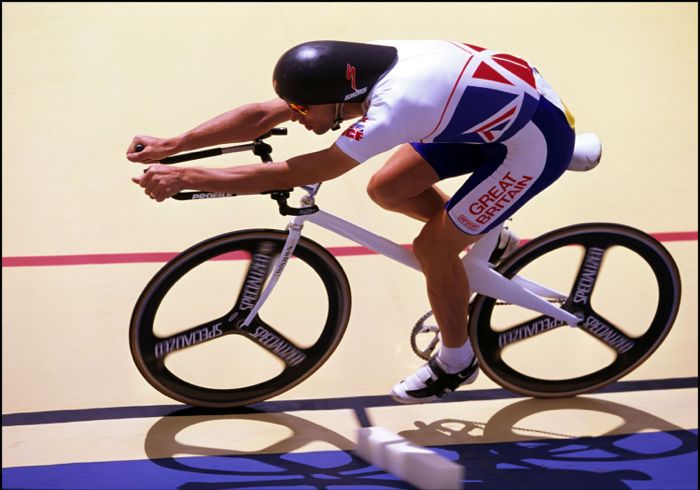 Graeme Obree Superman- once the UCI banned his Egg shape.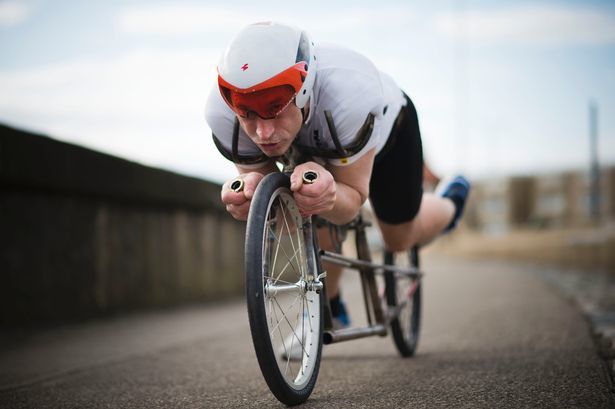 Graeme Obree nowadays. The UCI will get a heart attack!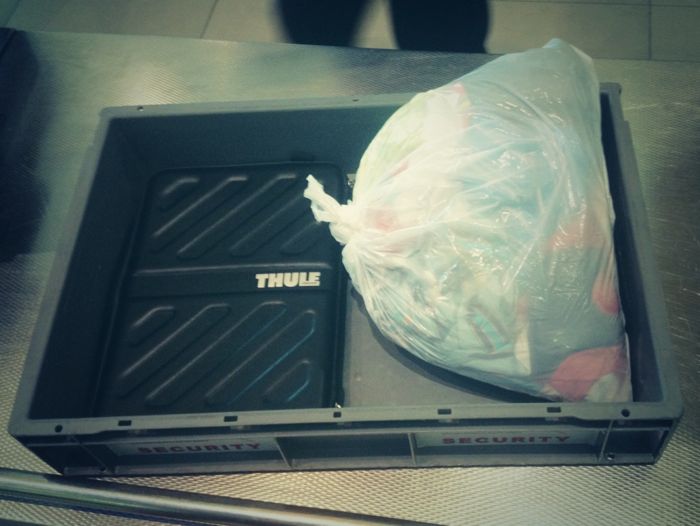 #CityLodgeLaundry instead of #LouisVuitton
Having been on the road for the past 2 weeks (hectic schedule!) we rushed to the airport after the TT to fly back to Stellenbosch. Having packed in a hurry (Caveman style "just throw everying in bags and empty it directly into washer at home") our luggage was overweight and Princess Hotstuff gracefully travelled with a weeks' dirty laundry as carry on luggage…
Fun times. Next up XTERRA Grabouw in 2.5 weeks.