Posts Tagged 'ned overend'
#TBT The story of my first XTERRA
Created on 27 August 2015
1 Comment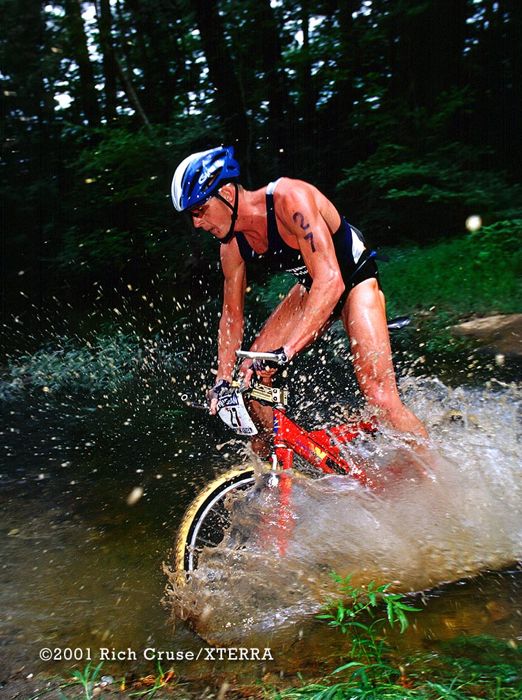 [This is a #TBT repost from 2007]
My first XTERRA. 2001, Richmond, Virginia. On a borrowed bike. Yes, that is a Speedo, and that is a jogging Camel Back!
My XTERRA start:
After racing professional road triathlons for 10 years, and really focusing on the Sydney Olympics in 2000, I decided to try XTERRA triathlons for fun, so in 2001 I came over to the US mainly to race road tris. I was completely unprepared for mountain biking. So for XTERRAs I traveled with my helmet, a 2nd hand pair of MTB shoes, old MTB pedals and a pair of yellow Michelin Python tires. The rest of the bike I would borrow at the race venue. Or sometimes a week before. Like this 35lbs beauty with cutting edge suspension above….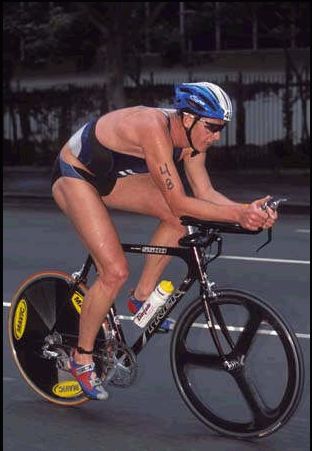 2001 Winning Chicago Mrs Ts Triathlon. Borrowed everything. I raced Olympic distance non drafting road, ITU draft legal and XTERRA till 2004.
That year I won the XTERRA USA Series and most of the XTERRAs I did. Also 6 of the 8 road triathlons. Including the legendary Mrs. Ts Chicago Tri with its record setting 8000 participants.
Back to XTERRA:
Unfortunately (actually, fortunately) Ned Overend was my biggest competition that year. So great was my surprise (and pleasure) when just a week before XTERRA World Championships Ned gave me a brand new Specialized M5 dual suspension, a brand new Specialized helmet AND brand new Specialized shoes! It was like Christmas. (By then my old Sidis needed screws to keep the uppers and the lowers together) What he also gave me was a Specialized cycling jersey his wife cut the sleeves from. He shrugged and said I could wear it if I wanted. Of course I wanted! Ned is such a great person, the bike rode like an off road motor bike, I immediately fell in love with the product and the Specialized brand. I won World Champs by 10 minutes, and I went from living from hand to mouth  to being able to make a good living thanks to generous sponsorship by some cool people & companies.
Like every XTERRA World Championship, the 1hr TV show was aired on CBS on Super bowl Sunday. Right before the game.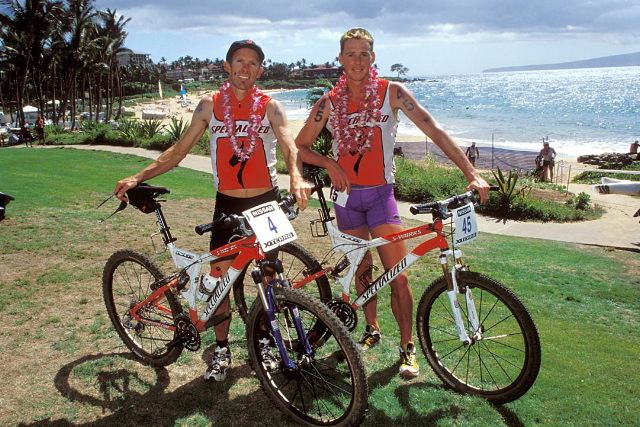 Proud 2001 World Champion posing with Legend and Hero – Ned Overend.
Ned guided me through the pitfalls of negotiating a sponsorship contract for 2002. Up till that year, I have never made money from the sport- always living from hand to mouth, sometimes selling some of my cattle my dad keeps on his farm when I had to buy expensive air tickets. I had no idea how much to ask, Ned said "ask for this and that." That's exactly what I got. The future was bright and rosy. I was over the moon to be part of the best bike company in the world.
Now it is 2007 and I have been with Specialized for 7 years. I have won 3 XTERRA World Championships, 5 XTERRA USA Series titles, and more than 30 individual XTERRAs. This year I won every XTERRA I did. (except 1 mechanical) I raced my Specialized road bike at the Athens Olympics, have won many big road triathlons from Japan to Chicago. Nicknames that stuck were "Caveman" and "King of XTERRA".
At every XTERRA there is an XTERRA University where I teach "The Art of XTERRA" to amateur athletes. I get dozens of emails on my website from fans asking about tire selections, equipment and bike choices. (I'm known as the dual suspension prophet that down hills like crazy)
This year a fan admired my Carbon Epic at a race and commented about the unpainted frame. I told him "It saves 180g". He said "Well, why didn't they just leave the Specialized stickers off and save more weight?" I replied "Of course Specialized wants to have its name on my bike" And he said "But that's unnecessary, EVERYONE knows Conrad Stoltz rides Specialized!"
2x Olympian
3x XTERRA Word Champion
5x XTERRA USA Series Champion
5x All African triathlon Champion
5x South African Champion
4x XTERRA South Africa winner
6 Triathlon seasons in France. Including 3 France Iron Tours. Captain of Montpellier Tri team. Countless victories.
7 Triathlon seasons in USA. Chicago Mrs Ts Triathlon winner 2001. With 8000 participants, the worlds largest triathlon.
4x Boulder Peak Triathlon winner & course record holder.
16 years as a Pro
20 years in Triathlon
26 years of bike racing
27 years of running
34 years of living
Luck Stone XTERRA Richmond VA.
Created on 08 June 2012
0 Comments
Richmond, Virginia, 2001. Fresh from the Sydney Olympics, bored with road triathlon, I jumped into my first XTERRA. It was love at first dirt! That was before the Caveman was the Caveman. (few called him the Crazy Russian. Boulder Peak Triathlon commentator in 2000 looked at "RSA" behind my name and decided it will be "Conrad Stoltz from Russia.")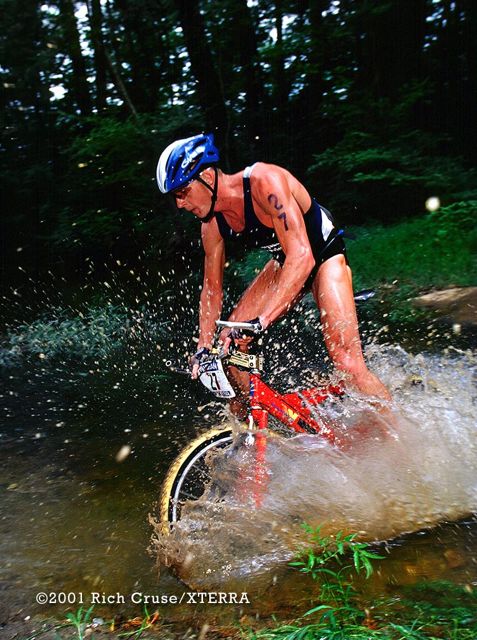 The Richmond bike course used to be hectic!- I was inspired to try XTERRA by a magazine picture of Steve Larsen- running his bike through this stream crossing a year before. I borrowed a Softride (from Joe Umpenhour at the OTC) with Flexistem, alu beam "suspension", road shoes and pedals, sweet yellow Python tires, (with tubes)  hip style Camel Back, and of course the evergreen triathlon favourite – the speedo…
I loved it! Finished 2nd behind Mike Vine, just ahead of Steve Larsen and Ned Overend– legends I did not know at the time. They were so nice and welcoming, asking me about my future plans, complementing my fast run and of course "that bike." I was fishing the chain out of the spokes when they zoomed past me.
Here we are, my 10th XTERRA Richmond. (Only missed one- I was out of the country (semi- deported!?) in 2002)  I guess I won around 7 or 8. Lots of stories since then-
1) Due to floods a duathlon –  Nico LeBrun (4x World Duathlon Champion podium) loved it!
2) Another year, this amazing story about fixing a flat, Caveman teeth and ingenuity. Story here.
3) 2010, I almost cut my foot off on a piece of underwater steel and still won. Story here. And if you really have hair on your teeth, you can view the surgery pics here.
After 14 years in Richmond we have something truly ground breaking…
Thanks to the amazing local company Luck Stone, the XTERRA Richmond presenting sponsor, we have live satellite tracking of all athletes!
I just clicked on the link to my timing chip, and I can see on the map here that its in storage outside Houston. Sunday morning 8am EST, it will be on my number belt on my waist and you'll be able to follow my and all the other pros' progress live during the bike and run legs.
I quote from the newsletter:
WATCH IT LIVE AT XTERRA.LUCKSTONE.COM
Luck Stone, a presenting sponsor of the XTERRA East Championship, has a comprehensive slate of coverage planned for Sunday's pro race at 8am EST, that can be found at http://www.luckstone.com/xterra-world-tour-2012
On one screen they'll bring you live video feeds from eight spots around the course. On another they'll showcase a social media (GIS) map of the course with detailed positioning and tweets from strategically positioned spotters and finally, in a first for XTERRA, they are equipping every elite with a GPS tracking device that will allow followers to see their every movement.  The "myathletelive.com" device reports location, speed, distance, and elevation.
Google Chrome seems to be the best browser for viewing, but fans can use any web enabled cell phone or handheld device such as an iPhone or Droid. Just go to the website xterra.luckstone.com, and follow the various links. Home viewers can do the same from their computer.  Our suggestion is to open up multiple browsers and have fun.
And, for those on-site at Brown's Island Luck Stone will have four 70-inch big screen TVs broadcasting the coverage. Those on-site are encouraged to share their experiences, from here and afar, via twitter with hashtag #xterraRVA
On Sunday, click on the name of the athlete to go directly to the specific URL for that racer.
Happy spectating!
Conrad
Big weekend for Specialized
Created on 20 July 2010
1 Comment
Ned Overend won the Single Speed National title. (the big race, not the old man's race) And he did it on a Specialized Rockhopper 29er! (mid range aluminium frame)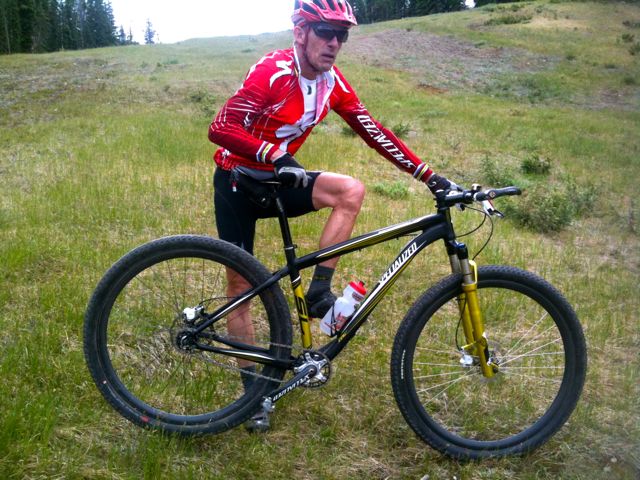 I took this pic at the Specialized 2011 bike launch in Keystone, CO. Not quite sure how he went up that mountain at that altitude with 1 gear?!? (I needed all 20 gears) Maybe that's why they a call him "Deadly Nedly" or "The Lung."
One of my favourite Ned quotes: "I only stretch when I'm injured"
Getting technical- bike set up for XTERRA Waco
Created on 30 May 2010
4 Comments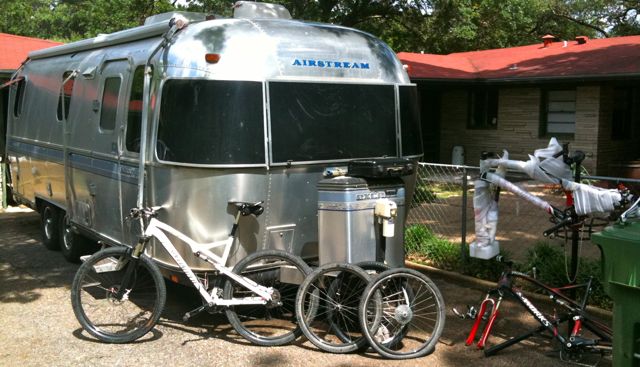 I'm very lucky to have a full quiver of Specialized bikes to chose from!
After watching a few youtube videos on the Waco course, I decided to travel to Waco with my 29er Epic (Aluminium)- it loves rocky, rooty and twisty.  But 30min into pre riding the course on wednesday I had to call a friend to ship me a kiddie bike. (with 26inch wheels) Its true, TV (and youtube) makes courses look flat! OK, my legs were also seriously dented from training, but this course has about 20 short, granny gear climbs and I think the number of times your speed falls below 5mi/h was a lot, a lot. In other words, there was a lot, a lot of acceleration from almost stand still– the one 29er drawback. The (only) other shortcoming to this 29er is weight- the white bike is 5 lbs more than the one in the white wrapping. For now…
What does Ned Overend REALLY do at Specialized?
Created on 15 October 2009
1 Comment
Sounds like a fun job to me. But then you have to be a legend first. (And kick butt at 54!)