Getting technical- bike set up for XTERRA Waco
Created on 30 May 2010
Last Updated on 30 May 2014
4 Comments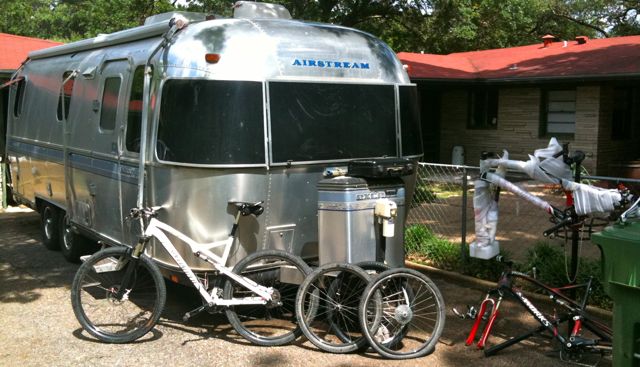 I'm very lucky to have a full quiver of Specialized bikes to chose from!
After watching a few youtube videos on the Waco course, I decided to travel to Waco with my 29er Epic (Aluminium)- it loves rocky, rooty and twisty.  But 30min into pre riding the course on wednesday I had to call a friend to ship me a kiddie bike. (with 26inch wheels) Its true, TV (and youtube) makes courses look flat! OK, my legs were also seriously dented from training, but this course has about 20 short, granny gear climbs and I think the number of times your speed falls below 5mi/h was a lot, a lot. In other words, there was a lot, a lot of acceleration from almost stand still– the one 29er drawback. The (only) other shortcoming to this 29er is weight- the white bike is 5 lbs more than the one in the white wrapping. For now…
The one 26 inch S-works Epic (2010) came from Specialized HQ where it had been waiting for new Specialized 180 MTB cranks– straight out of the testing lab- and a prototype XC Command Post. The other is my 2009 Worlds bike. Needed parts from the one bike to build the other- Bobby (Specialized Team manager) loves it!
The course:  Had seemingly millions of tight corners, you never get more than 20 seconds of pedaling before bending yourself around another tree. (apart form the 20x 1min granny gear climbs)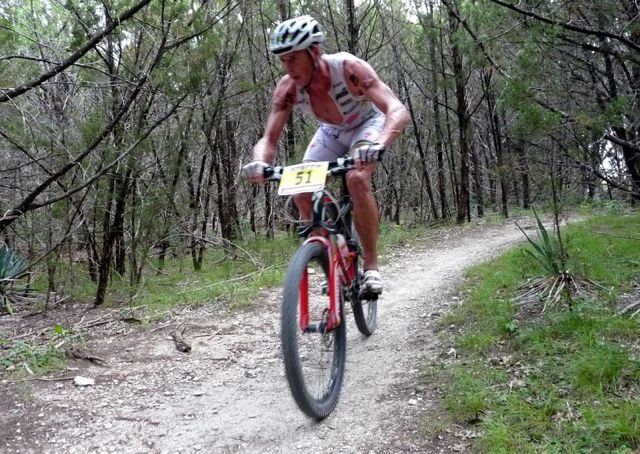 Notice the fine, loose gravel and millions of trees. Also low seat (Command Post), high elbows (kind of- still setting up for the corner) and I'm looking at the exit of the turn.
My weapon of choice for XTERRA Waco: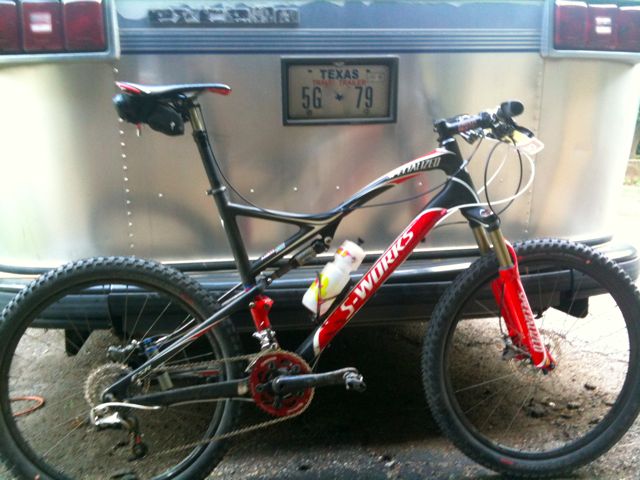 – Specialized 180mm carbon cranks
– 2×10 SRAM drive train- quite something!- my 1st time on it & the shifting and  gear ratio selection was so simple. You can basically run all the gears in the back in the small ring and all the gears in the back in the big ring. It results in fewer gear ratio overlaps and bad chain angles. And missed shifts in the front.
– Tires: The Captain S-works 2.2 at 23psi front and 28psi rear
– Command Post telescopic seat post and Phenom Saddle
– FSR suspension with self locking and fully tunable Brain front and rear. (nothing new here- "if it aint broke- dont fix it")
– Wheels. (no comment for now. Other than "DAMN!" or "Eish!"- depending on your continent)
– Stem & Bar: Titec Pluto. I cut the bars narrower for the tight course.
Here are a few high lights: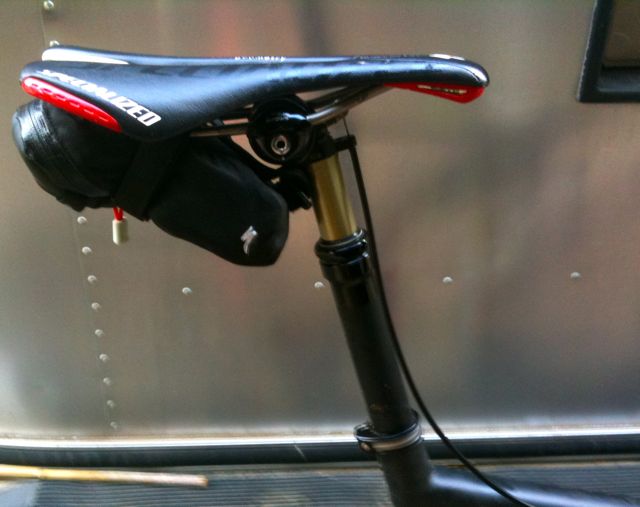 Specialized Command Post telescopic seat post with remote lockout. The one you get in the shop has 3 settings- top, 3.5cm and 10 cm drop. This one on my bike is a XC specific test model with only 2 settings and some weight savings.
Why? Apart from the obvious advantages of dropping your saddle when going down steep technical terrain, (there was none on this course in Waco) you have the ability of lowering your center of gravity through corners. If you are 6ft3, cornering is a big disadvantage.  This course had seemingly nothing but turns.
I think I had the seat down in 80% of the corners. ( You can still soft pedal between corners)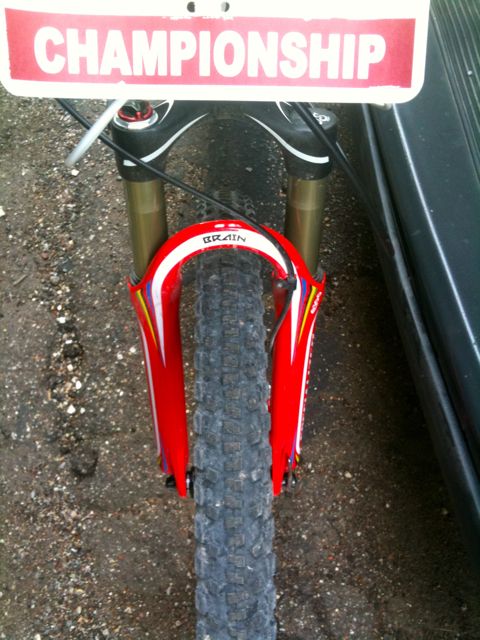 Tires: This course had a fair amount of rocks- from rice grain sized to marbles (usually outside of the corners) to sections of fist sized rocks. Then there was the roots.  All the afore mentioned facts calls for a 29er. Rocks, roots and corners.
This course was not much about rolling resistance, the speeds were low, and it was all about cornering speed and acceleration out of corners. So I went with a tire that corners like crazy: The Specialized Captain S-works 2.2
The 2.2 (inches wide) is only 50g heavier than the 2.00,  (550 and 600g) but because of the bigger air volume you can run lower pressure which means more traction in corners and more comfort/speed over the bigger rocks and roots. Also, a wider, softer tire (less psi) rolls faster than a narrow, hard (psi) tire… But thats an argument for another day.
These tires were designed by Ned Overend– XTERRA Hall of Famer
And for the folks in South Africa, yes, I know they are spelled "tyres", "programme" and "honour" but over here in the US you have to roll with the ponchos! Or miss the google boat…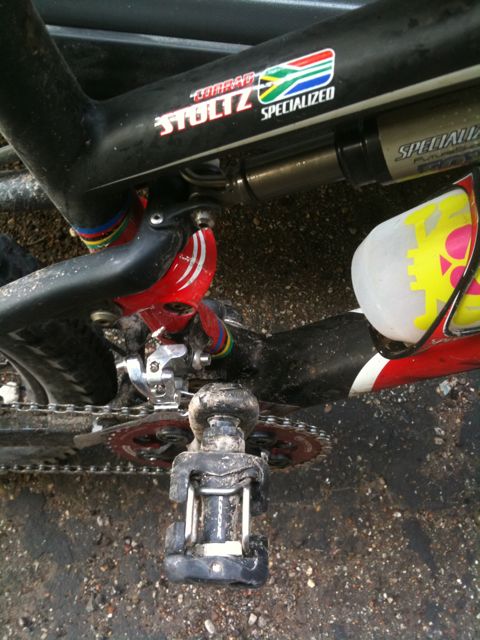 LOOK Quartz pedals are just about indestructible. With 180mm cranks, FSR suspension and 2.2 Captain tires at 26 psi (not to mention the 29er)- I can pedal just about everywhere. I drag pedals through rocks and roots like gorillas drag knuckles…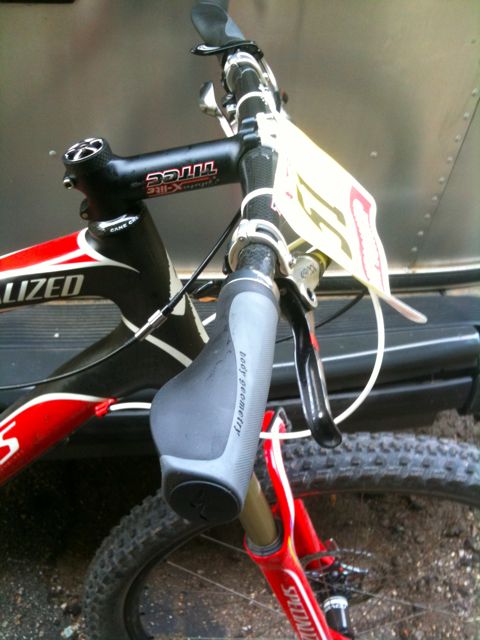 Specialized BG Contour locking grips
I'm sure the weight weeny XC guys think I'm nuts (maybe I am), but I love these grips. Sure, they are a bit heavier, but not for long…
If you ride long distances especially on bumpy terrain, these are a must, but short XC racing? I like them because of added control and stability in the corners and through the rough, (you wont understand till you try) and if you set them up at the right angle, they help you keep your elbows high, dirt bike style…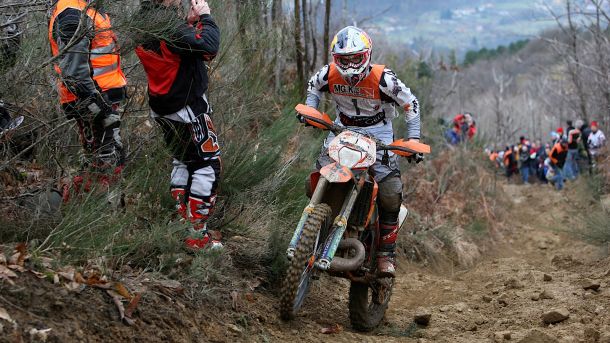 Taddy Blazusiak- elbows up at Hell's Gate. Does he have BG Contour grips? Maybe I should try them on my KTM…
And for a 2nd opinion on high elbows, here is David Knight
I never travel anywhere without a new bottle of Squirt Lube. I use a little of it for pre riding and racing, and give the bottle to a needy rider or bike shop to try out.
Usually I dont touch the chain except in case of emergency. When I get a new bike, I degrease the chain to get the factory junk off, apply Squirt, and then I dont touch the chain ever again. I lube the chain a little before every ride, and the Squirt wax and water emulsion does the rest- when it gets dirty, it falls off in little flakes and keeps your chain clean but lubricated.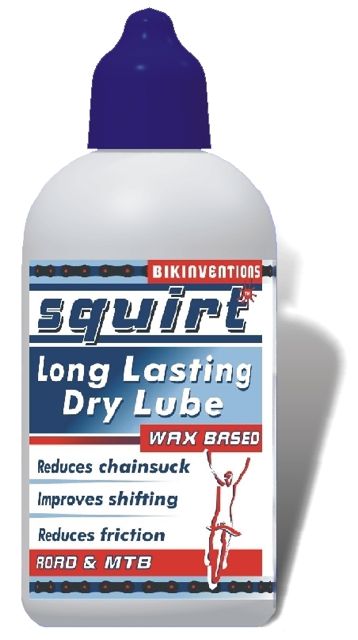 If you cant find Squirt, you could always catch a tip here: Caveman's clever trick to lube your chain with your cars' dipstick…
One last technical aspect: In protest against the cold weather and the cold house, I refuse to shave till its summer. (snow in summer and I broke the thermostat moving furniture a month ago, so at home, I dress like we're ready for the ski slopes)
Heading to Waco I pack a new razor – its a non wetsuit swim, so you need to be slick, but I have an Amazon rain forest on each leg. I start hacking away the night before. Of course, the razor clogs up. I hack with more vigor.  I call it quits for the night. Race morning I hack one last time and realize I'll be racing with 1 shaved leg and 1 Amazon forest leg.  Fortunately I felt strong in the swim, but maybe thats where I lost the 20 sec?
But once on the bike, I railed the corners. My theory is the aerodynamics involving the one smooth side and one furry side. Its like roughing up one half of the cricket ball (and smoothing the other)- it gives it spin and lets you corner like crazy! Pure genius.