Posts Tagged 'command Post'
2014 Specialized Sworks Epic World Cup
Created on 26 October 2013
21 Comments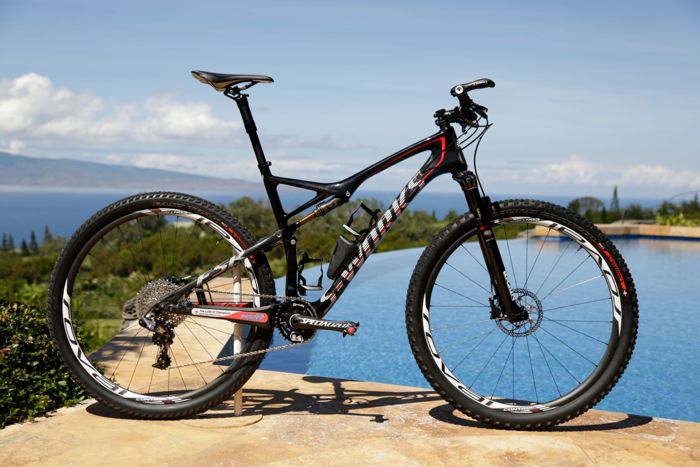 What a beauty. Just when I wonder how can they possibly improve on a bike, the Specialized enigneers comes up with a sox knocker offer. Herewith the completely redesigned 2014 Specialized Sworks Epic World Cup.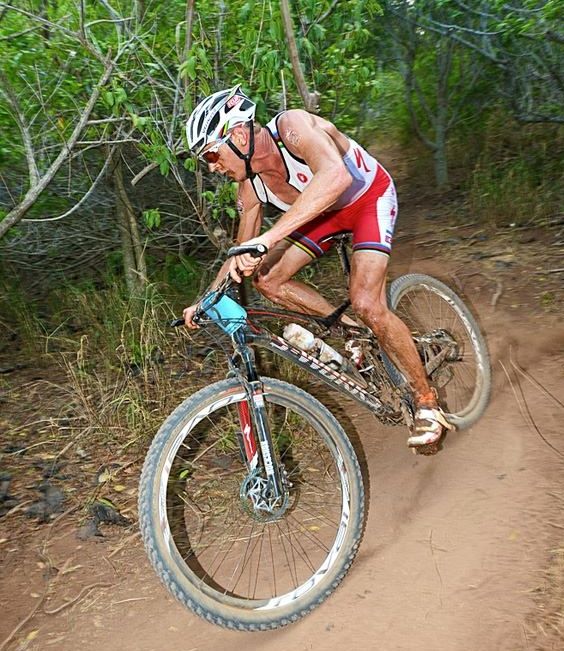 Caveman in action on 2014 Epic World Cup at XTERRA Worlds in Maui.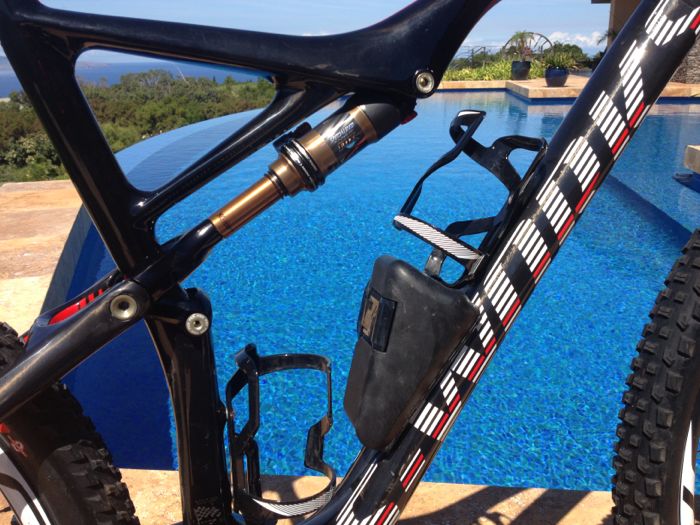 Whats new:
Awesomer suspension! The front and rear Brain systems are the most finely tuned of all suspension systems I've ever ridden. Even better than the "old" Epics. I like plush suspension and platforms (Brains) which unlock with very small impacts. The front and rear do this perfectly in sync. Of course, the blue Brain adjuster knob lets you choose you own settings. Its 95mm travel front and rear- I dont miss the extra 5mm we had on the previous model.
Specialized website for more details.
New geometry:
Shorter chain stays, steeper head angle, lower head tube, 1×11 specific,  two water bottle cages.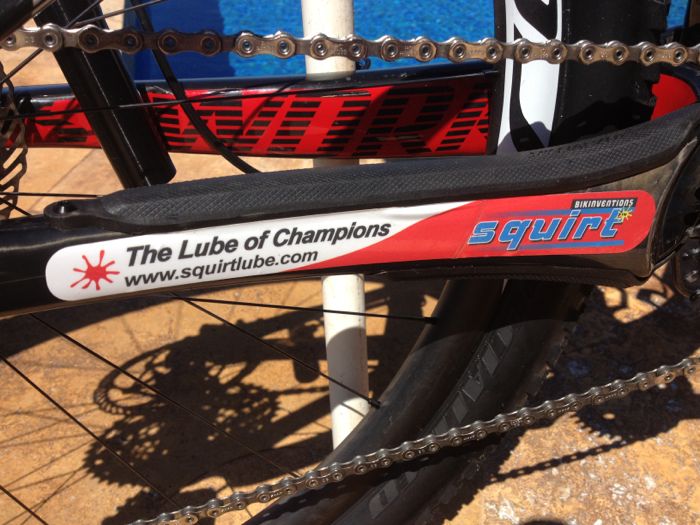 Squirt lube- lube of champions.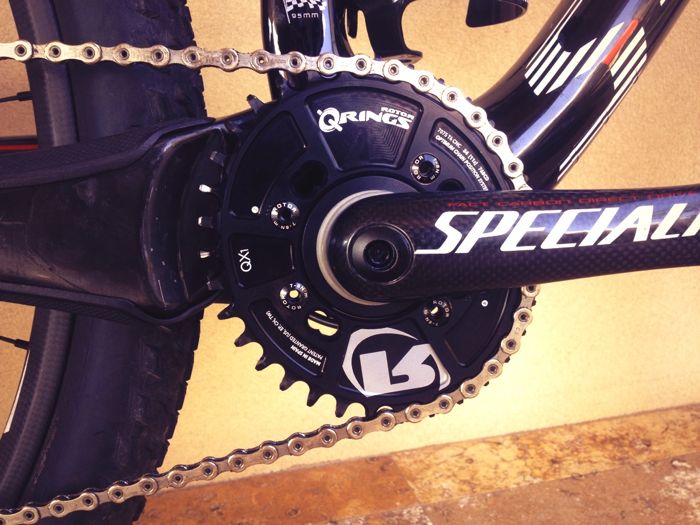 Did I mention the Mega chain stays! (behind the QX1 34T Qring at the height of the tubing is Mega!)  Out of the saddle climbing was never my thing, but now it so efficient and fast, I "dance on the pedals" all the time. Squirt chain lube keeps the drive train clean, smooth and just about maintanance free.
The new geometry is custom made for XC racing and the "Epic World Cup" does not disappoint. With sharper handling, a lively rear end (uphill and down hill) and faster excelleration, this bike is built for the rider who knows his/her way around the race track.
If you dont have the stomach for the World Cup handling or the legs for the single chainring, the more traditional geometry Sworks Epic with 2 chain rings is still available.
Nice, clean internal cabling everywhere. Brakes, gears and Command Post. Looks good but also saves pounds in muddy races- esp with the 1×11.
SWAT (Storage, Water, Air, Tools) technology: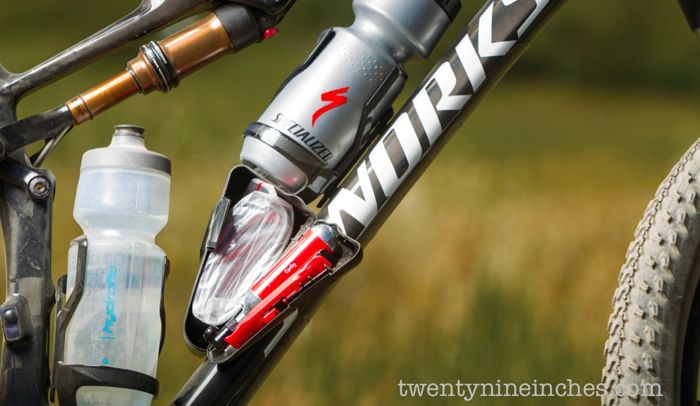 Removable storage box for tube, CO2, tire lever and tire plug. Or sandwitches. Clean, quiet and with a low centre of gravity.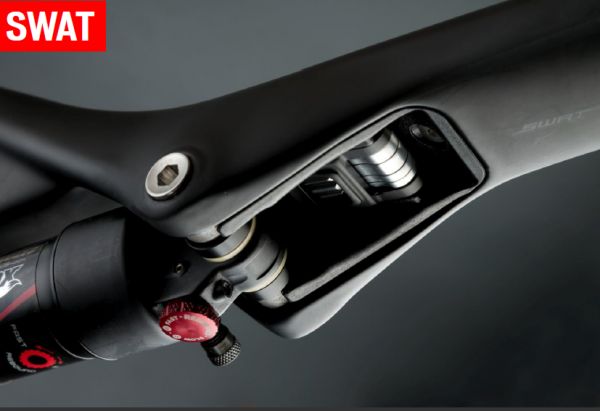 SWAT EMT tool storage cradle next to the shock mount. Slides in and out of place with a reassuring "click." Its Caveman proof- I checked.
Brand new 27.4mm diameter Command Post with 5cm saddle drop (for me, not sure on stock spec) with internal cabling.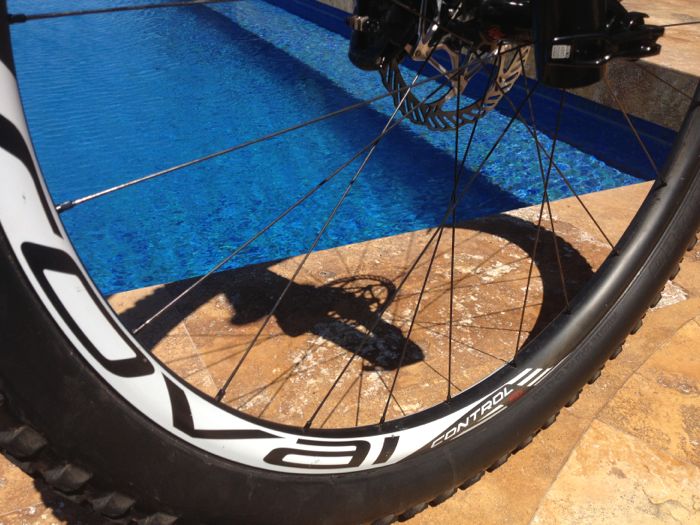 Roval Controle wheelset. New, wider rim design (bigger tire volume and more stable sidewalls) with low spoke count 24fr/28rr, new bearings and yes you guessed it- even lighter wheelset. Carbon, but Caveman proof.
Specialized Brain inside RockShox fork with sturdy & light thru axle.
Slippery/loose, powdery and grassy surfaces here in Maui- put the velcro of XC tires on the front- Specialized 2.3 Ground Control Sworks at 22psi.
This astonishing bike also comes with build in air conditioner,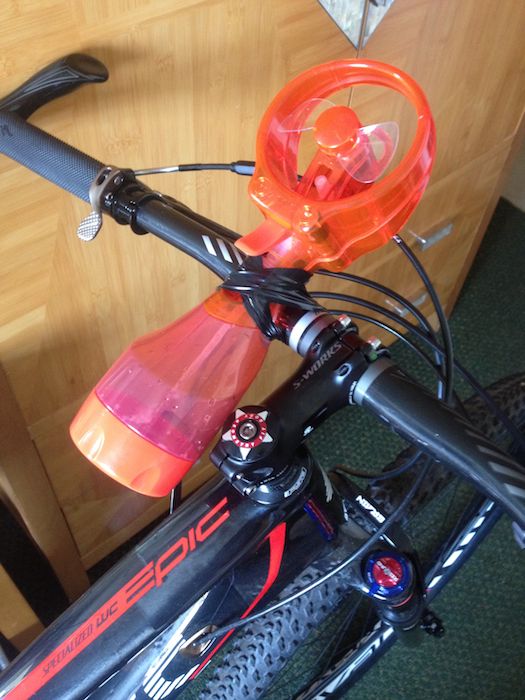 and mini bar stocked with the best beer in Belgium…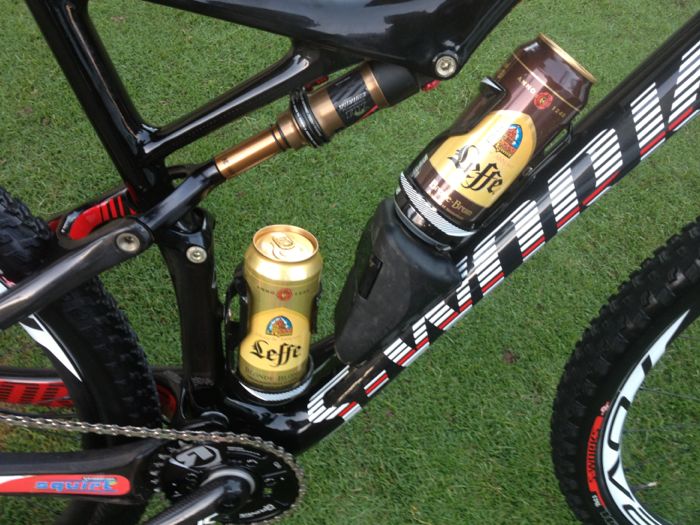 More about this incredible bike soon.
Caveman, on Specialized 29er Epic, finishes 3rd at Bend Super D
Created on 30 September 2010
2 Comments
Conrad Stoltz on Specialized 29er Epic at Bend Super D by www.allsgood.com
This is the 2nd of the 29er trilogy. XTERRA USA Champs report next…
Bend Super D. A "Super D" is a long somewhat technical downhill race which involves some pedaling. When I heard Bend is having a Super D down Funner and Storm King from Wainoga ski park, I just couldnt resist. Funner is just such a fun trail, plus you get to shuttle for 2 days. Unfortunately I cold front rolled in, and it POURED with rain for 2 days straight. So I didnt do any shuttle runs.
Even though I have a garage full of long travel Specialized bikes (2010 Stumpjumper and 2010 Enduro), I went for my Specialized 29er Epic. Only 4 days after the Cyclo Cross race (on this same bike) I only had to make a few small equipment changes to race two wildly different races. But it didnt stop the guys at the start gate from laughing at the white paint job, Renegade rear tire and 140mm rear rotor. He who laughs last…
This race appeals mostly to the trail rider type- which is 80% of Bend. (As opposed to the tight red spandex type) I did try to tone it down with baggy pants, booties, my Specialized Vice helmet and Oakley Moto Cross goggles. In the process I learned that that white
Getting technical- bike set up for XTERRA Waco
Created on 30 May 2010
4 Comments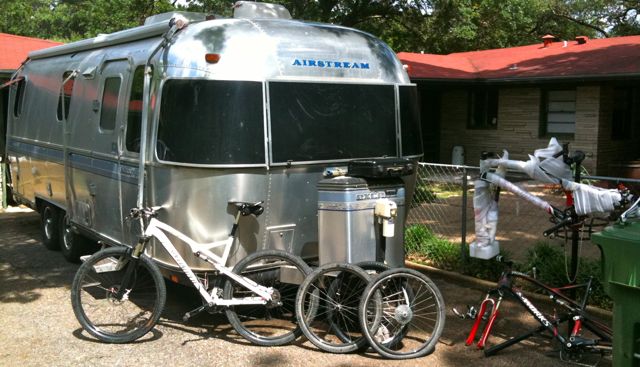 I'm very lucky to have a full quiver of Specialized bikes to chose from!
After watching a few youtube videos on the Waco course, I decided to travel to Waco with my 29er Epic (Aluminium)- it loves rocky, rooty and twisty.  But 30min into pre riding the course on wednesday I had to call a friend to ship me a kiddie bike. (with 26inch wheels) Its true, TV (and youtube) makes courses look flat! OK, my legs were also seriously dented from training, but this course has about 20 short, granny gear climbs and I think the number of times your speed falls below 5mi/h was a lot, a lot. In other words, there was a lot, a lot of acceleration from almost stand still– the one 29er drawback. The (only) other shortcoming to this 29er is weight- the white bike is 5 lbs more than the one in the white wrapping. For now…