Posts Tagged 'Avia'
Created on 21 November 2012
3 Comments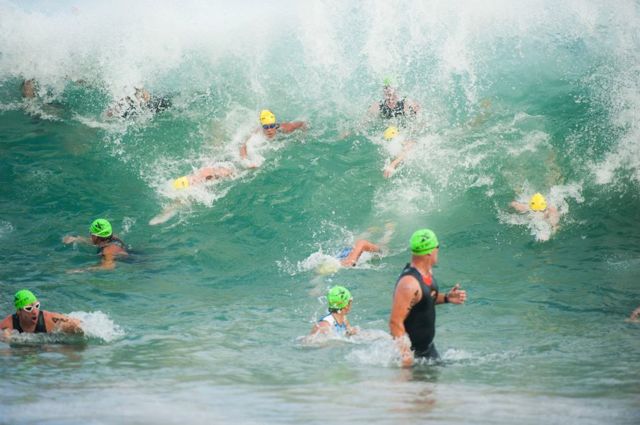 A tsunami warning the night before caused some pretty interesting ocean conditions- complete with "shark" "no, dolphin" "no, shark" spottings at the turn buoy.
The tsunami was predicted to hit land at 10.28pm causing a large number of athletes to evacuate, only to return to bed at 1am.
Caveman wins XTERRA Mountain Champs in Beaver Creek
Created on 17 July 2012
0 Comments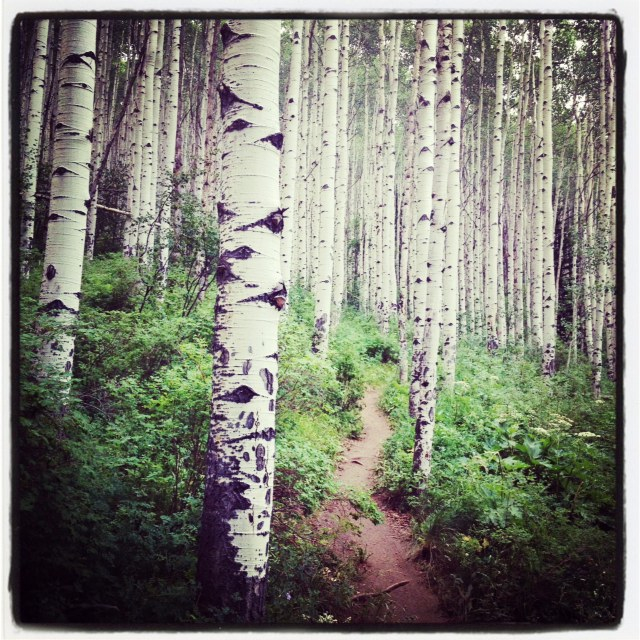 XTERRA run course- Beaver Creek, (near Vail) Colorado. I pre rode the bike and run courses 2 weeks before the race and snapped these pix I'd like to frame one day when we have a home.
I havent blogged about it yet, but last weekend I raced Boulder Peak 5150, 6 days before my 1st Beaver Creek XTERRA Mountain Champs. I raced 4 or 5 pain & adrenaline filled XTERRAs on the dazzling (in many ways) ski slopes of Keystone ski resort- between 9000-12000 ft alt -the kind of place where Ned Overend roams free.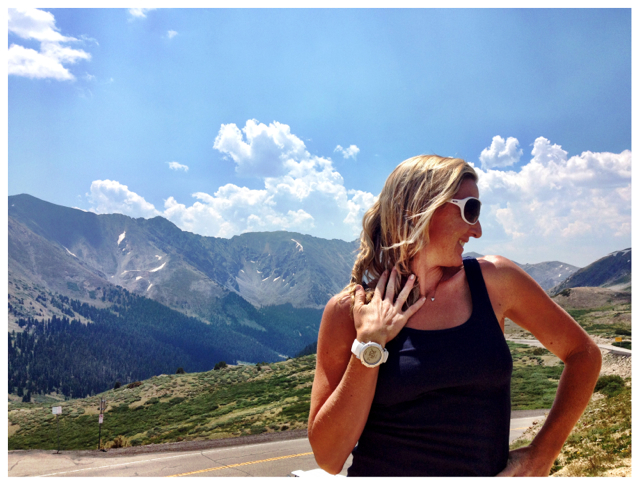 On the drive up from Boulder, Liezel (jokingly) modeled her new Suunto Core Alu Pure White and Oakley Immerse sunnies on top of Loveland pass CO.
With only 6 days between races, recovery training is obviously the order of the day.  Did a fair bit of scenic Boulder riding with Liezel on her new  Ruby.  Our friend and Specialized mechanic Dylan joined us for a coffee shop ride to the town of Hygiene. No pun intended.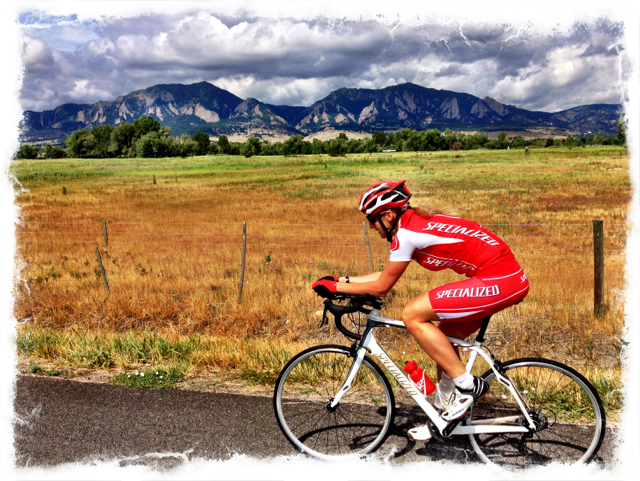 Husband and wife training camp – Flatirons CO.
We drove up in the Specialized Team truck 3 days before the event and once in Beaver Creek we did the usual pre race routine:
– Pre ride the course with friend/colleague/boss/mechanic Dylan van der Merwe: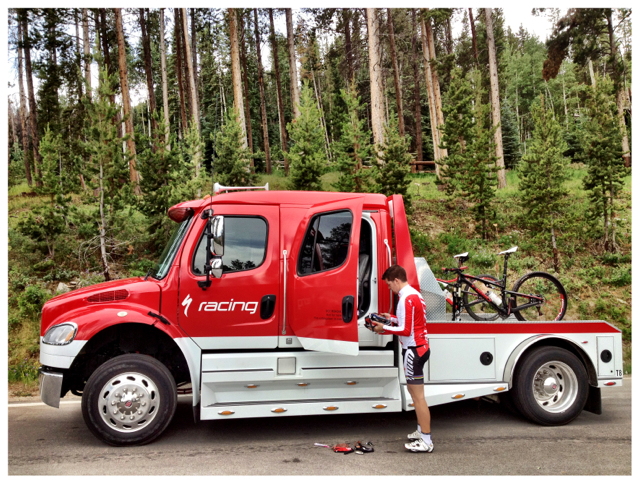 Drove the Specialized truck up the 3200ft climb to avoid wringing an hours' climbing at 9000 ft out of my legs. We then rode the downhill one last time. (On the drive up we got pulled over by a guy in a pick up truck for a "Super Fan" photo of the Red monster)
This course is not technical, but has a nice 5 minute singe track section: Click here for YouTube video of the one single track section from Caveman perspective:
More things to do during taper:
– Have a braai (BBQ) at your #1 opposition Josiah Middaugh's house. Lots of Avia shoes in the doorway. Pretty much open party.- the camaraderie says a lot about the XTERRA family. (the brownies werent even laced with laxatives…)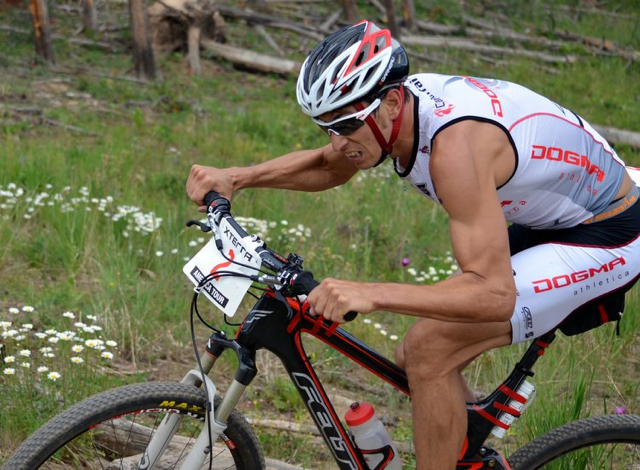 Josiah is a fearsome competitor as it is. But this course is just 2mi from his house- meaning he's used to breathing fake "air" and more importantly, he knows how to go uphill fast! Oh, and just seeing his "Josiah Face" during a race is enough to trigger the "Fight or flight" response!
– Entertain VIPs: We were much honoured to have Specialized road triathlon mega star Ben Hoffman make an XTERRA cameo:
Who knew tires could shine that bright? I think the product is called "Sonfagun". Seriously.
– Watch the local Rodeo.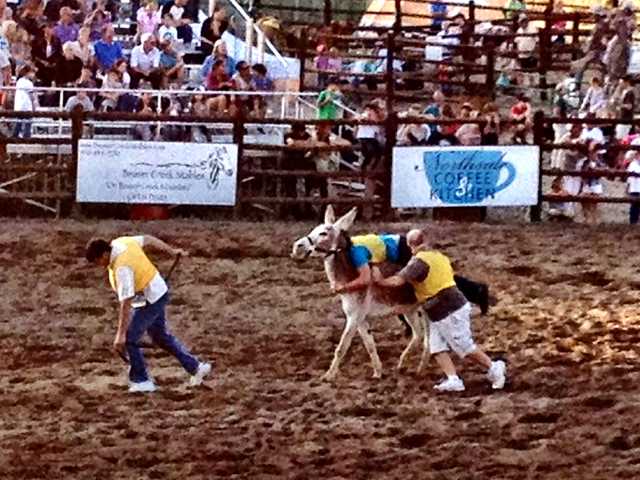 The 3 man Burro barrel race was almost as spectacular as the bull riding.
Back to business:
For Specialized Racing mechanics Dylan (Boss) van der Merwe and Joe (Spider Monkey) Devera "getting the bikes ready" is not what triathletes are used to. Its not a quick wipe with the hotel towel, chain lube and tire pump. These guys come with a Mountain bike World Cup approach. Full Team truck- Full Monty. Every bike gets stripped and rebuilt- fresh parts where needed, fresh tires, fresh cables, fresh grease, fresh Lock-tite, fresh alles. For the massive amount of climbing I switched to lighter grips, lighter tires, no Command Post, but after weighing pedals and shoes decided to not go with the road shoe /pedal combo.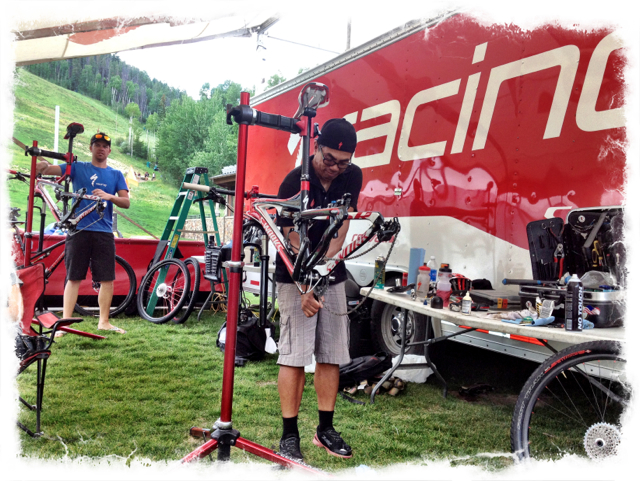 Dylan van der Merwe in blue (Stellenbosch, South Africa) works with Specialized triathletes and Mountain bikers at events around the globe and is going to the London Olympics to support our athletes. To top it off and used to be quite the triathlete- on and off road.  Joe Devera "Spider Monkey" used to be a full time sponsored rock climber (often living in a VW van), worked on various road cycling teams, including the Mavic Neutral Support Team before wrenching on Specialized MTB and Triathlon teams.
Spend some time on iamspecialized.com and see why Specialized Racing is the best racing team across all disciplines.
But if your hotel has no garden hose, a good bike wash starts in the shower. Dylan washed 3 bikes as part of his pre race prep. Here is my version in Spain 2011: Bike Shower.
The race: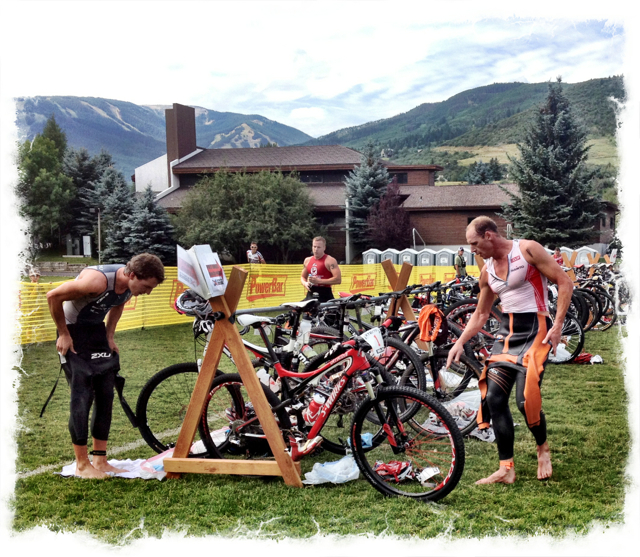 After getting pounded in the swim by 2,40 at Boulder Peak, we unleashed "DefCon 4" swim training, ok, in 6 days I only had time for 1 DefCon 4 session- but half the speed is attitude anyway – by XTERRA time I was good to go. Swam with the leaders no problem. Craig Evans, Branden Rakita & Ben Hoffman. The new Blue Seventy Helix wetsuit and Vision goggles helped get the job done.  Note the looming ski slopes in the back ground. Intimidating stuff.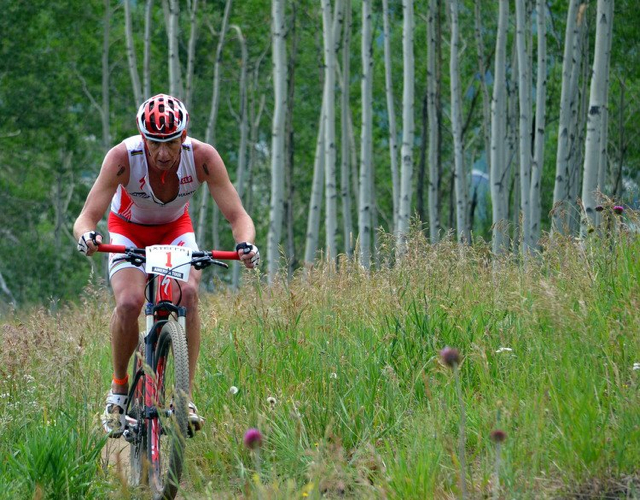 Did I say the bike climbed A LOT?! 3200ft straight up. (about 1000m of alt gain in 35min) Starting at 8100ft. Not 1 second of free wheeling (or even soft pedaling) in the 1st 35min. So pacing is crucial. The recent road tris helped me get used to the sustained effort (also called "pain") of the TT effort- as opposed to the hit and run efforts on the "normal" MTB ride.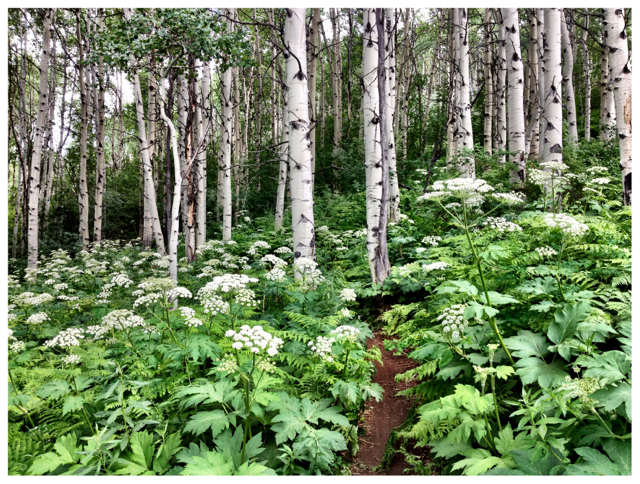 At least the course is really really scenic. That is if you can see past the black spots and flashing lights. Took this pic during pre riding when I could see and think and breathe all at the same time.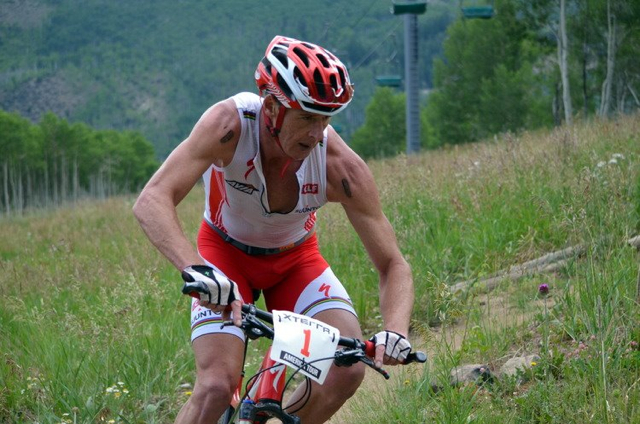 My dietician and chef (Liezel) has been mixing the "Power mix" a bit leaner the past few weeks- fewer M&Ms in the trail mix. The season of Flatland Racing is over and Climbing Season is officially open. (XTERRA Utah and Maui also climbs a lot) So power to weight is crucial. No point trying to take the weight off the bike – its light enough already- its gotta come off my backside.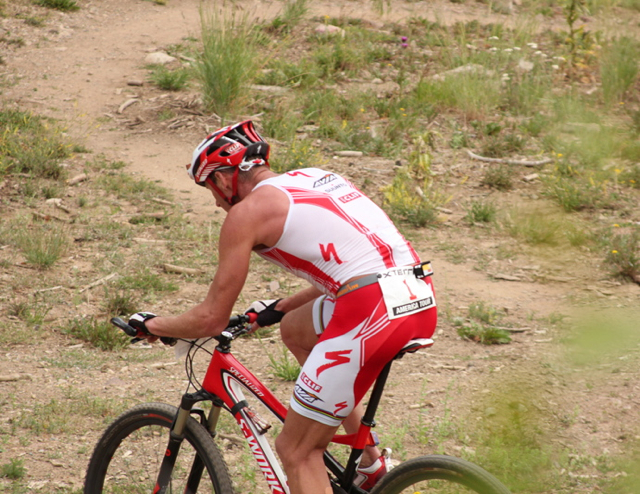 Photos below by Rick Kimmel from Stumbling towards Greatness
Since the Luckstone XTERRA in Richmond, athlete tracking by GPS has been all the rage. You can see the GPS unit on my number belt. It doesnt swim yet, but people can track all the athletes live online. Pretty cool with todays' social media & technology making the world  a global village.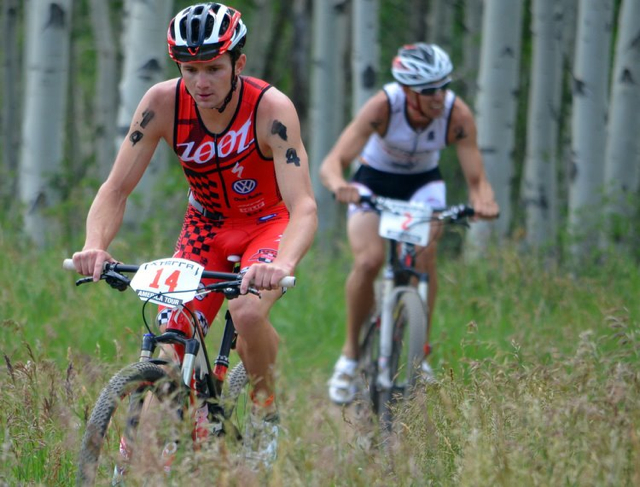 Ben Hoffman is taking a mid season break (from IM and 70.3 racing) and gave XTERRA a whirl. Without pre riding the course he did great to finish 3rd behind Josiah. Expect to see him in Maui for Worlds…
Judging by my "Josiah Face", you can see the run was really really tough- basically 2.5km vertically up – so steep, I walked 4 times- and 2.5km straight down. Twice.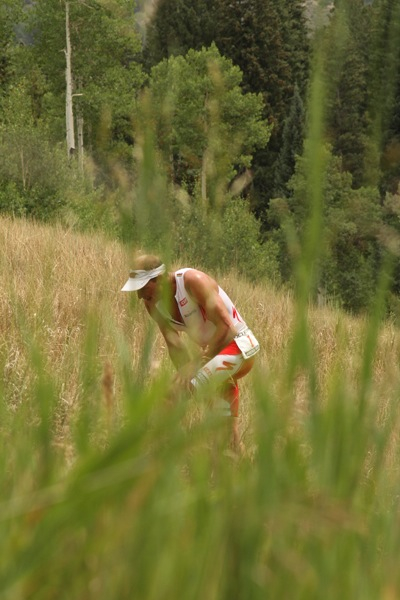 Looks like I'm "parking a tiger" (throwing up) in the bushes- felt like it- but I was power walking up one of the steeper hills. I find walking the really steep parts is almost as fast as running, but your heart rate stays lower, so when I get to a flatter section I can run at a good pace right away.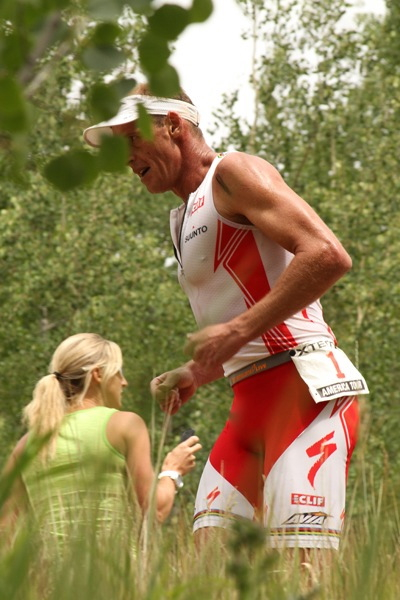 Liezel looking down the trail to give splits- after the bike I had a 2;30 gap on Josiah, lost 50″ on the 1st climb, but then held the gap over the last 5km- winning by 1.20.
Results by JTL Timing:
   1  Stoltz, Conrad     :18:25    4   :00:42  1:08:15    2   :00:49  0:38:54    8  02:07:05    1
   2  Middaugh, Josiah   :19:24    8   :00:46  1:09:25    3   :00:46  0:38:03    5  02:08:24    2
   3  Hoffman, Ben       :18:31    5   :00:51  1:12:19    6   :00:52  0:38:07    6  02:10:40    3
   4  Henestrosa, David  :19:22    7   :00:47  1:12:21    7   :00:50  0:37:30    3  02:10:50    4
   5  Waite, Cody        :20:55   23   :00:47  1:12:04    5   :00:52  0:39:19    9  02:13:57    5
   6  Ignatz, Ryan       :20:51   21   :00:42  1:14:22    9   :00:52  0:37:20    2  02:14:07    6
   7  Smith, Brian       :23:28   61   :01:28  1:11:21    4   :00:57  0:36:58    1  02:14:12    7
   8  Rakita, Branden    :18:24    3   :09:21  1:06:22    1   :00:47  0:41:56   18  02:16:50    8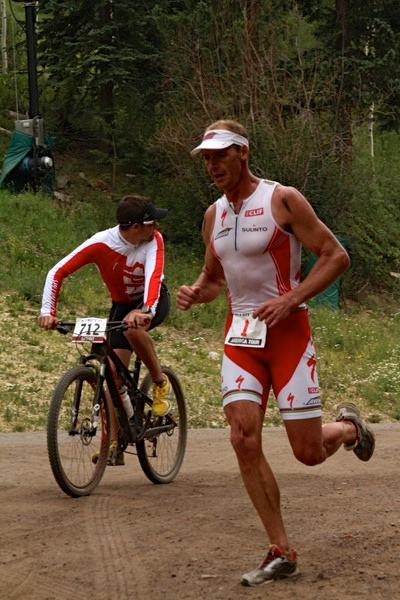 For one day Colorado's second language was Afrikaans. The mountain was crawling with South Africans: Other than Liezel & Dylan (pictured) finished 3rd in the Sport race there was also a very vocal Melt Swanepoel (racing the US Marathon MTB series) Dewet Marais (from Squirt lube), Brad Weiss (DNF – says the altitude bowled him LBW) the guys from GU South Africa vacationing, and few families spectating.
6th XTERRA win this summer.
Race report from XTERRA's
Trey Garman:
[For Stoltz, not altitude, not abear, not even Josiah Middaugh – a mountain master on his home course – could disrupt his perfect 2012 season.  Stoltz started the year with a win at the XTERRA South Africa Championship, then swept through the XTERRA regional championships in Nevada, Alabama, Virginia, & now Colorado to bring his unprecedented XTERRA all-time championship wins total to 47.
"I must admit it was a very pleasurable experience," said Stoltz, who raced here at the XTERRA Mountain Championships in Beaver Creek for the first time today.  "I didn't expect to come up here and have fun but it was a lot of fun.  The course is beautiful, and I was amazed at all the spectators even out in the middle of the forest. I saw a black bear up there while I was racing.  I heard some branches break and I could see it getting away and Josiah saw it too.  So, it was very memorable.  I was really surprised at my win. I thought Josiah was going to take it, because beating him on this course is really tough so I think I had a very special day.  I have to thank Specialized who put a lot of time and effort into my bike."
Stoltz came out of the mile-swim in the 66-degree waters of Nottingham Lake on the heels of leader Craig Evans and Branden Rakita, with Ben Hoffman directly behind him and David Henestrosa and Middaugh a minute back.
By the three-mile mark, and after the first of nearly four-thousand feet of climbing from the lake which sits at 7,400-feet, Stoltz led by a minute with Hoffman and Middaugh chasing together.  At mile 10, Middaugh moved into second but hadn't closed the gap and by the bike-to-run transition Stoltz, who had the fastest bike split of the day in 1:09:46, had more than a two-minute lead.
"When you put together a good race and get beat it's not because something went wrong, it's just that you're not fit enough," said Middaugh, who has now finished runner-up to the "Caveman" in three of the last four races.  "Conrad had an awesome race and kudos to him for having that fitness and power that I'm going to be looking for in the next few months."
Ben Hoffman had an incredible race in his first major XTERRA, and by the looks of his post-race grin it seems certain not to be his last.
"It was awesome today, I'm fired up, had fun out there," said Hoffman, who had quite the support crew with the Specialized team in full force.  "I think most people hear XTERRA has a little more laid back vibe and fun atmosphere and being here definitely confirmed that for me.  Seeing it firsthand; the volunteers are psyched, it's a well-run race, well-marked course, and super challenging but fair, an honest course.  There's no hiding here, it's what you got on the day."]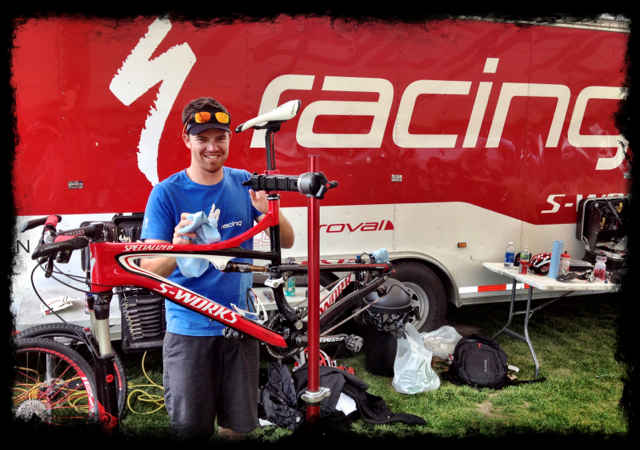 After his 3rd place in the Sport race Dylan slammed a gallon of Chocolate milk and was back on the job cleaning bikes.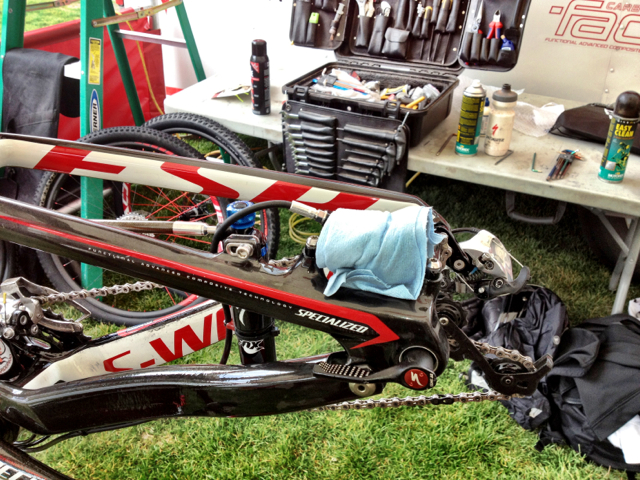 I learnt another wrenching trick- when washing the bike with degreaser, cover the brake pads with paper towel to avoid fowling the brake pads.
The day after the race Hoff and I went for a recovery spin on the mountain and did some hunting gathering while we're out there…
2012 ITU Cross Triathlon World Champion
Created on 29 May 2012
0 Comments
Grateful and proud to win another World title…
The ITU and XTERRA partnership was great to see, the racing was fun, safe and fair. The multi lapped course for the pros made for great spectating and made media coverage. I think off road triathlon would make a great Olympic sport -hopefully this is a sign of things to come.
Click here for YouTube highlights of the men and womens' Pro races.
For once in my career, according to ITU protocol, I was called up to the start first. (as defending champion) During my ITU World Cup days (When I was ranked between 15th and the 70s) I had to scramble for a start spot next to the slow hacks and/or crooked/violent swimmers.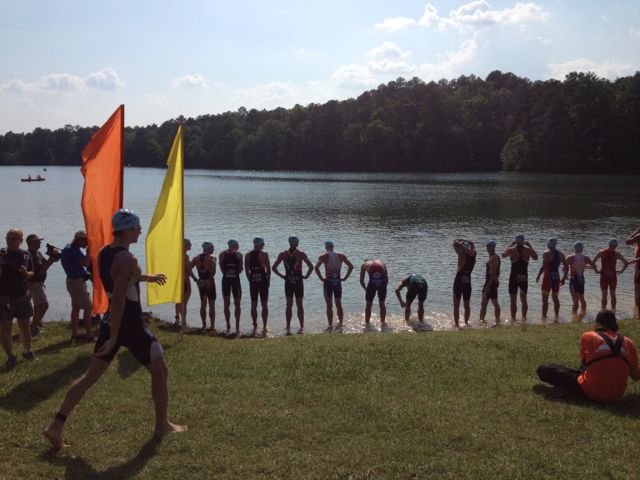 Oak Mountain State Park is the perfect triathlon venue. Stunning lake, great trails and good facilities. The age groupers got to ride the best (BUMP) trail- where the XTERRA has been held the past 6 years- and the pros did a 3lap course on smoother, more groomed trails through tight woods. The lapped course may not have been as much fun as the BUMP route, but it offered great spectating possibilities and showcased the sport well.
The Pro bike course looked "easy", but it was really hard to go fast- as Josiah Middaugh's facial expression and creative line proves. Check out this amazing series of photos by jtalbot– the expressions shows the intensity of off road triathlon…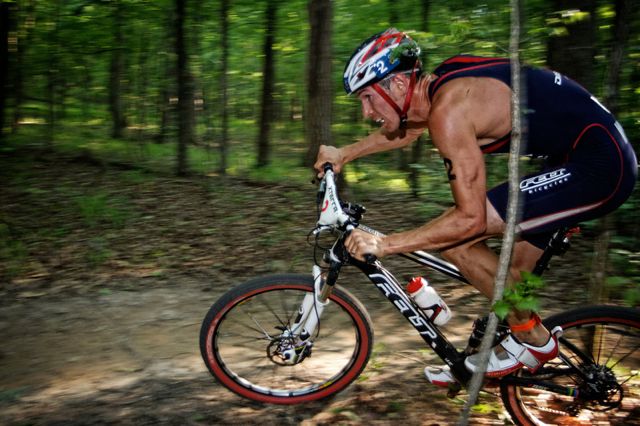 Being 6ft2, (high center of gravity in corners) and (in)famous for my "point and shoot" methodology, I dont consider myself as "the King of Cornering" (thats Greg Minnaar, whom I rode Sani2C with) and with all the cornering on this course, there was not a whole lot of pedaling to do.  But somehow the time gaps after the bike was much bigger than I'd anticipated: Evans at 50″ Stannard + Rakita at 3.30, Thibodeau and Bechtel around 4′, Chris Leigh at 4.30 and Middaugh at 5′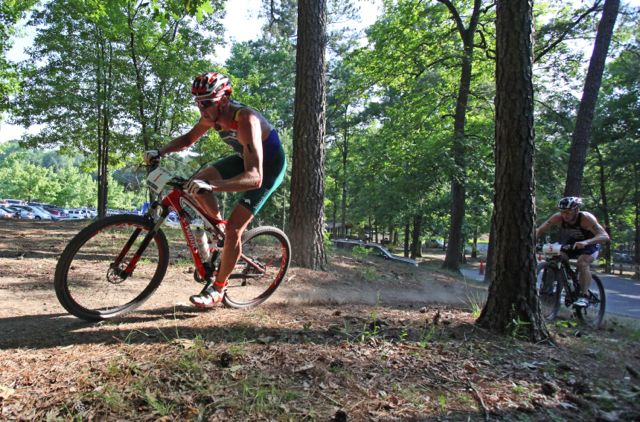 pic by Emma Garrard
Hauling the mail with Evans. I pre-rode the course with Craig about 10 days before the race, and realized he's got it all dialed in. He can swim, he can corner, he knows the course really well (its a hard one to learn- as almost all of the 600 turns look the same) and he is really fit. He was so comfortable in the corners that he ran the Specialized Renegade 1.95  tires front and rear. I didnt have the guts to ride the smooth, fast Renegade in front and opted for the Fast Trak 2.00 with more grip in the front, as the corners got more and more gravelly with all the traffic and hot, dry weather. I also went with the Specialized Command Post which I have put to good use on this kind of course before. Its a telescopic seat post which, with the push of a button, allows you to drop your saddle height in the corners.
Day before the race I spent time re reading my favourite MTB Skills book: Mastering MTB skills by Brian Lopes.
"Carve flat turns" was by far the most relevant topic: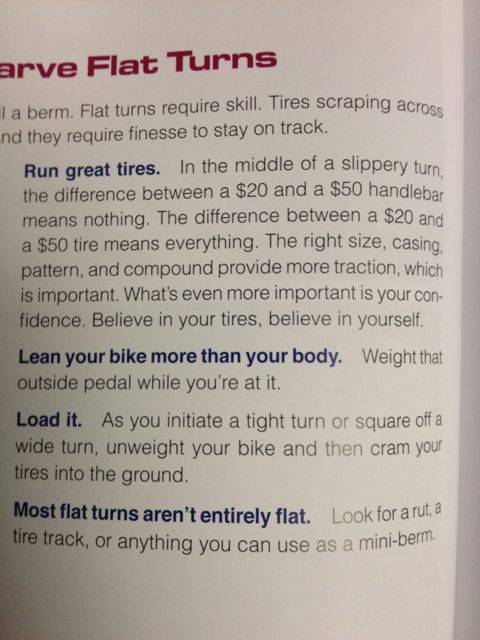 In the pic below I managed to stay off the brakes and you can see how how soft the tires are, fighting for every bit of traction as I try to "cram the tires into the ground". Cornering will forever be "a work in progress"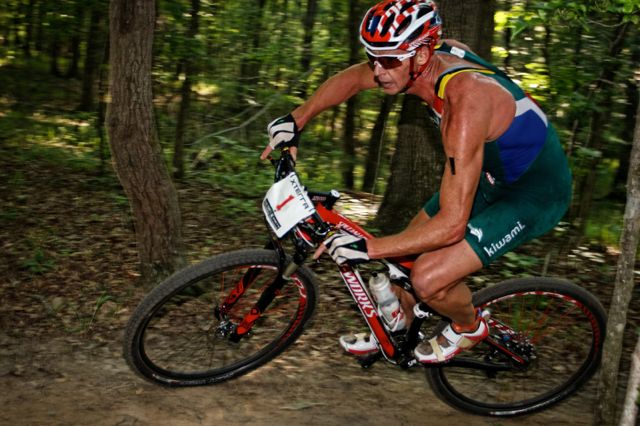 Pic by JTalbot's photos on smugmug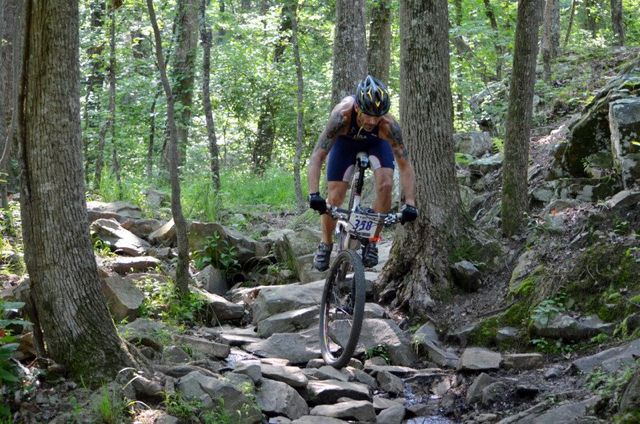 The "piece de resistance" of the age group course: Blood Rock. Here our Alabama home stay Casey Fannin makes it look easy. Casey is a machine- he won his 50-54 age group by 13 minutes!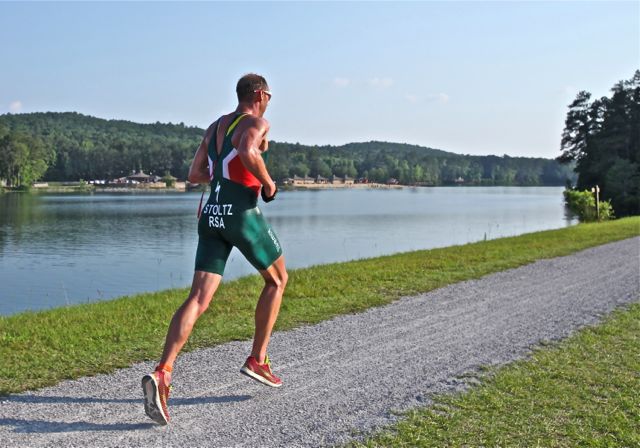 Pic by Emma Garrard
Having a comfortable lead on the run allowed me to enjoy the racing, scenery and spectators. I was using the new Avia Mantis racing flat- a great shoe which will be my go- to racer in the future.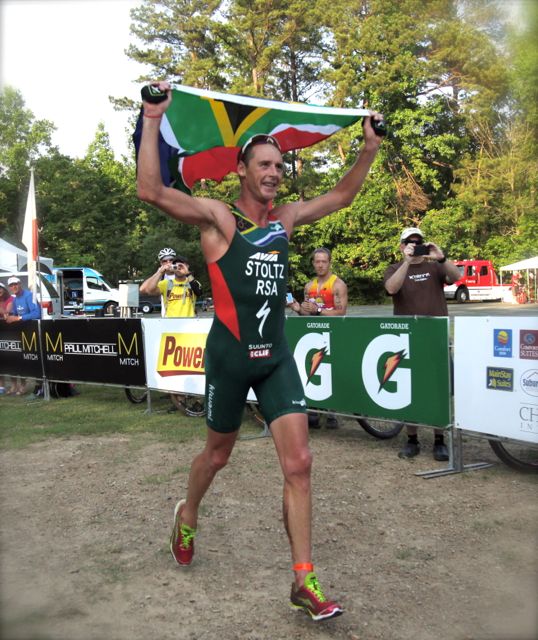 Winning sure is fun- especially under your countries' flag.
In my hands you'll notice my Cool Points, frozen sachets designed to keep your core temperature down during hot races. Here in Alabama we've had some rillers- due to high temps and humidity, fortunately it wasnt too hot this time round, but staying cooler is never a bad thing.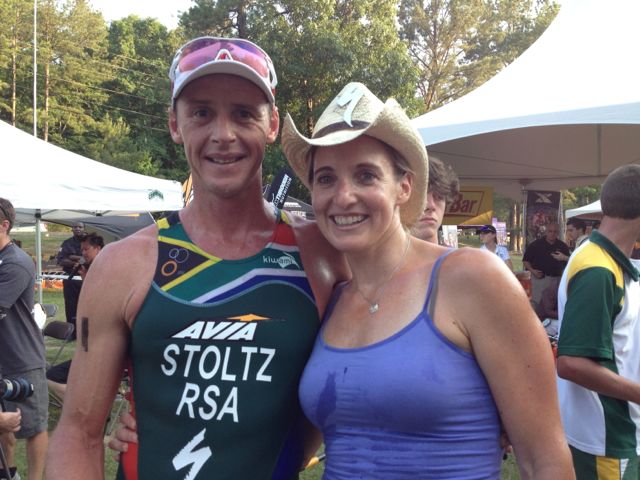 I'm truly blessed to be able to share these amazing experiences with my wife Liezel. She's plays a huge role in my successes. And will even take a sweaty hug at the finish line…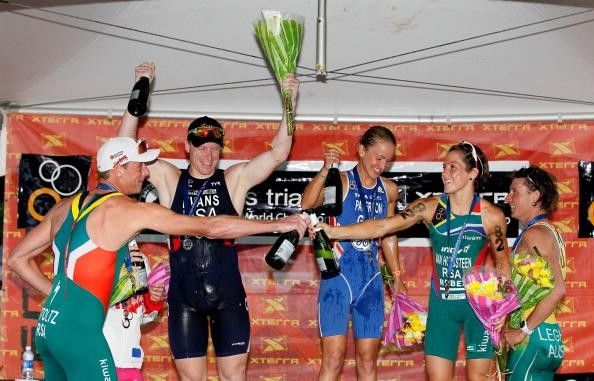 Great to see Carla van Huyssteen on the podium at Worlds! (3rd) The 1st time I saw her run, (2005) I told the stranger next to me "this girl has talent!"- and it turned out to be her dad, South Africa rugby legend Gerrie Germishuys. Leslie Paterson backed up her XTERRA World title from 2011 and Aussie tough guy Chris Legh dodged all the trees on the bike and ran into 3rd. Craig Evans had the performance of his life. Coming down the finishing chute that is! His race result was ok too. Usain Bolt could learn a few moves from this guy: Evans' moves at the finish. (at 6.20)
The young South Africans especially rose to the occasion- Bradley Weiss won the Elite u/23 World Title, (and overall Age Group race) Bradley Schuit won the Junior Men's and Charne Prinsloo was 3rd in the Junior Women's. A testament to the health of XTERRA racing in South Africa. Thanks to Triathlon South Africa for putting a lot of effort into sending a team and supporting our young sport. See TSA race coverage. and more RSA results.
Thanks a lot to Joe, Jeff and Sandy from Specialized who brought "the Team truck", their amazing support (and laughs) – my S-works Epic 29er and equipment was faultless. And cleaner than out-of-the box equipment every time I threw a leg over.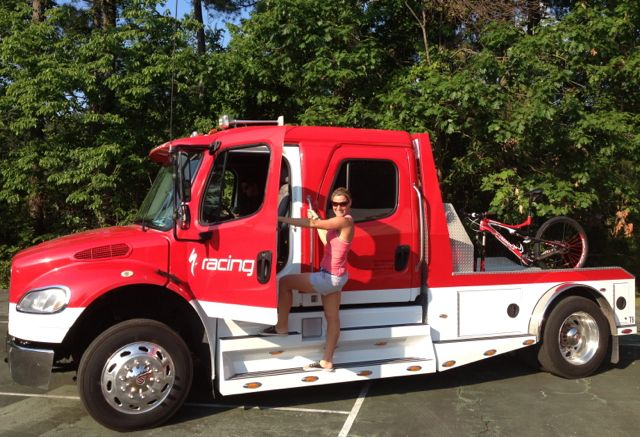 It was touch and go or Liezel took off in "our new car". The only vehicle which makes my XL Epic 29er look small…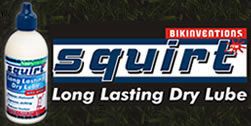 Also thanks/welcome to Dewet from Squirt lube, who is an Official XTERRA Partner from this year. (Keep your eyes open for the "Squirt- win a flight to Maui competition" coming soon.) I think Dewet put more miles onto this bike course than any racer did… "Testing product"
Glad to see USADA was there for Drug testing. So far I have been tested at XTERRA Grabouw, ITU Cross Triathlon Worlds here in Bama and I was placed on the ADAMS anti doping whereabouts list. I think its important to make it clear to tainted athletes (sometimes from other sports or anyone who may consider cheating) that off road triathlon is not a "safe place" to further your pathetic "racing" career.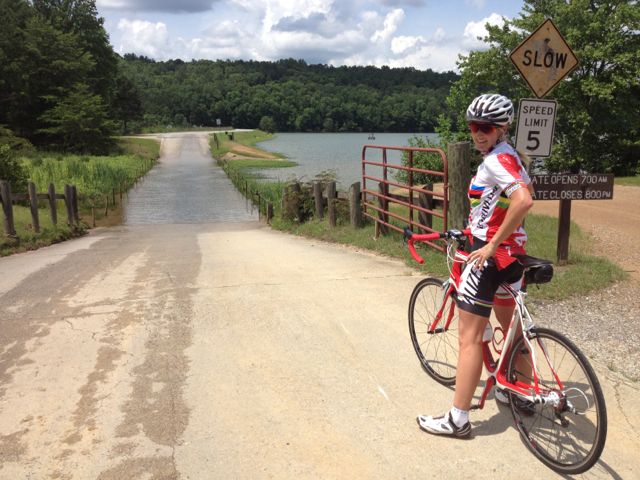 Liezel and I were in Bama 2 weeks before the race and did some fun training together. (If she rides the Roubaix and I the MTB, we're the same speed. Conveniently, she (kind of) fits on my bikes- so we drop the seat and share)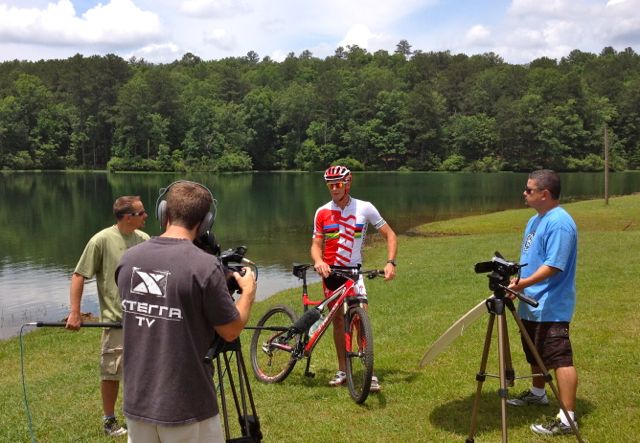 Pre race interview with XTERRA.TV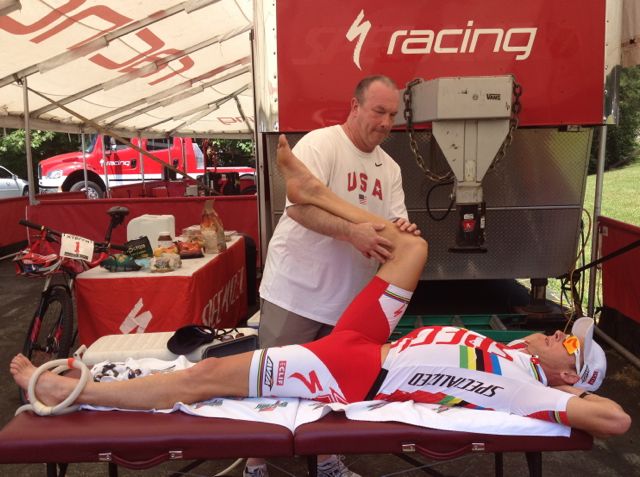 From the comfort of the Specialized tent, Hal Richardson (the official massage therapist of the USA track & field team for the 2012 London Olympics) from Birmingham did some much needed massage the week before and came to the Specialized tent to help loosen up and more importantly -zap sore spots with his $20 000 Alternating Magnetic Therapy machine.
We're in Boulder at the moment, getting ready for XTERRA Richmond VA. I'm spending a fair bit of time on my UCI illegal SHIV, as there is maybe a Boulder Peak Triathlon in the pipeline. ( a race I won 4 times and had the course record from 2000)
In Boulder everyone asks newcomers 2 questions: "How long are you here for?" Prolly most of summer. And "where are you staying?" For now we're staying with our incredibly adventurous friends, Chris and Erin Ratay. Whom I met in Lydenburg South Africa, (because of their KTM 950 with Colorado plates) on one of their motorbike trips around the world. Check out their amazing lives: Work hard, play hard. Sounds familiar…
Stoltz ready to Defend ITU Cross Tri World Title
Created on 19 May 2012
0 Comments
XTERRA Press and Media Center
Stoltz Ready to Defend ITU World Title
05/18/2012
[I'm quoting directly from Trey Garman's report]
Nobody in the sport of off-road triathlon has won more world titles (5) or championship events (44) than Conrad "The Caveman" Stoltz. On Saturday afternoon at 4pm (CST) the 38-year-old from Stellenbosch, South Africa will look to add to his collection by winning the XTERRA Southeast Championship and ITU Cross Triathlon World Championship at the same time.
"My form is good, my training has been going well, and I'll take this race as serious as any other world championship," said Stoltz, who has four XTERRA World Titles and won the inaugural ITU Cross Tri World Title in Spain last year.  "I want to put my stamp on it and win a few world titles while I can."
Stoltz has already stamped his name all over the venue at Oak Mountain State Park in Shelby County, Alabama – one of his all-time favorites – proof of which can be found in his five straight wins here dating back to 2007.
"I have some great XTERRA memories on this course.  It's the most fun course I've ever done.  This year will be different, however, because the pros are racing a smaller loop and multiple laps, not the epic 19-mile single loop the age groupers will race on."
Indeed, the elite bike course features three 10K laps around Double Oak Lake, a staple of the ITU spectator friendly format.
"It adds a great dynamic, and it's great for the spectators.  They normally see us at the start line and not much after that, but now they'll be able to go out on the course and watch us at some great places."
Along with the multiple lap format comes a different style of racing and a different strategy.
"I think passing is going to be one of the hardest parts now," explained Stoltz.  "Each bike lap takes about 25-minutes and 20 minutes of that is on narrow, twisting single track where it is almost impossible to overtake, so hopefully the people in front of me are going to be friendly."
Based on year's past there aren't many in the field that will need to be "friendly" as Stoltz has historically come out of the swim with or near the leaders.  There are a few super fast swimmers, however, who will try to make their mark in the 1.5-kilometer two lap swim in the warm water of Double Oak Lake – including American Craig Evans and British Aquathon World Champ Richard Stannard.
"For some reason I swim better without a wetsuit, so I've had good swims here," said Stoltz. "I'll push the swim as hard as I can and hopefully get out with the leaders and smash the bike from there.  I know a couple of guys, especially Craig Evans (from Hendersonville, Tennessee) who's basically the home boy up here, and he's really motivated and a great swimmer.  I've done a couple laps with him on the bike and he really knows this course well, so I think everyone is coming prepared knowing what's going to happen."
There are a lot of people in the industry that think they know what's going to happen as well, but truth be told no one will really know until about 6pm on Saturday.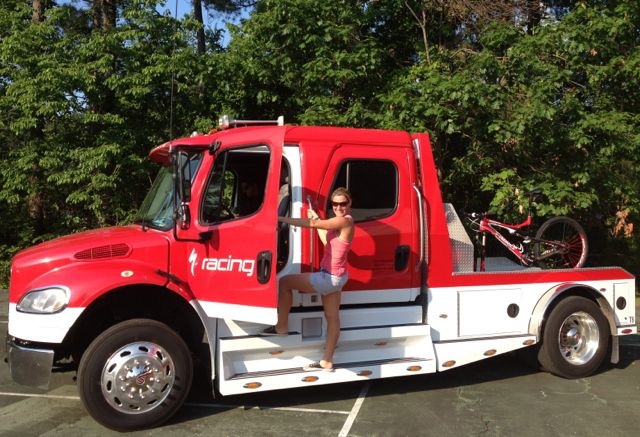 Liezel getting ready to rumble too.
Specialized is here in full force and has been of great support. My bike is shiny every day, it had fresh fresh tires  and we've had some laughs with the crew. Avia and Squirt lube are also out here. And of course a contingent of the South African team.
Lets go racing!
Caveman wins Xterra Las Vegas
Created on 15 April 2012
0 Comments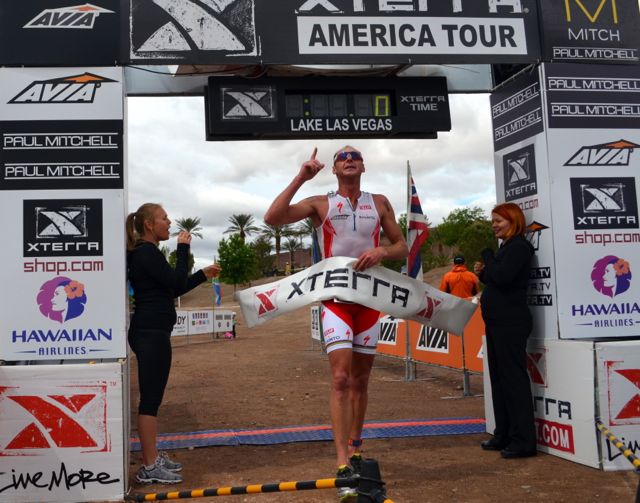 For my dad.
We're flying to South Africa in an hour for his funeral.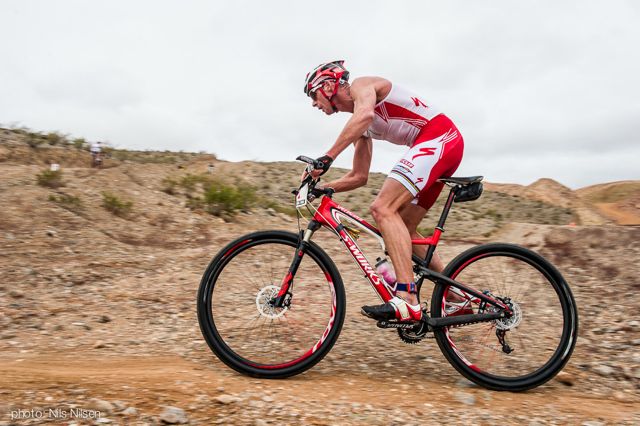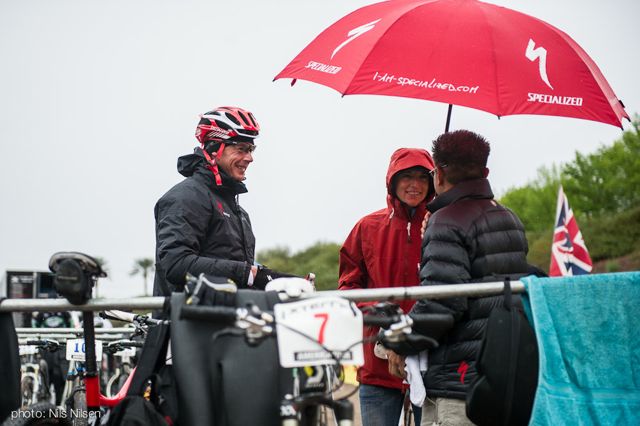 Liezel and Specialized mechanic Joe before the start. Vegas got its annual rainfall in one morning