XTERRA Reunion. Adventure paradise…
Created on 25 August 2016
Last Updated on 25 August 2016
2 Comments


XTERRA Reunion by Conrad Stoltz
The tropical, volcanic island of Reunion is located close to Madagascar. Reunion, with its distinctly French flavor, is also Adventure Paradise! A perfect home for XTERRA: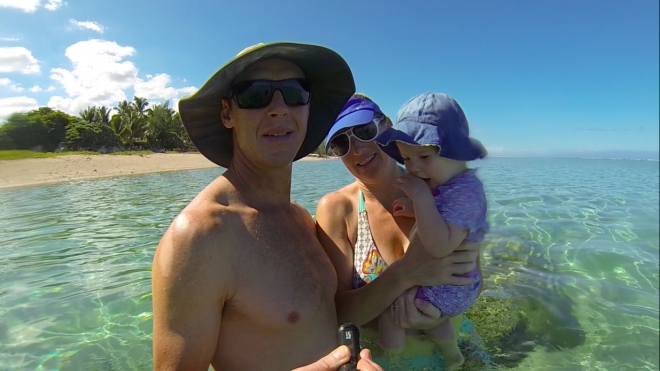 Tropical climate with palm trees, warm water, corral teeming with colourful fish, but also plenty of lava rocks, leg bursting climbs, scenic views, technical single track, river crossings, beach sand and of course a very enthusiastic local triathlon community!
Having gleaned the above tidbits from South Africans who raced there last year -and the XTERRA Reunion FB photos, I knew this was going to be my first XTERRA since my retirement from professional racing last September.
To many people "retirement" means sitting on the couch. To me it means "not making a living by winning races anymore, but still maintaining my love for the sport, adventure, travel, adrenaline, a healthy lifestyle and family fun."
Since my "retirement" Liezel and I spent most of our time starting up and working at Caveman Café in Stellenbosch. That, along with a very, very busy 11 month old Zena, I didn't get much time to train at all. Fortunately I have forgone all high performance racing aspirations and now just aspire to "have fun" and fit into my "old" race kit.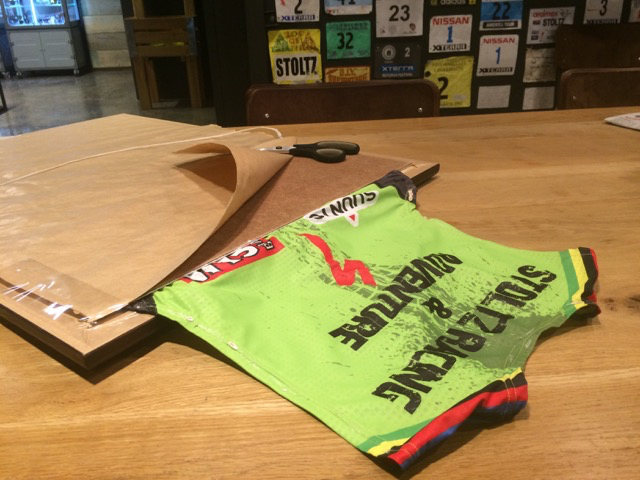 But first, I had to steal my old race kit out of its display frame at Caveman Cafe…
The reputation of a great race travels fast, so not surprisingly the field was stacked with the fast, the hardcore and the "lifestyle racers"- which I think is my newfound category…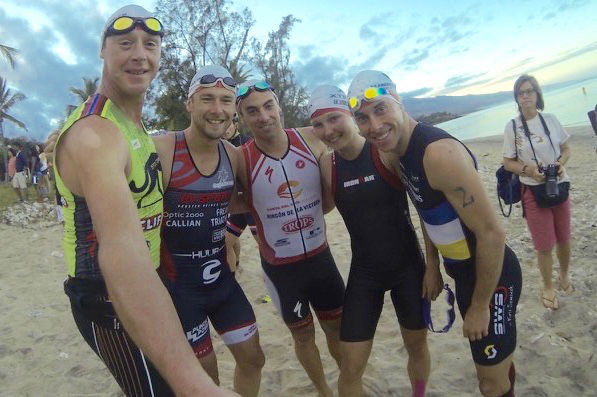 Reuniting with "old" friends from the XTERRA circuit: French powerhouse Francois Carloni, 3x World Champ Ruben Ruzafa from Spain,  Sandra Kolbemeuller (AUT) and Yeray Luxem from Belgium.
The South Africans came out in full force, 11 in all with the professional contingent being Theo Blignaut, Antoine van Heerden, Aidan Nugent, Carla van Huyssteen, Susan Sloan, and youngster Natia van Heerden.
So with our bikes racked amongst the palm trees and our toes in the 27Deg C Indian ocean, this idyllic triathlon kicked off at the humane hour of 8am. (This is France after all.)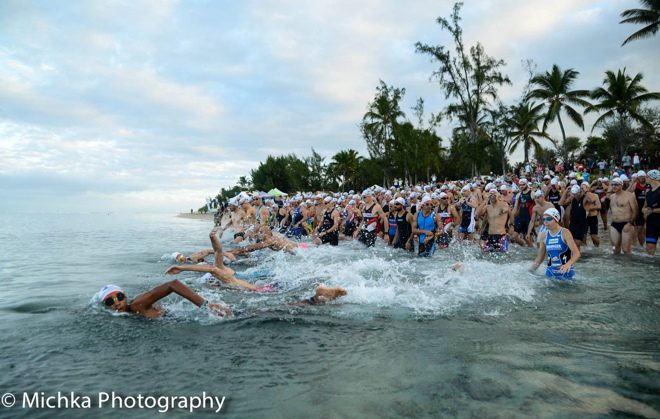 Large parts of the Reunion coast is protected from the sharky open seas by shallow corral reefs, and this event took place in such a safe, calm, almost aquarium like swim course.
Theo Blignaut swam like a big fish while the rest of the field quickly spread out over the two loop 1500m course.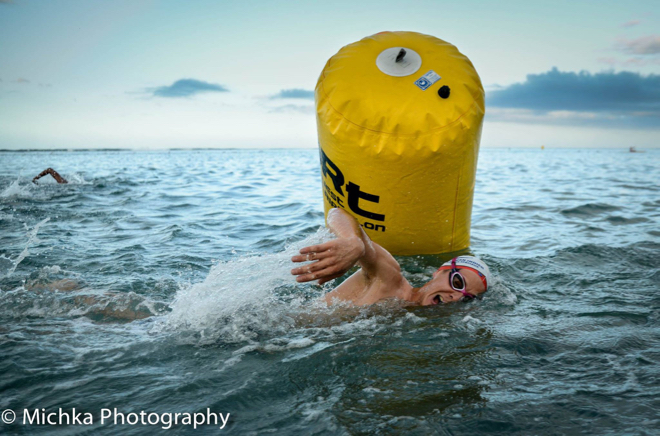 As for myself, unfortunately I've become allergic to swim training, (30 years of chasing the black line will do that) so now I only swim in races. Which is partly explains why I started the bike with the 3rd lady… The other reason is: I couldn't stop staring at the tropical fish and colourful coral at arms reach. I just wanted to keep my face under water to enjoy the views!
Heading out on the 30km mountain bike leg, Theo had a 45second gap on Ruben, Francois and Yeray.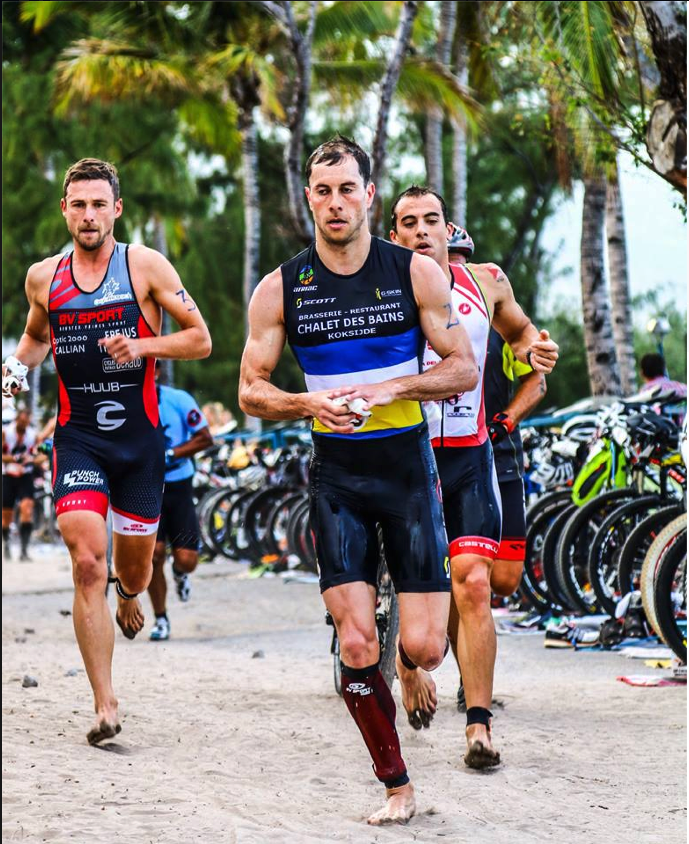 Carla Van Huyssteen was the first lady out the water with a comfortable lead on the chasers.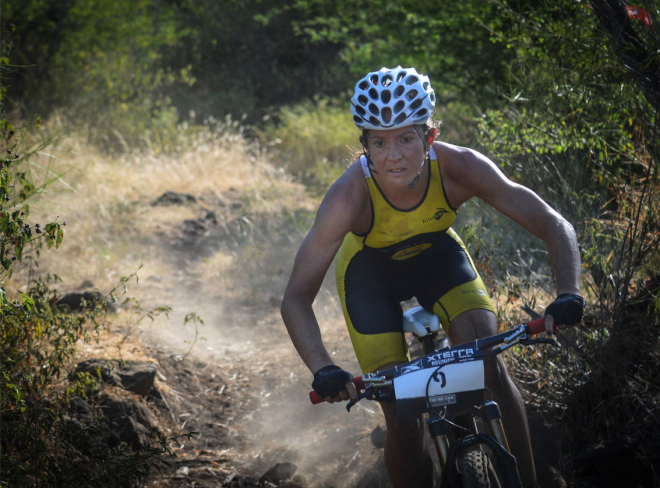 The nicely rounded bike course is a good one! Flat & fast through the palm trees to warm up before tackling the main climb towards the volcano. Once you hit the trails, it becomes distinctly rocky and thorny!
For those not familiar with XTERRA – the relatively tame distances of 1.5km swim, 30km mountain bike and 10km trail run, may seem like a bit of a cake walk- albeit a dusty one… You are mistaken!
A pro level road triathlete doing a typical road triathlon will do a 30km road ride in about 40minutes and the 10km road run in about 31minutes.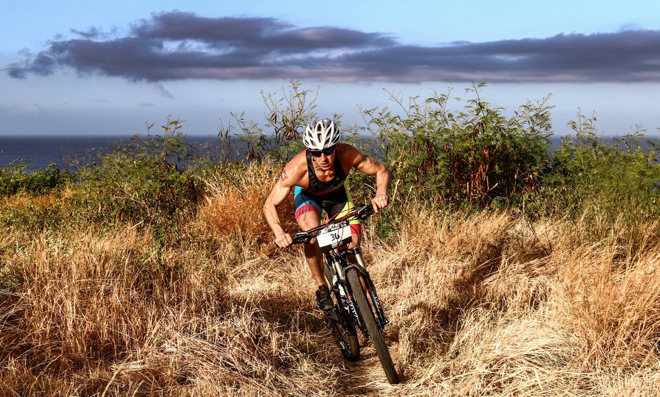 But on this typical XTERRA course, the fastest time for the 30km cycle leg was 1h12 (Ruzafa), the fastest lady 1h25, (Van Huyssteen) and many of the age groupers riding about 2h30.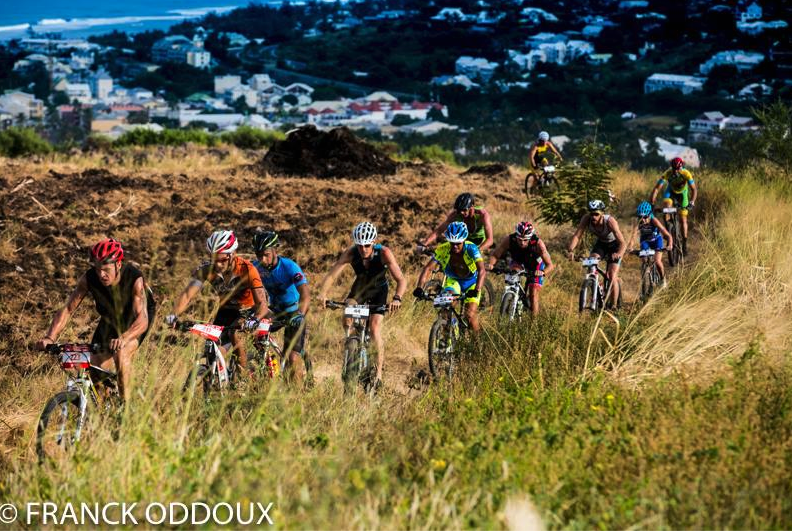 Nice single track sections awaited the connoisseurs – like myself – here riding my Stumpjumper 6Fattie trail bike with 3inch tyres "unflated" to a soft soft 16psi.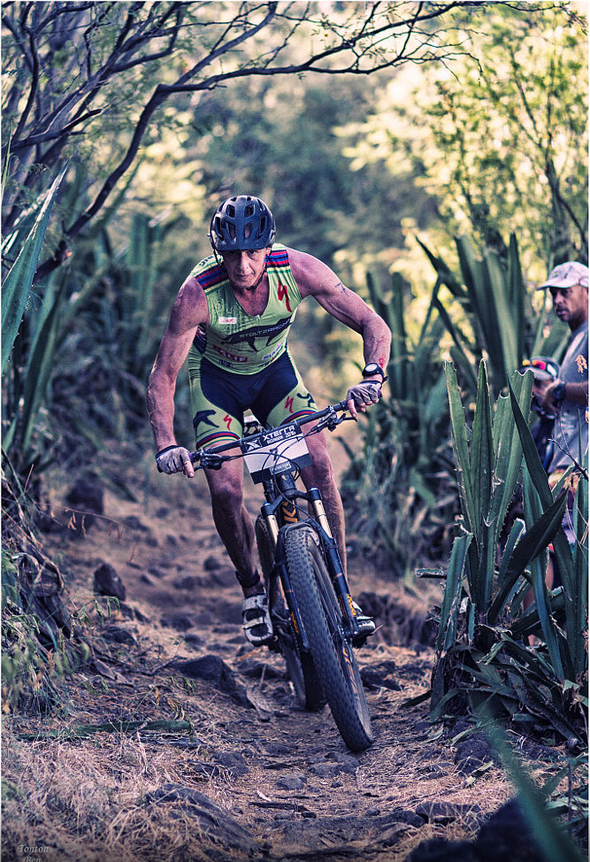 It took the chasers quite a while to reel in Blignaut, but when they did, Ruzafa put the hammer down – with his typical out of the saddle climbing style – and blew the field apart.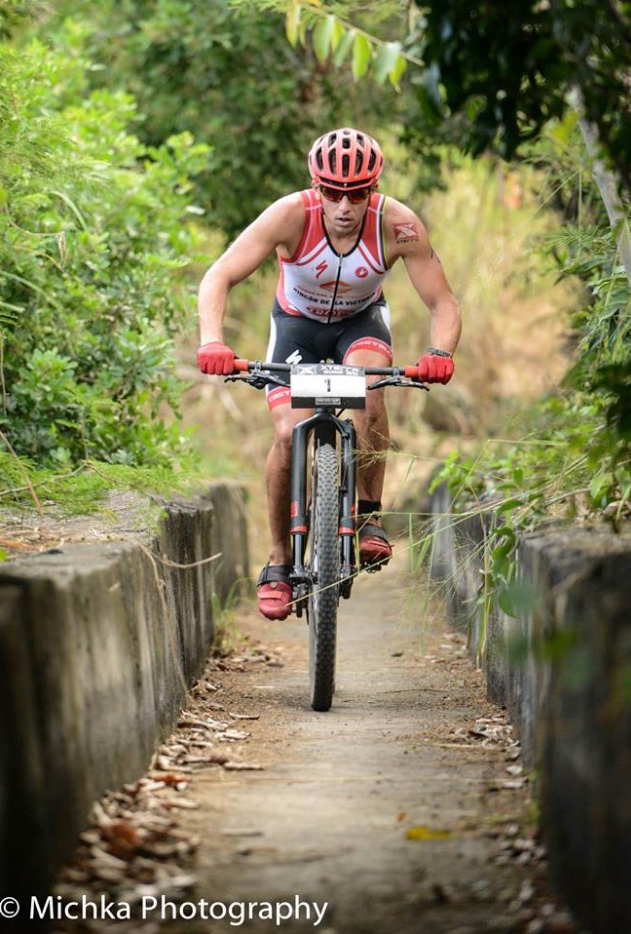 Ruben Ruzafa doing what he does best: Being no 1
In the women's race, Carla and Carina rode exactly the same time, but Sloan losing serious time on the demanding ride.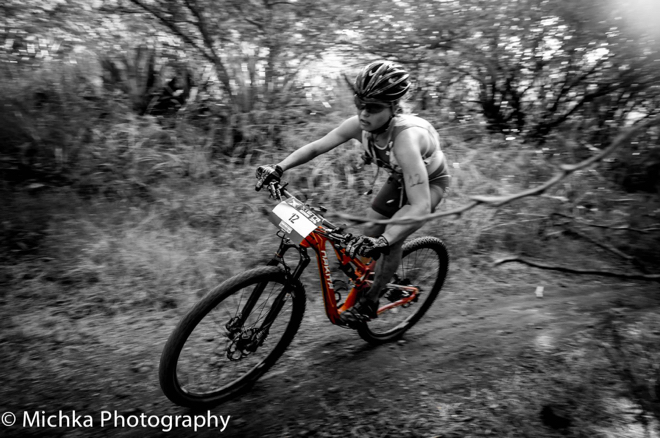 The fastest 10km trail run was 43minutes for the men, and Carina Wasle ran 53minutes the ladies With mid pack age groupers running 1h20.
Here is why XTERRA run times are "slow":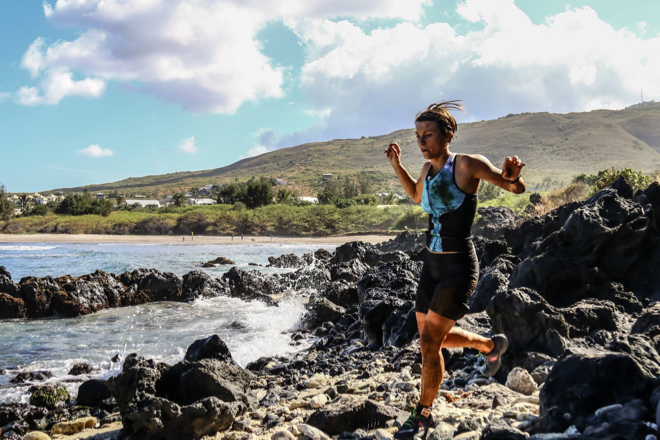 This run course was amazingly varied in terms of technicality, adventure and scenery. The run had a few short pleasant beach sections interspersed with hectic boulder hopping, a twisty savannah section right on the edge of the ocean, a waist deep river crossing, a spooky forest where you had to contort yourself and climb through vines and over rocks. Easier said than done if you have crampy legs and a wheelbarrow load of sand in each shoe…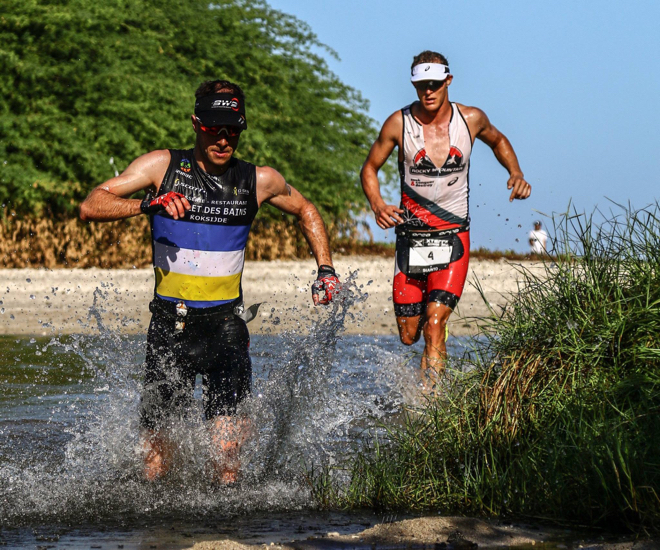 Yeray Luxem running into 2nd place.
All this fun running was just too good to be true: The trail tilted towards the top of the volcano and we hit a big climb. Certainly the most pleasant big climb I've ever done. Firstly because it was quite technical and there was no defined trail, so as long as you followed the arrows, you could pick your own way over and around impressive black lava rock formations.
The other reason I loved it: Whenever I got that old familiar feeling of my muscles are on fire with lactic acid, and whole body feels like a overheated radiator about to boil over, vision blurry and flashes of black… I happily walked. Something I really appreciate about this new racing for fun thing!
Since a little boy I enjoyed pushing myself to the very edge in racing – physically, technically and mentally. Not any more. I cant tell if I'm just on a sabbatical, or if I've moved to the comfort zone forever, but yes, for now walking feels better than pushing till DefCon 4.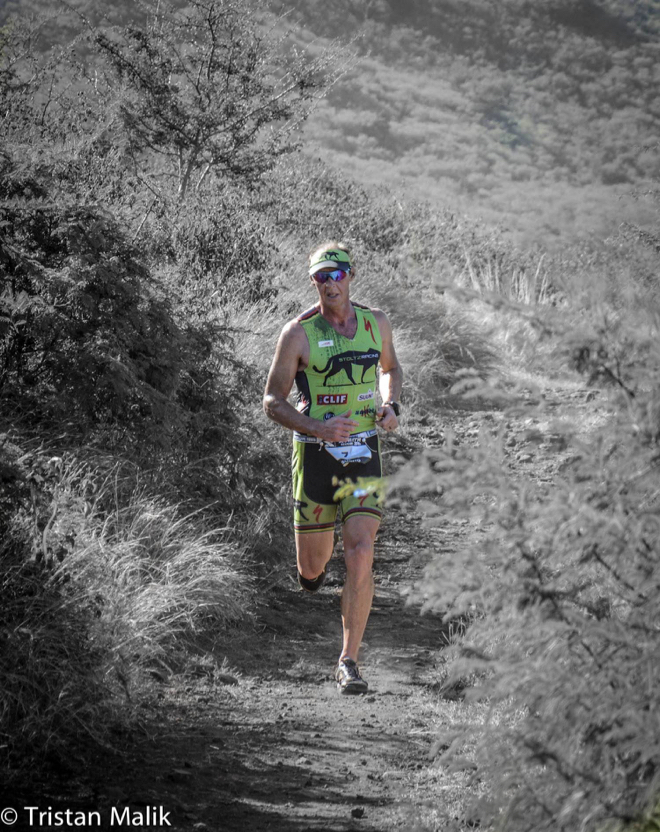 Got to love the downhills!
One of those times I got tired, I realized the elastics on my shoes were too lose for my liking, so I made a quick fix Caveman plan: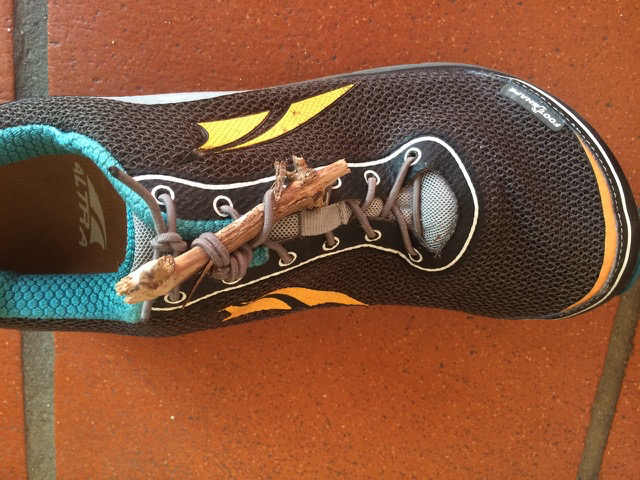 Stick & elastic shoe laces with special "Caveman winder upper mechanism." Shoes:  Altra Lone Peak2.0
Racing at the front was tooth and nail with scenes of carnage at the finish line.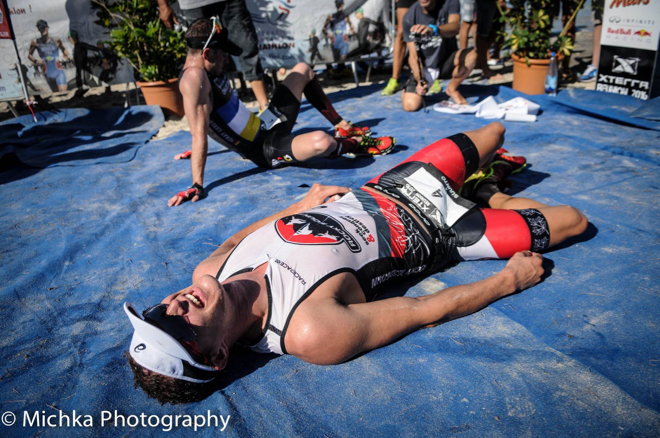 Carloni, Luxem and Bligaut really pushed each other for 2nd, 3rd & 4th!
Results: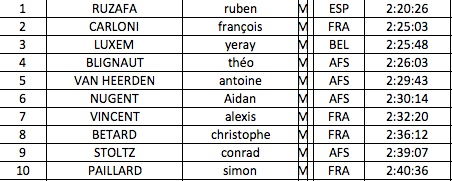 I confirmed my retirement from serious racing by coming in 20 min later, with Zena wondering "did he just walk fully clothed through the ocean?!"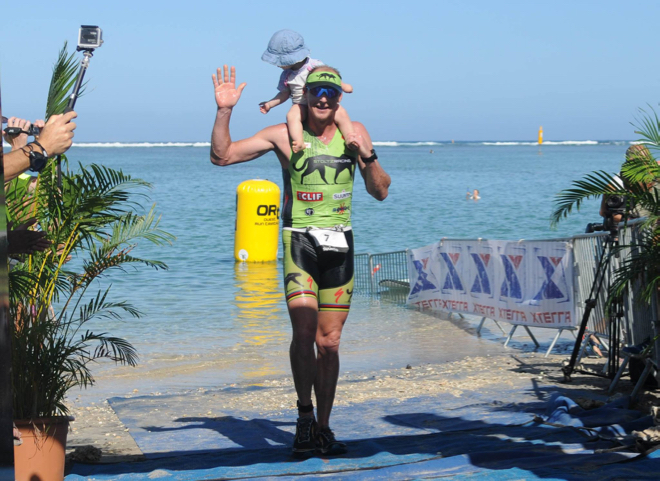 The surprise finish straight was certainly the best I've ever seen: The one moment you're running along the beach- hot sweaty & tired, then suddenly you go into the ocean, round the yellow bouy in the background and voila – everyone arrives refreshed, kit washed & smiles on faces!
Great work organizers Yannick, Ameryik and Michael! This is definitely an XTERRA for the bucket list – every year!
Yannick Desfarges, organizer and accomplished XTERRA racer himself, showing us the bike course on his e-bike.
Racing (participating) is just part of the allure of Reunion. This island is truly a magical place of adventure, gourmet delight and warm people:
The day after the race we did a ride from the Maïdo crater rim 2200m alt- where this pic was taken- to the beach. A fun, technical brake boiler, going through 7 climatic zones…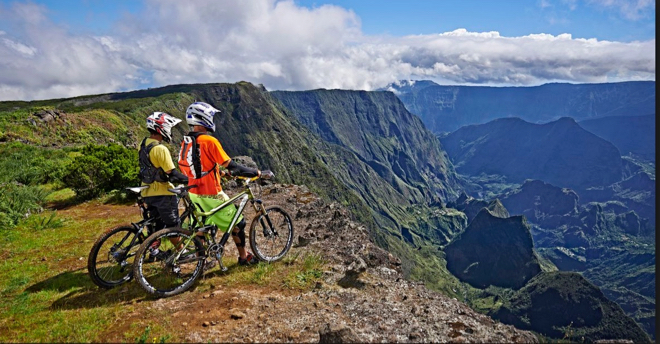 Lava: The Piton de la Fournaise is one of the most active volcanoes in the world with the latest eruption being May 26 2016. We went walking on this lava flow (once it was well cooled off!)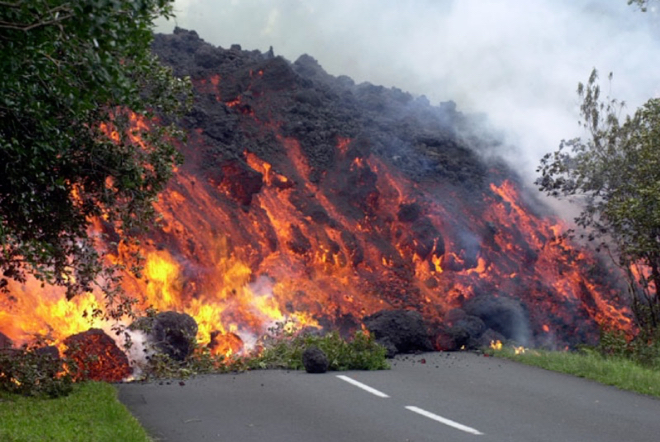 Waterfalls everywhere!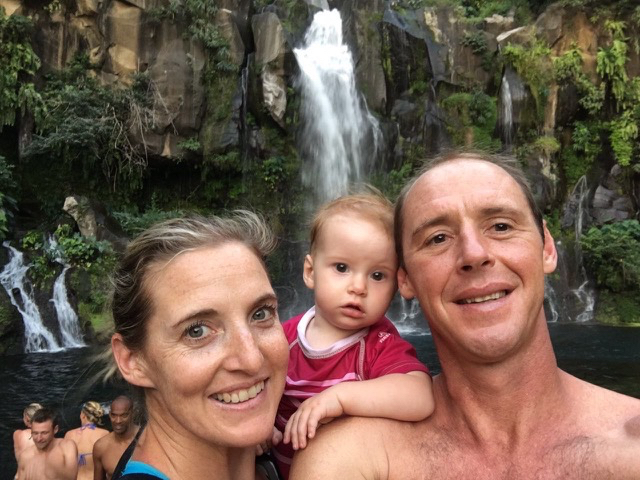 Friends! Zena and "Babeuf" – whom I've competed against at ALL Africa Triathlon Champs since the 90s: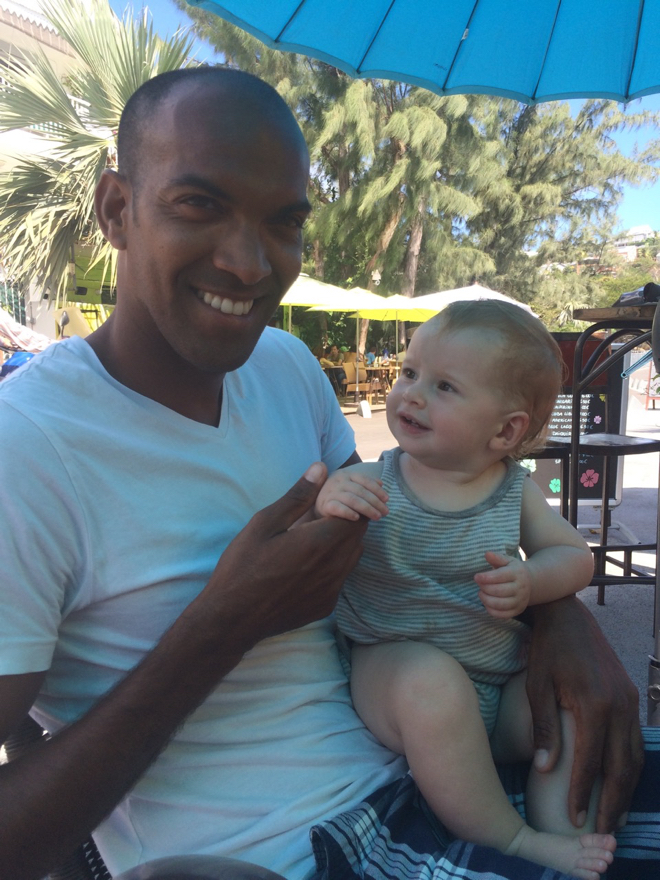 Beach, beach & beer: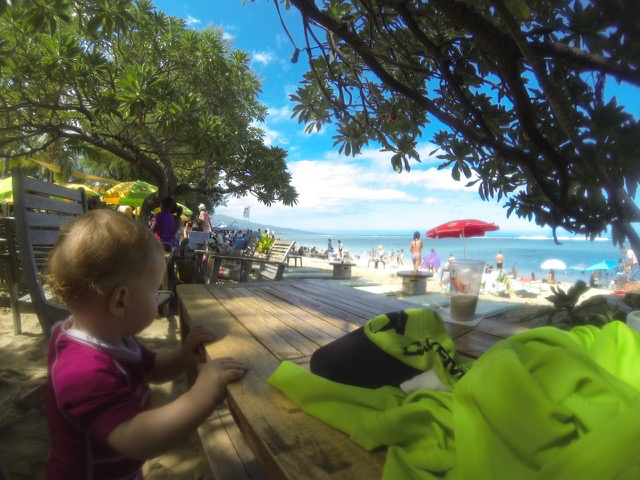 Beach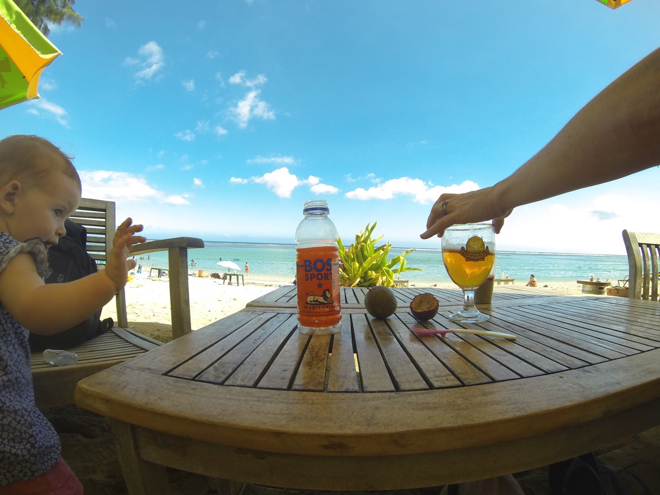 "Working" at the beach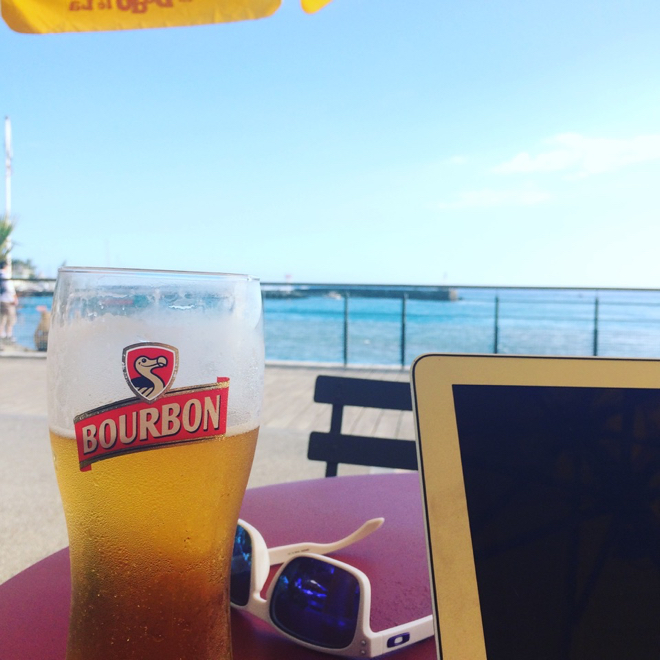 Love the local Dodo Bourbon bière. Catchy logo all over the island.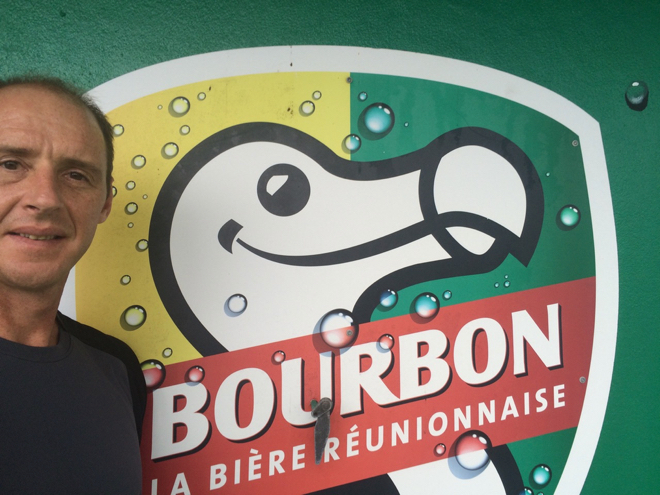 The Tropical ice creams alone are worth the trip! I think we had ice cream twice a day…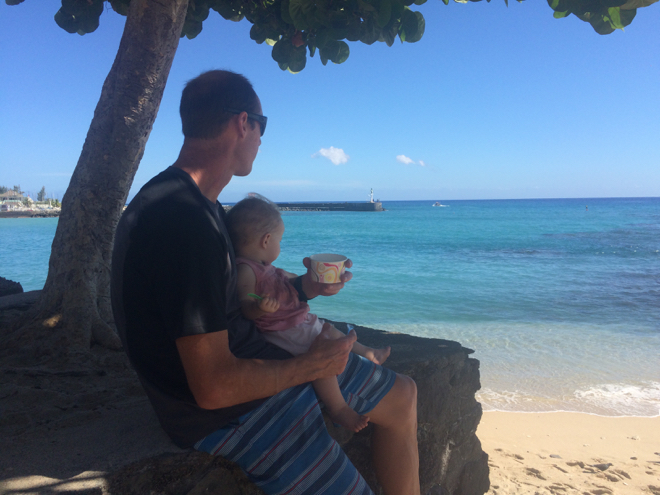 Reunion, nous revenons!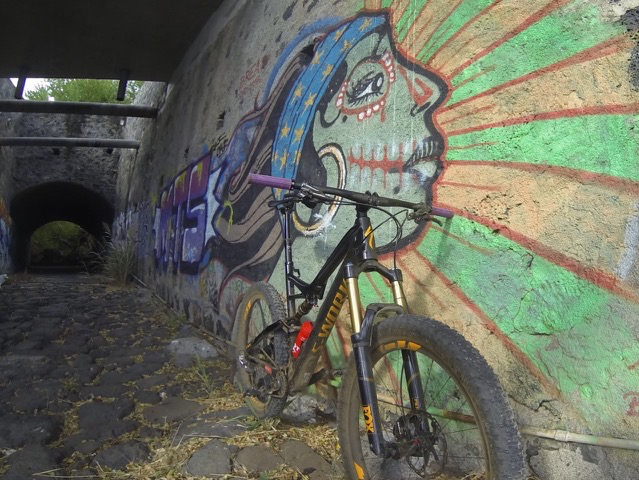 A Bientôt!