Posts Tagged 'BlueSeventy'
Think training is hard? Try losing.
Created on 25 August 2015
0 Comments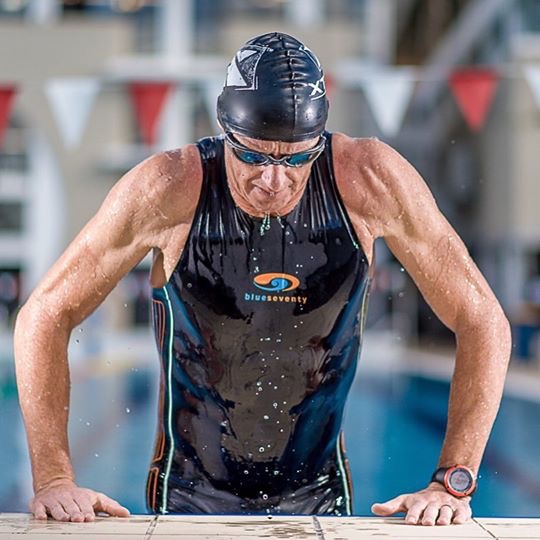 "Think training is hard? Try losing."
My motivation to get my workouts done right. Thanks to coaching whiz Ian Rodger we dont do "garbage miles" or workouts to fill the log book. We stick to the science and only do exactly what is right for the chosen sport & outcome we're looking for.
Created on 20 June 2014
0 Comments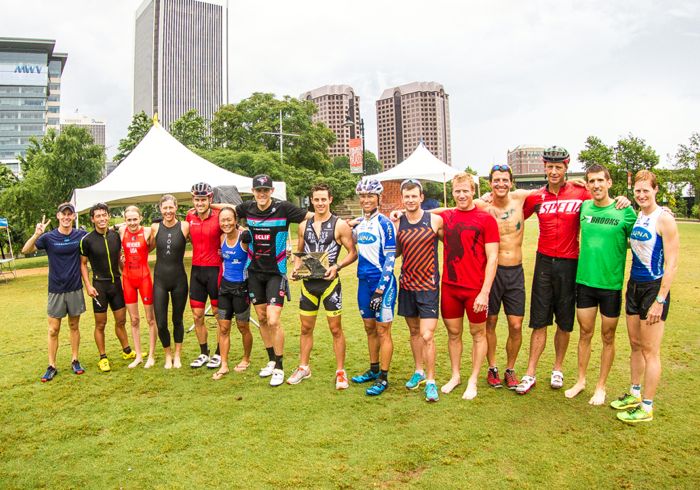 A group of pros raced a new, fun  event in pouring rain on thursday – XTERRA Super Sprint Relay, filmed by Luck Stone. Was good fun- should have more of those. Also an easier event to attract agegroupers. In the middle- holding the trophy- Maurizio Mendez. 18 year old Neo Pro from Mexico City. Fastest swimmer and fastest runner in the field- watch out for him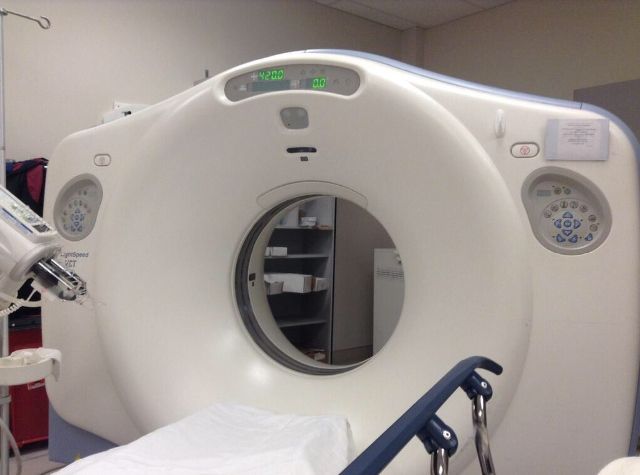 My week kicked off a bit rough. On Friday (8days before the race) I though my appendix is either about to burst or has already burst. Rushed to ER, they did tests incl n CAT scan. Lets just say the pain was sygnificant. I dont get in a wheelchair lightly.
It turned out to be a viral gastrointestinal entenites. A virus in my gut. No medication for that, but I was on a clear fluid diet for 2 days, an all liquid diet for 1.5 days and then started a "bland" diet. Cant believe how long it took to get my intestines going again- and get rid of the pain and cramping.
By race day I was still pooping like a pigeon as opposed to a lumber jack.
I went through the usual motions of warming up, but I felt shocking and told Liezel right before the start "I feel terrible." She (and my coach Ian) said- "just do what you can."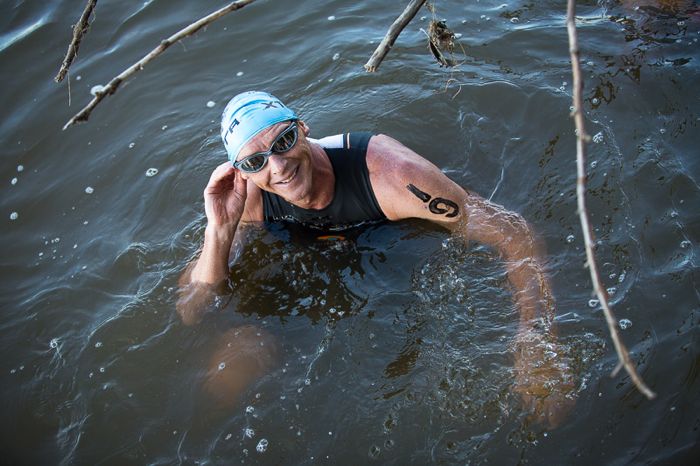 I was super relaxed at the swim start, sitting on a branch in my favourite brown river.   Pic by Jesse Peters
This swim course was for sure the most fun I've done in years.  The current was really strong, but varied according to depth. As you can see below, we had the swift current come from every single angle. You can see the rocks and shallow parts on the photo. And the sandbar (between bouy 1 & 2) where Josiah ran from mid pack to round bouy #2 in first place. He LOVED it- much to the swimmers chagrin. The dotted line is a run up Browns Island.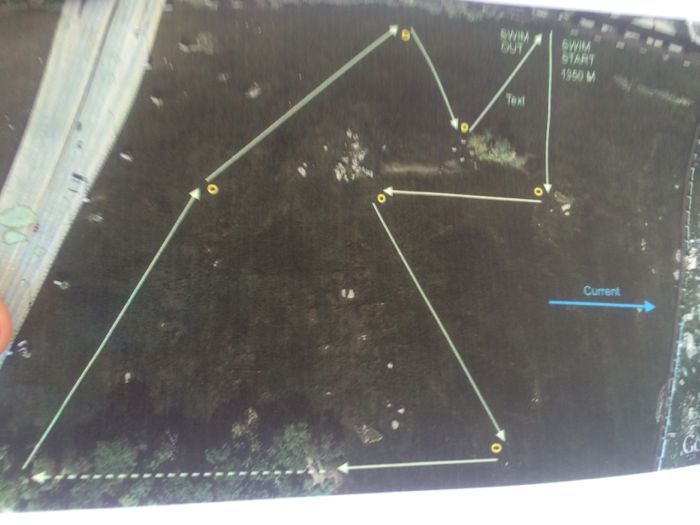 Other good & fun swims I remember off hand:
– Energade Triathlon in Durban where the surf was HUGE, I was off the back but caught a huge wave just as I turned the last bouy-  and body surfed about 300m to shore! The wave (with me on it) went right over the lead group, and when I stood up on the beach, I had a 30 second lead.
– My first triathlon in France (1992) was a down river swim. (Kevin Richards / Richard de Villiers / Thierry Baron what was it called?) Not being able to understand the briefing, we just swam down stream. It was quite narrow- trees overhanging both sides, and soon it got wider as another river joined. I sighted and saw people standing ON the water, in the middle of the river! I had no idea what to make of it, but they were waving, and obviousy we had to swim towards them. When I got there I realized they were standing on quite a large concrete weir- about 5m long and dropped maybe 2m in height. The swim course went straight down it. The weir had a sheet of plastic over it and these people were shoving us down the weir!  You slid on your stomach. It was quite a rush and came as a total surprise.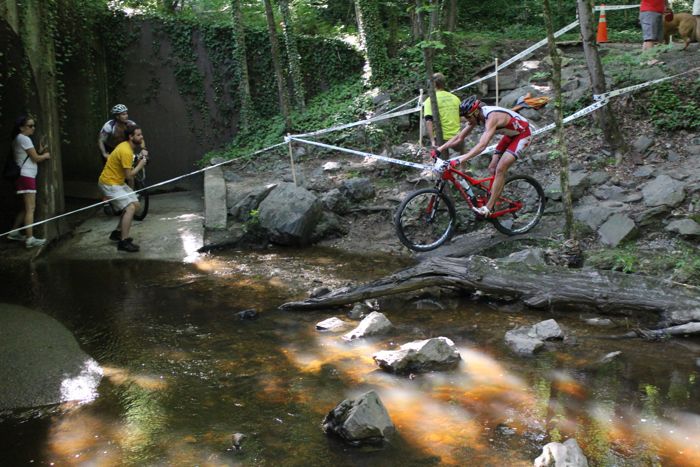 Back to Richmond: Lost 30″ seconds in a lacklustre swim, but was surprised when my legs came around on the bike. This course is just awesome- never a dull moment- I wish I had time -and know how- to properly edit the GoPro footage I have.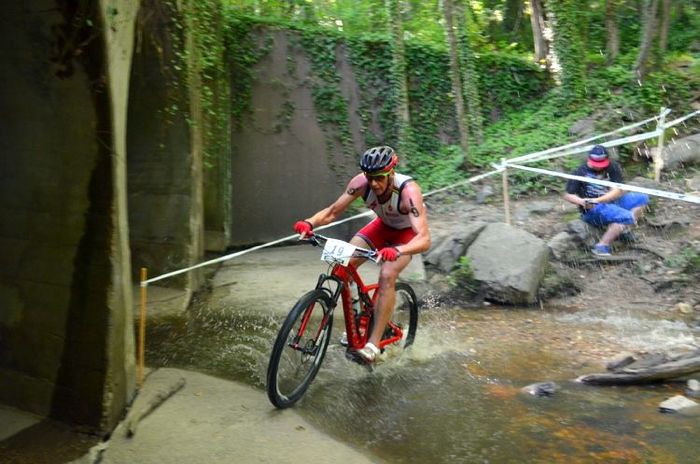 Picked off the guys ahead and took the lead about 6km in- just before the Tunnels. Really enjoyed this race. Richmond is a "must do before you die"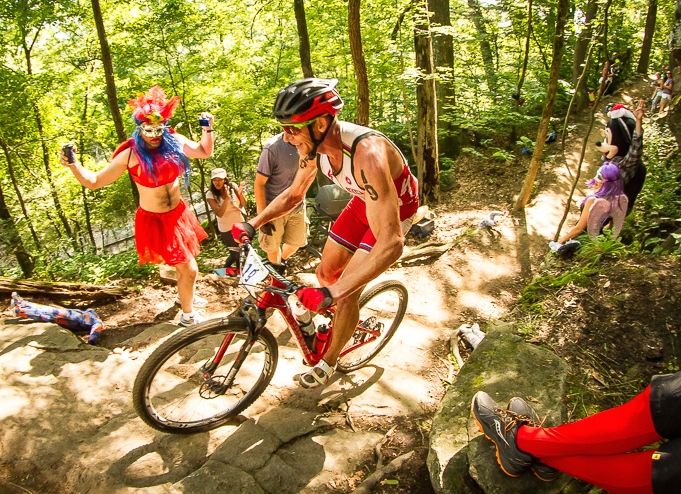 Really enjoyed the Zoo out there! It was 8 am, and the rocks were not yet slippery with beer.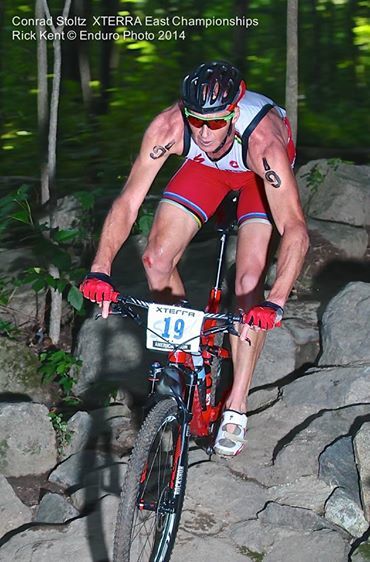 Slid on some gravel on a narrow wooden bridge and took a tumble – lost some time and skin – and some time.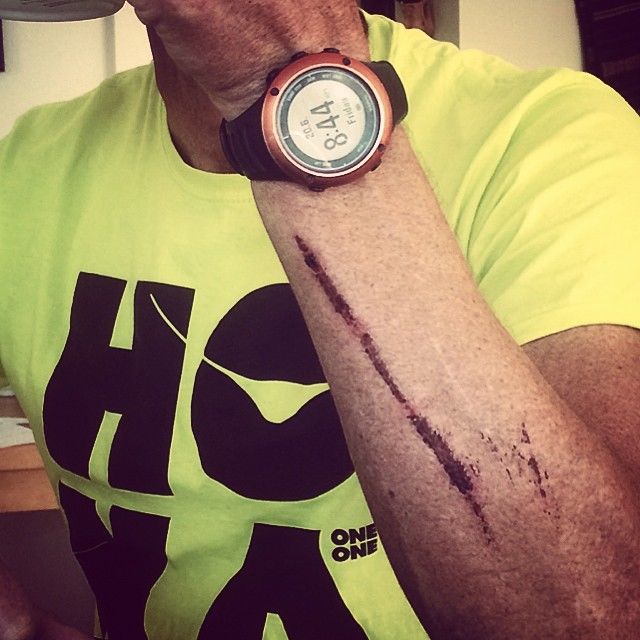 Some riders use brakes to stop. #Caveman uses his fore arm.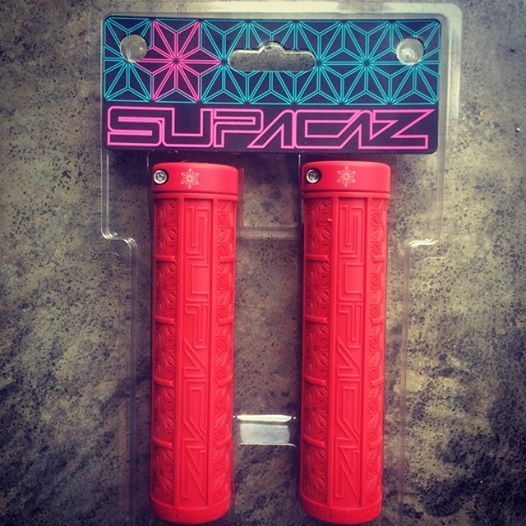 Enjoyed new red Supacaz grips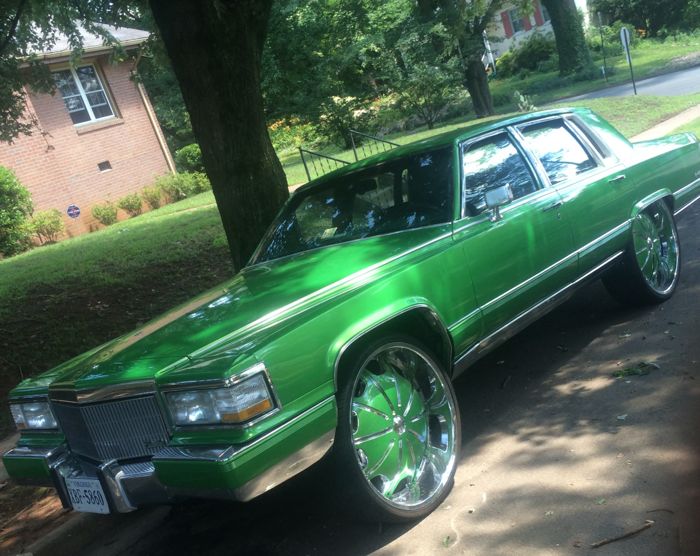 The Green Car on the course. Doubt its a Green Car in the California way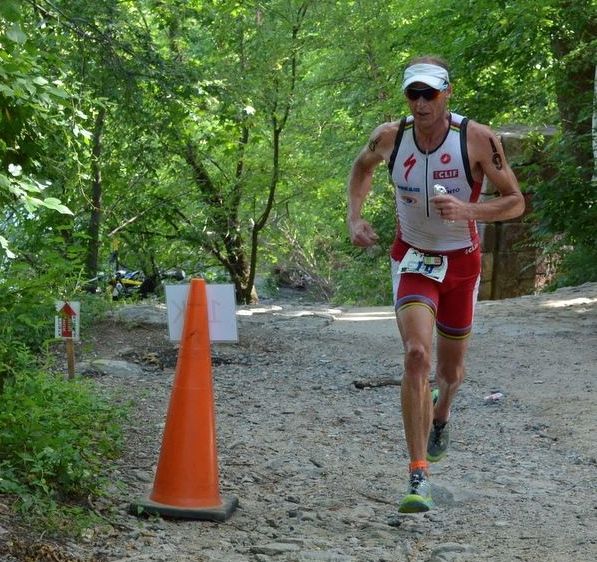 Got off the bike with a 30″ lead on Dan and 3.30 on Josiah. Craig Evans was in between.  Felt surprisingly comfortble running – all the way to 8km. Havent been running much, mostly rehab with guru Lawrence van Lingen at Rausch PT in Orange County. "OC, NOT LA, I've been told"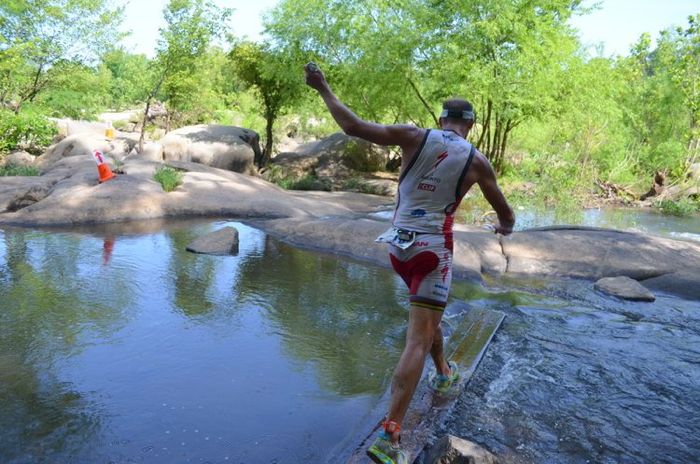 The river level rose with the 4′ of rain, so  the course changed from last I saw it, and I ended up waist deep in the river, (rookie!) with Dan breathing in my neck- I realized things were about to go pear shaped if I didnt do something pronto.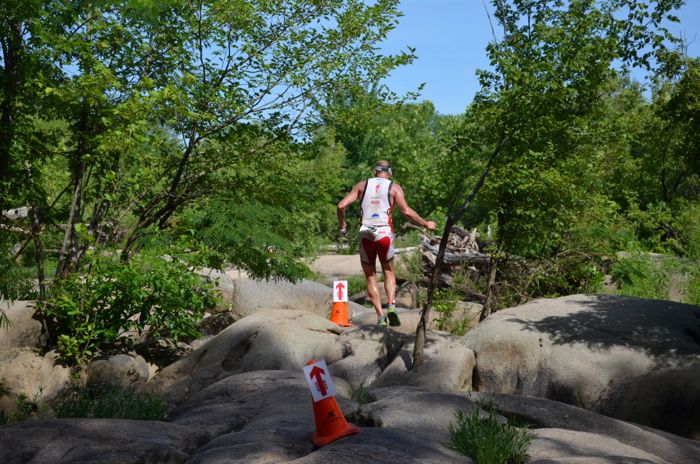 With 25″ lead and 2 km to go, I thought I had it in the bag, but when we hit hilly and technical section across Belle Isle, my body totally folded. Dan came blazing past in the woods, I tried to pick up the pace and promtly tripped over something. (probably my feet) Did a clumsy Judo roll, scurried after my still rolling new Oakleys, and gave chase, but Dan was gone and my body was empty.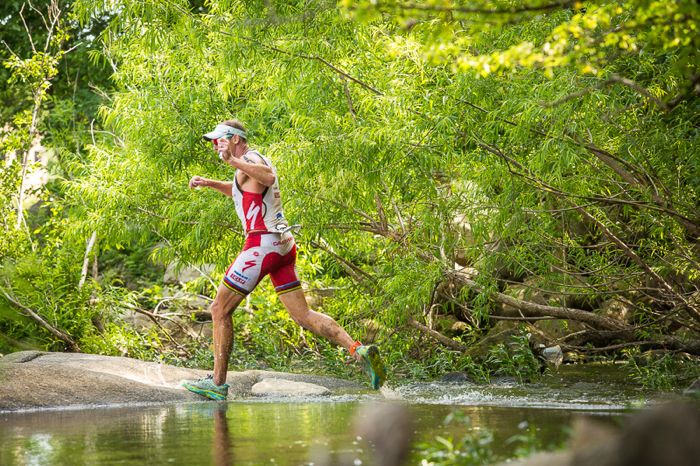 Loved my new Hoka One One Huaka racers! So comfortable, I raced them out the box. Superbe ride quality, comfortable, fast and light. Not as big as other Hokas, but plenty cushy for a racing shoe- thanks to the magic of the RMat midsole.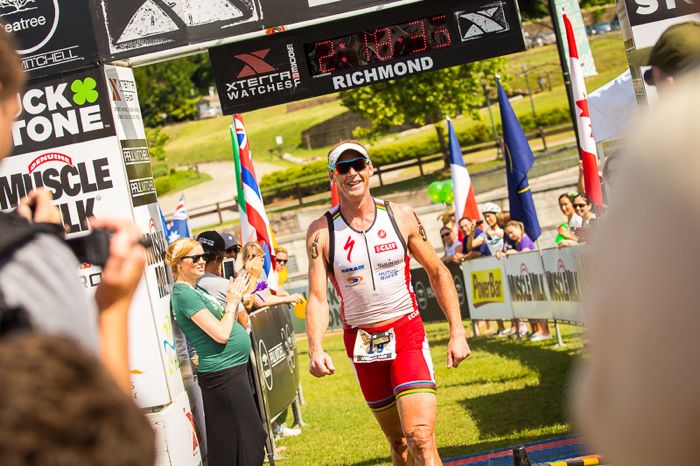 2nd, but loved it. Nail biting finish. Good to be back racing after some seriously trying times. This was my 1st XTERRA ever (2001- also finished 2nd) and I fully appreciate why this place gripped me – despite the Speedo and borrowed 30lbs Soft Ride bike with road pedals…
My family loved watching this event live on their computers and being able to follow the athletes via GPS tracking. Thanks a lot to Luck Stone for pushing the envelope.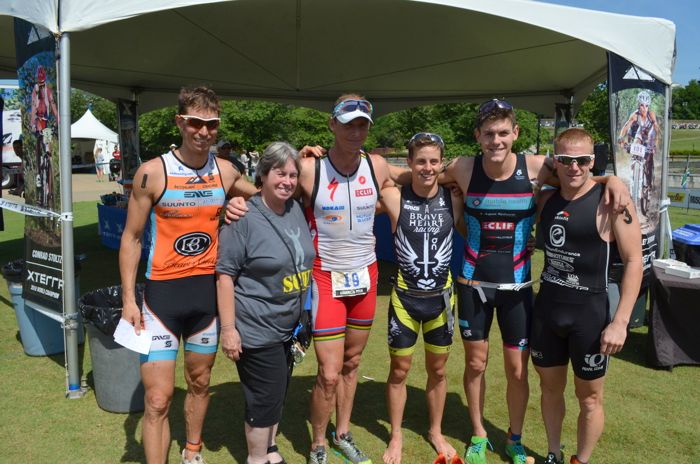 We also remembered Scud.  With his wife Margaret.   (l-rJosiah Middaugh, Margaret, Caveman, Maurizio Mendez (18 years old) Karsten Madsen & Craig Evans)
From XTERRA FB page:
You'll notice the "Scud" in the background of your racing bib numbers. It's in honor of long-time XTERRA Ambassador Scott "Scud" Scudamore who passed away on December 28, 2013. The XTERRA Tribe knew "Scud" well for his outgoing and welcoming spirit. He was the prototype XTERRA ambassador. He calmed racers nerves at the start line, fixed their bikes, gave them words of encouragement and helpful tips, was the ultimate training partner, and guided the XTERRA crew every chance he got. He was an icon in the Mid-Atlantic mountain bike scene, built trails, conducted how to ride your mountain bike with confidence clinics, and taught newbies how to ride. Scott was retired but hardly stood still. He was on the local water rescue team and had recently learned how to surf a kayak in white water. His volunteerism efforts were off-the-charts, perhaps most notably his connection with Trails For Youth, a program that connected kids to the natural world around them. He served for 20 years in the U.S. Air Force, retiring as a captain. He was famous for his fries, for making people smile, as a soccer coach, and a family man. He left an undeniable mark on this world, and he is greatly missed by his extended family within the XTERRA Tribe and far beyond. On Saturday we'll gather around Brown's Island for a toast in Scud's honor at 3pm, and on Sunday his wife Margaret will fire the cannon to get the races started.
6 days till XTERRA. Bike and equipment check.
Created on 18 February 2014
2 Comments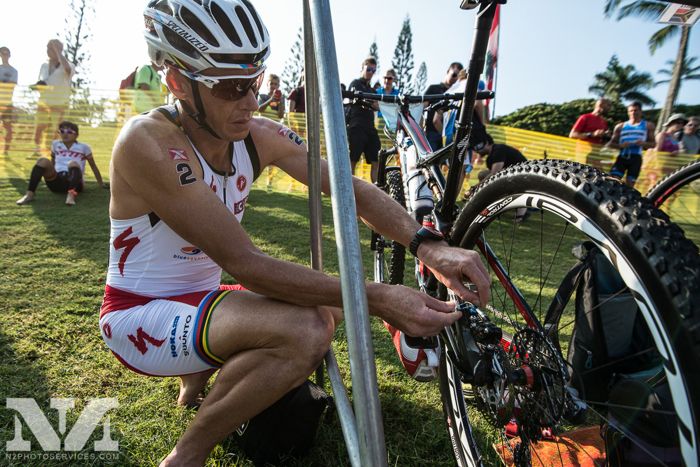 On race day you only want to pump your tyres, fill your bottles, and if you've been practicing- clipping your shoes in and lacing them up with elastics. (Seen here at XTERRA Worlds in Maui 2013) Pic Nils Nilsen.
Now that its too late to do much training, I'm going to help guide you- over the next 6 days- with different race preparation tips to help you prepare for XTERRA Grabouw.
Race day minus 6. Check bike and equipment: 
We're doing this 6 days out, so there is still time to run out and buy stuff,(and try it out) and your bike shop dont want your "problem" on friday afternoon.
For some athletes some of the info my be XTERRA 101, but if you're a newbie, some may be Greek. But everyone can learn. I'll try my best to have this post apply to a broad spectrum of people.
If you're new to the sport, or a roadie who's borrowing a mountain bike, or an old hand, but your bike has been gathering cob webs in the garage, the following point will help.
1) Check your whole bike over so that it is 100% mechanically sound. If you're not mechanically minded (its actually quite easy to get the basics) you should ask a friend or take it to a shop asap.
– Suspension pressure. If you're an experienced rider, you'll know your pressure settings or have them written down somewhere. Double check fork and shock pressure and add presuure if you need to. If you're a rookie, go to a good shop TODAY and have them help set up your suspension properly. Good suspension set up is THE most important part of setting up a dual suspension bike. This is where the magic of the Brain technology in the Specialized bikes really shine.
– Tyre choice varies depending on the terrain, your skill level and your budget.
This Grabouw course is loose, sandy, rocky and has a few sections of dry loamy pine forest single track. A wider tyre run at lower pressure will help you float on top of the loose stuff, and will also give you better traction in corners and up hills.
I put fresh rubber on my bike before just about every race. Square knobs turn better. (Knobbies lose their edge with use) If you're using "old" tyres, put the freshest one in front and look for cuts. (save dodgy tyres for training)
Tubeless is the only way. Put fresh sealant in wheels- it dries up quickly in dry climates. I like Stans sealant.
A tyre with bigger knobs (tread pattern) will also give you more traction, but the trade off is increased rolling resistance and added weight. This course has some hair on it, so dont come with skinny little bald "Europe tyres."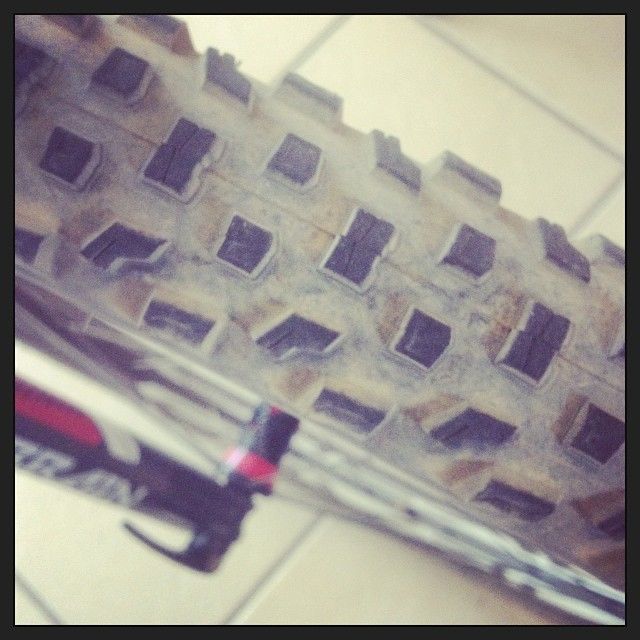 This is an Africa tyre. Front: Specialized Ground Control 2.3.  In the Control casing. (stronger than Sworks casing) Wide, grippy, big air volume. Running at 22 psi.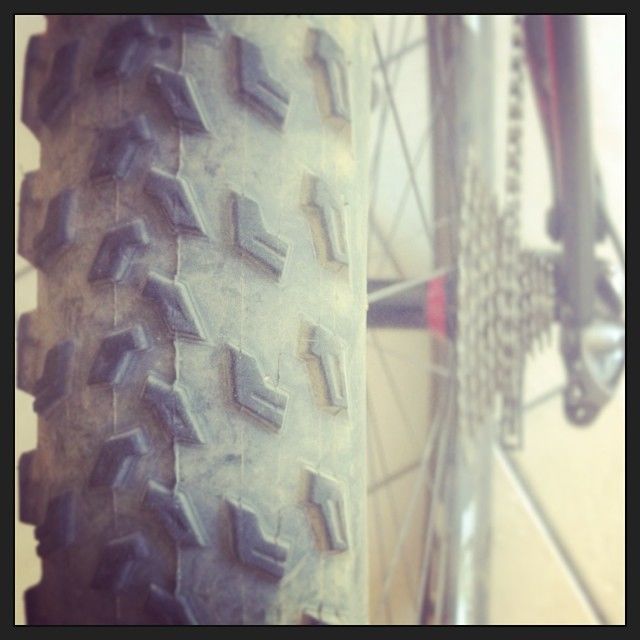 Rear. Specialized FastTrak 2.2 Control casing run at 25 psi. As you can see, this tyre has seen better days (edges of center knobs are roundish and indentations are faint) I'll ride on it once more and replace it tomorrow.
– Bolt check. Check all bolts for proper tightness. Remember to check cleats on shoes- it they're not rusted tight already, tighten them till snug. New cleats need a 2nd tightning. Same with a new bike. Not all bolts are supposed to be tight, so dont just blindly tighten bolts…
Water bottle cages. If you can take 2 bottles- do so. Or carry a Camelback Its "only" 28km, but its a long, hard and possibly hot 28km. And then there's the 11km run…
– Spares. Tyre plug, Tube, CO2 or pump, Allan keys. Know how to use it. If you've been training, you'll know…
What to wear in the swim?
– Goggles. Duh. But do they fog up? Rinse them out with Baby Shampoo now and again 2 days before. Do they leak? Are tight enough? Maybe the wrong fit? – rush to the shop tomorrow. For this course tinted lenses are best- you'll be swimming into the sun and there nothing to see under the Coke coloured water anyway.
The XTERRA "full" distance will almost definately be no wetsuits. Last saturday the water temp was 25.1C- and that was before the heat wave.  I cant see the Lite being wetsuit legal either.
Here is what to wear in order of speed. (and expense)
– Swim skin over your race kit. Take swim skin off after swim. (Swim skins are typically too hot and constricting to do the whole race in) I use the BlueSeventy product range and like the speedy Nero suit.
– Swim in Tri shorts or bikini/swim suit for ladies.  Put your top on in transition. Not recomended as dry top over wet shoulders results in wrestling match. But not everyone is in a hurry…
– Board shorts the whole way. Give or take a T shirt or "wife beater" vest. Rapidly becoming the new cool- (often by older sporting hard men making a comeback) demonstared at XTERRA Buffelspoort by Specialized's Peet le Roux and this coming weekend by my coach Ian Rodger- who is doing his 1st XTERRA Lite…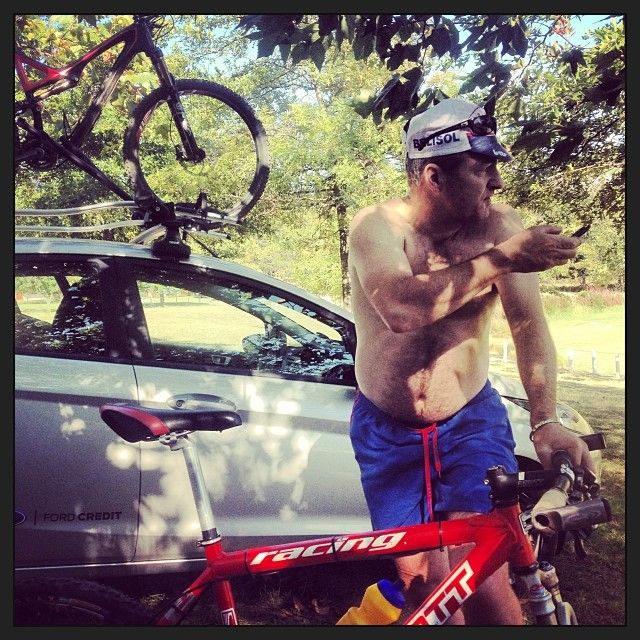 "What?! I AM wearing my fast skin!"
Running shoes.
This run course is hectic. Long sections of loose rocks. Sections of sand. Single track. A river crossing- hip deep for most. Big climbs, a loooong downhill. Some shoe sucking mud and yes, wet quicksand, which had me sucked in above the knee! (thats almost a meter deep!)
Better to bring burly trail shoes with real traction and real cushioning. And tighten those laces properly or you'll be finishing in 1 shoe!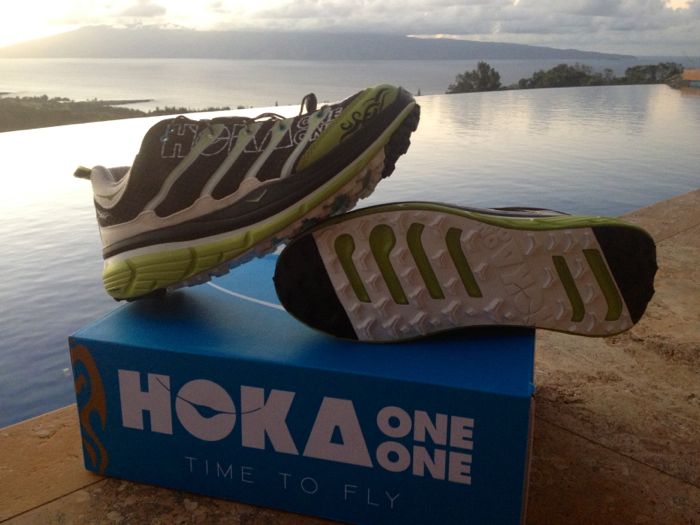 I'm gooi-ing my Hoka One One "Rapa Nui" trail racers. "Yebo" for all of the above. #TimeToFly
Tomorrow we talk "the course"…
After working on your bike, you need at least an hours' ride, to make sure all is good.
Caveman at XTERRA Abruzzo, Italy 2013. Video
Created on 22 January 2014
0 Comments
XTERRA USA Champs Ogden Utah 2013
Created on 26 September 2013
1 Comment
2013 XTERRA USA Championship from XTERRA TV on Vimeo.
In the build up to USA Champs, Boulder received 20 inches (510mm) of rain in about 5 days- the annual rainfall usually expected in a year. Once the rain subsided the incredible devastation of the flooding became clear. We dont have a TV, so I only realized the scale of the damage once I ventured outside to try train. In the middle of nowhere, this car was swept off the road- the yellow "do not cross" tape stuck in the wiper telling part of the story…
In order to get some riding done, I crossed quite a few yellow barriers myself and "carefully" rode on the white line to avoid pot holes.
Flight over Salt Lake City was also watery
Liezel and Gary Mandy spent a lot of time and effort designing race kit, making sure the right logos are in the right places and the right sizes. And of course, once in Ogden- lots of time at the printers.  (Boulder businesses were closed) Stoked with the comfortable and light Castelli RossoCorsa kit with its hydrophobic INSTADRY SPEED FABRIC.
"I'm so awesome, they gave me number 1 AND 2." At XTERRA your current Series ranking determines your number plate.  After 11 "go's" at the USA Series titles- and 10 Series wins, (Silvain Dodet, FRA won in 2004) this years series was a nix for me. If you dont know the story- I crashed in Vegas- cut my hand, continued to race and train with the injury, which caused much worse (and harder to fix) compensation injuries. Which made me DNF in 'Bama and DNS in 'Richmond and put me out of the series. So I was free to travel and train leisurely for XTERRA Brazil, Italy and Cross Tri Worlds.
I jumped the gun a bit and deployed the Kona themed Hoka One One Bondi Speed shoes for this race. Other than the 29er feel over the rocks and great cushioning on the mine shaft down hill, I was hoping the colours (representing Kona Lava and tribal design) would match the fall colours of these beautiful mountain slopes around Snow Basin Ski resort. But unlike the spectacular past few years, the trees had not yet turned colours much.
I'm not going to go into it too much, but I slightly overcooked my last big training day a week out. Then 2 days of packing up an entire house and moving it to storage down in a basement didnt do much for certain muscle groups, general recovery and troop morale. Thus lots of rest, hardly any training, body work by Todd from Interative Healing in Boulder and eventually some light fly fishing was prescribed by coach Ian.
When Ian's new recruit and fellow XTERROR Anthony Snoble heard about the "fly fishing scheduled into training" he yelled (New York style): "DUDE! I'm BROKEN from Ironman, and I dont get "fly fishing"!! What do I have to do to get "fly fishing" written into my training programme?!"
In Western Cape's (South Africa) gin clear streams, Brown trout* is a rarity, but here in the Ogden Creek, below the swim course, they are a dime a dozen. Ok, maybe a dime a dollar on the Caddis fly, but once I put the Parachute Adams on, they were a dime a dozen… Considering its ankle deep water running next to a busy road and through some neigbourhoods, there are some good sized fish in there.
*No fish were hurt in the making of this blog. Also, thanks to our gracious home stay Guy Letendre for the use of his gear. And Colleen for her car. And their first born's bedroom. And their bike tools. And the fridge and the kitchen. PS- Sorry about the damage to the contents of the M&Ms jar…
Homestay Colleen found other transport- just down the road.  Also big thanks to Eric from Specialized who gave my bike some TLC.
Race day:
After a week spent mostly in bed or massage table, I was quite uncertain what was going to come out.
The swim was looong. One of the bouys floated away, and I was holding it together nicely for the 1500m, but the other 700m didnt go so great and I lost about 90″ to the leaders. I swam 29.34 instead of the usual 19.34 -ish. Full results here.
After a few tentative minutes on the opening climb up Wheeler Canyon, I found my legs and started putting the power down nicely. I recently switched to the more oval (16% oval) QXL Qrings. (Non round chainrings) And found quite a few Watts gained compared to the "old" 10% oval Qrings. This is also part of the reason I didnt get to ride the ridiculously cool new 2014 Specialized World Cup Epic 29er I test rode in April. However, there is an XX1 style Qring in the works called QX1- which should be ready to go on my 2014 Specialized Epic for XTERRA Worlds.
Thanks to Nils Nilsen for the stunning pix as per usual.
By the time we hit the 1st of 2 puny little down hill sections on this beast of a climbers course- I was up to 2nd place. Chasing Leonardo Chacon– a respected ITU and Olympic athlete, and now an XTERRA cross over from Costa Rica. Leon has a smart coach, he sleeps on a volcano at 2000m, trains on a volcano at 1500m, got 4th at XTERRA Worlds last year, won XTERRA Mexico this year, he has been riding his MTB specifically for this and most importantly- Leon weighs 65kg. (143lbs) Now I'm 20kg heavier. I know- its all muscle, and more muscle makes more speed. Right?
Without getting all mathematical about it,  no matter how much you've trained or how fit you are, assuming everyone is equally fit- power to weight ratio is what its all about on a course like this. To draw a parallel to cycling: You dont see Tom Boonen and Fabian Cancellara (both 180lbs/82kg guys) contesting Mt Ventoux or L'Alpe d'Heuz?  And I'd love to see Nairo Quintana (57kg) bounce around on the cobbles of Flanders. SA cycling legend Willie Engelbrecht calls it "horses for courses." But I think he was referring to the garage full of dirt bikes he kept- after his sterling cycling career.
This course is a point to point bike- lake to Ski resort- which gains 3400ft, but only loses 1500 ft. So there is about 1900ft gained but not lost. Not a fair course to have USA Champs on year after year for 9 years, but it is what it is and I have to make the best of it.
On the little 3min23 downhill halfway through the course, I cut Leon's lead from 1.20 to about 30″. But after that it was all climbing again- up to 8000some feet. Leon kept the gap to the top of the climb- he is a Specialized rider too, so no equipment advantage for me there.
For the Strava fans, here the Strava file for the down hill during practice-  wonder how much faster my race time was.
I passed Leon just after the summit, and on the final drop to the finish- a weird, fast but mostly non technical yet dangerously leafy tunnel to the finish, I made a minute. (Video is in the making.)
Brewing behind me was the perfect storm:  The 3 hit T2 at the same time: Leon was joined by ex pro mountain biker and fellow tiny guy Ruben Ruzafa, (also Specialized) and mountain man, smart trainer, leader of USA Series and lover of altitude and mountains- Josiah Middaugh.
I had a minute lead, but these guys chopped it down by the summit of the 1st of 2 big climbs. With another big climb looming, and my ass dragging, I had no answer as the 2 little and one medium guys took off. The 700ft gained on 8k of the run is lost all at once in 2k. With no one to chase and no one chasing, I shuffled down, saving the quads for Worlds training starting in Kona yesterday.
Josiah and Leon had a spectacular tussle down to the last mile, when Leon dropped the hammer and won by 55 seconds. I know Josiah's prep was far from good- I'll let him tell (or not tell) you more about it. Ruben who was 2nd to me at ITU Cross Tri Worlds, was 3rd, about 30″ behind Josiah. XTERRA Worlds is going to be action packed!
Bradley Weiss had breakthough performance for 7th- Dan was 5th- so 3 Saffers in the top 10.
Not overly stoked with 4th, I decided to get my own trophy in the creek on the way home.
The next day we were on our way to Kona. Princess Hotstuff formulted complex formulae to find the cheapset flights. They include factors like cost of flight, luggage fees, bike fees, time spent travelling, bonus mileage programmes, and pervious bad experiences. American, US Air and Cathay Pacific are voted off the island for ridiculous bike fees.  The cheapest way to Kona was with Alaskan Air (which included the cost of the hotel) and had us spend 22 hrs in Seattle. It broke up the travel nicely and we got to see parts of this amazing city.
We took the light rail to the fabled City Church on 1st Street, and was inspired yet again by pastor Judah Smith. Look out for the webcast dated 22 Sept called "Still havent found what I'm looking for" on TheCity.org.  Afterwards we strolled over to the Space Needle- and even though the weather looks nice when the picture was taken here in Seattle Alaska, you may as well keep the umbrella out for the next rain or cold wind. We were wearing our entire winter wardrobes and later the evening used the umbrella as a wind shield…
Warm me uppers in the Space Needle.
Other than the weird and wonderful- When is Cape Town getting and amphibious bus tour? Think about it-no traffic, no okes selling cell phone chargers at the robots, no hi jackers and no speeding cameras…
we also visited the Pikes Place market and totally mind blowing Chihuly Glass museum.
Day 1 in Kona: XTERRA Worlds training camp is ON! Bring on title #5…