Posts Tagged 'xterra richmond'
Created on 20 June 2014
0 Comments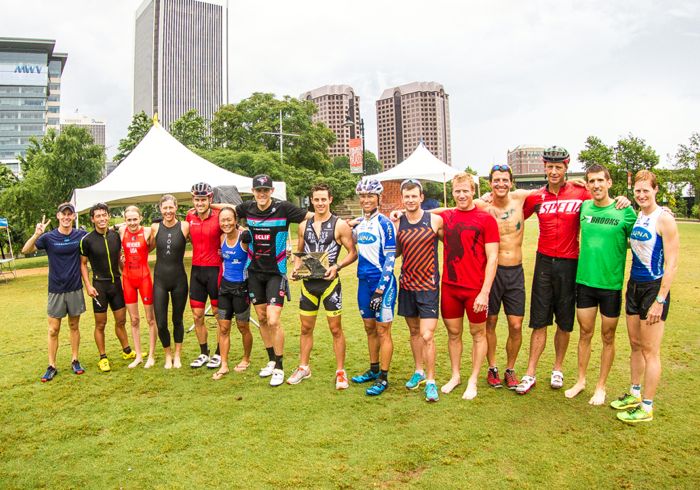 A group of pros raced a new, fun  event in pouring rain on thursday – XTERRA Super Sprint Relay, filmed by Luck Stone. Was good fun- should have more of those. Also an easier event to attract agegroupers. In the middle- holding the trophy- Maurizio Mendez. 18 year old Neo Pro from Mexico City. Fastest swimmer and fastest runner in the field- watch out for him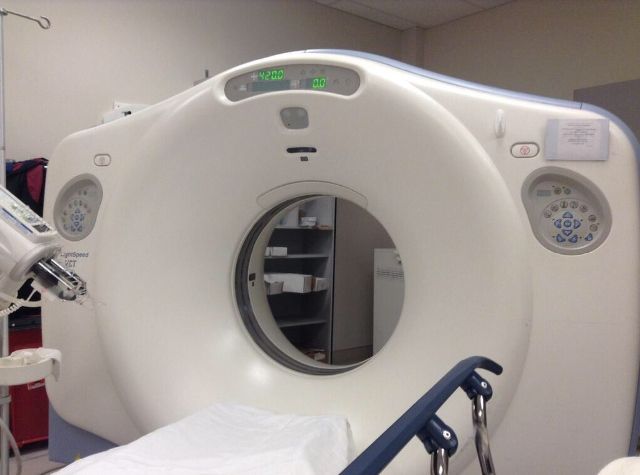 My week kicked off a bit rough. On Friday (8days before the race) I though my appendix is either about to burst or has already burst. Rushed to ER, they did tests incl n CAT scan. Lets just say the pain was sygnificant. I dont get in a wheelchair lightly.
It turned out to be a viral gastrointestinal entenites. A virus in my gut. No medication for that, but I was on a clear fluid diet for 2 days, an all liquid diet for 1.5 days and then started a "bland" diet. Cant believe how long it took to get my intestines going again- and get rid of the pain and cramping.
By race day I was still pooping like a pigeon as opposed to a lumber jack.
I went through the usual motions of warming up, but I felt shocking and told Liezel right before the start "I feel terrible." She (and my coach Ian) said- "just do what you can."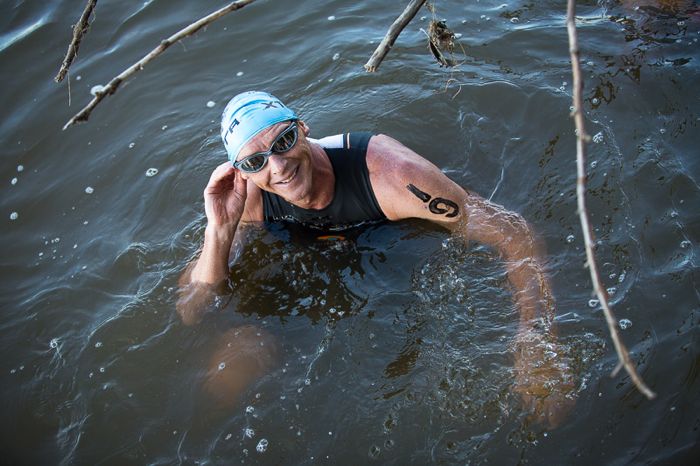 I was super relaxed at the swim start, sitting on a branch in my favourite brown river.   Pic by Jesse Peters
This swim course was for sure the most fun I've done in years.  The current was really strong, but varied according to depth. As you can see below, we had the swift current come from every single angle. You can see the rocks and shallow parts on the photo. And the sandbar (between bouy 1 & 2) where Josiah ran from mid pack to round bouy #2 in first place. He LOVED it- much to the swimmers chagrin. The dotted line is a run up Browns Island.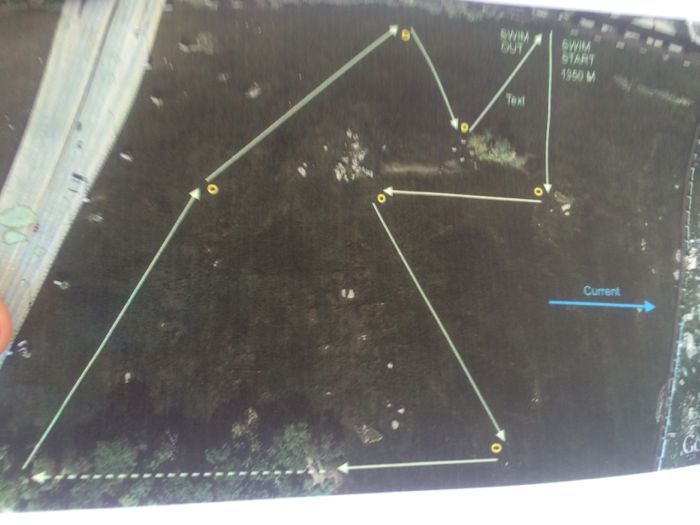 Other good & fun swims I remember off hand:
– Energade Triathlon in Durban where the surf was HUGE, I was off the back but caught a huge wave just as I turned the last bouy-  and body surfed about 300m to shore! The wave (with me on it) went right over the lead group, and when I stood up on the beach, I had a 30 second lead.
– My first triathlon in France (1992) was a down river swim. (Kevin Richards / Richard de Villiers / Thierry Baron what was it called?) Not being able to understand the briefing, we just swam down stream. It was quite narrow- trees overhanging both sides, and soon it got wider as another river joined. I sighted and saw people standing ON the water, in the middle of the river! I had no idea what to make of it, but they were waving, and obviousy we had to swim towards them. When I got there I realized they were standing on quite a large concrete weir- about 5m long and dropped maybe 2m in height. The swim course went straight down it. The weir had a sheet of plastic over it and these people were shoving us down the weir!  You slid on your stomach. It was quite a rush and came as a total surprise.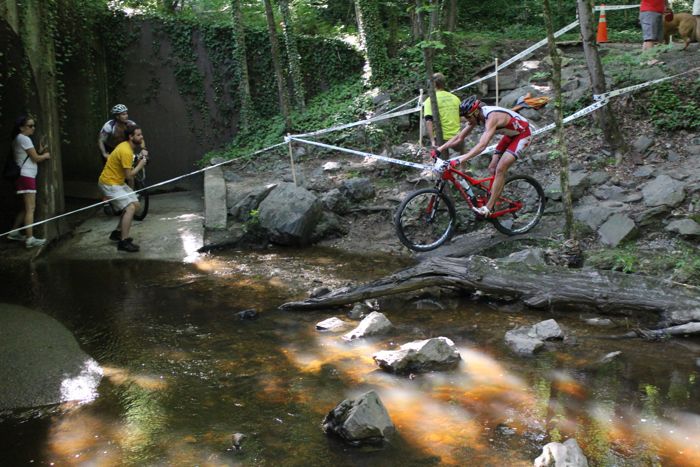 Back to Richmond: Lost 30″ seconds in a lacklustre swim, but was surprised when my legs came around on the bike. This course is just awesome- never a dull moment- I wish I had time -and know how- to properly edit the GoPro footage I have.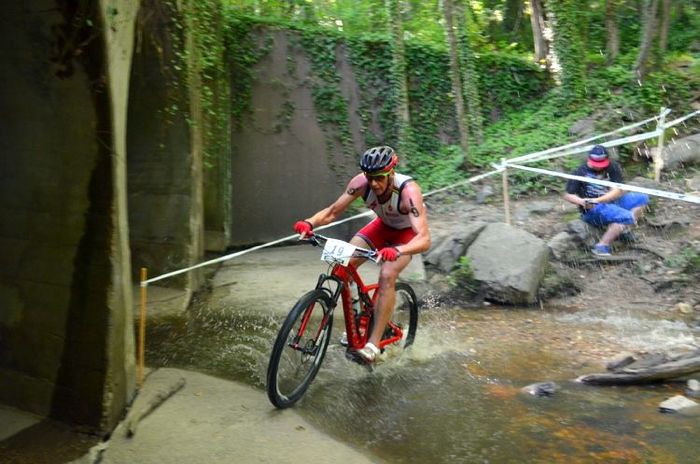 Picked off the guys ahead and took the lead about 6km in- just before the Tunnels. Really enjoyed this race. Richmond is a "must do before you die"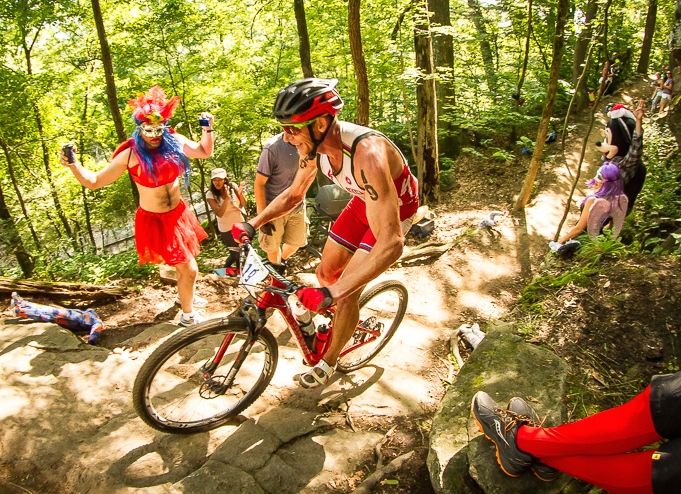 Really enjoyed the Zoo out there! It was 8 am, and the rocks were not yet slippery with beer.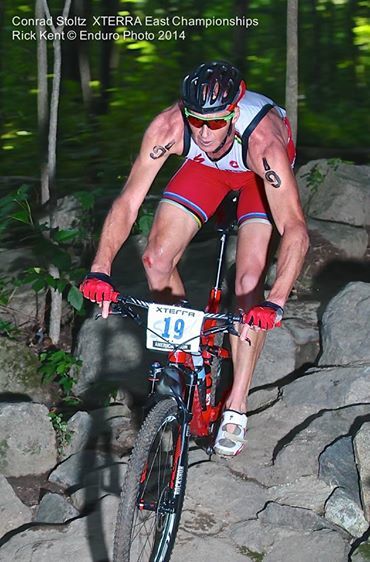 Slid on some gravel on a narrow wooden bridge and took a tumble – lost some time and skin – and some time.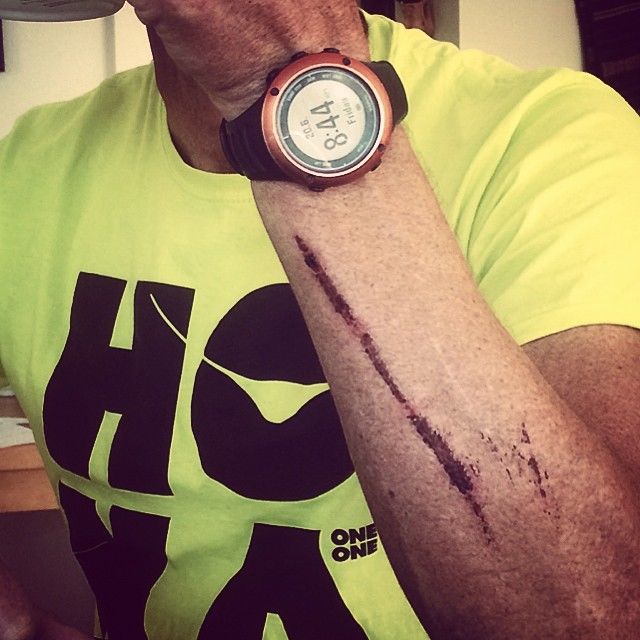 Some riders use brakes to stop. #Caveman uses his fore arm.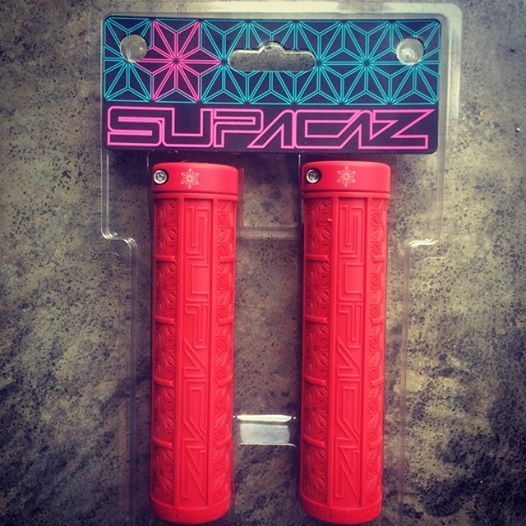 Enjoyed new red Supacaz grips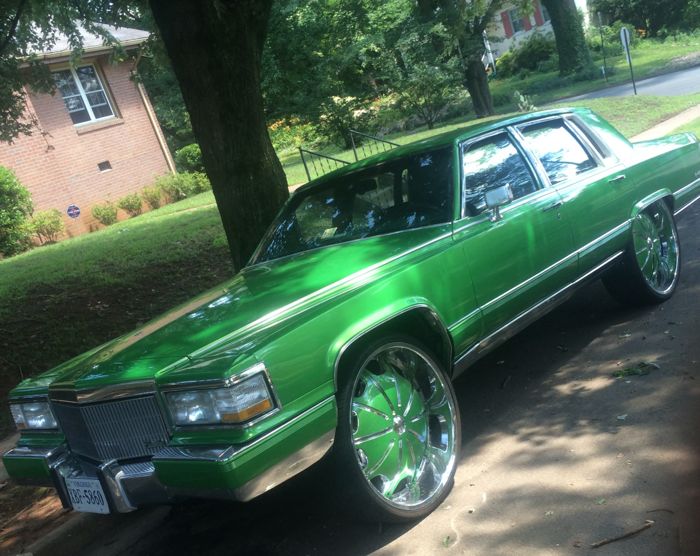 The Green Car on the course. Doubt its a Green Car in the California way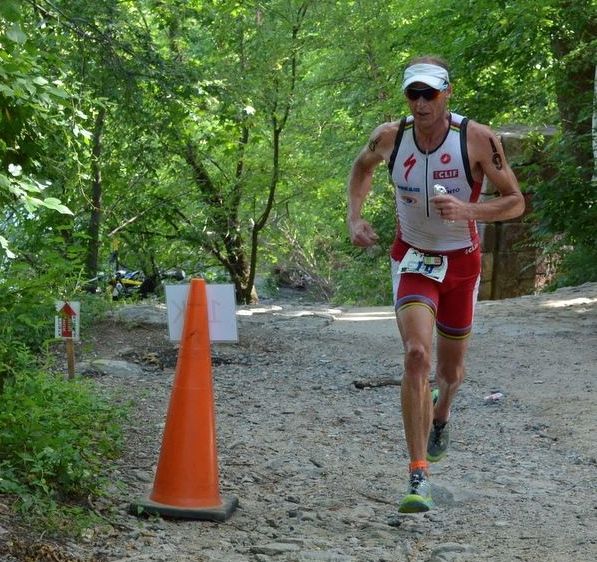 Got off the bike with a 30″ lead on Dan and 3.30 on Josiah. Craig Evans was in between.  Felt surprisingly comfortble running – all the way to 8km. Havent been running much, mostly rehab with guru Lawrence van Lingen at Rausch PT in Orange County. "OC, NOT LA, I've been told"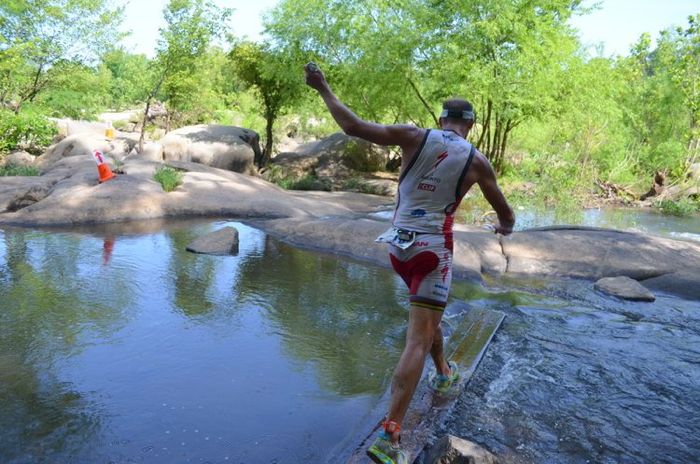 The river level rose with the 4′ of rain, so  the course changed from last I saw it, and I ended up waist deep in the river, (rookie!) with Dan breathing in my neck- I realized things were about to go pear shaped if I didnt do something pronto.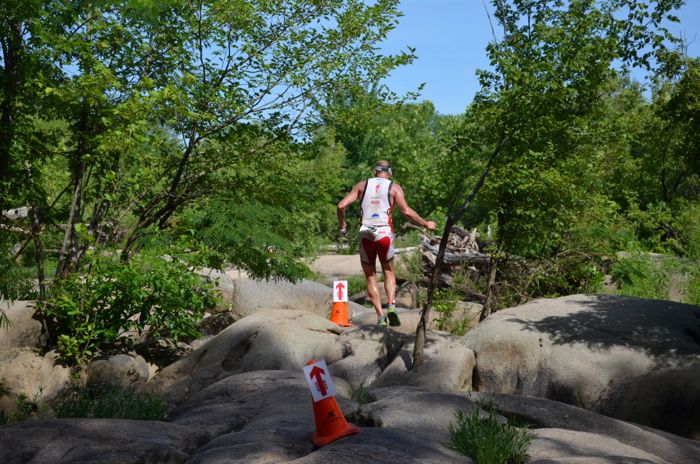 With 25″ lead and 2 km to go, I thought I had it in the bag, but when we hit hilly and technical section across Belle Isle, my body totally folded. Dan came blazing past in the woods, I tried to pick up the pace and promtly tripped over something. (probably my feet) Did a clumsy Judo roll, scurried after my still rolling new Oakleys, and gave chase, but Dan was gone and my body was empty.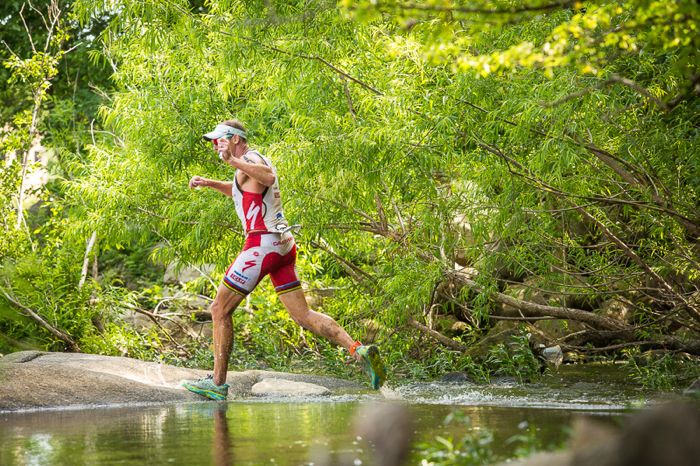 Loved my new Hoka One One Huaka racers! So comfortable, I raced them out the box. Superbe ride quality, comfortable, fast and light. Not as big as other Hokas, but plenty cushy for a racing shoe- thanks to the magic of the RMat midsole.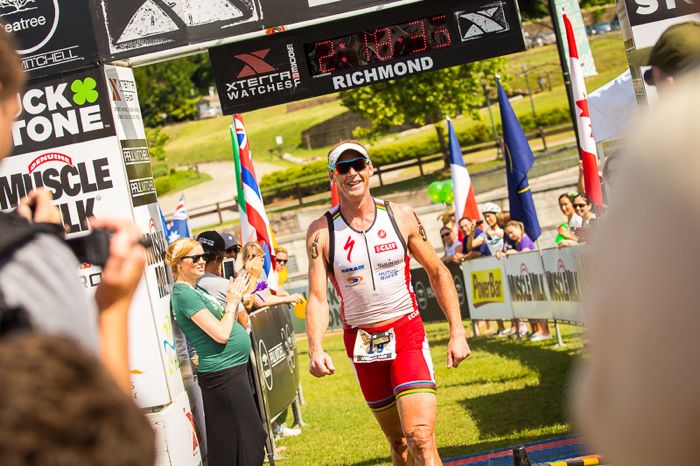 2nd, but loved it. Nail biting finish. Good to be back racing after some seriously trying times. This was my 1st XTERRA ever (2001- also finished 2nd) and I fully appreciate why this place gripped me – despite the Speedo and borrowed 30lbs Soft Ride bike with road pedals…
My family loved watching this event live on their computers and being able to follow the athletes via GPS tracking. Thanks a lot to Luck Stone for pushing the envelope.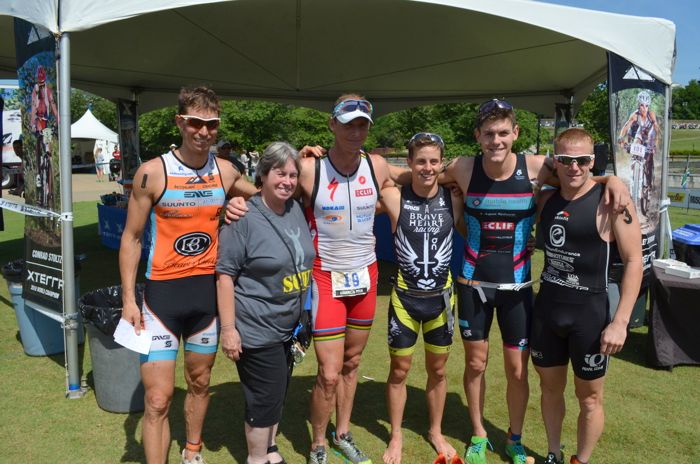 We also remembered Scud.  With his wife Margaret.   (l-rJosiah Middaugh, Margaret, Caveman, Maurizio Mendez (18 years old) Karsten Madsen & Craig Evans)
From XTERRA FB page:
You'll notice the "Scud" in the background of your racing bib numbers. It's in honor of long-time XTERRA Ambassador Scott "Scud" Scudamore who passed away on December 28, 2013. The XTERRA Tribe knew "Scud" well for his outgoing and welcoming spirit. He was the prototype XTERRA ambassador. He calmed racers nerves at the start line, fixed their bikes, gave them words of encouragement and helpful tips, was the ultimate training partner, and guided the XTERRA crew every chance he got. He was an icon in the Mid-Atlantic mountain bike scene, built trails, conducted how to ride your mountain bike with confidence clinics, and taught newbies how to ride. Scott was retired but hardly stood still. He was on the local water rescue team and had recently learned how to surf a kayak in white water. His volunteerism efforts were off-the-charts, perhaps most notably his connection with Trails For Youth, a program that connected kids to the natural world around them. He served for 20 years in the U.S. Air Force, retiring as a captain. He was famous for his fries, for making people smile, as a soccer coach, and a family man. He left an undeniable mark on this world, and he is greatly missed by his extended family within the XTERRA Tribe and far beyond. On Saturday we'll gather around Brown's Island for a toast in Scud's honor at 3pm, and on Sunday his wife Margaret will fire the cannon to get the races started.
Being injured and watching XTERRA Richmond from the sidelines.
Created on 08 June 2013
5 Comments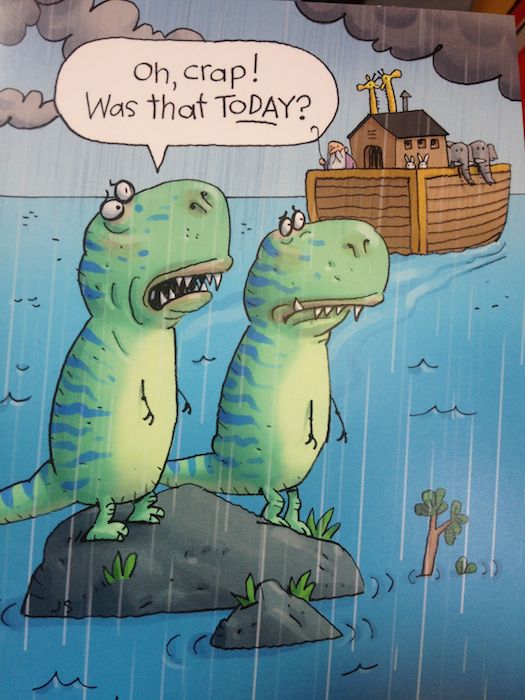 "Having a bad day is all about perspective…"
A story about being injured and watching  XTERRA Richmond from the sidelines.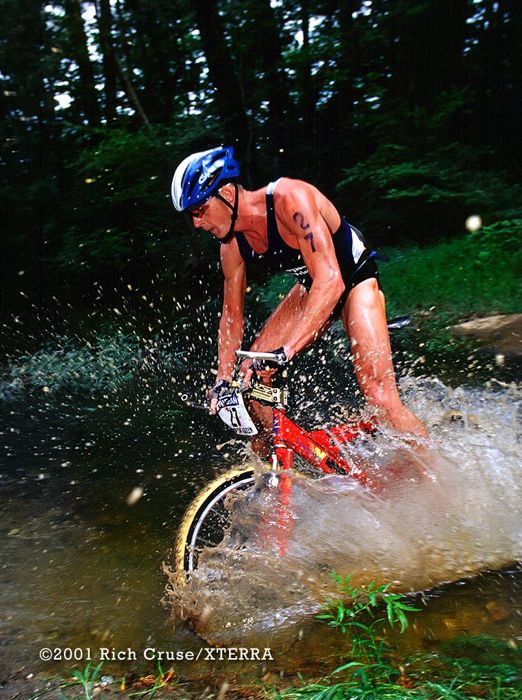 Richmond is where I fell in love with XTERRA. Thanks to Rich Cruse for the picture.

It was the summer of 2001. I borrowed a monstrosity of a bike from Joe Umphenour, covered the logos with electrical tape (endorsed by no one) put my own yellow tires and road pedals on it. Rocked the timeless speedo, running camel back and rookie number 27. My total monthly income from sponsorship was $400. I finished 2nd behind Mike Vine, and passed Ned Overend and Steve Larsen -legends unknown to me- on the run.
Just a few months earlier, a picture of Steve Larsen, in that same river crossing, pulled me out of a post Olympic slump and gave my spirit for adventure and racing wings.
Luck Stone XTERRA Richmond VA.
Created on 08 June 2012
0 Comments
Richmond, Virginia, 2001. Fresh from the Sydney Olympics, bored with road triathlon, I jumped into my first XTERRA. It was love at first dirt! That was before the Caveman was the Caveman. (few called him the Crazy Russian. Boulder Peak Triathlon commentator in 2000 looked at "RSA" behind my name and decided it will be "Conrad Stoltz from Russia.")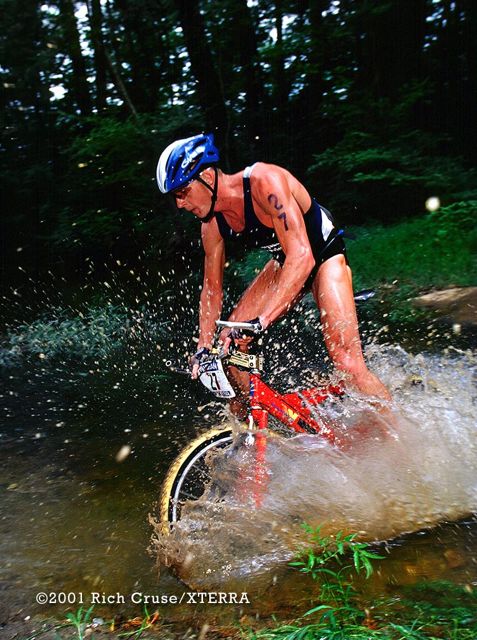 The Richmond bike course used to be hectic!- I was inspired to try XTERRA by a magazine picture of Steve Larsen- running his bike through this stream crossing a year before. I borrowed a Softride (from Joe Umpenhour at the OTC) with Flexistem, alu beam "suspension", road shoes and pedals, sweet yellow Python tires, (with tubes)  hip style Camel Back, and of course the evergreen triathlon favourite – the speedo…
I loved it! Finished 2nd behind Mike Vine, just ahead of Steve Larsen and Ned Overend– legends I did not know at the time. They were so nice and welcoming, asking me about my future plans, complementing my fast run and of course "that bike." I was fishing the chain out of the spokes when they zoomed past me.
Here we are, my 10th XTERRA Richmond. (Only missed one- I was out of the country (semi- deported!?) in 2002)  I guess I won around 7 or 8. Lots of stories since then-
1) Due to floods a duathlon –  Nico LeBrun (4x World Duathlon Champion podium) loved it!
2) Another year, this amazing story about fixing a flat, Caveman teeth and ingenuity. Story here.
3) 2010, I almost cut my foot off on a piece of underwater steel and still won. Story here. And if you really have hair on your teeth, you can view the surgery pics here.
After 14 years in Richmond we have something truly ground breaking…
Thanks to the amazing local company Luck Stone, the XTERRA Richmond presenting sponsor, we have live satellite tracking of all athletes!
I just clicked on the link to my timing chip, and I can see on the map here that its in storage outside Houston. Sunday morning 8am EST, it will be on my number belt on my waist and you'll be able to follow my and all the other pros' progress live during the bike and run legs.
I quote from the newsletter:
WATCH IT LIVE AT XTERRA.LUCKSTONE.COM
Luck Stone, a presenting sponsor of the XTERRA East Championship, has a comprehensive slate of coverage planned for Sunday's pro race at 8am EST, that can be found at http://www.luckstone.com/xterra-world-tour-2012
On one screen they'll bring you live video feeds from eight spots around the course. On another they'll showcase a social media (GIS) map of the course with detailed positioning and tweets from strategically positioned spotters and finally, in a first for XTERRA, they are equipping every elite with a GPS tracking device that will allow followers to see their every movement.  The "myathletelive.com" device reports location, speed, distance, and elevation.
Google Chrome seems to be the best browser for viewing, but fans can use any web enabled cell phone or handheld device such as an iPhone or Droid. Just go to the website xterra.luckstone.com, and follow the various links. Home viewers can do the same from their computer.  Our suggestion is to open up multiple browsers and have fun.
And, for those on-site at Brown's Island Luck Stone will have four 70-inch big screen TVs broadcasting the coverage. Those on-site are encouraged to share their experiences, from here and afar, via twitter with hashtag #xterraRVA
On Sunday, click on the name of the athlete to go directly to the specific URL for that racer.
Happy spectating!
Conrad
Stoltz, Bucher win XTERRA East Championship
Created on 21 June 2010
2 Comments

The next XTERRA champion, Evan Carlson, 14 years old, won his XTERRA Sport race. AND he knows all about tires pressures…
Stoltz, Bucher win XTERRA East Championship
06/20/2010
Flying out in a few hours and packing like crazy. Luckily my canceled flight this morning (would have been home already) will leave today after all. Instead of tomorrow…
Borrowed race report from XTERRAplanet.com
(Richmond, VA) – Conrad Stoltz, 36, from South Africa and Renata Bucher, 33, of Switzerland captured the XTERRA East Championship off-road triathlon pro titles in Richmond, Virginia this afternoon.
It was a characteristically hot mid 90's summer day in the River City, and that didn't seem to bother Stoltz one bit.  The "Caveman" had the second-best swim time with a 12:42 (just 20 seconds off Seth Wealing), the fastest 24km bike split by far (a blazing 52:11), and even turned in the quickest 10km run of the day in 40:24.  It all added up to yet another win for the tall South African – his fourth straight on the XTERRA America Tour this year, and fifth win in six years here in Richmond.
"Since I finished high school in 1991 I've been racing professionally so I've had basically 18 summers back-to-back, so I'm familiar with the heat," said Stoltz.  "I'm not great in the heat, though, so I have to prepare for it, which mean's pacing and never going too hard in the swim, bike or run.  The whole race I had to pull back a little bit, pull back a little, and make sure I had some energy left for the run."
By midway through the bike Stoltz' biggest threat was coming from his hometown of Stellenbosch in the form of 25-year-old Dan Hugo.  Hugo, making his 2010 U.S. debut (he won XTERRA South Africa back in February), was riding and running strong and all by himself in second place for most of the day.
"I didn't get splits until the very end so I had no idea what was going on behind me so I was racing more against the heat and myself, but it's really good to see Dan back," said Stoltz about Hugo, who was just 15-years-old when the Caveman did his first-ever XTERRA here in Richmond back in 2001. "Obviously he had a good race, and I'm excited to see him healthy and back, and racing.  That should be good for XTERRA."
Bring your tri bars, XTERRA Richmond is a road race. Well, kind of…
Created on 17 June 2010
0 Comments
Seriously, they put a bush Zamboni into Forest Hill and tore a swath of trail wide enough to swing a cat. WHILE juggling 3 Caddilacs! To think I used to cut my bars narrower for this course…
I'm all for bringing the sport to the masses, but this trail will bring wives with baby strollers…
Here is a tech tip, for all you tech wheenies:
But some of the original trail remains (Buttermilk) and I DID find a sweet line… Follow the 5 green leaves.
However, by visiting this website you automatically waive all rights to sue me or my people for your own stupid/incompetent acts. This stut was performed by a professional on a closed course. No animals were harmed in the filming of this footage.