Posts Tagged 'Christoph Sauser'
Kayamandi (unofficial) World Mountain bike champs hosted by Songo.info
Created on 26 March 2013
0 Comments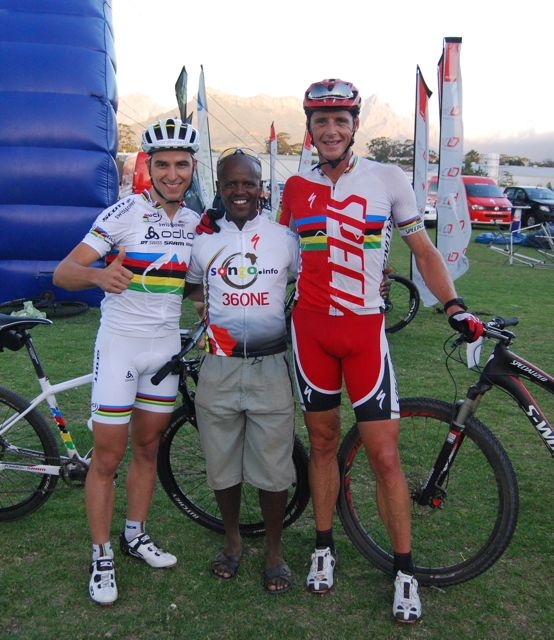 Nino Schurter (current XC World Champion) Songo Fipaza, (Songo.info founder, visionary, legend, gentleman) Caveman.
Songo Fipaza
Qoute from the Songo.info website: [It all started out with Songo Fipaza's dream to provide children of Kayamandi with opportunities and a fun and safe place to grow up away from the troubles on township streets. Songo is an exceptional role model for everyone as he works tirelessly in the community to create opportunities for the children. His dream has come a long way over the years where the BMX club and mountain biking group are fully established, participating in numerous events in the Western Cape, and across South Africa. We are all so privileged to work, learn and interact with Songo Fipaza. He demonstrates actions that dreams are possible to achieve.]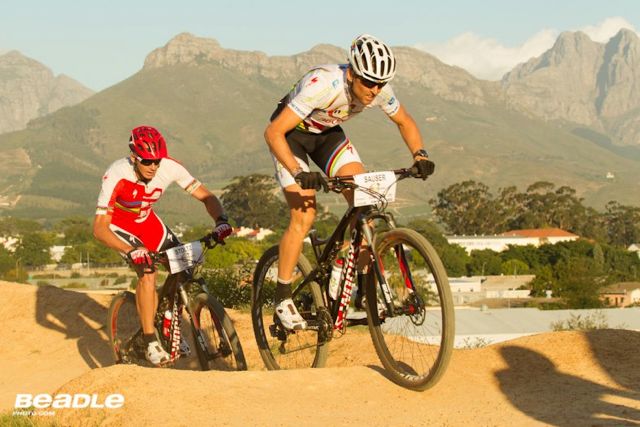 Christoph Sauser (who won this 30min plus 3 laps exhibition race) and Songo Fipaza, came up with the vision to create a team with budding star Burry Stander – to race the Cape Epic under the charity – named Songo.info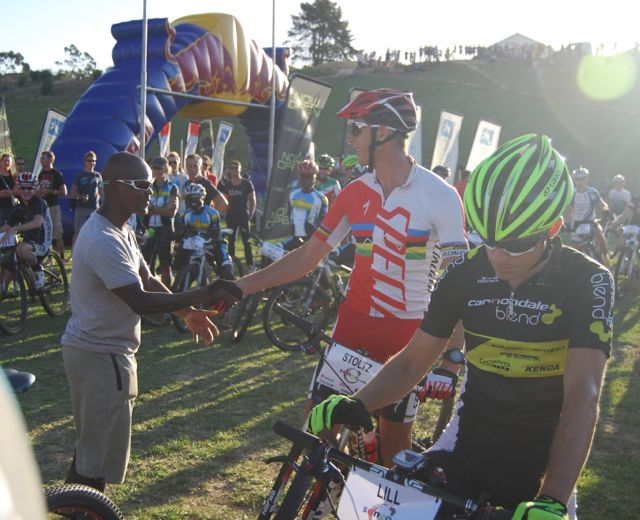 Songo personally welcomed every rider. I lined up with ex roadie Darren Lill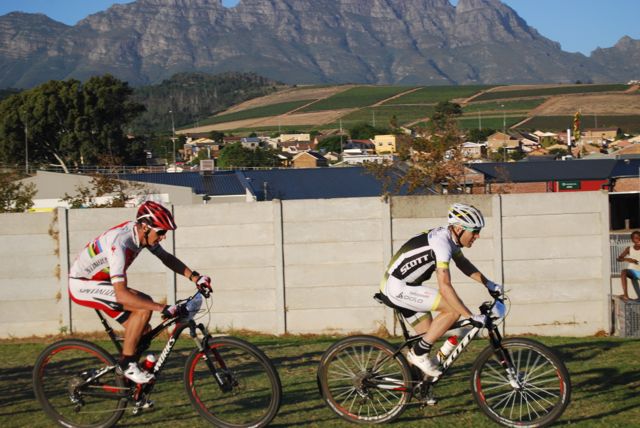 Clinging to Florian Vogels' wheel on opening laps, but after a few steep climbs and hard sprints I was drowned in lactic acid and was relegated to the more realistic part of the race…
After training for the Adu Dhabi Triathlon (3k/200k/20k- blog to follow soon) and seemlingly months of long hours in the saddle at relatively low intensity, the shock of 30min at a 100% Lactic Acid mixture was quite severe!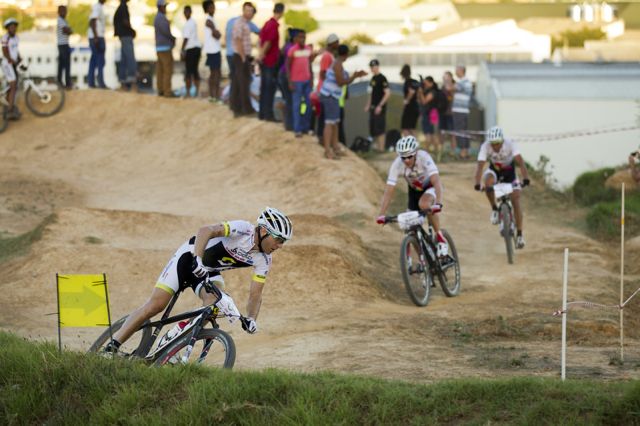 Railing berms and jumps on the Songo BMX track- built by the funds raised by Susi and Burry on that first Epic in the Songo jerseys .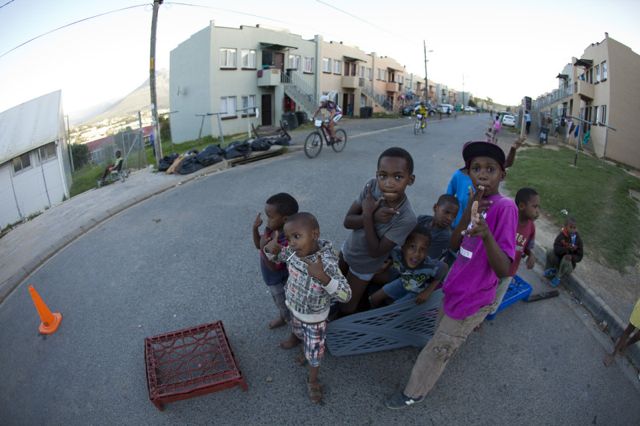 Kayamandi's kids make for enthisiastic supporters.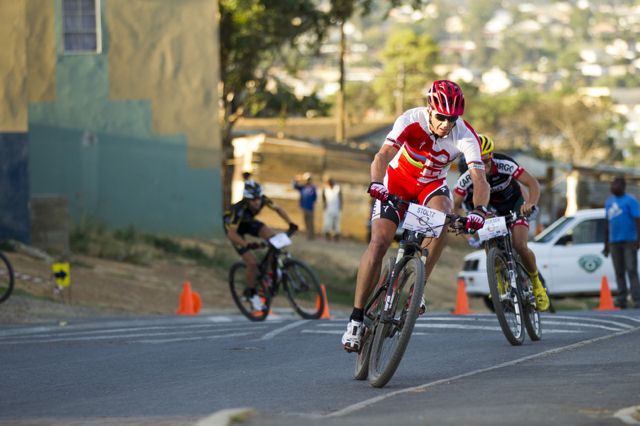 Up to my ears in lactic acid…      Pics by Gary Perkin (Flipper)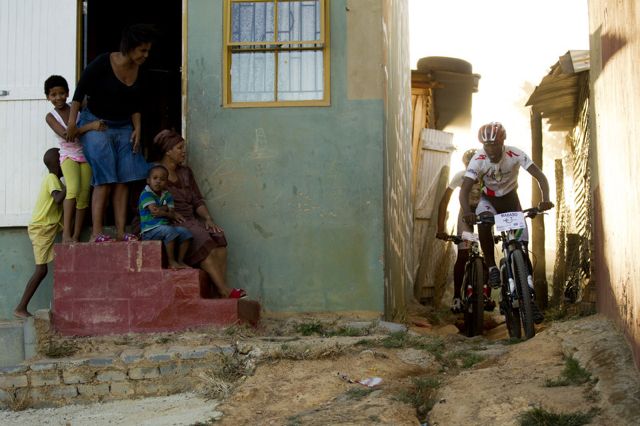 Songo development riders railing some "Kayamandi singketrack".
What an amazing story of inspiration (by Susi, Bury and Songo) and judging by the recent success of the Songo development riders at the 2013 ABSA Cape Epic, there certainly is hope for another rider to follow in Burry Standers' big footprints…
Athletes' Beauty Kits. And other random quirks
Created on 08 August 2010
2 Comments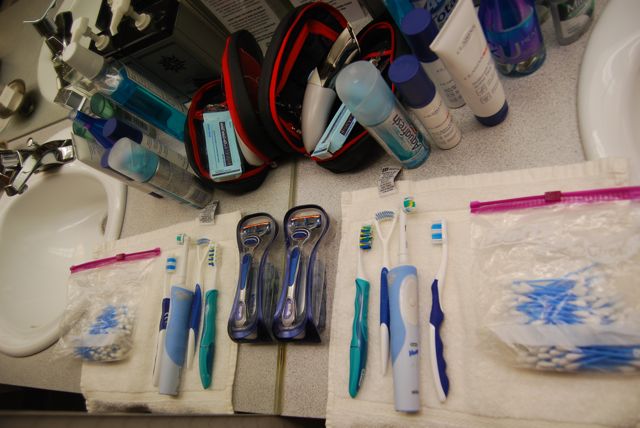 Seriously Bobby, you need 8 tooth cleaning tools? (ok 4, if you dont count the ones in the mirror)
On a recent trip to Keystone Colorado for the Specialized 2011 product launch, I shared a room Specialized Team Manager, Bobby Behan, who is a very very organized guy. ("like, you know"- Irish accent) When on the road, he always completely unpacks his whole bag right away- even if its just a 1 night stay. He neatly lines all his shoes in a row, all his watches in a row and his training clothing goes neatly in Specialized bags- lined up according the temperature rating.
Sharing the "road" with other athletes is always a trip. Jamie Whitmore had a pre-race ritual which led her to travel the globe with a her waffle iron and special waffle mix…
Breakfasting with the Specialized Factory Team is quite an experience in itself.
Sea Otter Classic XC 2010
Created on 19 April 2010
0 Comments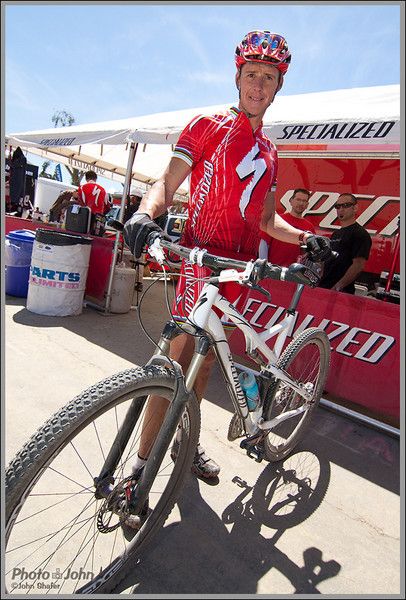 2009 Pic from mtbr.com
The suspension on my Epic 29er was so dialled –
it rode like a couch…
Specialized killed it:
Burry won, Todd 3rd and Susi 4th.
Hectic busy with packing and travel – more later.
1 ) Burry Stander 01:23:13
2 ) Geoff Kabush 01:23:13
3 ) Todd Wells 01:23:15
4 ) Christopher Sauser 01:24:19
5 ) Roel Paulissen 01:25:27
6 ) Manuel Fumic 01:25:52
7 ) Jeremy Horgan-Kob 01:26:05
8 ) Jeremiah Bishop 01:26:06
9 ) Marco Aurelio Fon 01:26:30
10 ) Chris Sheppard 01:26:35
11 ) Carl Decker 01:27:57
12 ) Barry Wicks 01:27:57
13 ) Adam Morka 01:28:13
14 ) Conrad Stoltz 01:28:14
15 ) Jason Sager 01:28:14
16 ) Benjamin Sonntag 01:28:14
17 ) Lachlan Norris 01:28:50
18 ) Travis Livermon 01:29:33
19 ) Kris Sneddon 1:29:391:29:47
20 ) Thomas Turner 1:29:47
These pics are better for Monterey/ Sea Otter post below…
Created on 17 April 2010
0 Comments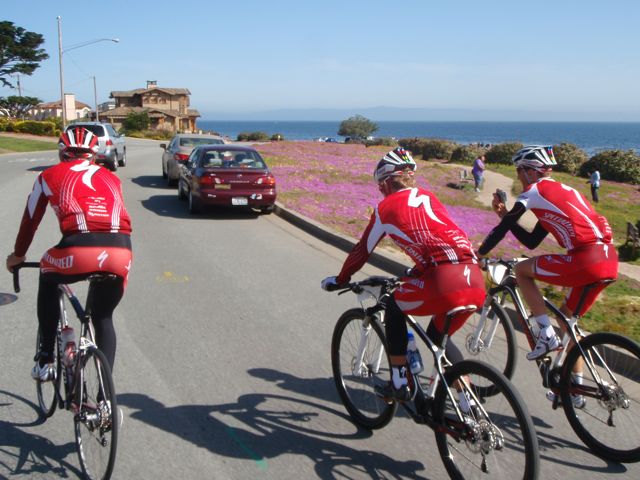 Todd Wells, Burry Stander, Christoph Sauser
Burry and I enjoying Afrikaans
Warming up for Sea Otter short track
Created on 17 April 2010
0 Comments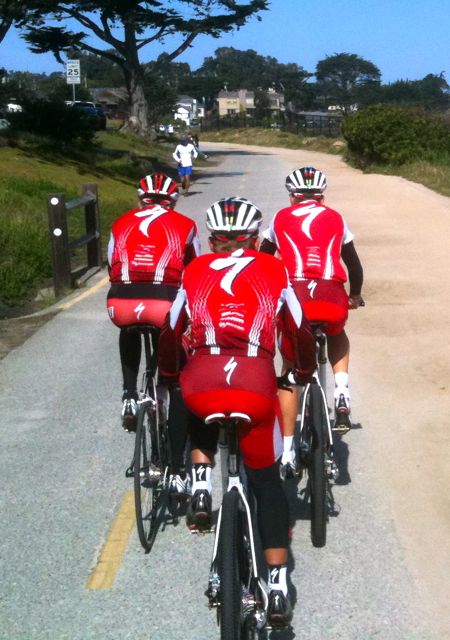 I went for a warm up with Todd Wells, Burry Stander and Christoph Sauser along the ocean path in Monterey.
Short Track starts at 3.15. Its a short lap of off road riding- after 25min the bell rings which signals the last lap. This race is all about raw horse power and gallons of lactic acid. Not really an endurance Caveman game. I think the last time I had gallons of battery acid in my veins was…. um, actually the Specialized lunch time ride I did last Wednesday!
Susi and Burry are 29er virgins- today will be their 1st race on the big hoops. Burry's Specialized 29er Hard Tail is 8.6kg (18.9lbs)
Last year Specialized made a great showing- Todd Wells won the Short Track and Christoph the XC. I was 8th in the XC and hope to blow the cobwebs out for the opening of an exciting season of MTB, XTERRA and 70.3 racing…