Posts Tagged 'todd wells'
Epic 3 day Mountain Bike stage race at North Star, Lake Tahoe. 11-13 October
Created on 06 September 2013
2 Comments
Love riding challenging trails and single track?  Tahoe and NorthStar trails, majestic views, blue skies, woods, thin air and yes, lactic acid! Mind boggling single track, stunning scenery and the camaraderie of a team mate.  Sounds good?  The Epic mountain bike race is for you!
This endurance orientated event is aimed to be a 5 star experience:
– 5 Star course:  3 days of trails that will take your breath away.  Literally and figuratively.  (I recently rode them at a leisurely pace in 2 days and was exilharated – yet thuroughly pooped – at the end.)
Stages 1 & 2 are about 35 miles each and stage 3 is about 25 miles. Long enough to knock the stuffing out of you, but not so long that you couldnt face a few beers and share some laughs afterwards. (Maps available on the website) The course features a mix of mostly fire roads and jeep track but also a fair amount of some of the best single track I've ever ridden. There will be wave starts to spread the field and the opening miles will be fire road to thin the herd. Be prepared for plenty of climbing. About 3500ft to 4500ft of  climbing per stage. Fortunately, what goes up, must come down – always something to look forward to.
This event is aimed more towards endurance riding, rather than hours of bone and bike crunching single track. You dont need advanced skills or a hard core trail bike for this event. DO bring a descent level of fitness for the 6400 ft (2000m) base altitude. And remember- everything goes up from there.  Also bring a few layers of clothing for the crisp fall temps.
Stage 2 is mostly fire roads with some good, long sections of fast, flowing single track like the one above.
Plenty of space to overtake early on.
Stage 1 features awesome single track – including the infamous "Sawtooth", "2 Beavers and a Bear" and
"Twin bridges".  This is one is the baby of the 3…
Leave the lightweight tires and tubes at home… I recommend going tubeless with a strong sidewalled tire like the Specialized Fast Track Control 2.2.  If it stays very dry and loose that time of the year – a more knobbly Ground Control 2.3 / 2.1  front / rear combo in the Control casing – or something similar will give you grip in the corners and help you float on top of the loose stuff. If it rains (or in the rare case, a light sprinkle of overnight snow) – this sandy course will be fast and packed down nicely.
A dual suspension bike is nice, but not a must – there is a single speed category (a category also known for its love of fully rigid bikes and curious facial hair).  XC bikes – like Specialized Epic 29er  – and modern trail bikes (with a good pedal platform)  Stumpjumper or similar – will work well.
Like it says – 5 star experience. Think Ritz Carlton Lake Tahoe for $225 a night…
Just roll out the door to the start line.
Enter the special pass code on the website  for the $225 Ritz Carlton per room per night sponsorship deal.
Plenty for the family and kids to do – Adventure camp, bungee trampoline, geocaching, gem panning, Strider& Roller skates, fly fishing, wine walks and the list goes on…
If both parents are riding, the Ritz Kid's programme will entertain your kids with an adventurous and educational programme at a minimal cost.
Also, check the www.epic-race.com website for more affordable NorthStar condos and even "luxury camping" (you get your own tent and a thick inflatable air mattress) for as little as $25/night.
– 5 Star Dining: Then there is the weighty matter of Food: In this case, more accurately referred to as "Nutrition plan."
The menu is carefully designed by the OSMO Nutritionist to promote recovery after stages, fuelling before stages and everything in between.
I quote from the website: Say, Friday night dinner…
Thai style salad, rice wine vinaigrette
Build your own noodle/rice bowls
Yakisoba noodles, rice noodles, brown rice
Roasted Tri Tip, Chicken and Shrimp
Steamed Vegetables
Pho Broth, Coconut Green Curry, Kung Pao Sauce
Sprout Bar, bean, radish, broccoli, etc
Cashew and peanuts
I wonder if the above options are "and" or "or".
Aid stations will also be 5 star- stocking products like Clif Bar.
– 5 Star Experience: Ride with a team mate and create memories to last a lifetime.
Epic Chix
Epic Race caters to women unlike any other mountain bike race
Hey Ladies, 
Ski season may be coming, but that doesn't mean it's time to hang up the bike.   Call up your riding partner and end your riding season with the Epic Race!     And in case you think you can't, we've eliminated every excuse so that you can!    Just get to Lake Tahoe and we'll take care of everything – all you have to do is show up and pedal.  Catering to women unlike other events, we're providing an experience for you and a friend to join in on the fun.   Cross the finish line with your team mate and enjoy all the comforts of our Ladies Lounge.     A shared experience is priceless.
Race includes:
Women's own start time(s)
Bike Valet waiting at the finish line (clean / tune and ready for the next day)
Ladies Lounge includes:
Wind trainers for cool-down
Post race massage / rub down
Recovery foods, rehydration
Eucalyptus Action Wipes – next best (immediate) thing to a shower!
Post race / cool-down with yoga
– If you're a racing snake, check out the prize money page– this race has one of the biggest prize purses for any MTB event in the country. Pros, Amateurs, Industry Cup and Single Speed category leaders jerseys and prize purses.
I pre-rode Stage 1 with Andy Buckley from NorthStar his friend and self supported ultra racer Blake from Truckee. Some cool GoPro footage to come soon.
"You go first. No, you go first. I insist…"  The course features a good amount of Epic single track – Andy and Blake heading into 2 Beavers and a Bear trail on Stage 1.
Single track is for whooping and fire road is for story telling. Or chasing your breath – whichever way you like it.
Lake Tahoe view.
Truckee Meadows view.
I'm riding with legendary Todd Wells on the Specialized Racing Team.  Who are you riding with?
Register now and benefit from various sponsorship options.
Big weekend for Specialized
Created on 20 July 2010
1 Comment
Ned Overend won the Single Speed National title. (the big race, not the old man's race) And he did it on a Specialized Rockhopper 29er! (mid range aluminium frame)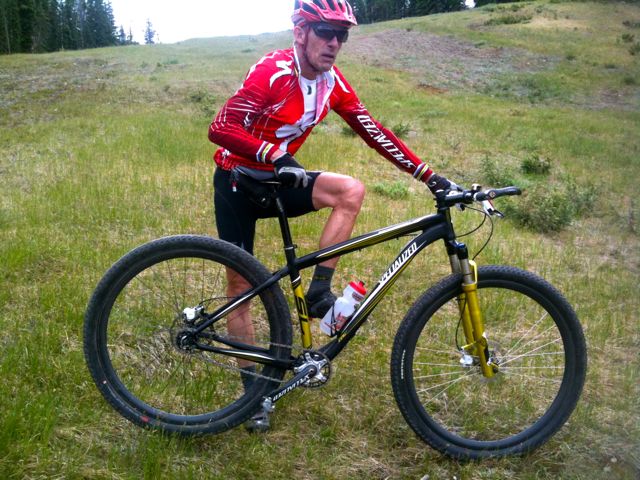 I took this pic at the Specialized 2011 bike launch in Keystone, CO. Not quite sure how he went up that mountain at that altitude with 1 gear?!? (I needed all 20 gears) Maybe that's why they a call him "Deadly Nedly" or "The Lung."
One of my favourite Ned quotes: "I only stretch when I'm injured"
Sea Otter Classic XC 2010
Created on 19 April 2010
0 Comments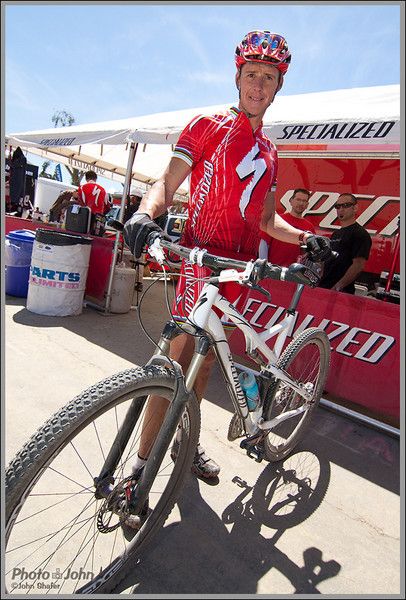 2009 Pic from mtbr.com
The suspension on my Epic 29er was so dialled –
it rode like a couch…
Specialized killed it:
Burry won, Todd 3rd and Susi 4th.
Hectic busy with packing and travel – more later.
1 ) Burry Stander 01:23:13
2 ) Geoff Kabush 01:23:13
3 ) Todd Wells 01:23:15
4 ) Christopher Sauser 01:24:19
5 ) Roel Paulissen 01:25:27
6 ) Manuel Fumic 01:25:52
7 ) Jeremy Horgan-Kob 01:26:05
8 ) Jeremiah Bishop 01:26:06
9 ) Marco Aurelio Fon 01:26:30
10 ) Chris Sheppard 01:26:35
11 ) Carl Decker 01:27:57
12 ) Barry Wicks 01:27:57
13 ) Adam Morka 01:28:13
14 ) Conrad Stoltz 01:28:14
15 ) Jason Sager 01:28:14
16 ) Benjamin Sonntag 01:28:14
17 ) Lachlan Norris 01:28:50
18 ) Travis Livermon 01:29:33
19 ) Kris Sneddon 1:29:391:29:47
20 ) Thomas Turner 1:29:47
These pics are better for Monterey/ Sea Otter post below…
Created on 17 April 2010
0 Comments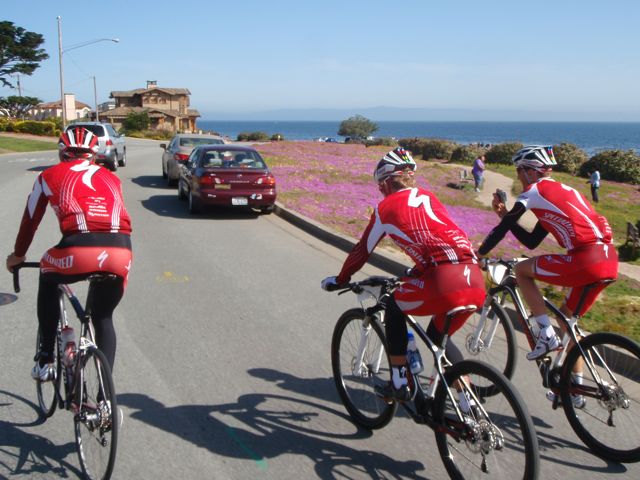 Todd Wells, Burry Stander, Christoph Sauser
Burry and I enjoying Afrikaans
Warming up for Sea Otter short track
Created on 17 April 2010
0 Comments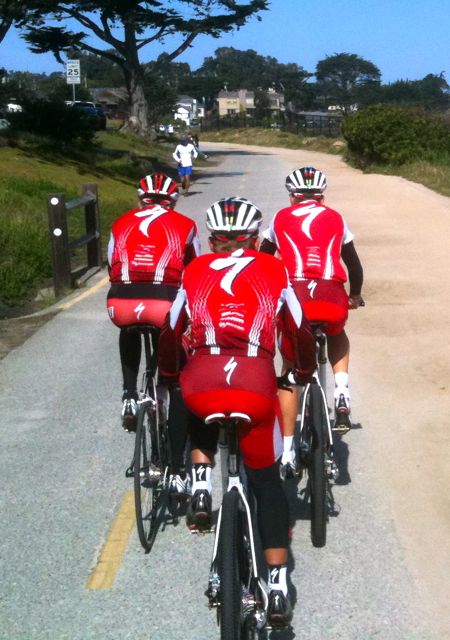 I went for a warm up with Todd Wells, Burry Stander and Christoph Sauser along the ocean path in Monterey.
Short Track starts at 3.15. Its a short lap of off road riding- after 25min the bell rings which signals the last lap. This race is all about raw horse power and gallons of lactic acid. Not really an endurance Caveman game. I think the last time I had gallons of battery acid in my veins was…. um, actually the Specialized lunch time ride I did last Wednesday!
Susi and Burry are 29er virgins- today will be their 1st race on the big hoops. Burry's Specialized 29er Hard Tail is 8.6kg (18.9lbs)
Last year Specialized made a great showing- Todd Wells won the Short Track and Christoph the XC. I was 8th in the XC and hope to blow the cobwebs out for the opening of an exciting season of MTB, XTERRA and 70.3 racing…