My first Triathlon since retirement!
Created on 11 April 2016
Last Updated on 11 April 2016
61 Comments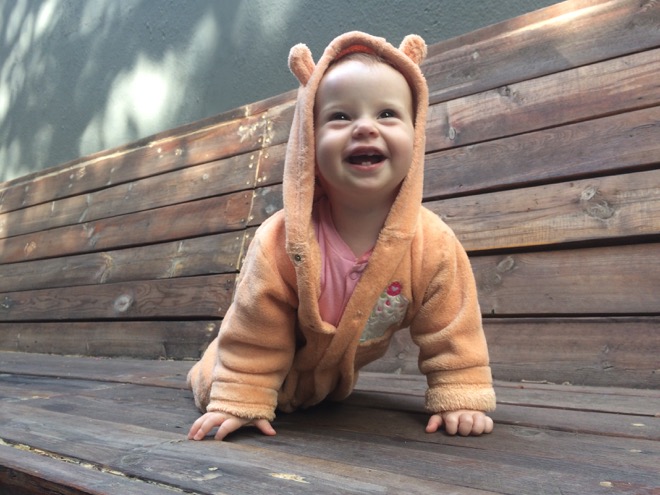 I know, I havent blogged in a while. There has so much to talk about this past year! Many fantastic stories and memories, retirement from professional racing, baby Zena, my first winter in 23 years(!?) and new beginnings in the coffee shop and my coaching business. But as any new parent will tell, you – once you have a baby in the house – priorities (and time) change beyond imagination!
Being known as "the sporty couple", we have been warned that our baby is going to be busy! We thought it was cute at the time, but no jokes! Zena is one busy body!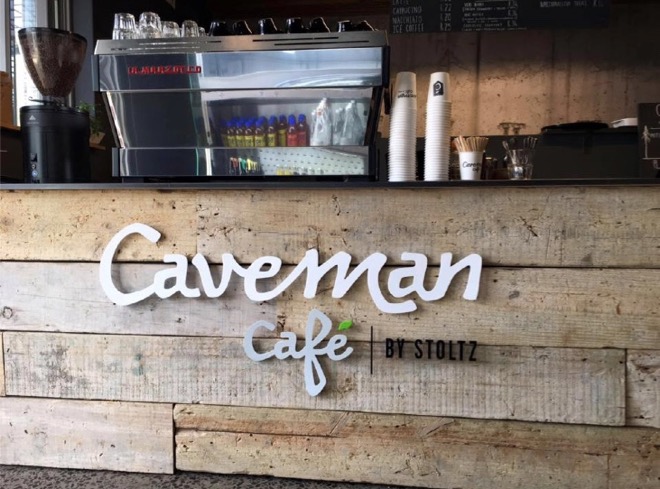 We also opened CavemanCafé in Specialized Stellenbosch mid December, which is has been really hard work.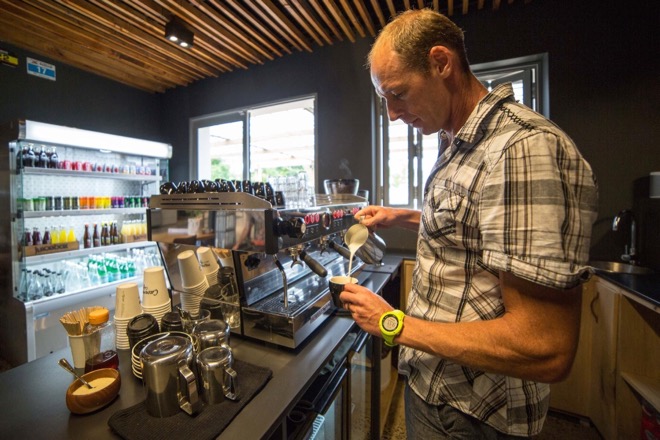 However much fun it is, one needs a break from working all that coffee magic…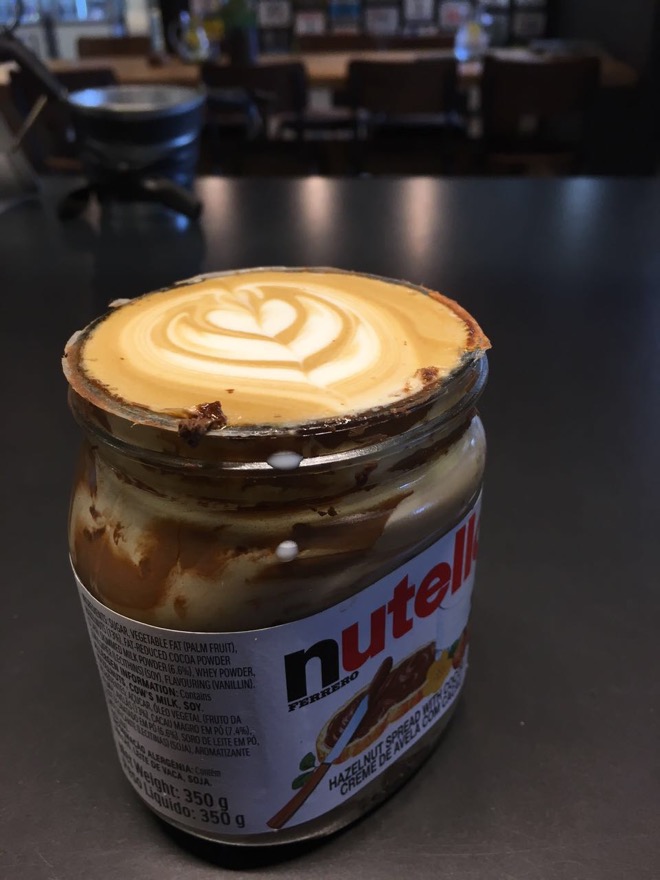 Then I got an invite to race WestCoastWarmWaterWeekend , a race I remember very fondly. Previous blogs showcasing the scenery & special race here .
Did quite a few 14hr daysstanding behind the coffee machine.
Which means I havent been training much:
I swum only once since retiring in September last year. (XTERRA Grabouw in a Specialized Stellenbosch relay team with Brandon and Loyiso)
The #STOLTZhour I was training for somehow evaporated when I somehow lost 40W on my FTP. I suspect it has something to do with the long days standing, fun times with the family, and my mind being in "retired" mode.  And maybe all the  cake sampling. More about this in another blog…
Ran only a little- usually short, fun family outings with Liezel, and  Zena in the Thule Stroller.
The evening before I was packing for the race, but could not find my race kit. With a shock a realized where it was: I raided the CavemanCafé museum and stole my one and only race kit from its frame on the wall: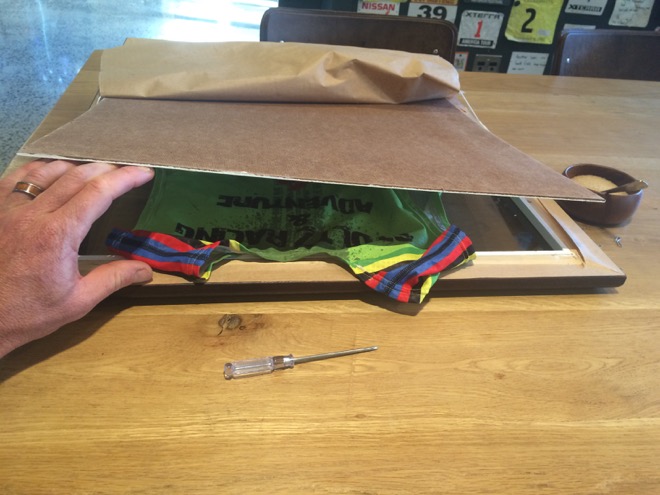 If this was a normal race day, (as a Pro racer) it would be stuff nightmares are made of: We left Stellenbosch O'dark hour, but because of all the roadworks, it became obvious that we would miss the start by 15minutes. Disaster! This was literally the only nightmare I've had the past 30 years: Missing The Race Start.
On the road Liezel let Paul Ingpen, the organizer know that the Caveman will be doing the half distance because its the only race he'll arrive in time for. Meanwhile, at every "stop and go" on the road, I would strip and change into some part of my race kit, so that by the time we got to the venue, I was fully dressed in STOLTZ Racing lycra, Transition bag packed, hydrated, fueled and even chamois creamed up – ready to roll! A few road workers on the West Coast may need some special counseling though…
Somehow by miracle the start was delayed (?!?) and I even managed to warm up a few meters in the warmish Langebaan Lagoon water. (although, for the 1st time in my life, no cycling warm up and I didnt care)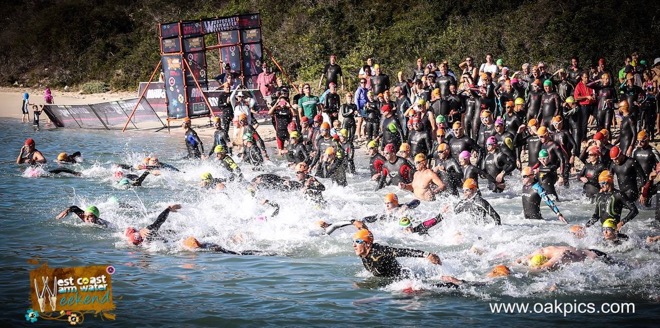 After the spectacular explosion when trying to swim on the feet of an "unfit" Olympic Gold medalist Ryk Neethling at XTERRA Grabouw team event, and absolutely no other swim training since Cross Tri Worlds 2015, I knew I had to just keep it smooth & easy. Have fun. Whatever that means. Since the age of 8 I've been racing and training to win, so I'm in new territory here…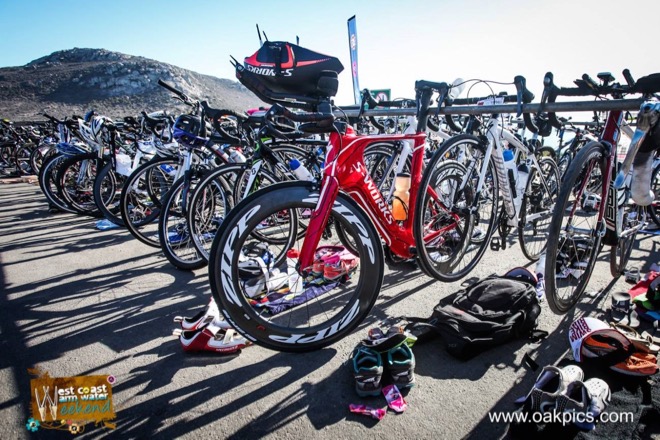 Caveman No Frills Transition lay out:
Less is best.
With absolutely no expectations, – other than knowing if I tried to go fast, I'll blow up – I went out easy-ish on the bike. Judging by the number of women overtaking me in the swim, I thought I was way back, but was surprised to be 4th at the 35km turn around. Heard a rumor there's R5000 for 2nd and age old instincts kicked in! By then the legs were warm and I hooked the 2nd half – to finish the ride in 2nd place behind Matt Trautman.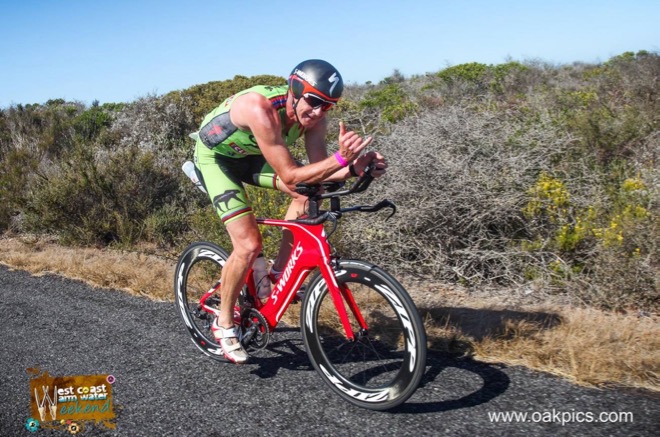 When lacking fitness, trying to go fast is certain death! Especially over 70km of rough, rolling roads.
Didn't bother to bring elastic shoe laces for a speedy transition thus spent seemingly minutes tying normal shoe laces…
There's a good reason this run is "only" 10km. Its the sandiest but the most scenic run you'll ever do!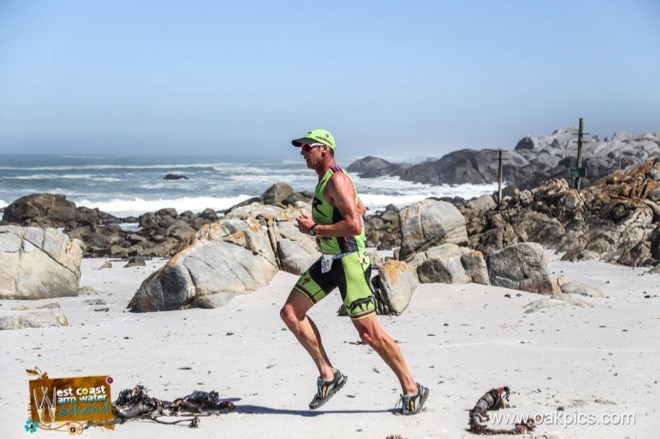 Magical West Coast views, sights, sounds and smells everywhere. This is why I love this race.
I also really like the way the Altra shoes' Zero Drop helps improve my form by encouraging foot strike to happen underneath me (at center of gravity) instead of in front of me.
But where the sand seemed deepest I got run down easily by a springy 20 something year old Jean Paul Burger whom I didnt even try to hold off or chase. When I saw him coming I pondered for a while how many coffees I have to make to earn R5000 (2nd pace)  – its a lot!- but when the familiar old lactic acid pain and heat black outs appeared on the radar I backed off without any 2nd thoughts. I'm retired from Pro racing, I'm doing this for fun now, no matter how many coffees (or coaching & skills lessons) I have to sell to make up for the R4000 pay cut for 3rd place.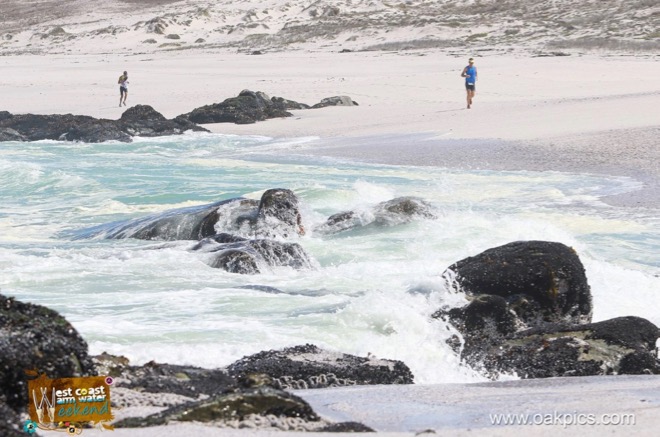 Cresting the last sand dune. I'm used to (and love) tough running conditions, but I have to admit, this Sand Monster was one of the toughest I've ever fought. This is for sure the slowest I've ever moved forward while my HR was 160. (Red line) Even enjoyed walking a few times.
Hows that for even pacing?! Took me a lifetime to learn. Recorded with Suunto Ambit3  
Click here for file Movescount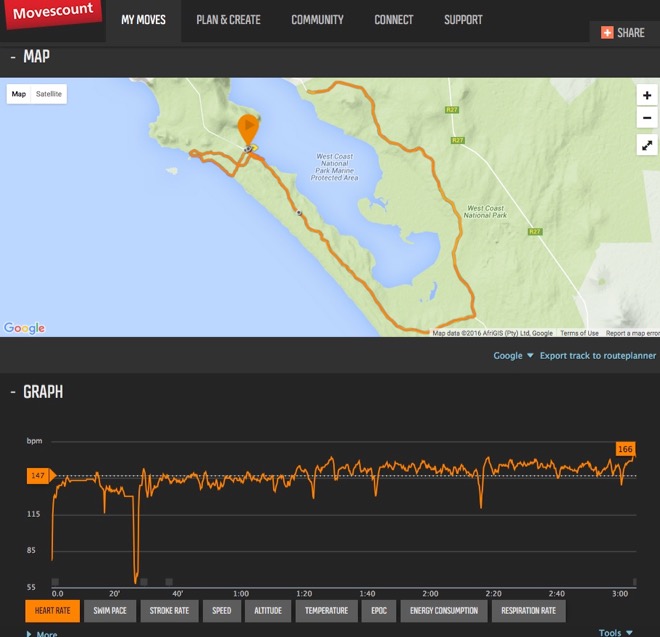 Going down the dunes involved scooping bucket loads of sand into your shoes.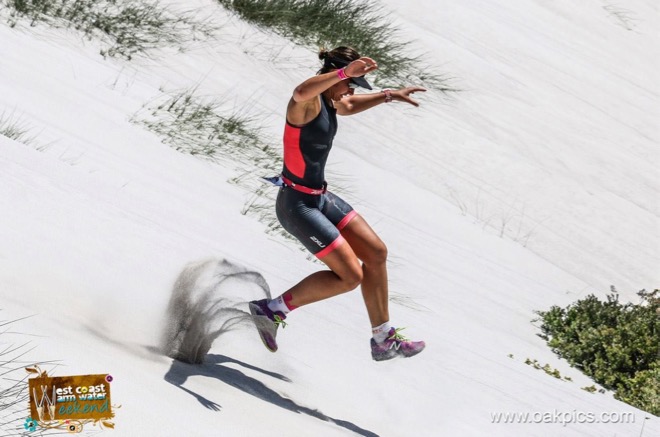 Top 5. Matt Trautman (middle) is a fantastic talent and thrashed us. More big things to come from him.
Place of magical memories: I got engaged to Liezel on the small house boat to my left.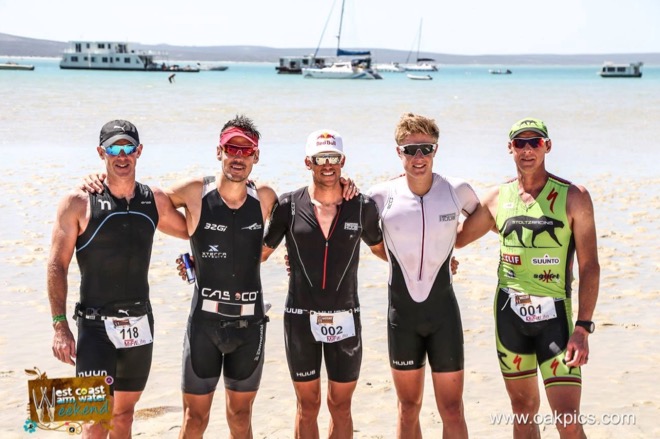 Unique trophies. Real Kudu horn.Not good for export to New Zealand!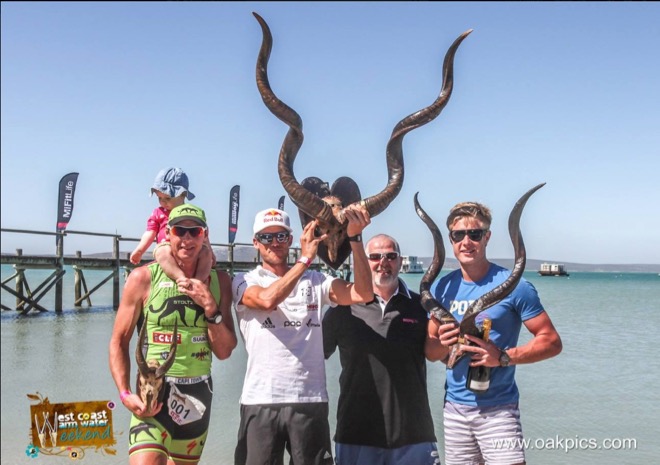 Liezel & Zena enjoying the stunning location.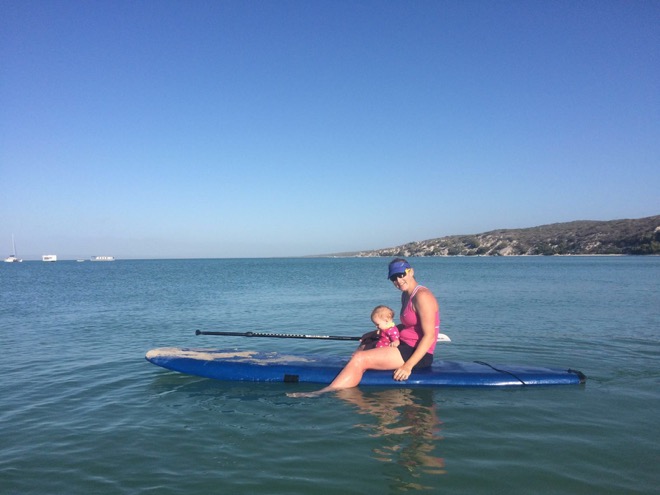 Zena's first camping trip! She loved it. Morning yoga…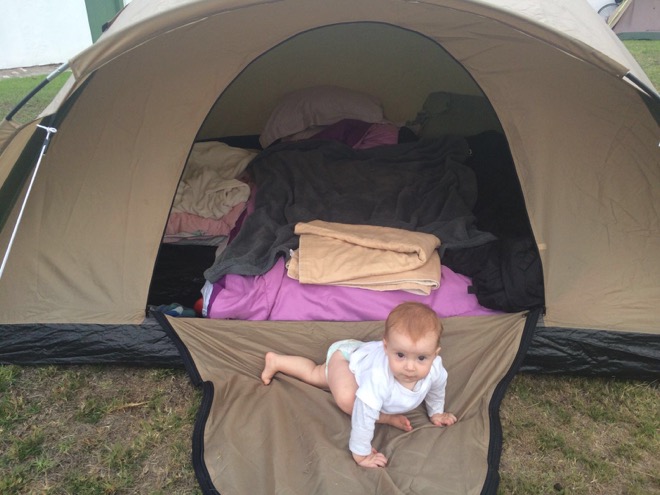 Social evening with braai, live music & banter. Big turn out by the Embark Tri club.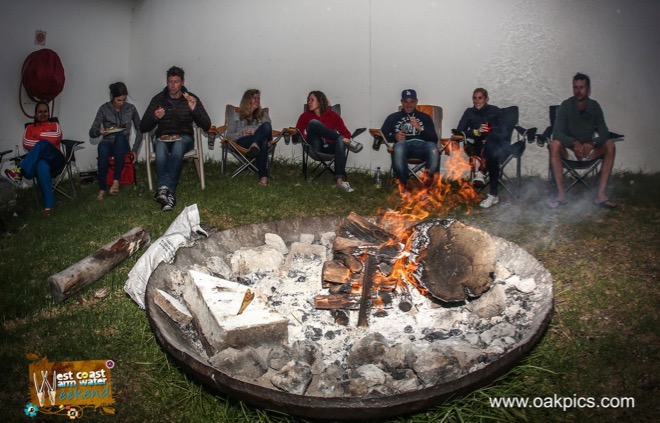 Saying good bye to Langebaan lagoon and "thank you" to the Electric Ink team who put this on. Till next year!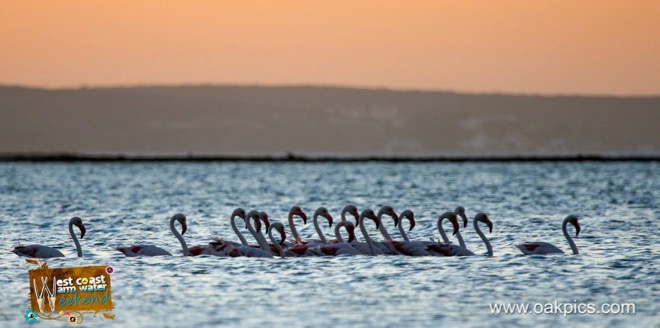 Next up: XTERRA on the tropical, volcanic, French speaking island of Reunion – XTERRA Reunion- then the Sprint road tri at WTS Cape Town