Posts Tagged 'ryk neethling'
My first Triathlon since retirement!
Created on 11 April 2016
54 Comments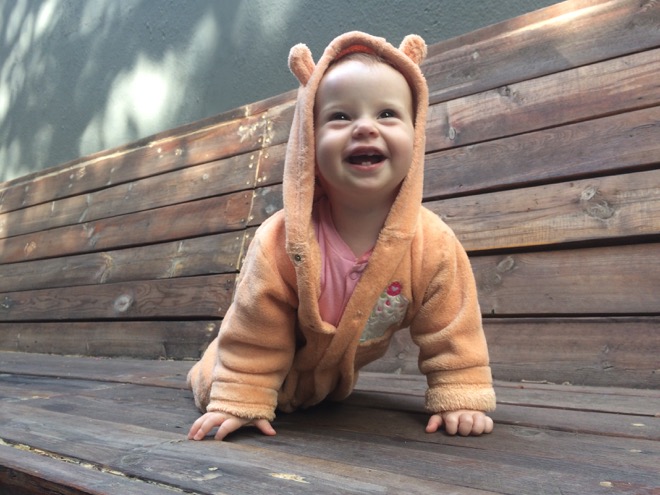 I know, I havent blogged in a while. There has so much to talk about this past year! Many fantastic stories and memories, retirement from professional racing, baby Zena, my first winter in 23 years(!?) and new beginnings in the coffee shop and my coaching business. But as any new parent will tell, you – once you have a baby in the house – priorities (and time) change beyond imagination!
Being known as "the sporty couple", we have been warned that our baby is going to be busy! We thought it was cute at the time, but no jokes! Zena is one busy body!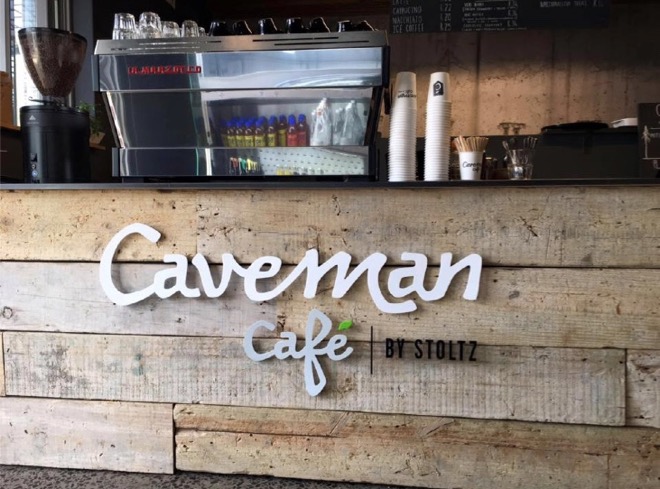 We also opened CavemanCafé in Specialized Stellenbosch mid December, which is has been really hard work.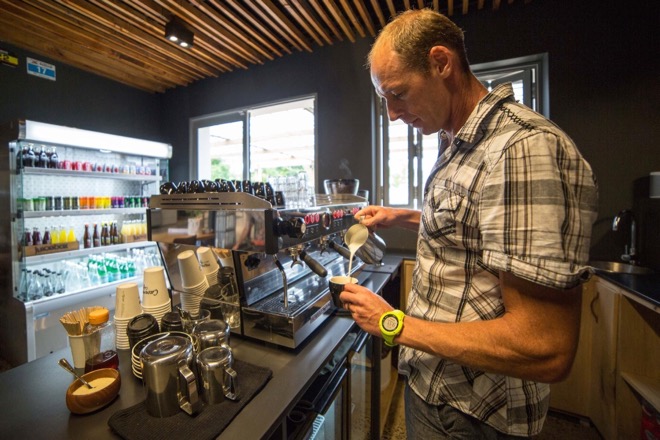 However much fun it is, one needs a break from working all that coffee magic…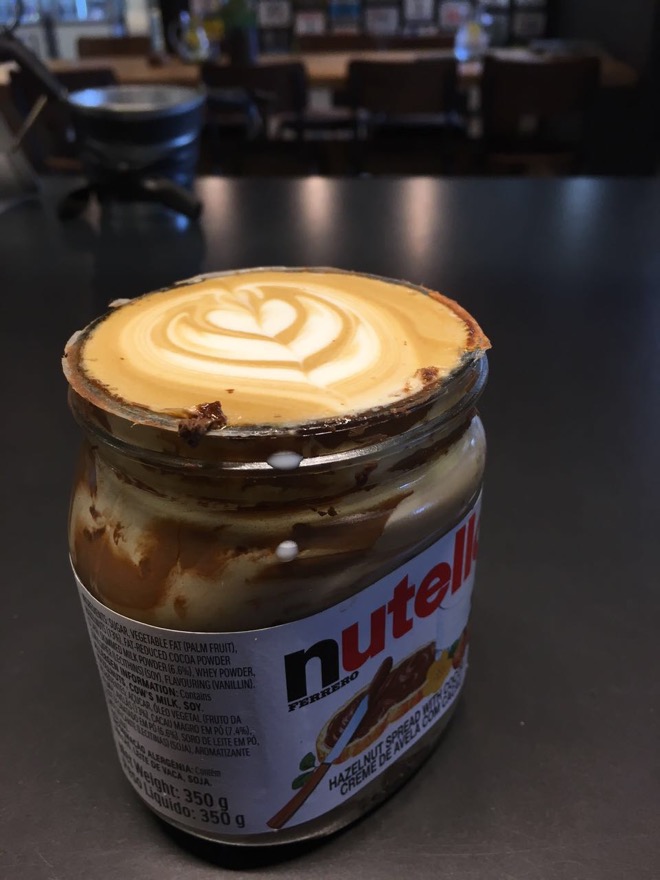 Then I got an invite to race WestCoastWarmWaterWeekend , a race I remember very fondly. Previous blogs showcasing the scenery & special race here .
Did quite a few 14hr days
Caveman wins EAI Val De Vie MTB Challenge
Created on 27 November 2013
0 Comments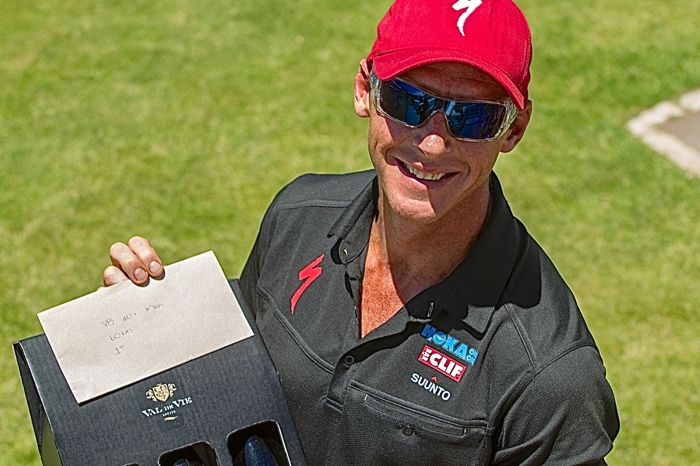 I was totally surprised when called up to collect the first prize in the "Veteran" devision! (for those who dont know – I turned 40 last month) During prize giving, I was chatting to Princess Hotstuff when I heard something about " Giniel de Villiers 3rd, Linus van Onselen 2nd, and Conrad Stoltz 1st…" I was quite shocked ans hesitantly went forward thinking, "but I raced the laaities (boys), why am I called up for the Vets category?" But when I saw Ryk Neethling waving the the Val de Vie collection of flagship wines, I became more sure of my step and accepted my new prize enthusiastically.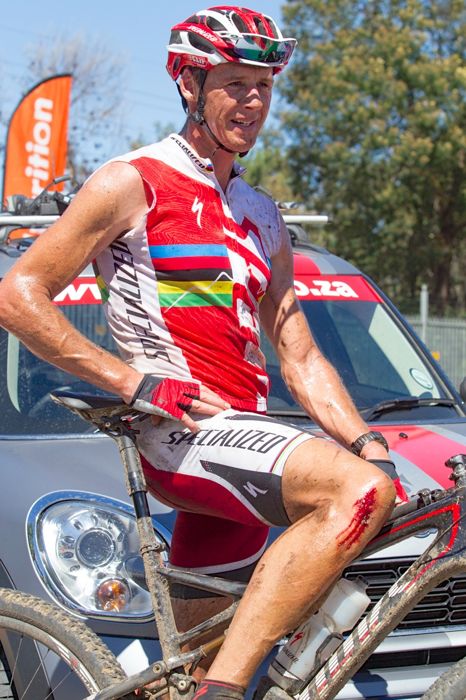 The new Double "O" M  won by 15+ minutes.
The route and conditions were tough! Super rocky and sandy and very very hot. Hence the sleeveless shirt, roadie Prevail helmet, non bib shorts and short gloves. I almost went no socks with open triathlon TERRA shoes…
In the 1st place there were some fast roadies turned "Black Socks" on the start line- some freshly flown in from Joburg for the event.
In the last turn of the day my handle bar hooked a cheecky Rooikrans bush and I almost landed on top of the marshall.
Background:
I had no idea of the exsistance of this race and had no intention of racing this time of the year.
I'm currently at the tail end of "Ice Cream and Beer Season" and have done very very little training. The bit of riding I did was fun single track on my Specialized Stumpjumper (aka Fun Bike). The only long ride I did was the day before this race- a 5hr30 route scout for the upcoming POOT Origin of Trails…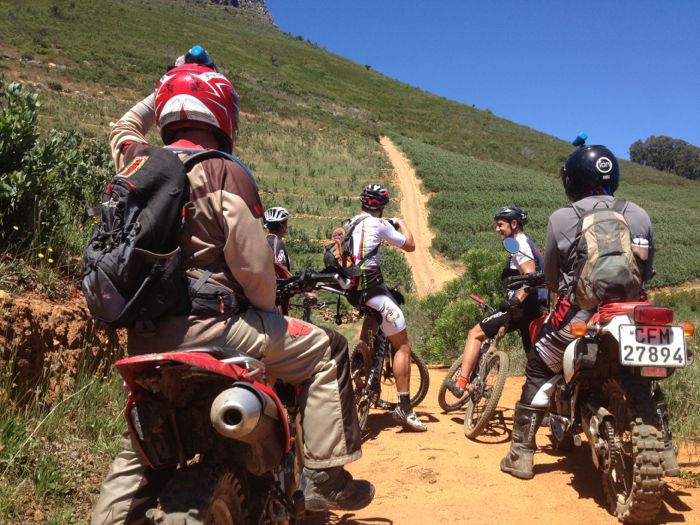 Hours and hours of single track so sweet and hills so steep…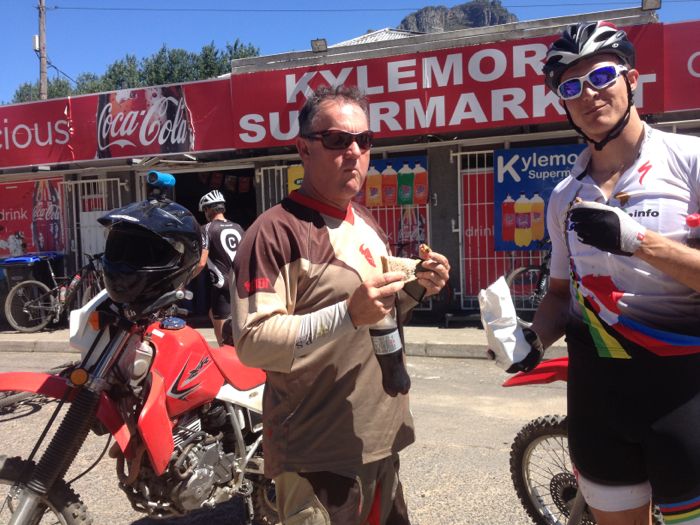 We drank Kylemore Supamaket dry (of Coke) and tore through James' backpack load of peanut butter sandwitches. BEFORE we were even halfway… At the end we tried to drink RideIn dry (of Windhoek) before tackling the huge spare ribs and chips (fries) at Jan Cats, washed down with MORE beer. Then the phone rang – my mate Max Cluer. He says theres a 60km MTB in Paarl the next day I should be doing… But Max, I'm up to my elbows in ribs…
Next morning I was on the EAI Val de Vie MTB Challenge start line: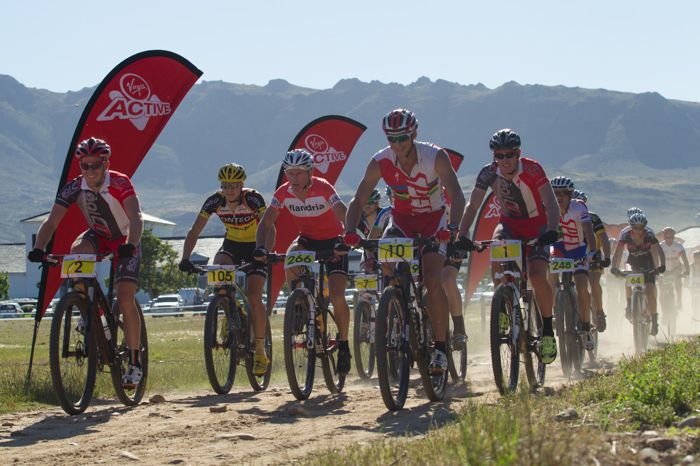 Hanco Kachelhoffer, Johann Rabie, Jurgens Uys, Linus van Onslin, Giniel Devilliers all smiles before we hit the rocks, sand and hills.
Between ravaging fires and devastating floods, Mother Nature did her best – or worst – to derail this year's EAI Val de Vie Mountain Bike Challenge in September.
"We spent months searching and manicuring trails in the area and about 70 per cent of these were washed away or damaged beyond repair. Sections of the route just disappeared under water. It was crazy!"
But the hardy organisers from ASG Events pressed on and the event will finally roll out across 21 farms in the Cape Winelands on November 24.
"The Western Cape will become a cycling mecca for that week; it's going to be an amazing time, this is the curtain raiser for Africa Bike Week, which follows in Stellenbosch.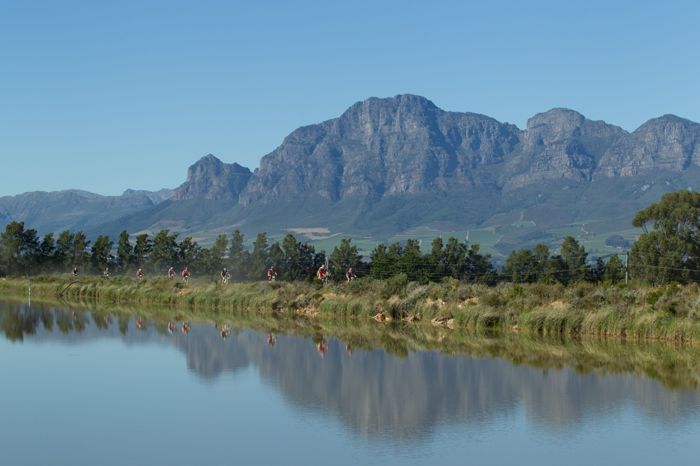 Stunning scenery with Simonsberg in the back ground. We were truly blessed to be able to ride on so many farms – a welcome trend picking up steam on the local farms in the Boland.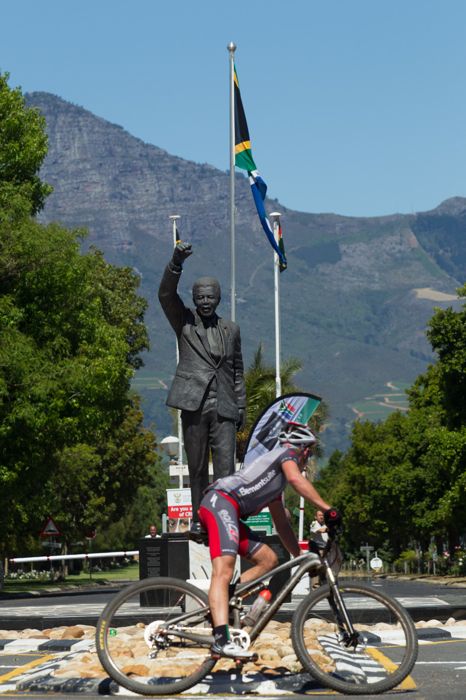 Hanco Kachelhoffer (finished 2nd in a 3 man sprint for 2nd) making the U-turn at the Nelson Mandela Steps to Freedom statue.
The course wound through the Drakenstein Prison where Nelson Mandela was held and did his monumental "walk to freedom" on his release in 1991. Cyclists got to see where he lived and also ride through a working prison, and when I went through I could hear the prisoners singing.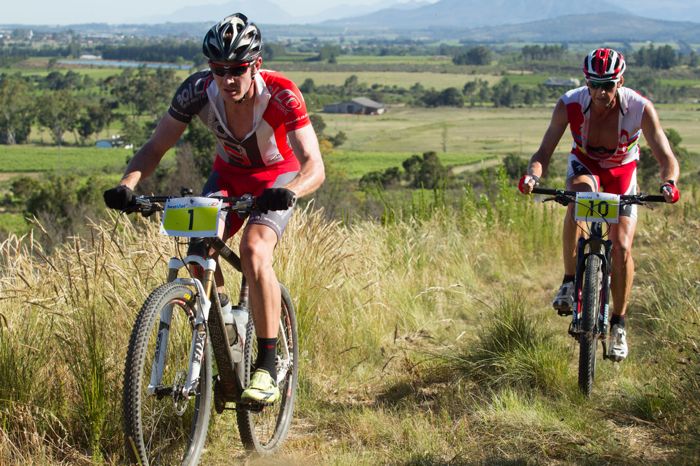 Johann Rabie – Pro Roadie turned Black Sock, pushed the pace on the climbs early on. Unfortunately he brought a knife to a gun fight. Translation: He brought a hard tail to an African race and got a flat tyre in the sea of rocks.
I took my Sworks World Cup Epic out of the travel bag, changed the XTERRA Worlds tyres for "Africa tyres", (Specialized Control 2.2 Fast Trak – wide and strong tyres) and put some Squirt lube on the chain, and rolled to the start line. The dual suspension,  beefy strong tyres and dropper seat post was perfect for these conditions.
Lead moto Africa style! On one of the hairier dowhills I had to whisper in his ear to please go faster. Later overheard him say: "%@* maar die ou kan jaag!"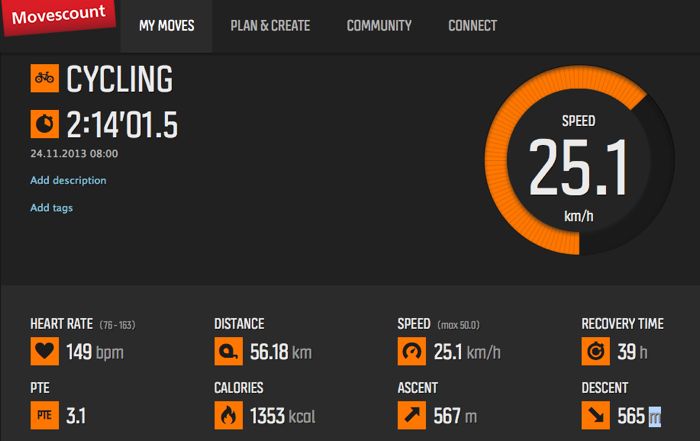 Suunto Ambit 2S on Movescount heart rate file- click on the link or pic.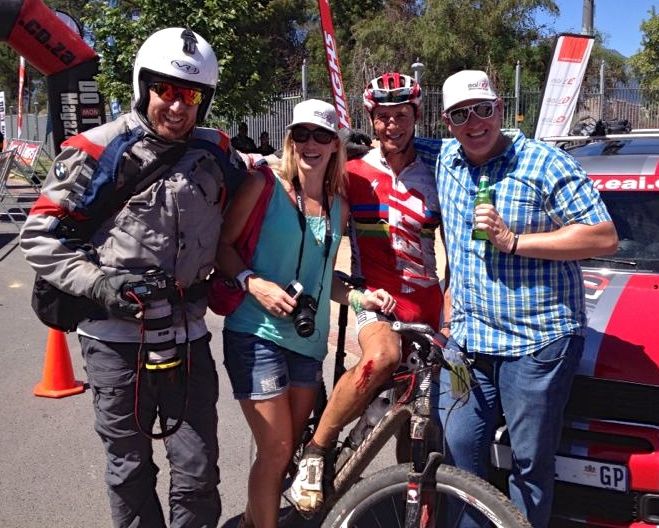 Great to catch up with friends: L-R Greg Beadle, Princess Hotstuff, Caveman, Max Cluer.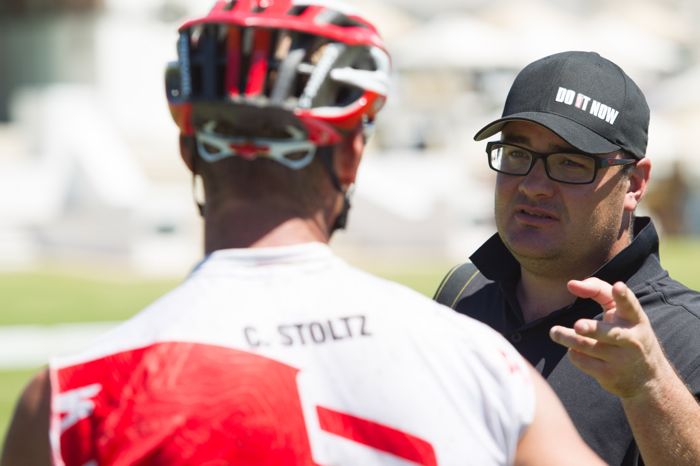 New friends. Morne Labuschagne from DoitNow magazine.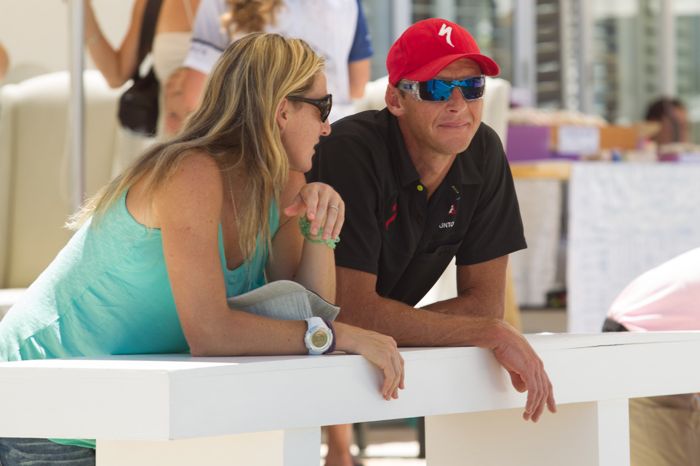 That blisfull moment – chatting with Princess Hotstuff – seconds before someone called me a "Vet."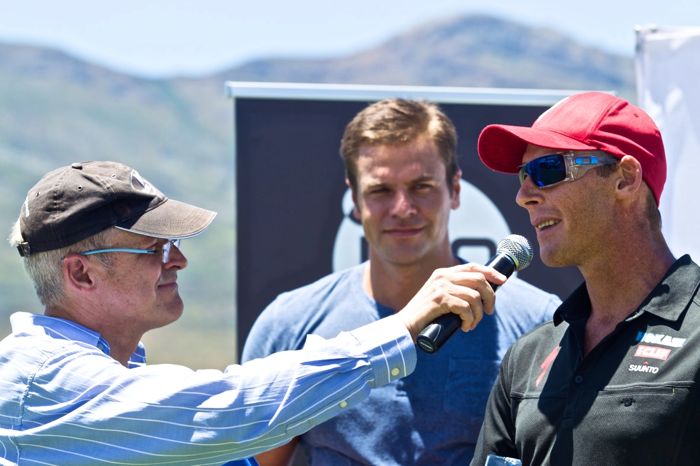 With 2 legends- Cyclist Johnny Koen & swimmer Ryk Neethling.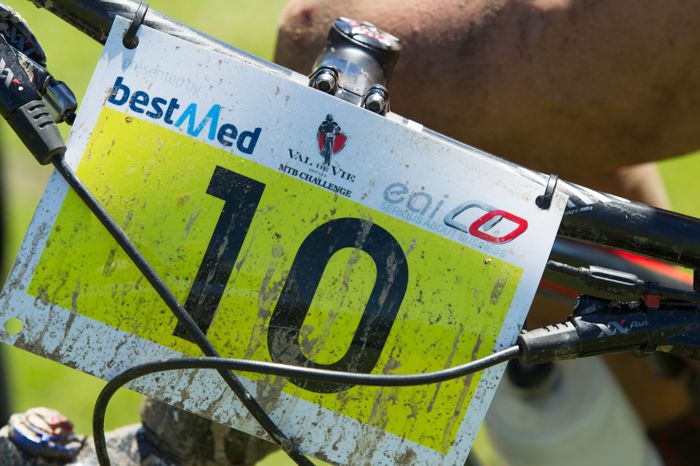 Encouraging to see the sponsorship behind non rugby/cricket/soccer/golf events nowadays: Title sponsors eai, bestMed and Val de Vie Estate.
"We also had teams from Virgin Active, Vrede Foundation, Raw Nutrition, Scheckter's Organic Energy, some of the landowners and a host of others en-route to make the water stops fun.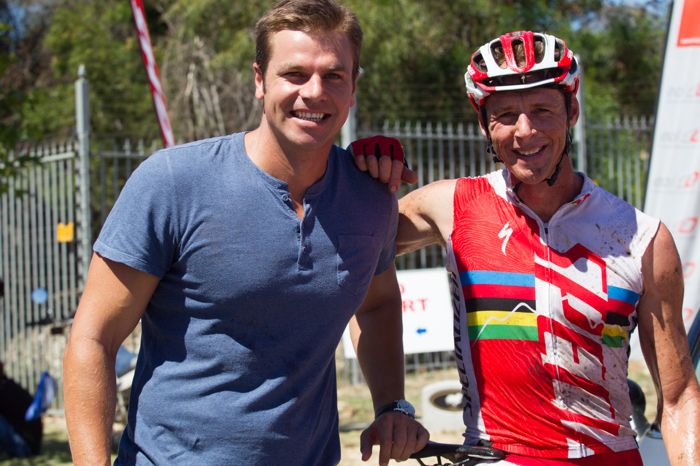 Team mate from Sydeny Olympics- swimming legend turned business man Ryk Neethling.
Looking forward to the 2 day Penny Pinchers Origin of Trails in and around Stellenbosch this weekend.