Posts Tagged 'specialized epic 29er'
XTERRA USA Champs Ogden Utah 2013
Created on 26 September 2013
1 Comment
2013 XTERRA USA Championship from XTERRA TV on Vimeo.
In the build up to USA Champs, Boulder received 20 inches (510mm) of rain in about 5 days- the annual rainfall usually expected in a year. Once the rain subsided the incredible devastation of the flooding became clear. We dont have a TV, so I only realized the scale of the damage once I ventured outside to try train. In the middle of nowhere, this car was swept off the road- the yellow "do not cross" tape stuck in the wiper telling part of the story…
In order to get some riding done, I crossed quite a few yellow barriers myself and "carefully" rode on the white line to avoid pot holes.
Flight over Salt Lake City was also watery
Liezel and Gary Mandy spent a lot of time and effort designing race kit, making sure the right logos are in the right places and the right sizes. And of course, once in Ogden- lots of time at the printers.  (Boulder businesses were closed) Stoked with the comfortable and light Castelli RossoCorsa kit with its hydrophobic INSTADRY SPEED FABRIC.
"I'm so awesome, they gave me number 1 AND 2." At XTERRA your current Series ranking determines your number plate.  After 11 "go's" at the USA Series titles- and 10 Series wins, (Silvain Dodet, FRA won in 2004) this years series was a nix for me. If you dont know the story- I crashed in Vegas- cut my hand, continued to race and train with the injury, which caused much worse (and harder to fix) compensation injuries. Which made me DNF in 'Bama and DNS in 'Richmond and put me out of the series. So I was free to travel and train leisurely for XTERRA Brazil, Italy and Cross Tri Worlds.
I jumped the gun a bit and deployed the Kona themed Hoka One One Bondi Speed shoes for this race. Other than the 29er feel over the rocks and great cushioning on the mine shaft down hill, I was hoping the colours (representing Kona Lava and tribal design) would match the fall colours of these beautiful mountain slopes around Snow Basin Ski resort. But unlike the spectacular past few years, the trees had not yet turned colours much.
I'm not going to go into it too much, but I slightly overcooked my last big training day a week out. Then 2 days of packing up an entire house and moving it to storage down in a basement didnt do much for certain muscle groups, general recovery and troop morale. Thus lots of rest, hardly any training, body work by Todd from Interative Healing in Boulder and eventually some light fly fishing was prescribed by coach Ian.
When Ian's new recruit and fellow XTERROR Anthony Snoble heard about the "fly fishing scheduled into training" he yelled (New York style): "DUDE! I'm BROKEN from Ironman, and I dont get "fly fishing"!! What do I have to do to get "fly fishing" written into my training programme?!"
In Western Cape's (South Africa) gin clear streams, Brown trout* is a rarity, but here in the Ogden Creek, below the swim course, they are a dime a dozen. Ok, maybe a dime a dollar on the Caddis fly, but once I put the Parachute Adams on, they were a dime a dozen… Considering its ankle deep water running next to a busy road and through some neigbourhoods, there are some good sized fish in there.
*No fish were hurt in the making of this blog. Also, thanks to our gracious home stay Guy Letendre for the use of his gear. And Colleen for her car. And their first born's bedroom. And their bike tools. And the fridge and the kitchen. PS- Sorry about the damage to the contents of the M&Ms jar…
Homestay Colleen found other transport- just down the road.  Also big thanks to Eric from Specialized who gave my bike some TLC.
Race day:
After a week spent mostly in bed or massage table, I was quite uncertain what was going to come out.
The swim was looong. One of the bouys floated away, and I was holding it together nicely for the 1500m, but the other 700m didnt go so great and I lost about 90″ to the leaders. I swam 29.34 instead of the usual 19.34 -ish. Full results here.
After a few tentative minutes on the opening climb up Wheeler Canyon, I found my legs and started putting the power down nicely. I recently switched to the more oval (16% oval) QXL Qrings. (Non round chainrings) And found quite a few Watts gained compared to the "old" 10% oval Qrings. This is also part of the reason I didnt get to ride the ridiculously cool new 2014 Specialized World Cup Epic 29er I test rode in April. However, there is an XX1 style Qring in the works called QX1- which should be ready to go on my 2014 Specialized Epic for XTERRA Worlds.
Thanks to Nils Nilsen for the stunning pix as per usual.
By the time we hit the 1st of 2 puny little down hill sections on this beast of a climbers course- I was up to 2nd place. Chasing Leonardo Chacon– a respected ITU and Olympic athlete, and now an XTERRA cross over from Costa Rica. Leon has a smart coach, he sleeps on a volcano at 2000m, trains on a volcano at 1500m, got 4th at XTERRA Worlds last year, won XTERRA Mexico this year, he has been riding his MTB specifically for this and most importantly- Leon weighs 65kg. (143lbs) Now I'm 20kg heavier. I know- its all muscle, and more muscle makes more speed. Right?
Without getting all mathematical about it,  no matter how much you've trained or how fit you are, assuming everyone is equally fit- power to weight ratio is what its all about on a course like this. To draw a parallel to cycling: You dont see Tom Boonen and Fabian Cancellara (both 180lbs/82kg guys) contesting Mt Ventoux or L'Alpe d'Heuz?  And I'd love to see Nairo Quintana (57kg) bounce around on the cobbles of Flanders. SA cycling legend Willie Engelbrecht calls it "horses for courses." But I think he was referring to the garage full of dirt bikes he kept- after his sterling cycling career.
This course is a point to point bike- lake to Ski resort- which gains 3400ft, but only loses 1500 ft. So there is about 1900ft gained but not lost. Not a fair course to have USA Champs on year after year for 9 years, but it is what it is and I have to make the best of it.
On the little 3min23 downhill halfway through the course, I cut Leon's lead from 1.20 to about 30″. But after that it was all climbing again- up to 8000some feet. Leon kept the gap to the top of the climb- he is a Specialized rider too, so no equipment advantage for me there.
For the Strava fans, here the Strava file for the down hill during practice-  wonder how much faster my race time was.
I passed Leon just after the summit, and on the final drop to the finish- a weird, fast but mostly non technical yet dangerously leafy tunnel to the finish, I made a minute. (Video is in the making.)
Brewing behind me was the perfect storm:  The 3 hit T2 at the same time: Leon was joined by ex pro mountain biker and fellow tiny guy Ruben Ruzafa, (also Specialized) and mountain man, smart trainer, leader of USA Series and lover of altitude and mountains- Josiah Middaugh.
I had a minute lead, but these guys chopped it down by the summit of the 1st of 2 big climbs. With another big climb looming, and my ass dragging, I had no answer as the 2 little and one medium guys took off. The 700ft gained on 8k of the run is lost all at once in 2k. With no one to chase and no one chasing, I shuffled down, saving the quads for Worlds training starting in Kona yesterday.
Josiah and Leon had a spectacular tussle down to the last mile, when Leon dropped the hammer and won by 55 seconds. I know Josiah's prep was far from good- I'll let him tell (or not tell) you more about it. Ruben who was 2nd to me at ITU Cross Tri Worlds, was 3rd, about 30″ behind Josiah. XTERRA Worlds is going to be action packed!
Bradley Weiss had breakthough performance for 7th- Dan was 5th- so 3 Saffers in the top 10.
Not overly stoked with 4th, I decided to get my own trophy in the creek on the way home.
The next day we were on our way to Kona. Princess Hotstuff formulted complex formulae to find the cheapset flights. They include factors like cost of flight, luggage fees, bike fees, time spent travelling, bonus mileage programmes, and pervious bad experiences. American, US Air and Cathay Pacific are voted off the island for ridiculous bike fees.  The cheapest way to Kona was with Alaskan Air (which included the cost of the hotel) and had us spend 22 hrs in Seattle. It broke up the travel nicely and we got to see parts of this amazing city.
We took the light rail to the fabled City Church on 1st Street, and was inspired yet again by pastor Judah Smith. Look out for the webcast dated 22 Sept called "Still havent found what I'm looking for" on TheCity.org.  Afterwards we strolled over to the Space Needle- and even though the weather looks nice when the picture was taken here in Seattle Alaska, you may as well keep the umbrella out for the next rain or cold wind. We were wearing our entire winter wardrobes and later the evening used the umbrella as a wind shield…
Warm me uppers in the Space Needle.
Other than the weird and wonderful- When is Cape Town getting and amphibious bus tour? Think about it-no traffic, no okes selling cell phone chargers at the robots, no hi jackers and no speeding cameras…
we also visited the Pikes Place market and totally mind blowing Chihuly Glass museum.
Day 1 in Kona: XTERRA Worlds training camp is ON! Bring on title #5…
2012 Cross Triathlon World Champs highlight video
Created on 12 May 2013
0 Comments
Cave couple takes TotalSports Challenge Terra Firma
Created on 24 January 2013
0 Comments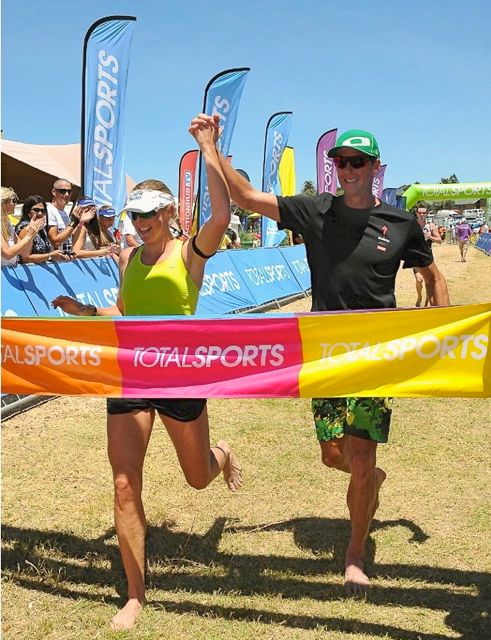 Racing for Burry Stander
TotalSports Challenge Terra Firma: 50km road cycle (Caveman), 14km road run (Princess Hotstuff), 25km MTB (Caveman), 9km beach run (Princess Hotstuff)
My coach Ian Rodger wanted me to ride steady TT pace "so we can look at the watts and see how we measure up with last year (at this race)" I said, actually Liezel and I are doing this race for Burry, and instead of towing everyone from Gordons Bay to Kleinmond, I want to arrive at the hand over alone- like Burry did 3 years ago.  Ian thought about it, and said, "ok, you haven't trained for that kind of riding, but hit them hard on the rolling technical section through Gordons Bay, see who's with you, and then attack them when you're into the wind" He finished off with: "Kick them in the nuts till no one is left standing"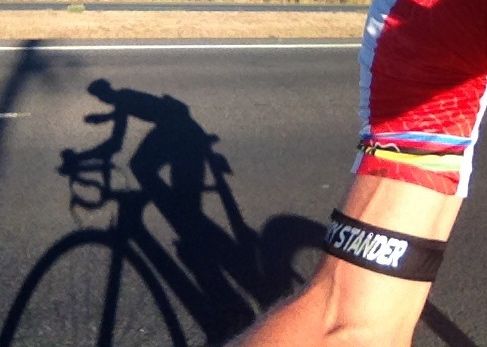 Still raw from Burry's funeral, I rode to Gordons Bay filled with emotion. Angry Battery 9 soundtrack seemingly the only suitable companion.
Althoug it was wind-still in Stellenbosch, it was howling in Gordons Bay, so I went with a training wheel in front. I rode my UCI legal SHIV TT bike,  and warmed like I would for a big TT race, and got to the start simmering and ready to kick crotches. But on the start line the mood was very somber- Songo Fipaza and a number of the Songo kids were at the start line in memory of Burry. Songo made a stirring speech celebrating Burry's extraordinary life before Songo and the kids slowly led us through the neutral zone of Gordons Bay. Obviously I had to go to plan B and attack the guys on the open road to Rooiels- a much harder task.
XTERRA Las Vegas. How to ride dry creek crossing
Created on 13 April 2012
0 Comments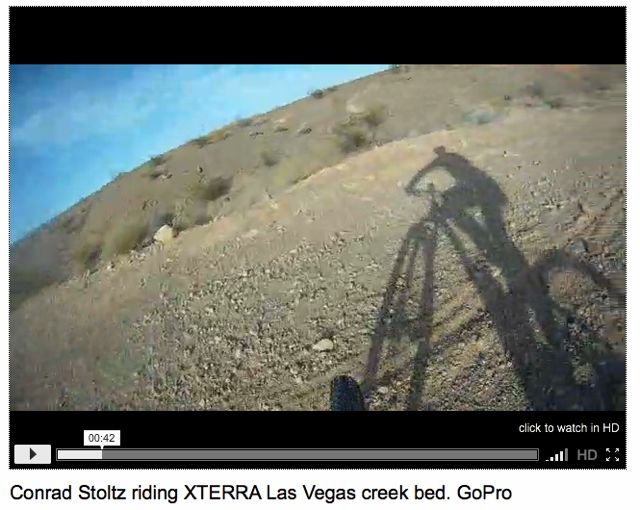 Click image or link: Conrad Stoltz riding XTERRA Las Vegas creek bed
1) Choose  a good line
2) Bring speed
3) Bring guts
4) Bring cutting edge dual suspension 29er.
Caveman News update I. Caveman wins Western Province Mountain Bike Cross Country
Created on 28 June 2011
2 Comments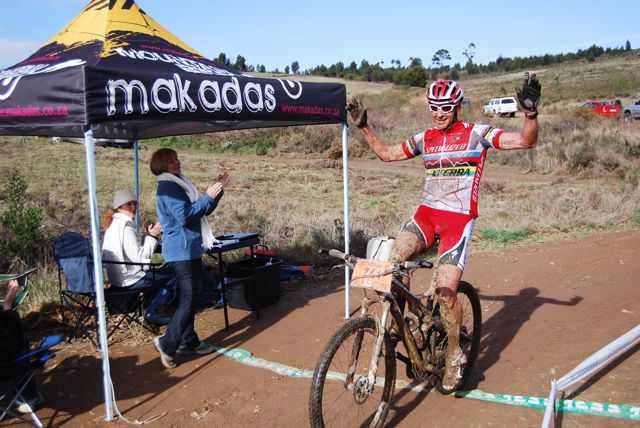 Winning 3rd leg of Western Province Cross Country Champs, this Sunday at Paul Cluver, South Africa.
Havent blogged in a while partially because I had to upgrade my web host, and partly have been crazy busy. Traveling to South Africa, visiting my parents on the farm with Liezel, spending time training and settling in Stellenbosch and guess what? Actual real training. (Well, kind of)
So I'm going to blog in bits an pieces, to try and catch up on news: Herewith, this past weekends' Western Province MTB Champs, leg no 3: