Caveman News update I. Caveman wins Western Province Mountain Bike Cross Country
Created on 28 June 2011
Last Updated on 28 June 2011
2 Comments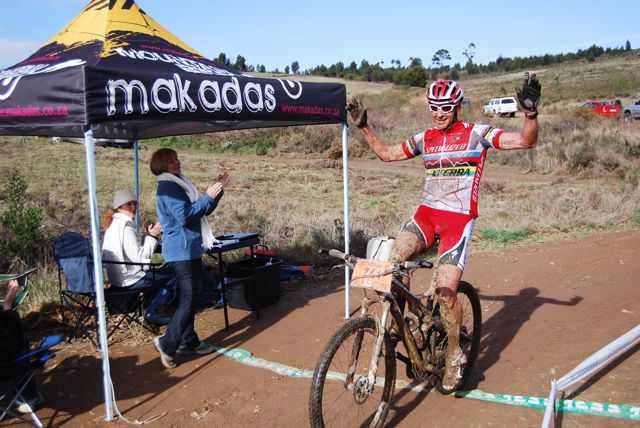 Winning 3rd leg of Western Province Cross Country Champs, this Sunday at Paul Cluver, South Africa.
Havent blogged in a while partially because I had to upgrade my web host, and partly have been crazy busy. Traveling to South Africa, visiting my parents on the farm with Liezel, spending time training and settling in Stellenbosch and guess what? Actual real training. (Well, kind of)
So I'm going to blog in bits an pieces, to try and catch up on news: Herewith, this past weekends' Western Province MTB Champs, leg no 3:
I was supposed to do a quality ride on Sunday and heard about this MTB Saturday afternoon. Racing is always more fun that training hard quality on your own, so I was happy to jump into a muddy, painful XC race. While my Specialized Team mate Christophe Sauser was demolishing the field at UCI Marathon Worlds!
Did I say it was REALLY muddy? As much as we hate the messy mud (ruins your bike), I embraced the brown stuff and learnt a lot about slipping, sliding and picking lines. Fortunately had an extra Captain 2.2 tire for the front in the car, but the Fast Trak rear tire didnt work so well in the mud. Was more like the No Trak. In sticky mud, there is definitely something to be said for tall knobs. Will pack mud tires to wet races for sure.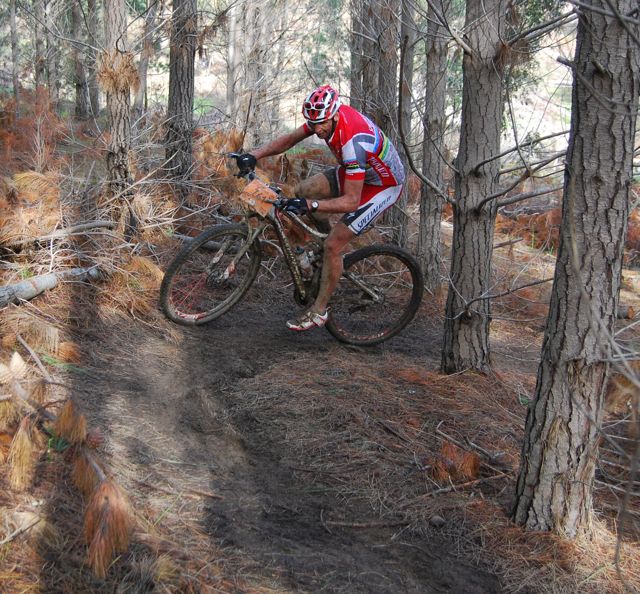 It was twisty, turny and very very slippery business.  Liezel braved the mud, took pix, spectated and handed me Clif Bar bottles and fresh Oakleys.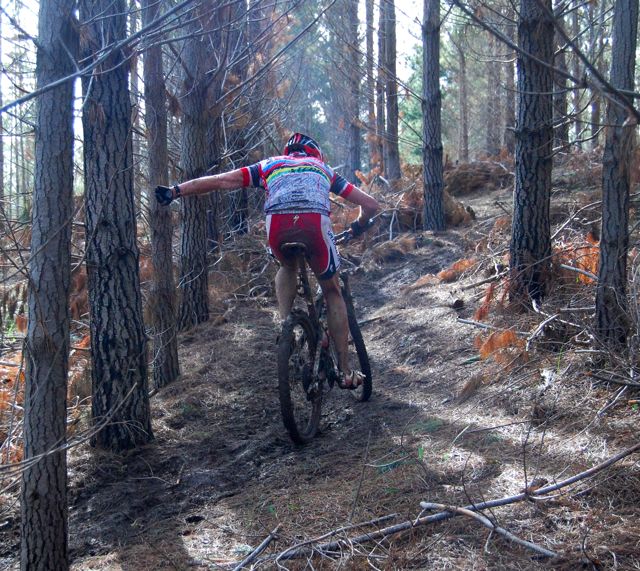 Due to the lack of traction, I perfected the Caveman's Special Tree Grab And Pull technique…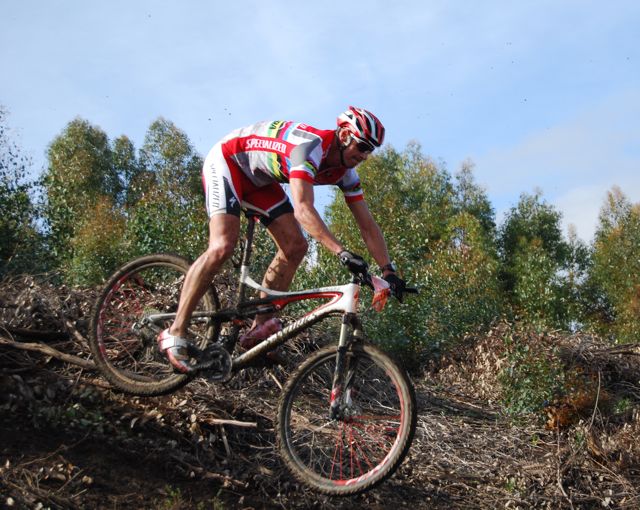 There was also an ugly low speed jump on a steep muddy downhill, which had my heart in my throat every lap. Cant see the jump or the ground here…
Oliver Munnik, aka Chatterbox, also coached by Ian Rodger, took 2nd.