Athletes' Beauty Kits. And other random quirks
Created on 08 August 2010
Last Updated on 08 August 2010
2 Comments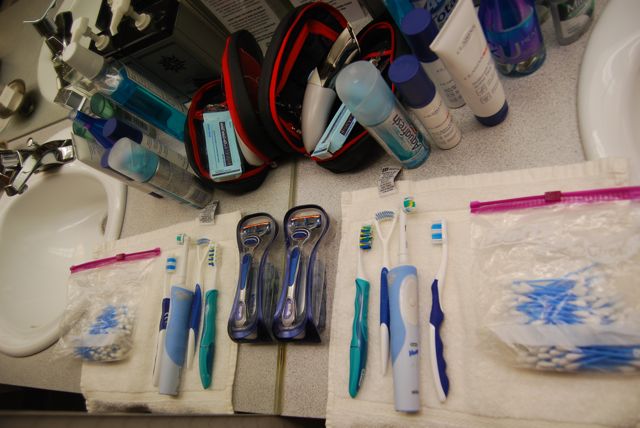 Seriously Bobby, you need 8 tooth cleaning tools? (ok 4, if you dont count the ones in the mirror)
On a recent trip to Keystone Colorado for the Specialized 2011 product launch, I shared a room Specialized Team Manager, Bobby Behan, who is a very very organized guy. ("like, you know"- Irish accent) When on the road, he always completely unpacks his whole bag right away- even if its just a 1 night stay. He neatly lines all his shoes in a row, all his watches in a row and his training clothing goes neatly in Specialized bags- lined up according the temperature rating.
Sharing the "road" with other athletes is always a trip. Jamie Whitmore had a pre-race ritual which led her to travel the globe with a her waffle iron and special waffle mix…
Breakfasting with the Specialized Factory Team is quite an experience in itself.
Being the Caveman/African/Triathlete, I eat whatever the establishment offers: Farmhouse breakfast (eggs AND Boerewors (serious SA sausage) AND grilled onions & tomatoes AND toast- and that's the starter) in Stellenbosch, or Tater tots and eggs from a cardboard box in Monterrey, California. Whatever they offer, I eat. Except bad coffee…
Christoph Sauser and Lene Byberg (the two most notable bag bringers) brings brown shopping bags to breakfast- containing their own goodies. Sometimes all Christoph will use from the establishment is the cutlery and hot water. That magical bag contains special hot chocolate, special cereal, tea, coffee and brewer- the works. Its always interesting watching what comes out of the bag. Maybe this quirk also explains the fact that these 2 riders are also the best on the team…
Raynard Tissink– whom I've raced since 1989 or '90- brings his whole family to races.Wonder if he still brings his roller blades?
You'll never get tired of athletes' quirks- I'll keep my eyes open and expand on this topic when I have more material…
In the meantime, here is the Caveman's Beauty kit.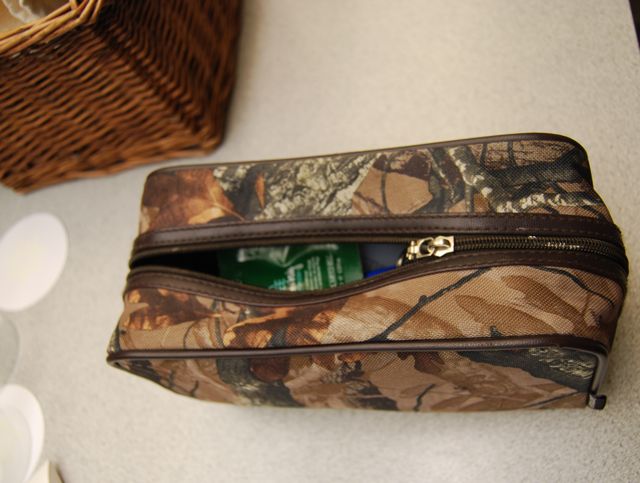 Now, I think the winning beauty kit out there has got to be Dan Hugo's. I caught a glimpse of it once, and it was impressive. There was a cream for each body part, and I'm quite sure, unlike the Caveman, he doesnt consider "greasy fingers from BBQ", to be a skin moisturizer…