Category: jamie whitmore
Athletes' Beauty Kits. And other random quirks
Created on 08 August 2010
2 Comments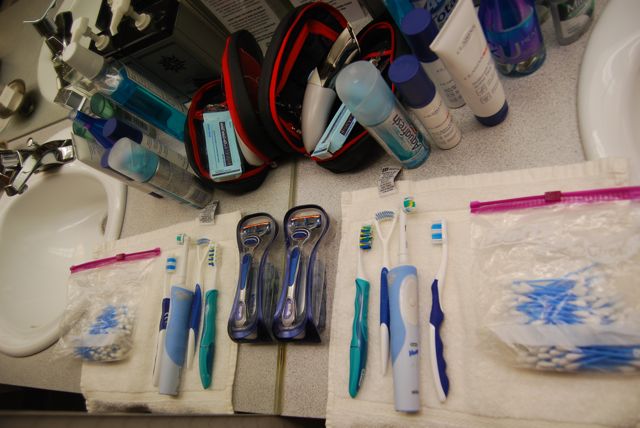 Seriously Bobby, you need 8 tooth cleaning tools? (ok 4, if you dont count the ones in the mirror)
On a recent trip to Keystone Colorado for the Specialized 2011 product launch, I shared a room Specialized Team Manager, Bobby Behan, who is a very very organized guy. ("like, you know"- Irish accent) When on the road, he always completely unpacks his whole bag right away- even if its just a 1 night stay. He neatly lines all his shoes in a row, all his watches in a row and his training clothing goes neatly in Specialized bags- lined up according the temperature rating.
Sharing the "road" with other athletes is always a trip. Jamie Whitmore had a pre-race ritual which led her to travel the globe with a her waffle iron and special waffle mix…
Breakfasting with the Specialized Factory Team is quite an experience in itself.
XTERRA World Champs- XTERRA.TV Highlights
Created on 08 November 2008
0 Comments
Despite the snow outside, I'm drenched with sweat. No, I'm not riding the stationary trainer in preparatory revenge for XTERRA Worlds 09. I just watched the highlights of this years' race. I lived the race again. Sitting at the table, adrenaline pumped and my senses were abuzz with racing fever. Go to Xterra.tv for 2008 Worlds highlights. There is no commentry, you dont see me flat, (it will probably show up on the full length TV show) and it looks like I'm off the bike 1st, but I relived the race in Technicolour.
You too can relive (or just "live") this season's XTERRAs. Watch the whole season's XTERRA races from all over the world and most notably Jamie Whitmores' (she is fighting cancer) XTERRA Warrior Award 2008 on XTERRA.TV

My XTERRA.TV favourite is 1996 Worlds with Jimmy Riccitello, Mike Pig, Ned Overend, Michelle Jones and Mark Allen as commentator.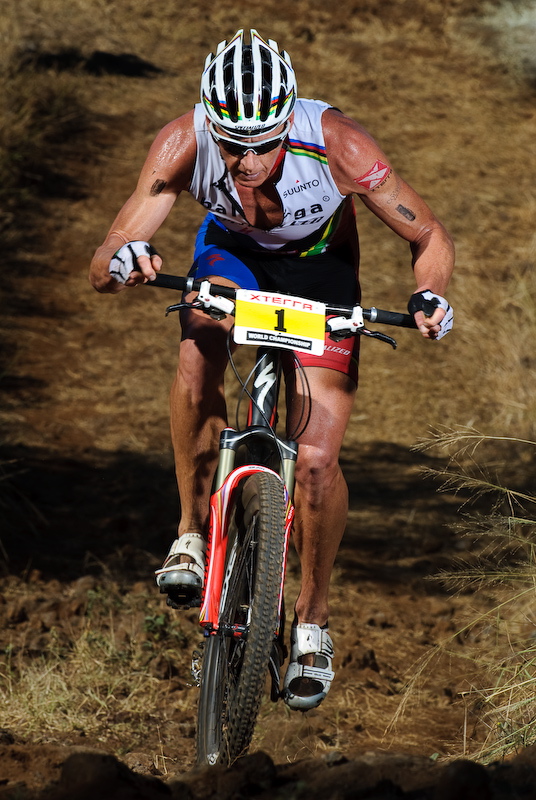 Photo by Nils Nilsen 2008