Created on 21 November 2012
Last Updated on 21 November 2012
3 Comments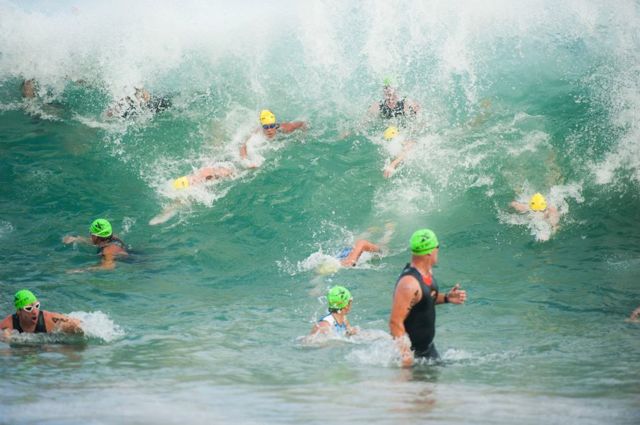 A tsunami warning the night before caused some pretty interesting ocean conditions- complete with "shark" "no, dolphin" "no, shark" spottings at the turn buoy.
The tsunami was predicted to hit land at 10.28pm causing a large number of athletes to evacuate, only to return to bed at 1am.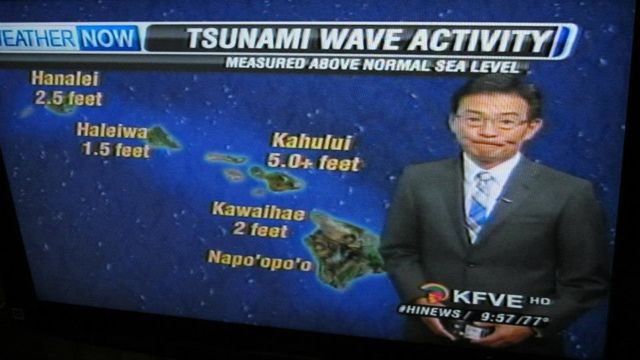 The conditions didnt detract from triathlon legend in the making- Javier Gomez's swimming ability.  If you havent heard about Javier, go do some googling, but here's some of his 2012 highlights: Silver medal Olympic Games, winner of ITU Grand final,  2nd in ITU World Champs Series, winner of prestigious HyVee triathlon (prestigious mostly because of the $151,500 1st place prize money), 3 Toyota Cup wins and a hand full of ITU podiums…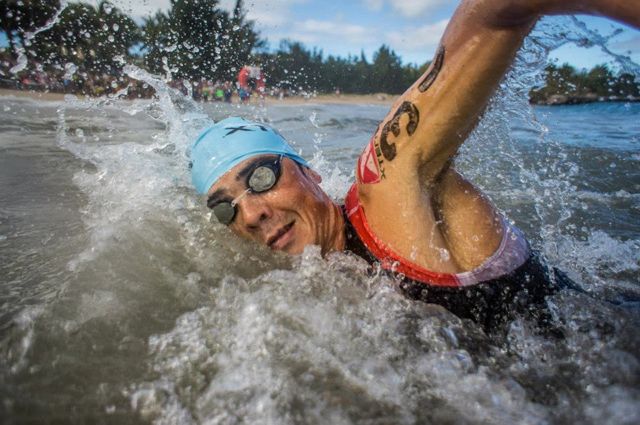 Long story short, Javi  -like we call our Specialized team mate– put 2min.30 into me on the swim and 1.30 on the usual "fast swimmers". I swam the 2nd half conservatively and lost more time with 2 badly timed waves, but got jumped on the bike fresh and ready to hammer. There were lots of riders around me, new ITU types (high caliber road triathletes) mixed with seasoned XTERRA athletes. I picked them all up quickly and although I was going strong, by the feeling in my legs I knew I wasnt having one of THOSE days acheter viagra.
Javi's 2.30 lead quickly came down to 1′, as the opening miles had a few tricky sections.  This course had A LOT of climbing- 1300m of vertical gain over mostly think grass or deep dust. Not exactly Caveman dreamland, but we trained for this and I poured everything I had into it grinding away at the granny gear- banking on making a buffer for the run over the flatter final 10km.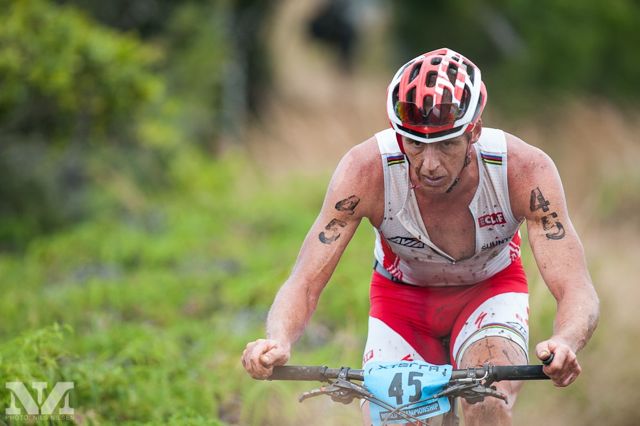 Purple lips is Caveman for "red lining" a car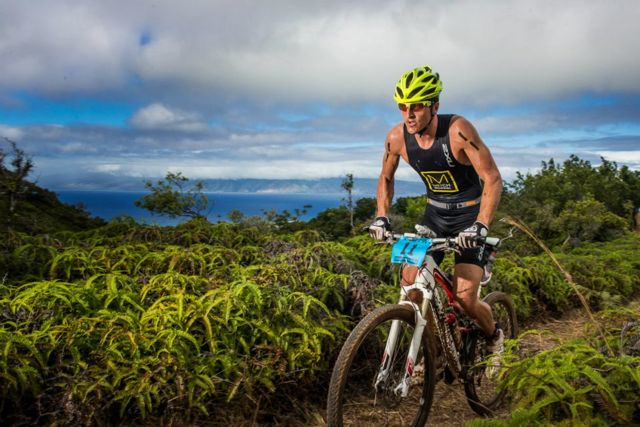 Branden Rakita at the top of the bike course-  scenic, but no one got to see anything- it hurt too much.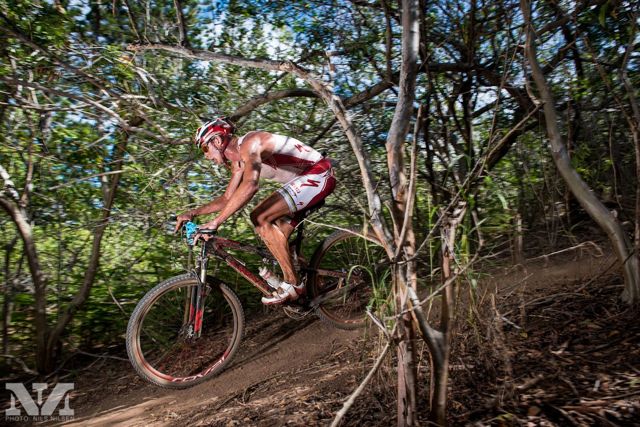 I finally caught Javier at 20km- for someone who "hasnt ridden his MTB in the last 6 months" he was riding really well. With only 8km, 80% hard pack dirt road and a fair bit of climbing still to go, I knew I wouldnt be able to beat him. In a road triathlon he would the 10km in the low 29mins, so I needed  3min + on him off the bike.  Obviously he has great power to weight ratio (he is 70 kg and I'm 83) so he was climbing slightly better than me. His strategy of "climb really hard and take the downhills conservatively" paid off- especially on this course. He stayed calm and really limited his losses through the trickier spots where I let it hang it all out all the time.
I had no idea Josiah Middaugh closed the gap on us. Which meant more trouble for me. Read his insightful race report here. www.josiahmiddaugh.com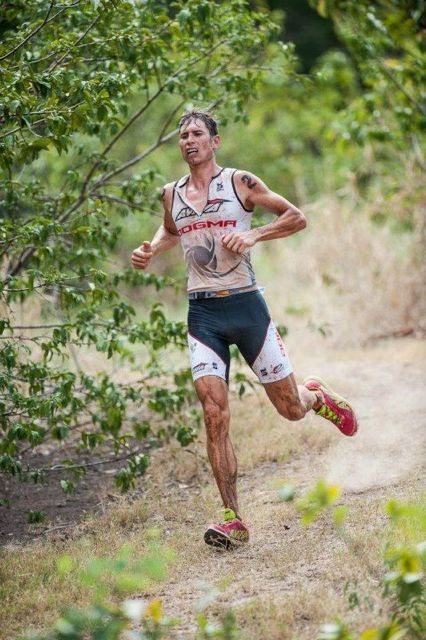 I managed to shake Javi and made 30″on the last 500m single track and did the aero tuck once again.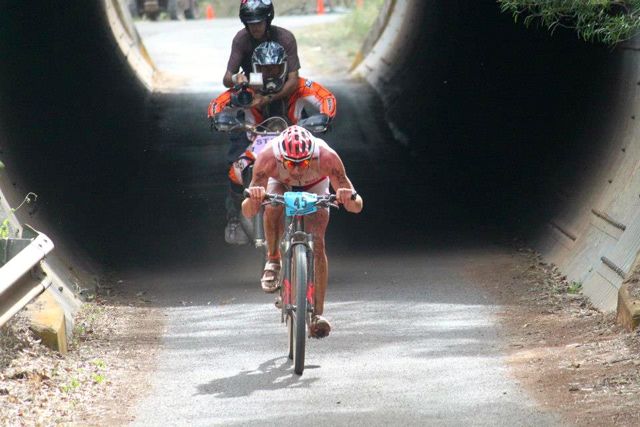 The down hills were mostly a high speed "hang on, stay off the brakes, and wait for the bottom" affairs. Sadly, quite a few hundred meters of vertical loss even required an aero tuck. I easily hit 60km/h in training, so make it 70+ on race day- a sad waste of negative gravity.
No point fighting Javi or Josiah as they caught me at 2km  and 2.5 as we were crawling up the hill. The run was 4km almost straight up. Once they caught me they both slowed down, so I stayed on the red line – holding onto hope- blow ups happen, someone may blow a tekkie, and the Caveman freefall can be an incredible thing…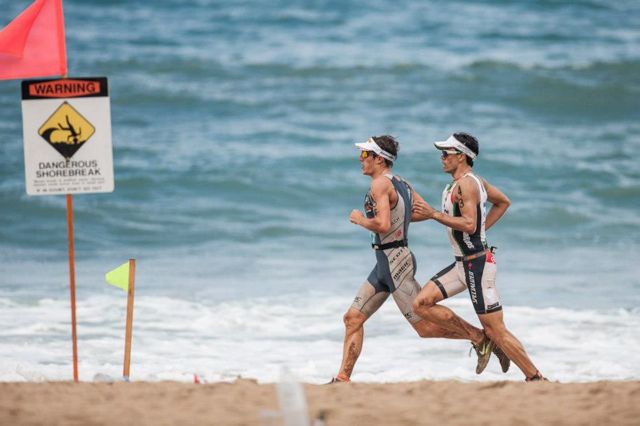 70.3 World Champion and 4th in Kona Ironman, Sebastian Kienle is a weight weenie: His Scott hard tail weighed 7.64kg (16.84lbs). "With the heavy pedals. (321g) I forgot to bring my 184g pedals". "I know, I'm old school." What a delightful guy. Here he's having an old school beach sprint for 14th with Paco Serrano. (Mex)
Interesting to note 7 out of the top 10 are ITU athletes.  Ok, Brent used to swing both ways, and so does Marceau, but we claim Marceau as an XTERRA guy.  I wonder how a well rounded XTERRA course would have panned out.
Read more on XTERRA home page.
 Place Name Swim Bike Run Overall

 Pro            
 ===           

     1  Javier Gomez #31                 :19:05  01:29:54  00:37:51    2:26:50
     2  Josiah Middaugh #2               :22:48  01:26:13  00:38:39    2:27:40
     3  Conrad Stoltz #45                :21:16  01:27:23  00:41:24    2:30:03
     4  Leonardo Chacon #22              :20:13  01:28:49  00:41:17    2:30:19
     5  Victor Del Corral #26            :24:22  01:27:53  00:38:08    2:30:23
     6  Brent McMahon #38                :20:25  01:32:36  00:37:54    2:30:55
     7  Asa Shaw #44                     :20:58  01:28:06  00:43:11    2:32:15
     8  Tim Don #27                      :20:24  01:33:21  00:38:55    2:32:40
     9  Yeray Luxem #37                  :22:52  01:30:46  00:39:31    2:33:09
    10  Olivier Marceau #3               :21:09  01:31:51  00:40:35    2:33:35
    11  Nicolas Lebrun #8                :24:11  01:30:36  00:39:26    2:34:13
    12  Eneko Llanos #1                  :21:22  01:32:00  00:41:47    2:35:09
    13  Felix Schumann #42               :21:49  01:32:08  00:42:20    2:36:17
    14  Sebastian Kienle #35             :22:28  01:35:44  00:38:17    2:36:29
    15  Francisco Serrano #43            :21:04  01:33:28  00:42:04    2:36:36
    16  Felipe Moletta #14               :22:51  01:33:19  00:40:30    2:36:40
    17  Braden Currie #23                :22:52  01:34:23  00:39:53    2:37:08
    18  Mike Vine #9                     :23:18  01:32:41  00:41:43    2:37:42
    19  Brice Daubord #24                :21:04  01:35:55  00:41:36    2:38:35
    20  Jan Kubicek #5                   :23:22  01:33:23  00:42:41    2:39:26
    21  Sam Gardner #7                   :24:30  01:31:05  00:45:36    2:41:11
Of course I'm disappointed with 3rd, but given the huge amounts of climbing on the bike and run courses, I did the best I could. Javier is a triathlon phenomenon and won by using his incredible fitness and calm collected head to handle the off road component. Josiah is a climbing monster with power to weight numbers like a Pikes Peak hill sprint car, and for the first time really performed to his potential at XTERRA Worlds.
Back to the drawing board, Ian and I know where I can slice the time needed to raise to the occasion.

"Sante" on an outstanding season Javier!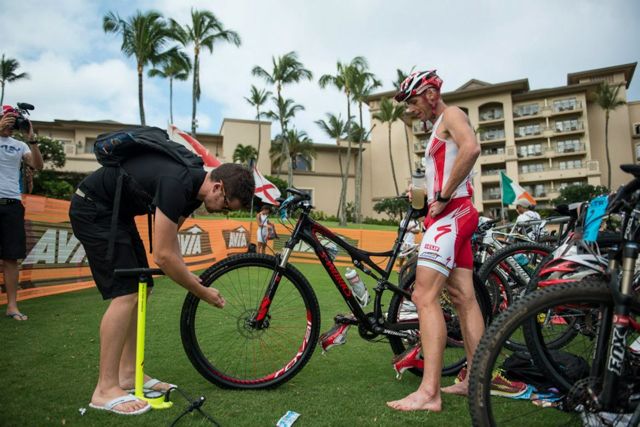 Specialized sent a team of 2 mechanics and videographer to support their impressive athlete stable. Dylan, Paddy & JB.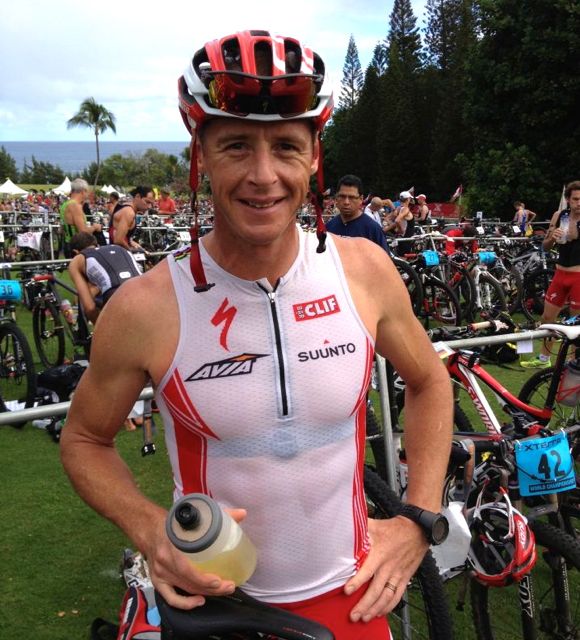 Many thanks to my sponsors: Specialized, Avia, Suunto, Clif bar, Oakley, Squirt lube, Cool point, Blueseventy, Stuffitts, Kelfords, GoPro & Thule racks and luggage.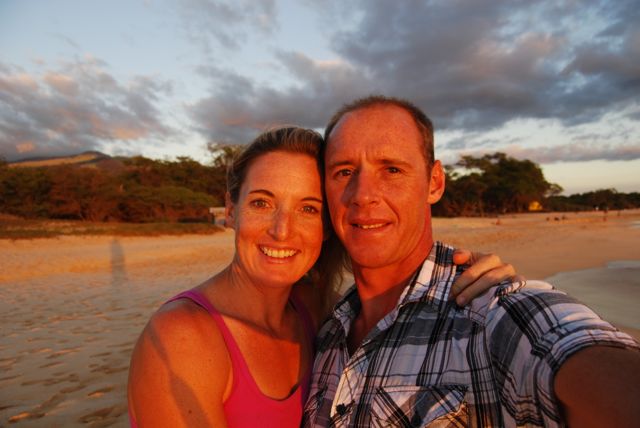 And an extra special thanks to my stunning wife for her amazing support and love. Happy birthday on race day!
The Halloween after party was a good one. Next day quote by Ingrid Middaugh: "Josiah, you partied like you won, but you know you got 2nd, right?"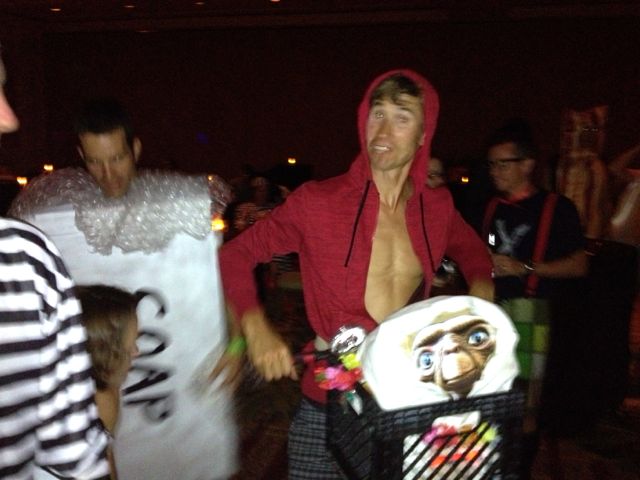 Josiah taking ET home…