Posts Tagged 'surgery'
2nd surgery. Thursday June 18- 4 days after XTERRA Richmond
Created on 24 June 2009
15 Comments
My surgeon, Dr Moose Herring from Richmond VA, is also an avid triathlete. We had become quite close over the past week and last night his family (more in next post) invited me over for a fare well dinner. He let me have these cool pics he took during the 2nd surgery.
Yes, these gory pics are legal on the internet, but not for the faint hearted!
Before 2nd surgery.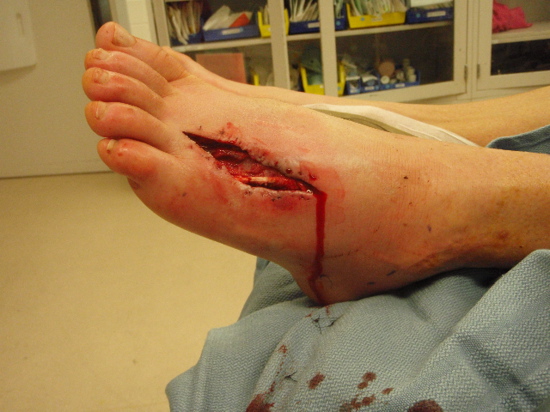 "Clean as a whistle"- Doc's own words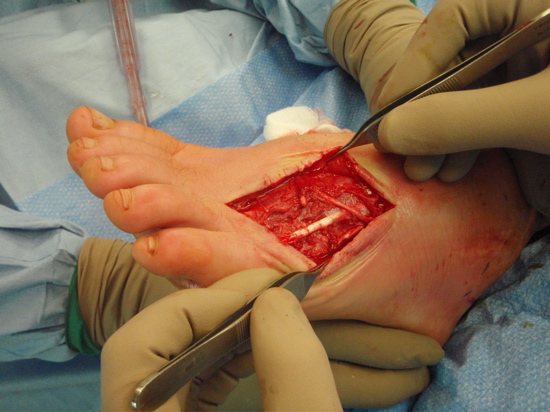 Surgery instead of pre riding.
Created on 17 June 2009
6 Comments
After a long and painful monday night, a red and puffy foot greeted me on tuesday morning.  I ran for the Doctor right away. I have had gangrene in this foot when I was 19  and it was almost amputated. (see scar on ankle) I know all about red and puffy and how easily it can go from "slightly red" to "green and smelly" in a few hours.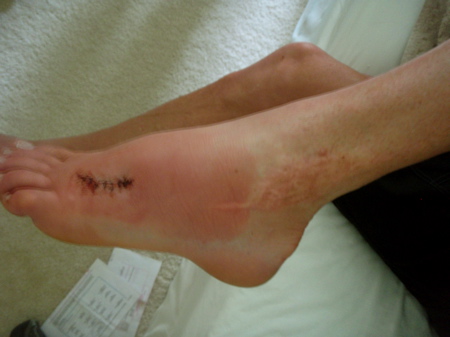 Toes are red, stitches are black, give me a few weeks, and I'LL BE BACK!
Dr Matt who did the cleaning and stitching on race day gave the wound a push and puss spouted forth. He immediately called Dr Marion Herring (Orthopedic Sports Medicine) and schedule surgery tuesday pm. It seems like every doctor in Richmond is a triathlete. Matt is more of a a cyclist, Marion did a 70.3 over the weekend and is doing 70.3 Worlds in Perth later. Dr Booth (aneasteologist) did his 1st sprint tri a few weeks ago and his assistant Heather is a triathlete too.
Needless to say I was taken care of like royalty and I feel safe and secure with their expert knowledge as Doctor/triathletes.