Interbike- Last Vegas. Dirt Demo
Created on 24 September 2008
Last Updated on 24 September 2008
2 Comments
The Dirt Demo takes place in the desert outside Vegas- Bootleg Canyon. The trail system is amazing. Lots of everything- singletrack from mild to quite hairy, jumps, ladders and big drops, a small BMX track and even a huge shuttle for the boinga boinga guys.
I spent the day at the Specialized "village". Hundreds of 2009 bikes were in stock- ready for potential customers to ride and hopefully order for their stores.
I went on a ride with Ned Overend, Rebecca Rusch and a few Specialized Riders Club guys. Its always great being in Ned's company. He rode a Specialized aluminium 29er hard tail and I had to have my wits about me to keep up. Not sure if he got faster or if it was the 29er… Ned is such a legend.
Most people recognize Ned from far away (and many calls me "Christophe" (Sauser)) because of the rainbow jersey, but "Hey! Christophe put on 40 pounds!". Speaking of Christophe, he test rode a new (still nameless) Specialized tire that weighs 330g with hardly any knobs at all. Susi is in weight weenie heaven.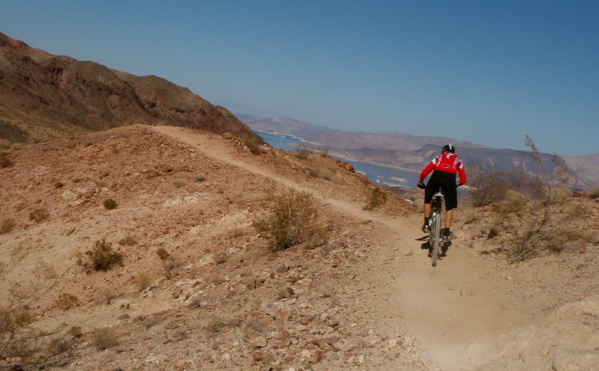 Chasing Ned Overend (on a 29er?!) down fun single track. Lake Mead in the bacground. (Yes, I did take this pic while riding…)
At the autograph table, Rebecca Rusch stole the show with her dazzling smile and fancy posters. Apart from the obvious top end bikes with the newest technology, there were some really weird and wacky bikes out there. Quite a few bikes were electric and kinetic driven- obviously aimed at the growing bike commuter population.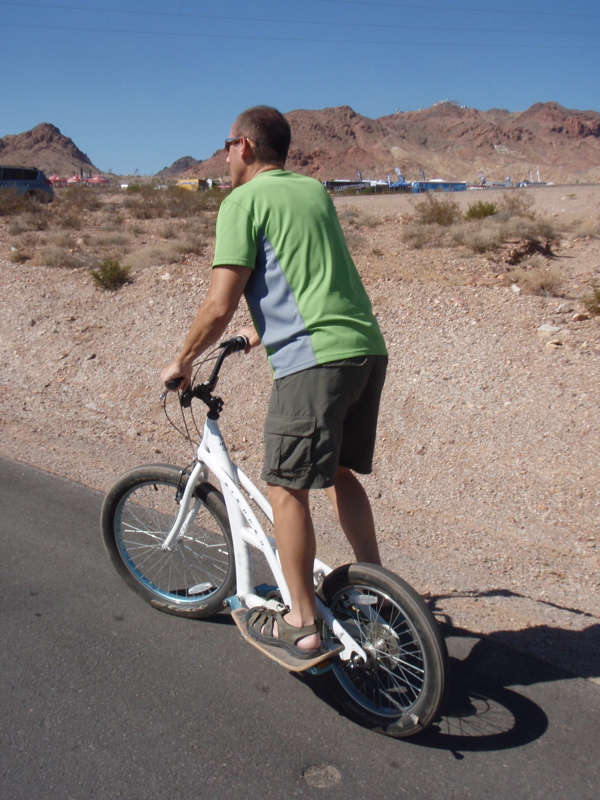 The Stair Master bike doesnt climb so well- but I bet it give you great "buns".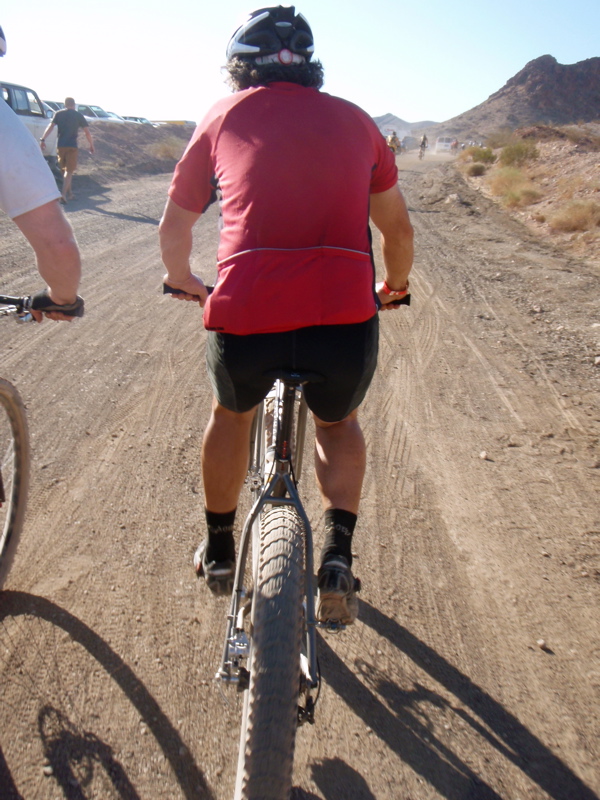 These tires makes a really weird sound when rolling fast. And I guess its a great excuse for going slow.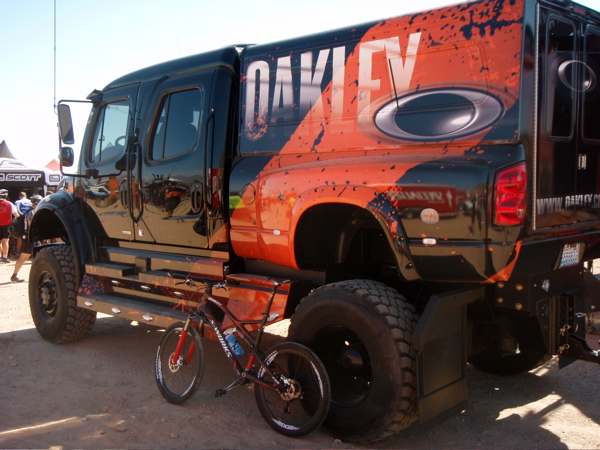 I wonder how many gallons a mile this Oakley truck gets…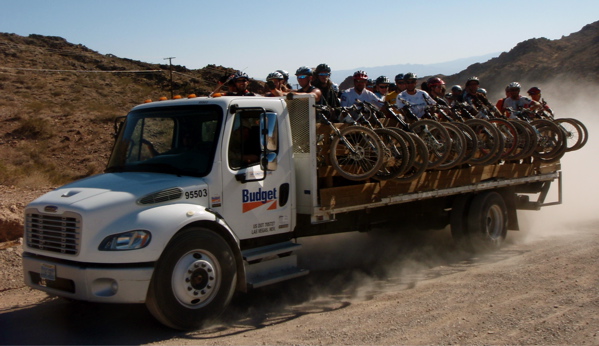 The boinga boinga crowd climbing Bootleg Canyon. Bet Buget didnt know what they were getting their truck into…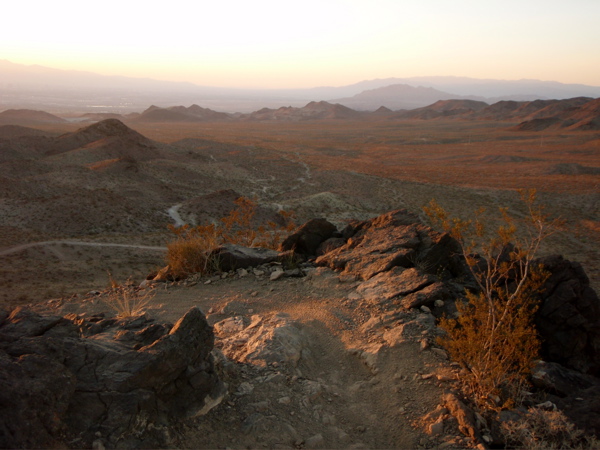 Las Vegas has great trails. Just before sunset I was heading out for another ride and bumped into pro XC racer Kelli Emmett. We've met through Jeremiah Boobar at Rockshox and decided to go ride together. We went up the long climb chatting away, and close to the summit Kelli said we should take "this one". Pictured above. Since I'm "a boy" I got to lead the descent, but the "techy trail" as she called it, started off with a few sharp, steep, rocky hairpins I couldn't (or shouldn't) try to fit my XL Epic around. I stepped aside and Kelli rode by- still chatting away. Through all 3 hairy hairpins. I walked all 3 of them and fell on my ass walking the last one.
But then Kelli was riding a trail bike. (Giant Trance I think)
and also, she had big tires
AND she's ridden the trail before
AND I had to stop a few times to take these pictures!
I think I got CHICKED…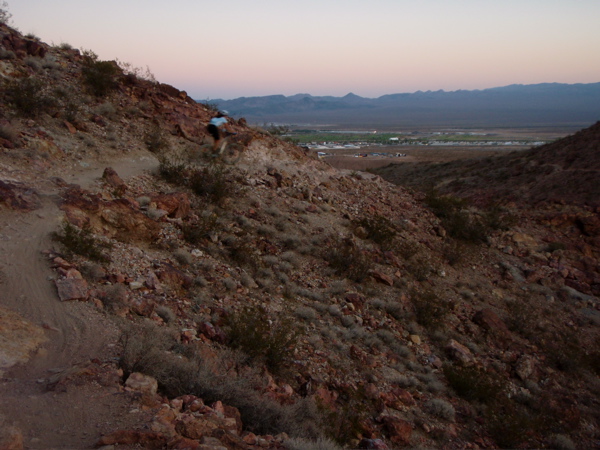 Kelli Emmett can ride a bike.
Click here to see where she keeps her 2007 Single Speed World Champion tattoo.
It was not all work and no play. I had dinner with the Avia crew at Simon at Palms Place hotel. The best ahi tuna I have ever had. Simon is the owner/chef and the menu is quite unconventional and combines some very exotic flavours. But the highlight of the evening was when Ed decided to wear dessert. After a few bites, he put the biggest, hugest cotton candy on his head and paraded around the restaurant- sometimes snacking at his new hairdo. Next thing it became a "fauxhawk" and next thing it was time to leave. We left on a happy note.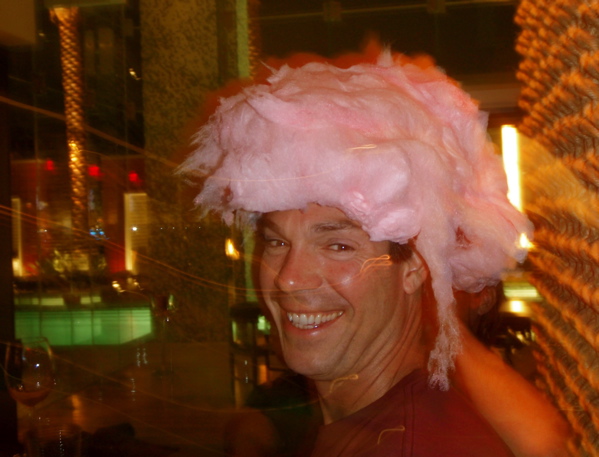 Ed wearing cotton candy.
Tomorrow is the big indoor expo day. Check back for more action.