Posts Tagged 'Christophe Sauser'
More Specialized Team camp
Created on 14 January 2010
0 Comments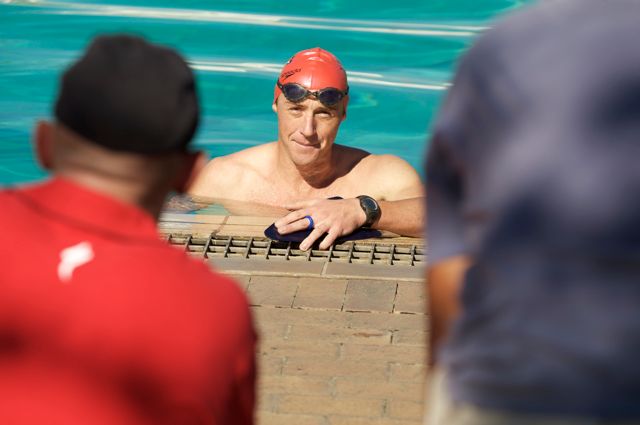 TV interview for www.i-am-specialized.com. Photo by Gary Perkin
Interbike- Last Vegas. Dirt Demo
Created on 24 September 2008
2 Comments
The Dirt Demo takes place in the desert outside Vegas- Bootleg Canyon. The trail system is amazing. Lots of everything- singletrack from mild to quite hairy, jumps, ladders and big drops, a small BMX track and even a huge shuttle for the boinga boinga guys.
I spent the day at the Specialized "village". Hundreds of 2009 bikes were in stock- ready for potential customers to ride and hopefully order for their stores.
I went on a ride with Ned Overend, Rebecca Rusch and a few Specialized Riders Club guys. Its always great being in Ned's company. He rode a Specialized aluminium 29er hard tail and I had to have my wits about me to keep up. Not sure if he got faster or if it was the 29er… Ned is such a legend.
Most people recognize Ned from far away (and many calls me "Christophe" (Sauser)) because of the rainbow jersey, but "Hey! Christophe put on 40 pounds!". Speaking of Christophe, he test rode a new (still nameless) Specialized tire that weighs 330g with hardly any knobs at all. Susi is in weight weenie heaven.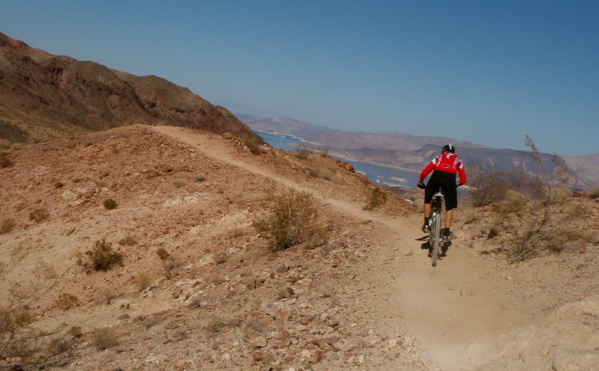 Chasing Ned Overend (on a 29er?!) down fun single track. Lake Mead in the bacground. (Yes, I did take this pic while riding…)