Repost of "The magic of XTERRA New Zealand" from 2014
Created on 27 March 2015
Last Updated on 27 March 2015
0 Comments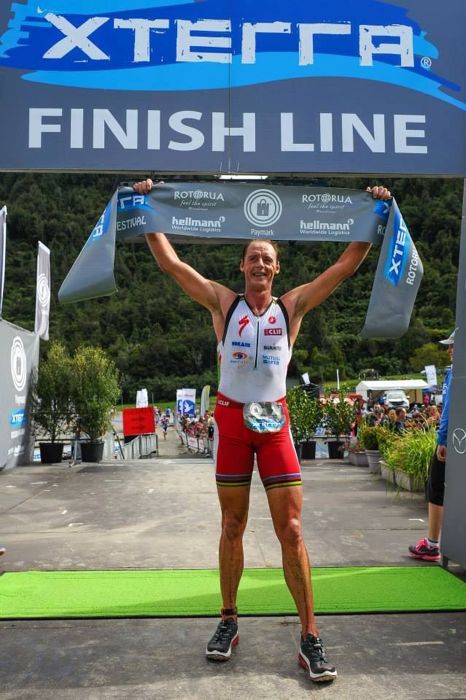 Caveman wins XTERRA New Zealand.
I cant believe that after 22 years of pro racing this was only my 2nd race in NZ. Last time was ITU World Cup in Auckland in 1995 or 96. Draft legal road triathlon.
After a rocky start to 2014 (2 punctures in 2 races, a biomechanical at XTERRA South Africa, a random injury, and some minor health issues- eye & skin cancer surgeries) its good to finally get the monkey off my back with a good win in Rotorua.
What a phenomenal course and venue! Beautiful blue lake called "Blue lake" surrounded by green mountains covered with dense tree fern growth 20ft tall.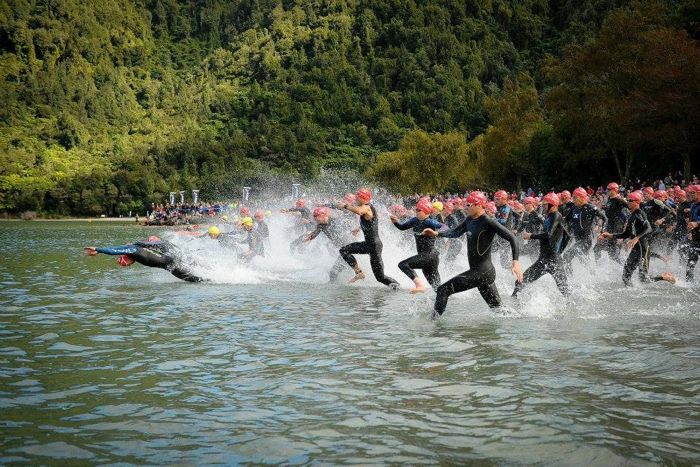 I was out the swim in 5th or 6th, about 35" behind some Kiwi roadie, followed by Roger Serrano (ESP) and Ben Allen (Aus). After a fair bit of climbing Ben and I filed into Billy T neck in neck- some of the very best and unique single track I've ever ridden. Rain showers over the last few days added some extra fun and games and I couldnt wipe the smile off my face. This is the adventure and adrenaline I've been looking for!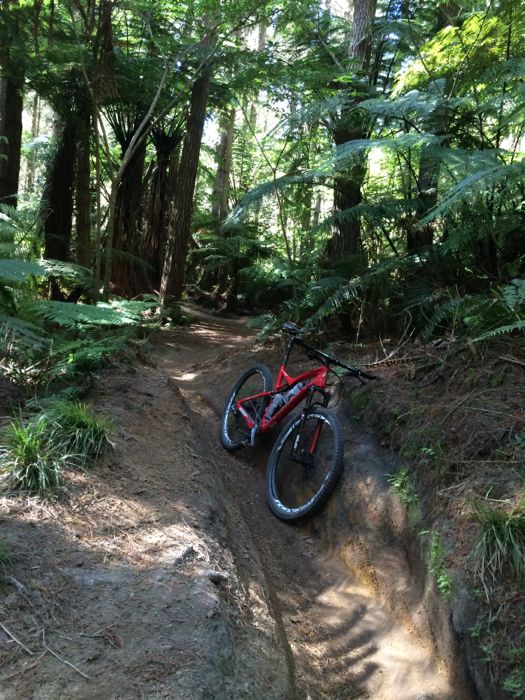 Stunning Rotorua single track.
Shop style and #CavemanStyle mudgaurds to keep the mud out of my eyes.
I made some time on Ben through the technical stuff, then the 2nd big climb before diving into the last technical part called Split Endz. Fast, flowy stuff on dirt so tacky, you pull a few Gs in the corners. The last 8k or so of the 25km bike is flat and fast where you can actually look at and appreciate the stunning scenery.
I racked the bike 1.45 ahead of Allen and 3.10 on Olly Shaw. The 11km run course went around the lake twice with a fair bit of of single track and a nasty stair section to load up the legs. At the end of lap 1 I had 1.25 on Ben and 2.50 on Olly and I knew I had the win in the bag.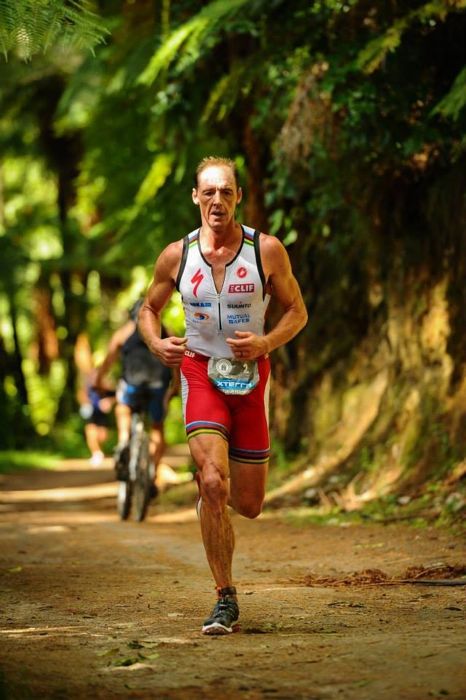 It feels good to kick off my XTERRA Global campaign with a win. 40 is just a number.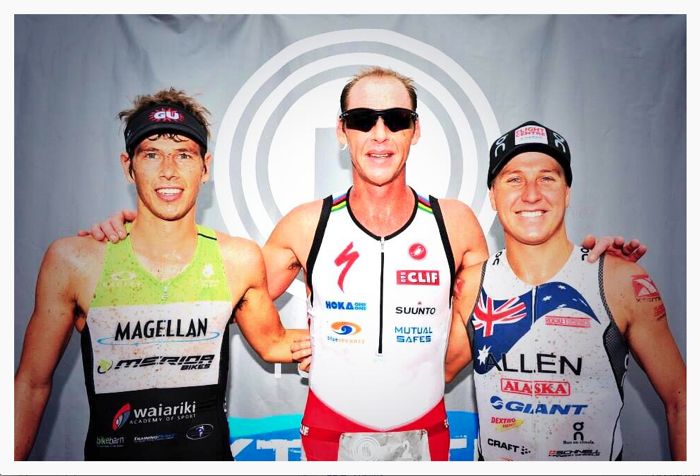 With Oli Shaw and Ben Allen.
Thanks to the capable hands of organizer Frank Clark and his team (I used to race Frank in France in the 90s!) the sport booming in New Zealand- home of some of the best triathletes in history. I was signing baseball cards for kids after the race and it turned out Hamish Carter's kids were asking for MY autograph!? Hamish  (Olympic gold in 2004 and XTERRA World Champ)  raced the MTB leg in a team and apart from hairy legs and no "Mark Allen haircut", he doesnt look much different from the 1st time I raced him in 1992 or 93.  (ITU World Cup Switzerland)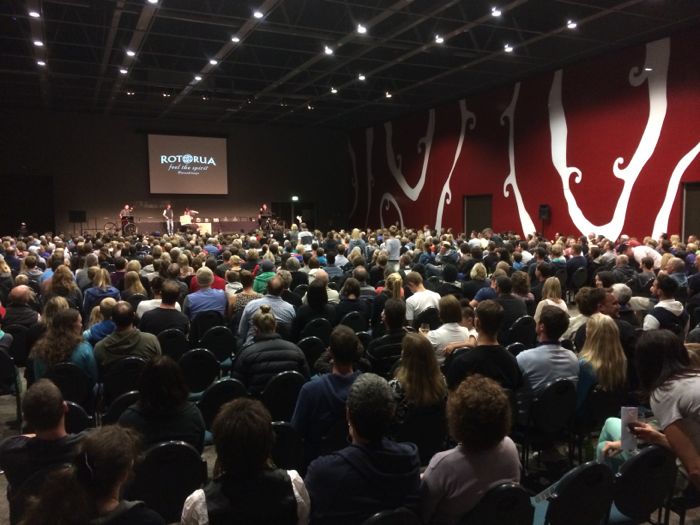 3000 people competed over the weekend, and prize giving was packed! Some of the lucky draw prizes were 2 Specialized bikes…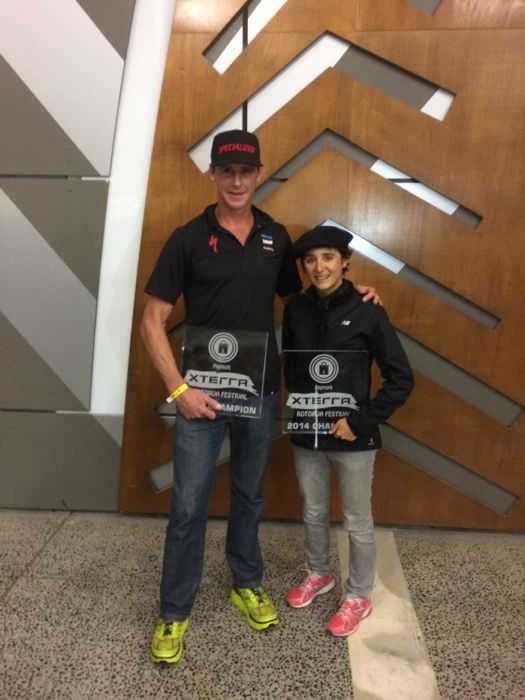 Stoked for "Chica" Barbara Riveros from Chile, who won the ladies title.
Funny side note: We were overtaking some Free Riders in baggies, crash gear and big bikes- pushing their bikes up the climb. As we rolled by, one guy piped up: "Nice lycra." when he saw Ben, and then when I came by he said: "Aw, look, he's wearing a onesy!"
Next up- fly fishing in the Taupo area before jetting over to Oz for Asia Pacific Champs in 2 weeks.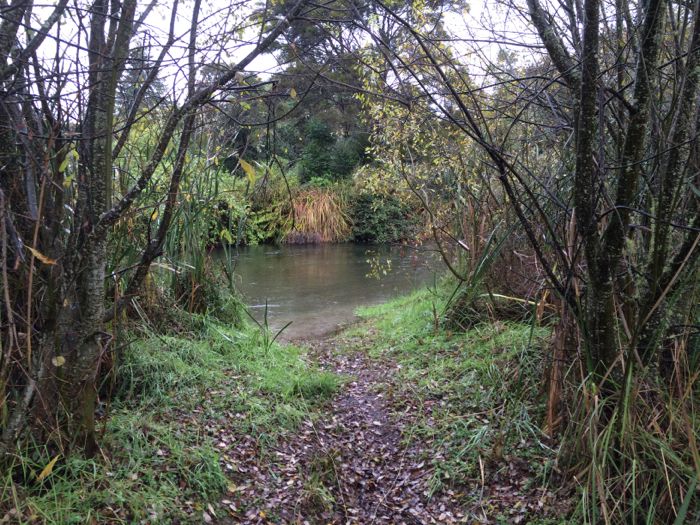 Fishing the Waitahanui river on a rainy day was fun, but no luck.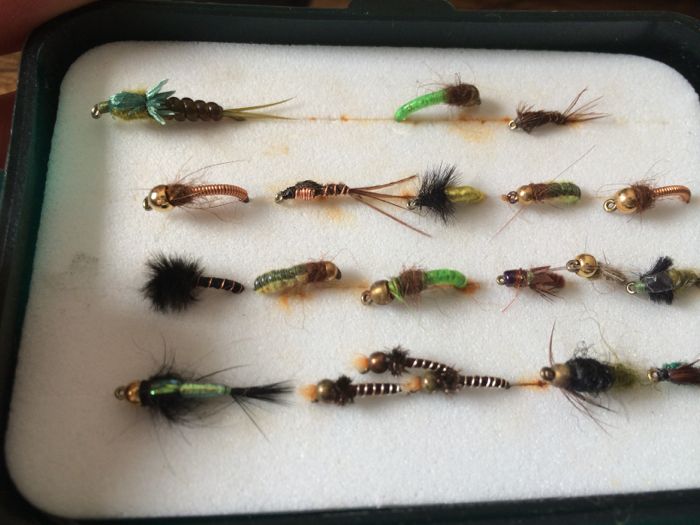 A rare peek inside a Kiwi flyfisherman's fly box…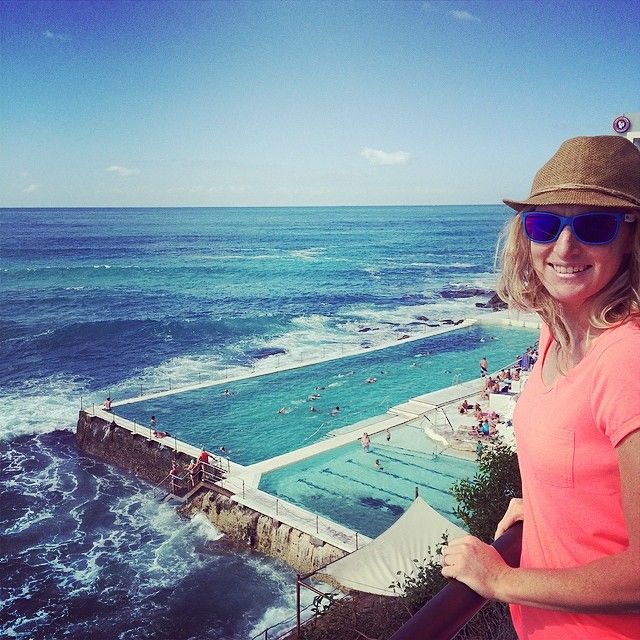 Day 1 in Australia- Bondi Beach and a swim in a rather wavy tidal pool