Category: clif bar
Meet the moment- Clif Bar
Created on 11 May 2011
0 Comments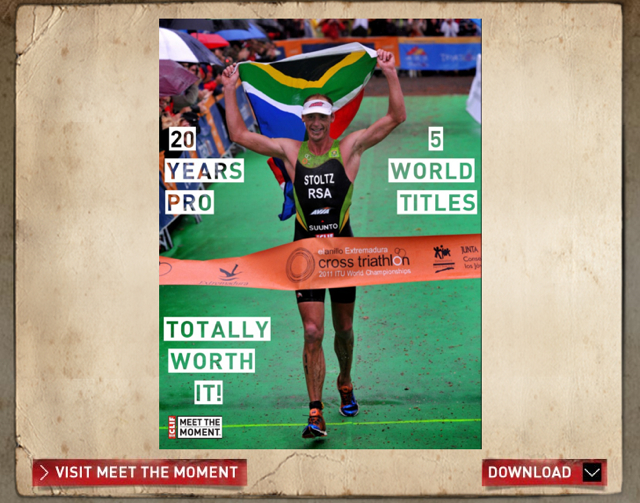 Download this Meet the Moment I created for Clif Bar.
Visit the "Meet The Moment" page here and create your own postcard.
Clif Bar will donate $5 to a charity of your choice. (I chose IMBA)
Here is Clif Bar Athlete Experience Manager Dylan Seguin's moment: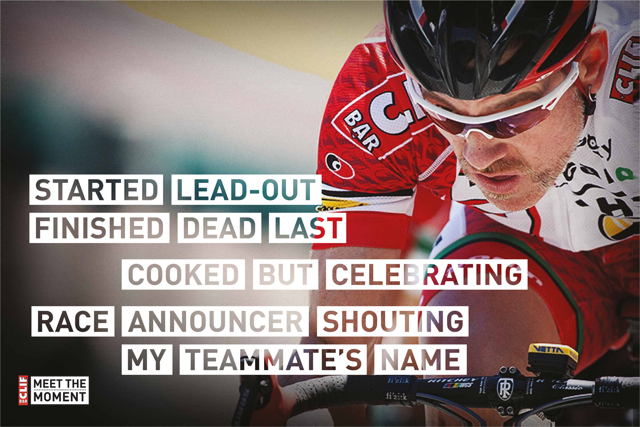 Clif Shots to the rescue!
Created on 23 February 2011
1 Comment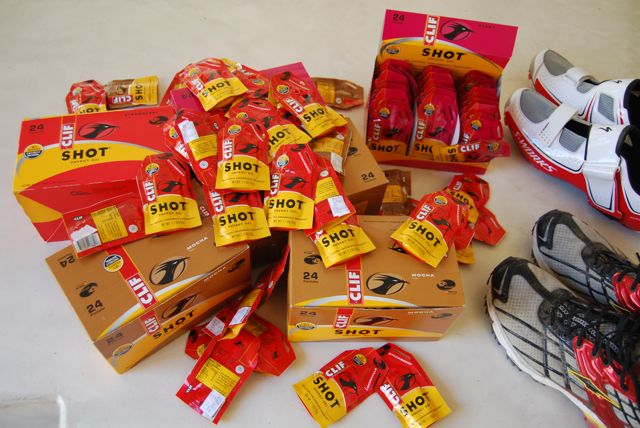 Small mountain of Clif Shots in Africa. A sight for sore eyes indeed.
Dear North Americans: Edible Gold, also known as"Clif Bars" do not exist everywhere on this earth. Appreciate it, dammit!
When I come to South Africa for training, I take 2 pieces of carry on: 1 a "small laptop bag or personal item" and the other a full size rolling carry on. The roller I fill exclusively with Clif products. About 12kg worth. (26lbs) No matter how I try, by Christmas I've burnt through it all. Its also fun to watch friends faces light up when they taste their 1st (and only) bite of say, a Crunchy Peanut Butter Clif Bar.
Once I've run out of Clif products, I'd train on dried peaches, dates, nougat, Coke (once bonked) and in my opinion, the best sports drink in SA- Enduren– made without colourants, flavourants or preservatives by my Cape Epic team mate Barry Pauw.
On the all powerful Facebook I learnt that Olympic Cycles in Cape Town has some Clif product. Not sure if they also smuggled theirs in in carry on luggage? I hurried over and they were kind enough to hook me up with a small mountain of Clif Shots.  Pic above. Its the only product they had, never mind the Builder Bars, Electrolyte Drink, Shot Bloks, Clif Crunch, Mojo Bar or Luna bars. With quite a bit of racing coming up (XTERRA SA this weekend) the Clif Shots are dearly needed. Swimming with dried fruit in your pockets does not work so well…
Olympic cycles also stock Specialized and I saw (with my own 2 eyes) a S Works 29er Epic without on owner! Thats rare and wont last…
Apart from the amazing taste and variety of products, I also really appreciate the 85% and over Certified Organic ingredients, the Environmental and Social conscience. "Raising the bar." By Clif owner and founder, Gary Erikson is my #1 Business read from which I have learnt many a lesson. One of them: "In business and in life, travel light, so you can change direction quickly."
Go read about the Big 5 Aspirations on the "SOUL- who we are" page:
Sustaining the Planet
Sustaining the People

Sustaining the Community

Sustaining the Business. "Grow slower, grow better and stick around longer"
Sustaining the Brands.
I'm lucky to be surrounded by amazing people and amazing companies, of which Clif Bar is undoubtedly one of my favourites.
2008 XTERRA athletes of the year
Created on 22 January 2009
2 Comments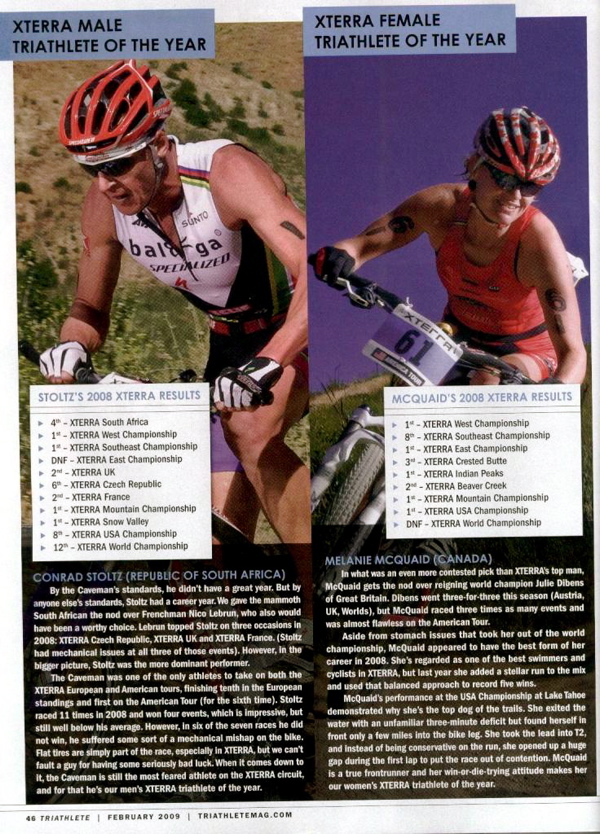 Enduro racing: Great off season XTERRA training!
Created on 06 December 2008
4 Comments
We started in groups of 4. I'm on the red and black Honda. (Yes, the guy in the back!) The guy next to me on the far right, Willie "die Lem" (The Blade) won, and I finished 2nd. The guy on his back wheel crashed about half way through while in 2nd. He had a 2 inch thorn in the back of his hand- not sure if that's CAUSED the crash or if it was BECAUSE of the crash.
I did my 1st Enduro dirt bike race today. Wow, what an experience! I grew op riding dirt bikes on our farm, but when I turned 16, and became really serious about triathlon, I sold the bike. (Also needed the money to buy a "faster" bicycle.) So the last 18 years I told myself "the day I retire from triathlon racing, I'll buy a dirt bike again. But last year, after winning Xterra World champs, I thought: "Screw it, I cant wait anymore! You only live once." I bought the perfect bike: a 2005 Honda CRF 450 X. The previous owner rode it a few times, crashed really hard, got scared and became a motivated seller….
Created on 27 October 2008
10 Comments
I knew I had my 4th XTERRA World title in the bag. I knew it.
I felt the strongest I have felt in years. Tore up the bike course and had between 2min30 and 3min lead with only 6k to go on the bike- and then the P word happened again- on the smoothest road on the course. I quickly fixed the slow puncture with foam- and still in the lead- carried on. The P thing slowly came back, and then I had to stop and put in a lime tube. The change went quick, but I resumed in 4th and of course the tube couldnt resist the P. So I rode the last 5k on the rim. Thankfully its an Edge wheel and it had no damage, smallish crack in the bead hook. Riding the rim on the lava was really dangerous, the rear wheel slid out in every turn, but a deep determination coupled with deep denial kept me mashing the pedals.
I started the run 5 minutes behind. It was all gone. I didnt come here to race for 10th. I enjoyed the run. The views, fellow athletes and people. I finished with a smile and enjoyed the Halloween party. People say" what a gentleman you are".
But today I'm totally gutted. I dont feel the gentleman. I put so much into this World champs, no, I put everything I had- the whole year- into this and now I have nothing but a big empty feeling inside me. Never mind the big empty place in my bank account. Money cant but a World title.
I have won 3 World titles here and I have lost 2, maybe 3 to mechanicals. This is a humbling, cruel sport.
I qoute from the XTERRA race report:
"Early on, this race showed all the signs of a Stoltz world championship run. The "Caveman" was out of the water with the leaders, passed everyone by the fourth mile of the bike where he had already put 30 seconds on Marceau, Dan Hugo, Batelier, and Eneko Llanos. From there he extended the gap, and was up 1:30 by mile 10 and with less than two miles left of heavy climbing before "The Plunge" steep downhill section where Stoltz' is at his best, it looked like he was well on his way to a 4th World Title.
"I felt really good today, best I've felt in a long time. I was relaxed and riding really fast on the technical stuff, and even had quite a bit in the tank for the run, but then it came down to luck," said Stoltz, who got a slow-leak somewhere around mile 13 or so that forced him to stop, repair, and watch as Ruzafa went by.
To compound matters, at mile 17 Stoltz' back tire was completely gone, and he was dangerously riding on the rim coming down the lava fields. "It's the last race of the season and I wanted to see what I could salvage," said Stoltz.
By the time he entered T2 and was five minutes and 10 places back, best he could do was a) enjoy the ocean views, b) drop words of encouragement and some energy gel to a friend, and c) cross the line graciously in 12th place giving high-fives to the spectators that lined the finish chute.