Posts Tagged 'Bend'
Mark DeJohn- massage therapist & ART extraordinaire- Bend, Oregon
Created on 05 November 2008
1 Comment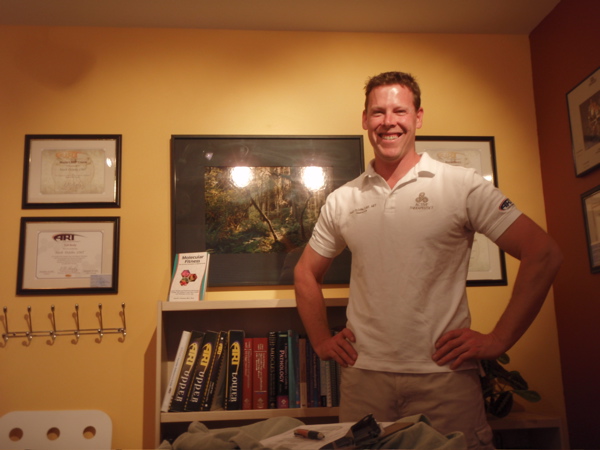 One of the hardest things for the traveling athlete is finding a good massage. After some poking around in Bend, I was referred to Mark by another cyclist. That was 4 years ago and now we good friends. Mark is a big strong guy (even bigger and stronger than me!) and there is no worry that the massage wont be deep enough! Here I was introduced to Active Release Technique (ART), a technique which takes care of tight spots in a matter of minutes. We'd go with the usual massage for recovery and if we run into trouble (usually IT Band) Mark would do some ART and Bob's your uncle.
Mark is also an avid mountain biker and trail builder. In fact, he helped build most of the existing trail system in Bend and is the Oregon IMBA representative. Although we talk a lot of cycling, we actually havent ridden together yet. (We do go for beer quite a bit!) See, Mark likes to ride hairy trails on his 5inch travel trail bike, and I try to stay in 1 piece for Worlds in October. A bit of a clash. Now that Worlds web is over its snowy, but we'll fit in a ride sometime levitra generique.
Ok, ok, I'll make a new post. Moving to Bend, Oregon and home making.
Created on 04 August 2008
0 Comments
I liked the previous post so much I though I'd leave it on forever, but after a few dozen hints I'll move on.
Amber and I have been absolutely overwhelmed by congratulations and good wishes for far and wide. Thank you very, very much. And a special note to those poor ones who "were left in the dark" and had to "find out about our engagement on the internet." Well, we were so swept up on the clouds of love, even Amber's dad had to find out on the internet! – It took us a few days to get within Skype distance, and the Mars Bar wrapper engagement ring was already a faded tatter before I skyped my parents from France. Amber reasoned she'll call her dad "later" and he "never goes online." Apparently he does!
Sorry if we hurt anyones feelings, but unless I call you "Pa" or "Ma", or in Ambers case "Mom", you didnt get a call. But count yourselves as dear friends none the less.
The past month has been an absolute whirlwind. With a honeymoon flavour. After our week vacation/ practice honeymoon in France, (no training for a week!) we flew back to Reno, packed all our belongings in a truck and moved to Bend, Oregon. Packing has hectic, (esp on top of just starting training) but once we hit the road it was a great adventure.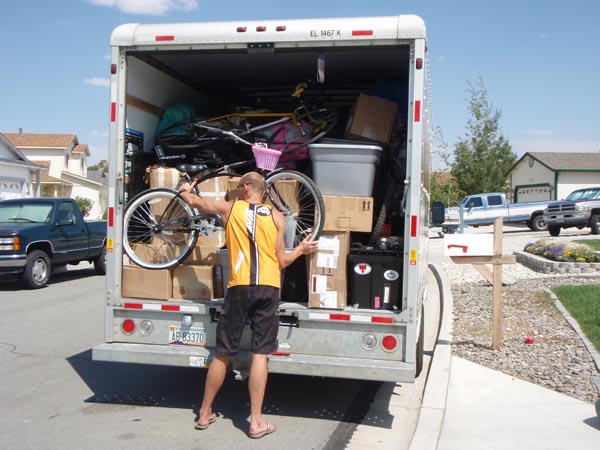 "If I push hard enough, I CAN fit another bike in there!"
Monster Burger Eat and Run World Champs.
Created on 16 September 2006
0 Comments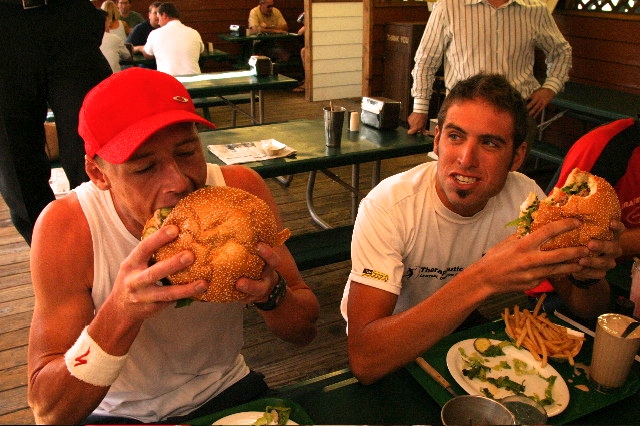 Caveman & Matt Lieto tackles the 1st leg of the World Monster Burger Eat and Run Champs
Pilot Butte Restaurant, Bend, Oregon
Each contestant has 30 minutes to eat:
1) The 18oz Pilot Butte Burger. (with all toppings) For the Civilized World – 18oz means 510.34873grams. That's just the meat patty!
2) Medium fries
3) Large milkshake of your choice.