Posts Tagged 'cutting tires'
Caveman's specialized equipment choices in quest for 7th World title
Created on 19 July 2013
7 Comments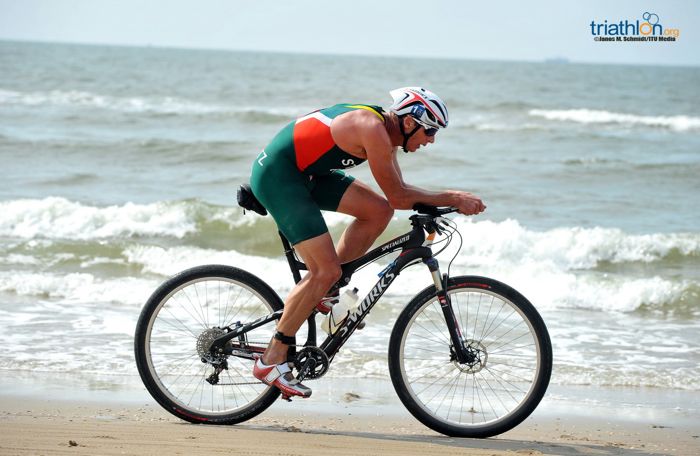 #aeroiseverything #soisfattyres #dittohorsepower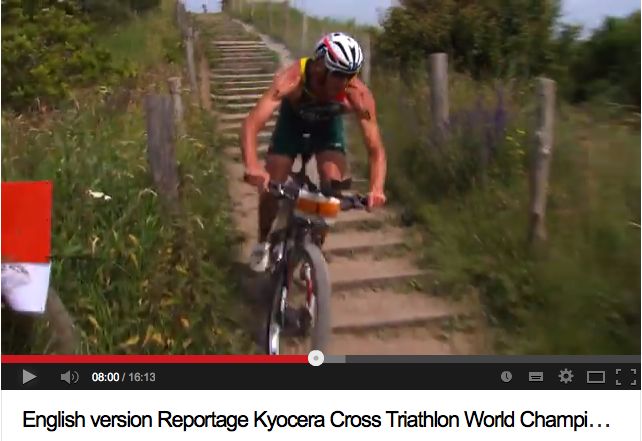 ITU Cross Triathlon Worlds 2013 Long version
Cross Tri Worlds Highlights. (Short version- 2.40)
Racing through the dunes, stairs and sidewalks of Holland proved a fertile ground for innovative equipment choices.  From the video you can get a feel for the course- but the real test was the long sections of deep, soft sand.
I enjoy thinking about equipment and how to make it better while training, and have been doing the obvious tire reaserch for almost a year.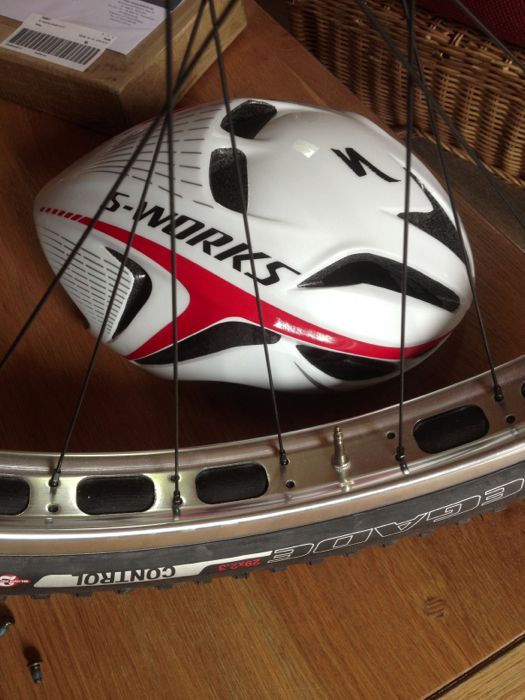 Big was my surprise when I opened a "special box for sand racing" from Jason Chamberlain at Specialized. The biggest widest rims I have ever seen. Really wide. And light. Mounted with our biggest tire- Renegade 2.3- but more like 2.5 or 2.6 on this rim.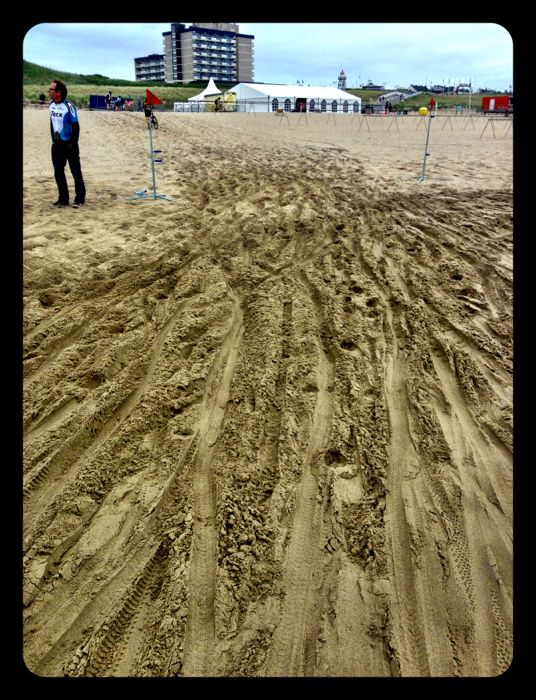 The dark sand is the easy part. There were 3 of these sections on each of 4 laps. Try picking a straight (existing) line, balance perfectly in it while deliverying seemingly a million Watts, WHILE being totally relaxed, BARELY holding onto the bars, ready to jump off and run the moment the front wheel digs in…
The Basics skills for sand riding: The tires need to float on top of the sand. The moment the front wheel sinks in, it snakes
Caveman does hatrick at ITU Cross Triathlon World Champs, Den Haag 2013
Created on 14 July 2013
76 Comments
Above foto by Jeroen Tibbe.
My 7th World title. It didnt sink in till the last kilometer. So proud. Happy. More like exstatic. I'm blessed with an amazing career. Wonderfully supportive sponsors. Genes- I'm turning 40 in October and still winning. (thanks Mom and Dad) Rocket scientist coach Ian Rodger. My wife Liezel. So much goes into this job/life/career, its hard to phantom and acknowledge all in a paragraph or even a blog. It really reaches deep.
For example- the guy in the purple shirt with the big smile- his name is Andre de Beer from Pretoria, South Africa. (raced AG earlier in the day) From when I was 14 and onwards, (thats 1988) my dad and I did douzens of triathlons in Verwoerdburg (now Centurion) organized by Andre de Beer. We also raced together back then. (I still remember pacing advice he once gave me.) He is one of the many many people who helped form my career. Seeing his smile and shaking his hand in thanks afterwards is just one of the many things which give me shivers and makes me realize the intricacy of  life, never mind success.
A quick race recap- full blog coming soon:
Thanks to some "specialized" equipment, (pun intended) #aeroiseverything Specialized Evade helmet,  TT bars (on a mountain bike?!) crazy wheel/tire setup, a few clever lines, some skills, some luck and a lot of hard pedaling and serious suffering, I caught the leaders (Ben Allen in pic above) on the 1st lap of 4 and made some good time on almost everyone.
Beach racing is much tougher than I expected. My legs were broken towards the end of the bike, and looking at the bike splits behind me, everyone was broken.
More pix on Beach Challenge.
Barging into the long soft, deep, sandy sections, you need all the speed you can get off the stairs. With 12 psi in the tires, it becomes a circus act. Remember Caveman-ism, "Speed is your friend…"
I did have to keep my eye on 2008 XTERRA World Champ, Ruben Ruzafa, who was 1.15 down going into the 9km sandy slog through the dunes. Also referred to as "the run leg." After one lap (of 3) I only gave up 5 seconds on the lighter Spaniard, and knew I had the race in the bag. The last few km I made sure to enjoy the people and especially the emotions. I thought of Burry Stander (his mom, Mandie sent a special message "remember Burry is there with you" the night before) I thought of my dad who would have LOVED my 7th World title. I thought of my Creator and the way He has blessed my life, and I thought about my wife Liezel who often puts even more into my career than I do…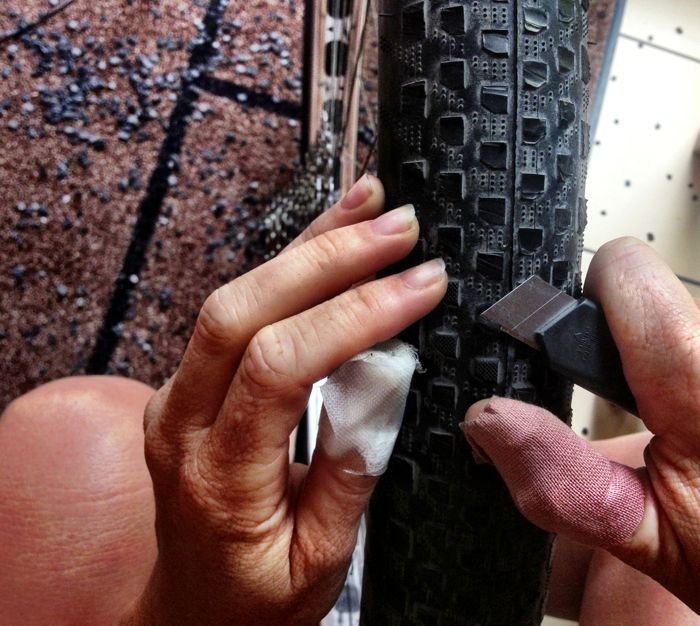 Like this pic above. More about my equipment and "how many knobbies on a 2.3 Specialized Renegade tire?",  tire cutting and strategy in the next blog….
In the meantime, hats off to Ruben, Brice and everyone who did battle on the dunes of Kijkduin, Holland.
Interesting how the podium is a mixing pot of athletes from various disciplines:
From L to R: 2nd- Ruben Ruzafa- long time professional Mountain Bike racer, now 70.3 and off road triathlete. 1st long time Caveman from Duathlon, ITU Olympic dist, Olympic non drafting, off road triathlon and some MTB background. 3rd Brice Daubord– ITU Olympic dist athlete.
| Pos | First Name | Last Name | Country | | Time | Swim | T1 | Bike | T2 | Run |
| --- | --- | --- | --- | --- | --- | --- | --- | --- | --- | --- |
| 1 | Conrad | Stoltz | RSA | | 02:01:38 | 00:10:05 | 00:01:03 | 01:11:08 | 00:00:29 | 00:38:54 |
| 2 | Ruben | Ruzafa | ESP | | 02:01:52 | 00:10:21 | 00:01:07 | 01:11:56 | 00:00:29 | 00:38:02 |
| 3 | Brice | Daubord | FRA | | 02:02:37 | 00:09:48 | 00:00:57 | 01:14:43 | 00:00:25 | 00:36:46 |
| 4 | Kris | Coddens | BEL | | 02:03:04 | 00:11:36 | 00:01:13 | 01:12:32 | 00:00:25 | 00:37:20 |
| 5 | Gonzalo Raul | Tellechea | ARG | | 02:03:15 | 00:10:10 | 00:01:03 | 01:15:20 | 00:00:32 | 00:36:11 |
| 6 | Tomas | Jurkovic | SVK | | 02:03:30 | 00:10:20 | 00:01:10 | 01:13:50 | 00:00:24 | 00:37:48 |
| 7 | Victor Manuel | Del Corral Morales | ESP | | 02:03:53 | 00:10:51 | 00:01:04 | 01:15:06 | 00:00:25 | 00:36:30 |
| 8 | Ben | Allen | AUS | | 02:05:18 | 00:09:22 | 00:00:50 | 01:14:15 | 00:00:31 | 00:40:22 |
| \9 | Paul | Embrechts | BEL | | 02:07:06 | 00:10:44 | 00:01:06 | 01:14:49 | 00:00:31 | 00:39:58 |
| 10 | Diederik | Scheltinga | NED | | 02:07:15 | 00:10:38 | 00:01:03 | 01:14:51 | 00:00:32 | 00:40:13 |
Click here for full results.
I'm writing this from Rome. I'm racing XTERRA Italy this weekend. We traveled somewhat Caveman style last night- Princess Hotstuff caught some winks in Zurich- with the podium flowers refreshing in a ClifBar water bottle on the side.
More adventures (and a proper Cross Tri blog) to come…
Clipping or cutting tires
Created on 25 August 2010
2 Comments
This is a quick post to explain to John Harrington (facebook discussion on 24 August ) about clipping tires.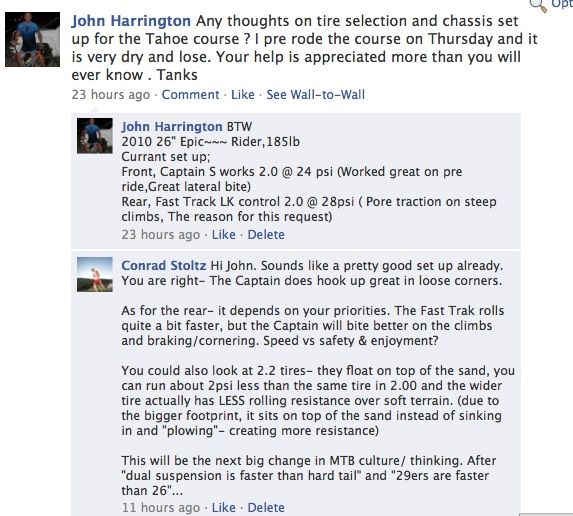 (There is more, but I couldnt screen shoot the whole thing- was born in the 70s)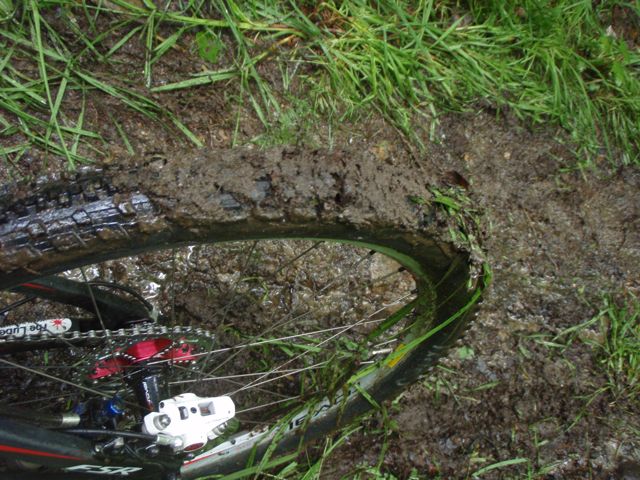 These Specialized Captain 2.00 tires  clogged with mud at XTERRA Vermont in 2009 (Read more about the race, rotten foot and tire story here)  Not knowing Vermont, I didnt bring real mud tires, so I had to make do, so I used a sharp wire cutter and clipped every 2nd knob out of the center line of knobs. Which would help the mud shed (fling off) the tire easier when speed increase.
Real mud tires are narrow (sinks to the bottom of the mud where the real traction is) with few, but tall knobs. Tall knobs provide more grip (like paddles or spikes) and few because, too many knobs will let the mud pack onto the tire  and make a thick sausage like the pic above.
Downhill racers are famous for cutting tires to suit certain courses.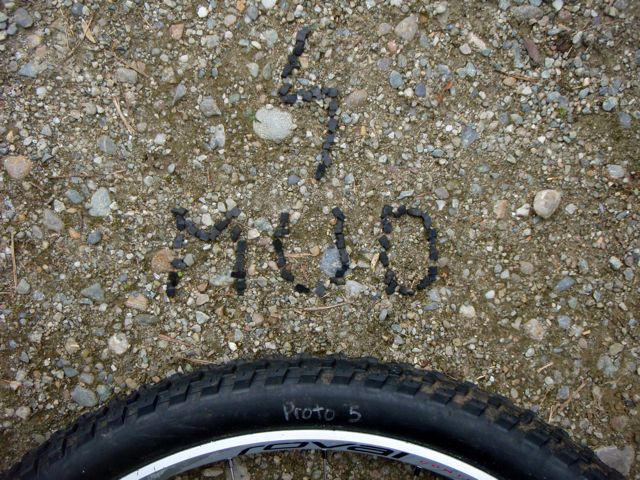 Off course, a rainy pre race taper allows for plenty of cutting time, so here is my product. Cant see on the pic, I clipped every 2nd knob out of the center row  of this Specialized Captain for better mud clearing.
Of course, its a tedious job, it takes seemingly hours and 1 slight mishap and you can throw the tire in the garbage.
Before the new fast rolling  Specialized Renegade  tire the Specialized Factory Team (especially Susi and Burry) used to cut the Fast Trak knobs shorter for less rolling. (and less stopping/cornering 🙂 ) But now they'd cut Fast Trak tires for more grip on somewhat muddy courses. If it gets real muddy, they'll go with a full on mud tire. Except Burry. He just sticks to low knobs and goes with the sliding- I saw it 1st hand at Sani2C…