Posts Tagged 'ford fiesta'
a Caveman car for a Caveman situation…
Created on 10 April 2013
1 Comment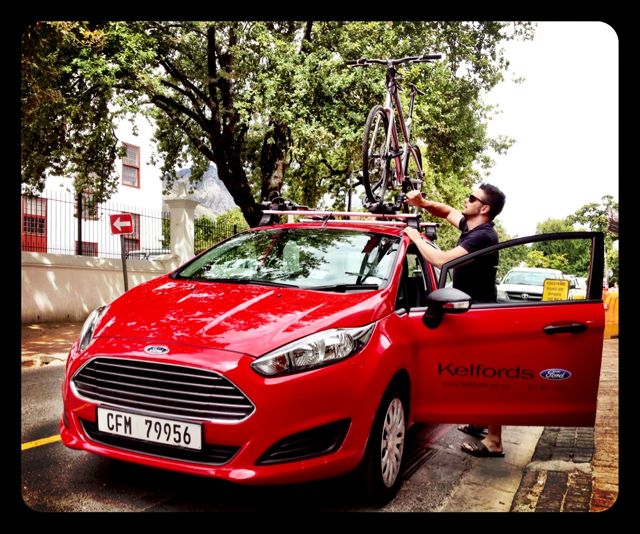 Caveman's Stellenbosch Kelfords Ford Fietsta Ambiente 1.4
[Open letter to friend and owner of Kelfords Ford and Mazda in Somerset West, South Africa]
Dear Tristan,
Thank you very much for the use of your wonderful little Ford Fiesta. We love the fuel economy, (5.9L per 100km) the nippy handling, the voice activated, hands free phone and radio system and the fact that it can take 4 bikes (size XL Specialized) plus gear. (2 bikes on the Thule Roof racks, 2 inside the hatch back- padded with the food and equipment needed for a long weekend training camp.)
BUT during our home-stay here in Las Vegas with Saffers Nic and Jodie Sacco, we got slightly spoiled with Nic's everyday run around bakkie. "Spoilt" to say the least.
We would like to put in a request for your consideration for next years Caveman mobile:
The Ford Raptor F-150 SVT: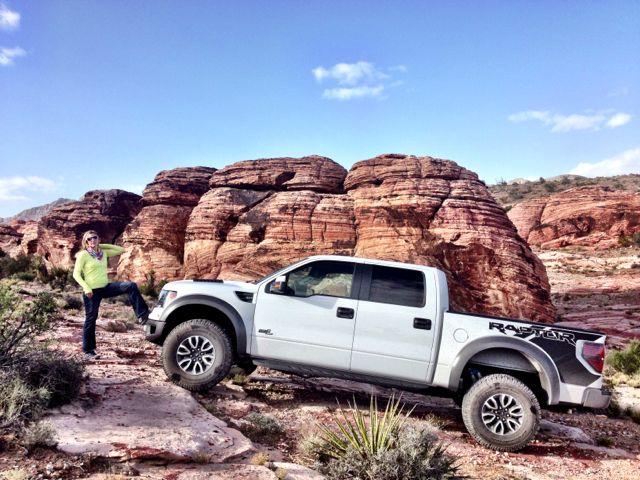 Yes, the one with the 6,2L V8 engine (420 Hp) and Fox racing suspension. To name but a few items.
The Caveman drives Ford. Team Kelfords Ford
Created on 27 July 2011
0 Comments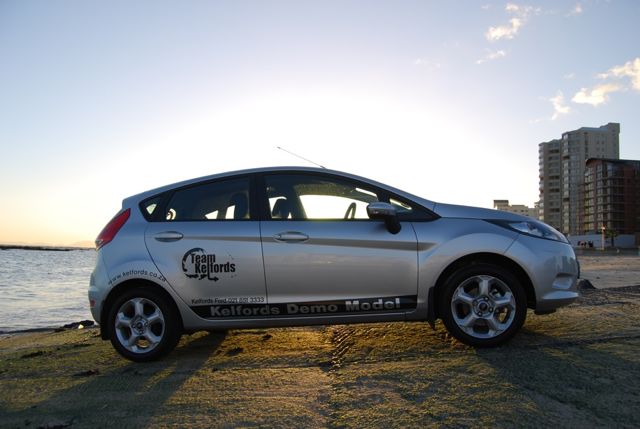 YES, believe it or not, The Caveman has wheels from this century!* Kindly sponsored by Kelfords in Somerset West, South Africa. Kelfords is passionate about multisport. Team Kelfords Multisport club is very active in the Western Cape and they also support fellow XTERROR "DGH" Dan Hugo.
After driving (and pushing) my dads 1988 Toyota Cressida GLE around Stellenbosch for decades, this nippy little Ford Fiesta 1.6 Trend is like living in a dream. It starts every time, ALL FOUR speakers work, it burns more petrol than oil… No, seriously- I LOVE this car. Its nippy, it comfortably takes off (or "launch" as I call it) in 2nd gear, it corners like on rails, it fits into parking spaces in the 1st try, it is really light on fuel (5.9L per 100km rating) and of course, it looks good. Now I can even legally talk on the phone once I put my Blue teeth in. Cheez, whats next?! Voice control? O ja, it already has that.
AND it comfortably fits a size XL 29er (or two) in the back.  I'm working on a roof rack for the bikes. Got to keep this baby looking new, since the Caveman will now be known for his nice, clean car, as opposed to "The Owner Of The Red Rocket".
* If you dont know the Caveman transport story, check out this great blog post- "A tribute to the Red Rocket".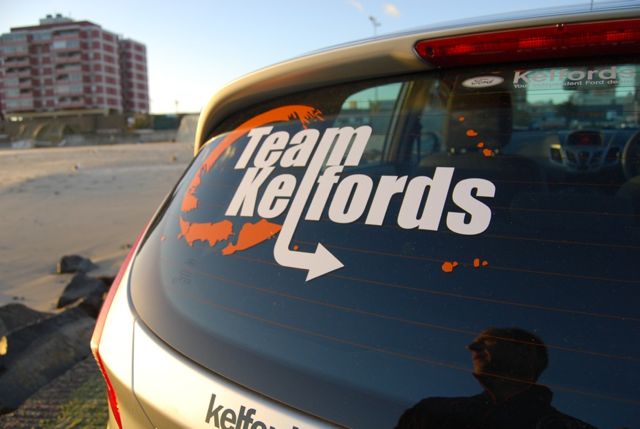 Caveman & Team Kelfords