Posts Tagged 'greg bennett'
Interview with Crank.co.za: Conrad Stoltz interview: The "Junior", The "Frenchies" and the infected foot.
Created on 17 March 2010
1 Comment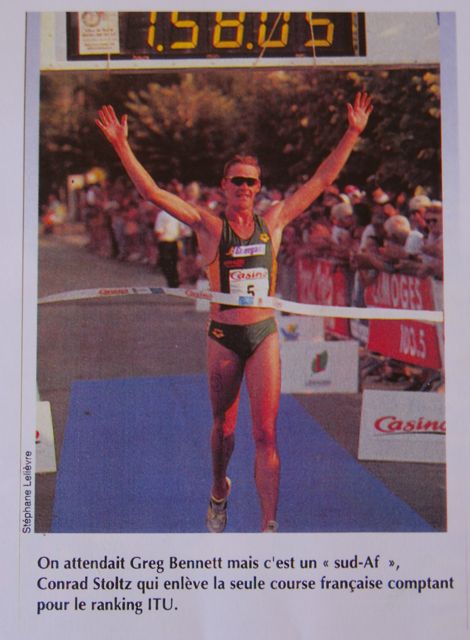 "We expected Greg Bennett, but its the South African, Conrad Stoltz, who wins the only ITU leg in France" 1999
["I'll bet this is the strangest interview you've ever done," says Conrad Stoltz as he locks his Specialized road bike to a lamp post outside a Stellenbosch coffee shop.
Thirty minutes earlier, he had to duck out from our conversation to visit his physiotherapist for a good working over: a couple of niggling injuries needed some soothing.
The "Caveman" has certainly been through his fair share of ups and downs over a career dating back to 1991. In fact, he may just be the longest serving professional sportsman in South Africa (if one thinks back to the 1995 Rugby World Cup, Conrad was already a "veteran" of the French triathlon circuit).
CRANK was fortunate enough to sit down with Conrad recently and talk about his early days as a professional triathlete in South Africa and continental Europe.
CRANK: Conrad, you had your "breakthrough" race aged 17 at the SA Champs in Langebaan way back in 1991. Could you talk us through your build up, expectations and the race itself?
CONRAD STOLTZ: That was indeed a "milestone" race for me – something just "happened" that day and I moved up the next level.
It was the first year that we had a heated pool in Pretoria – they built a Health and Raquet Club in Pretoria in 1990; I bought a life membership costing something like R700. So that was the first year that we were able to swim right through the winter, which had always hampered us in the years before.
My aspirations then were to win the junior category – there was great depth within the junior ranks with Greg Lunderstedt, Bryan Mellville, Cameron Jones, Dave Hyam; to name but a few.
On race day, there was a "more than" gale force southeaster which resulted in huge waves in the swim- very intimidating for us "Vaalies". Back then we swam out the marina out to sea – or so it felt.  – Kevin Richards had a huge lead out of the water, which he extended on the bike to over four minutes.
I was a complete "tri geek" and rode… ]
Click here for the rest of the classic interview on www.crank.co.za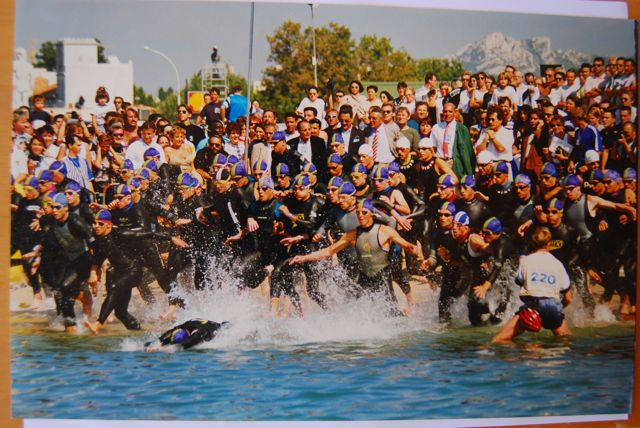 France Iron Tour- the 10 stage one- in 95 or 96? Stage 2 start in Marseilles. That's me in the middle, (silver sleeveless suit) hogging the start line. Back in the days I could still swim…
Created on 08 December 2009
0 Comments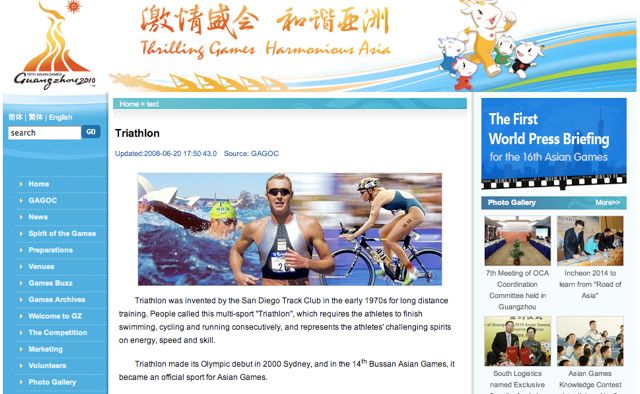 Somehow a picture of me at the 2000 Sydney Olympics made onto the 2010 Asian Games banner. Quite an honour, considering I'm sharing the space with Eneko Llanos (swimming) and Michellie Jones ( cycling)
A lot of people dont know that I raced road tris for 2 decades before I dipped my hairy Cave toes into the murky XTERRA waters. During the early 90s I raced 6 seasons in France and South Africa. Then came the 2000 Olympics in Sydney- triathlons' Olympic debut- where I broke away on the bike with Olivier Marceau and lead for quite a while.
In 2001 I started racing seriously in the USA and did my 1st XTERRA. 2001 was probably my best season on and off road. Here is a bit where I won the 2001 Chicago Mrs Ts Triathlon (ahead of Greg Bennett). Article and pics of Caveman in Speedo here.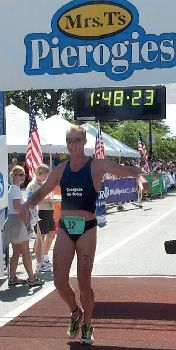 Its interesting looking back to what we used to wear just a short few years ago. That short funny Speedo top in the Sydney photo was the very 1st generation Shark skin which is so controversial now. They fit so tight (and badly) it felt more like a "Sausage skin".
Now with the new FINA rules, maybe we'll make the full circle to speedos and tank tops…
Champions' training. Different strokes for different folks…
Created on 31 August 2009
6 Comments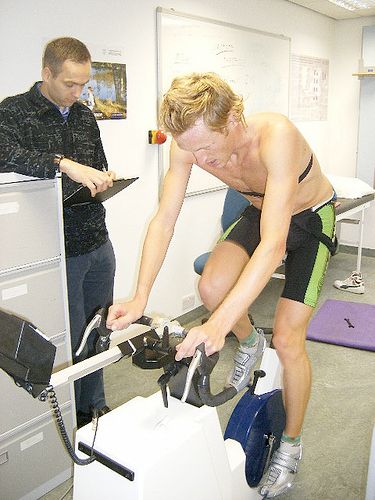 In search for the holy grail of sports performance, Irish National Team ITU member, Gavin Noble (Dublin Triathlon Champion this past weekend) cranks out the Watts in the lab. This kind of lab testing will give Gav and his coach all kinds of numbers they can play with in training. Tests will be repeated often, charts plotted and if all goes well, high fives given.
These delicious little numbers makes the guy in the sweater with the clip board's toes curl. Race times can be projected, tactics formulated and athletes can be compared to each other even before the starters' gun bangs.
Read more about Gavin and Aleksandar and my swim sets on Igor's blog.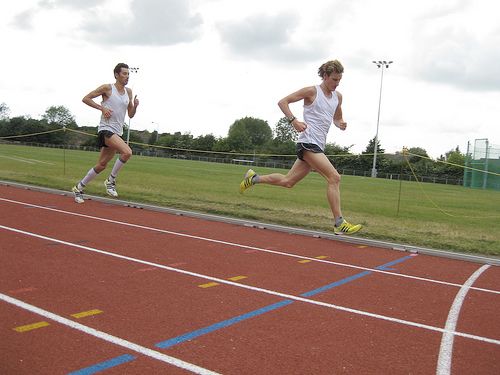 Our other TriathlonTeam.org team mate, Will Clarke (British ITU Triathlon member and National Champion) really winds it up on the track. Looks like fellow GB Team mate and Chicago Tri winner, Stuart Hayes hanging on for dear life.
Bigger than you can imagine group track sessions typically forms the mainstay of their training. (they train up to 40hrs a week) These are blood and guts sessions. Coaches needs to be impressed, fellow athletes intimidated, but most of all, the times they do around the carefully measured 400m serves as building blocks of confidence and self belief to be drawn upon at the next race.
Enter The Caveman.