Posts Tagged 'ned overend'
Caveman's clever trick to lube a needy chain WITH YOUR CAR'S DIP STICK!
Created on 20 June 2008
1 Comment
How to lube a rusted bike chain when you have no (Squirt) chain lube.
Disaster strikes. The airline took your luggage hostage. You have to pre ride the course, so you borrowed a bike, helmet, shoes 2 sizes too big and clothes. (Yay for someone else's used chamois!) Read more about why and how this was the worst travel of my life: Flying the friendly skies. 
But oh dear, no chain lube to be found!
Levels of lube:
– Best case scenario would obviously be Squirt lube.
– A very distant 2nd would be the other stuff they call chain lube. (But you'll have to decontaminate your chain before re-applying Squirt once your luggage comes)
– When I was a kid I once sprayed energy drink on my chain every time the squeak got bad. It worked pretty well, but I realized the spraying intervals became really frequent and of course the noise came back worse than ever. And then the monumentous BONK on the way home when all your carbs went on the chain. (Like I said, I was a kid)
– Last resort would be:
Caveman's clever trick to lube a needy chain WITH YOUR CAR'S DIP STICK!
1) Pop the bonnet. (Hood) in USA. *Read more about the bike at the bottom of post.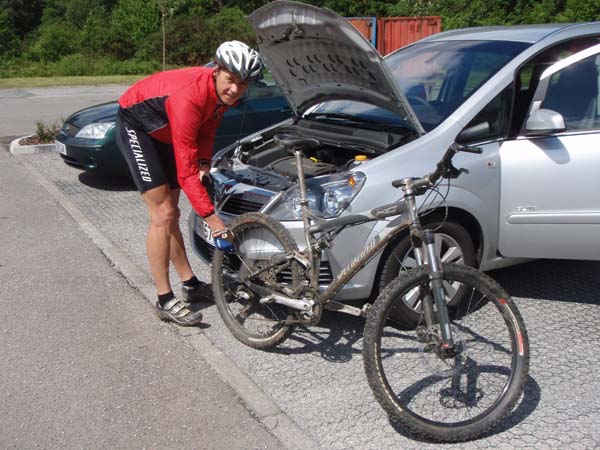 Created on 04 December 2007
0 Comments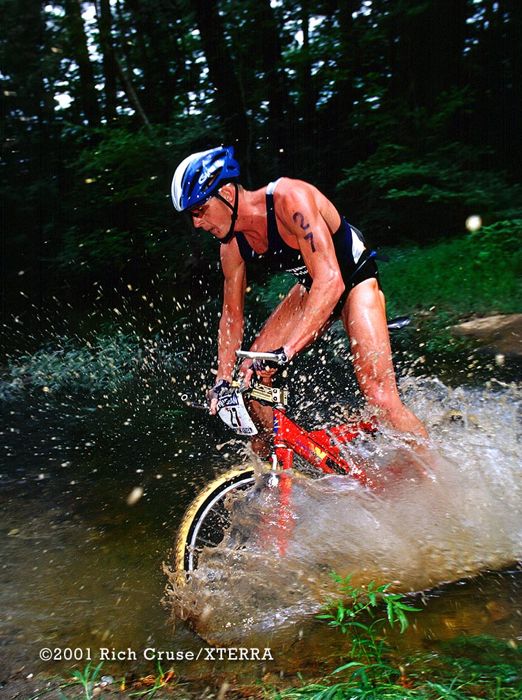 Yes, that is a Speedo, and that is a jogging Camel Back!
My XTERRA start:
After racing professional road triathlons for 10 years, and really focusing on the Sydney Olympics in 2000, I decided to try XTERRA triathlons for fun, so in 2001 I came over to the US mainly to race road tris. I was completely unprepared for mountain biking. So for XTERRAs I traveled with my helmet, a 2nd hand pair of MTB shoes, old MTB pedals and a pair of yellow Michelin Python tires. The rest of the bike I would borrow at the race venue. Or sometimes a week before. Like this 35lbs beauty with cutting edge suspension….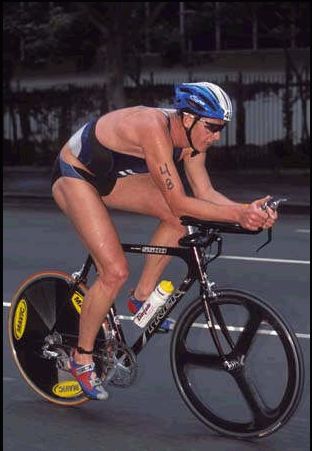 2001 Winning Chicago Mrs Ts Triathlon. Borrowed everything.
That year I won the USA Series and most of the XTERRAs I did. Also 6 of my 8 road triathlons. Including the legendary Mrs. Ts Chicago with its record setting 8000 participants.
Back to XTERRA:
Unfortunately (actually, fortunately) Ned Overend was my biggest competition that year. So great was my surprise (and pleasure) when just a week before XTERRA World Championships Ned gave me a brand new Specialized M5 dual suspension, a brand new Specialized helmet AND brand new Specialized shoes! It was like Christmas. (By then my old Sidis needed screws to keep the uppers and the lowers together) What he also gave me was a Specialized cycling jersey his wife cut the sleeves from. He shrugged and said I could wear it if I wanted. Of course I wanted! Ned is such a great person, the bike rode like an off road motor bike, I immediately fell in love with the product and the Specialized brand. I won World Champs by 10 minutes.
Like every XTERRA World Championship, the 1hr TV show was aired on CBS on Super bowl Sunday. Right before the game.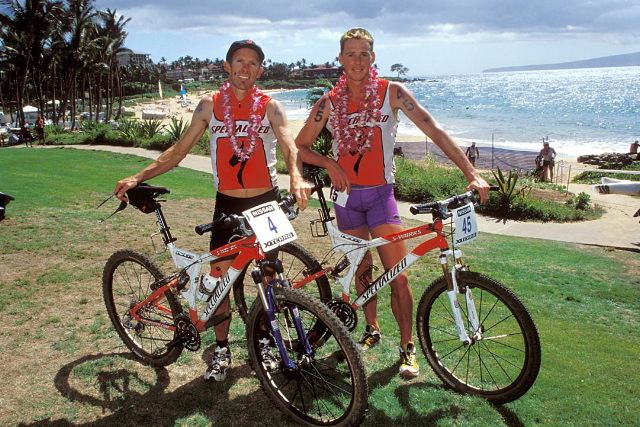 Proud 2001 World Champion posing with Legend and Hero – Ned.
Ned guided me through the pitfalls of negotiating a sponsorship contract for 2002. Up till that year, I have never made money from the sport- always living from hand to mouth, sometimes selling some of my cattle my dad keeps on his farm when I had to buy expensive air tickets. I had no idea how much to ask, Ned said "ask for this and that." That's exactly what I got. The future was bright and rosy. I was over the moon to be part of the best bike company in the world.
Now it is 2007 and I have been with Specialized for 7 years. I have won 3 XTERRA World Championships, 5 XTERRA USA Series titles, and more than 30 individual XTERRAs. This year I won every XTERRA I did. (except 1 mechanical) I raced my Specialized road bike at the Athens Olympics, have won many big road triathlons from Japan to Chicago. Nicknames that stuck were "Caveman" and "King of XTERRA".
At every XTERRA there is an XTERRA University where I teach "The Art of XTERRA" to amateur athletes. I get dozens of emails on my website from fans asking about tire selections, equipment and bike choices. (I'm known as the dual suspension prophet that down hills like crazy)
This year a fan admired my Carbon Epic at a race and commented about the unpainted frame. I told him "It saves 180g". He said "Well, why didn't they just leave the Specialized stickers off and save more weight?" I replied "Of course Specialized wants to have its name on my bike" And he said "But that's unnecessary, EVERYONE knows Conrad Stoltz rides Specialized!"
2x Olympian
3x XTERRA Word Champion
5x XTERRA USA Series Champion
5x All African triathlon Champion
5x South African Champion
4x XTERRA South Africa winner
6 Triathlon seasons in France. Including 3 France Iron Tours. Captain of Montpellier Tri team. Countless victories.
7 Triathlon seasons in USA. Chicago Mrs Ts Triathlon winner 2001. With 8000 participants, the worlds largest triathlon.
4x Boulder Peak Triathlon winner & course record holder.
16 years as a Pro
20 years in Triathlon
26 years of bike racing
27 years of running
34 years of living