Posts Tagged 'Specialized Sworks Epic 29er'
2012 Totalsports Challenge- Team Stoltz wins Mixed Terra Firma
Created on 16 January 2012
2 Comments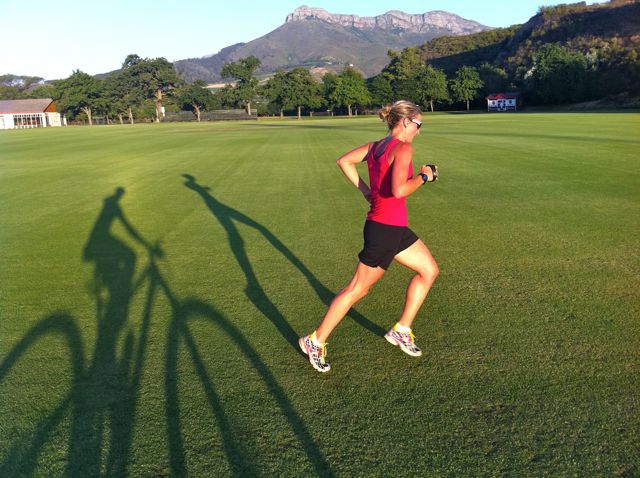 Liezel played international Netball (Americans. click here for Netball video) for the past 15 years, and just recently took the endurance sport plunge. She took to the endurance thing like a springbok to the Karoo, and here, doing intervals on the Stellenbosch fields, I had to ride my bike just to keep up…
The Totalsports Challenge is a great season opener- its a fun event, the course is really scenic, all kinds of endurance junkies pitch up and we decided  to do the Terra Firma event as a Mixed Team: I do the 45km draft legal TT (road bike) leg, Liezel does the 13km road run leg, I do the 30km MTB leg, and she does the 9km beach run…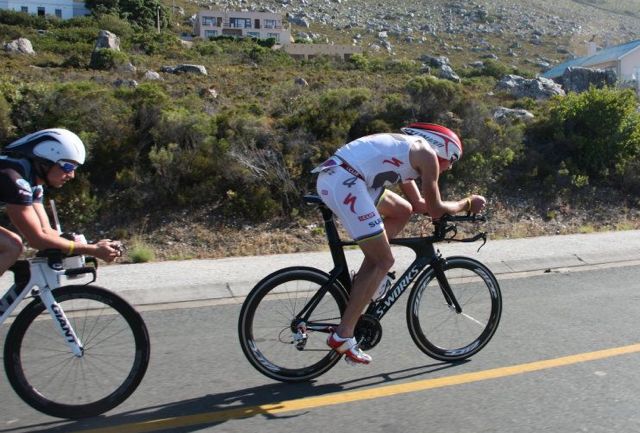 The 45km bike. I used it as a trial run for the upcoming SA TT Champs. So I didnt bother with drafting or trying to attack anyone. I'm trying to make friends with my UCI legal (no nose cone) Specialized SHIV TT. However, the hard part is staying friends  with the "Flat bike" as I call it for an hour of pain. The Time Trail is called "the race of truth", and after 40 minutes or so, no amount of speed (or big watts) makes up for the pain surging through your body…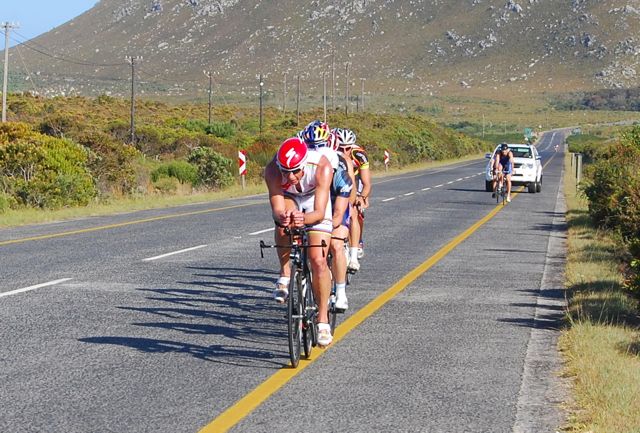 A gaggle of riders enjoyed my draft for 43 of the 45km, (the yellow line offers the least rolling resistance)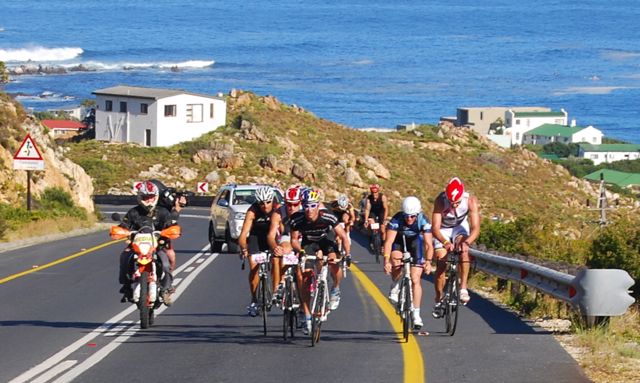 But whenever the TV got near, and on the 2 big climbs (Rooiels in picture) they attacked.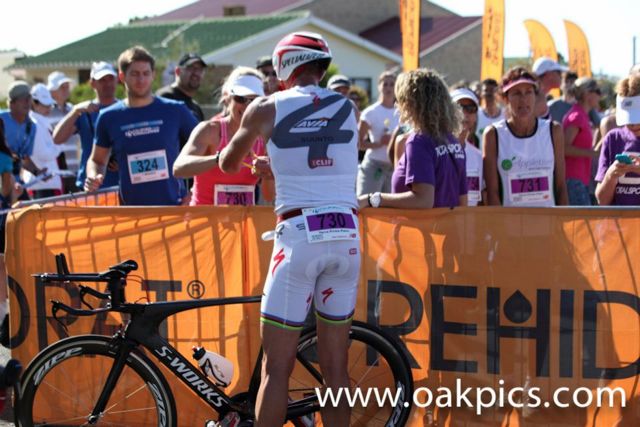 We finished in a pack of about 7, Liezel (in pink) waited at the change-over and burned some rubber on the way out. 13km is a long race for a first time runner, but she paced it well, and put some time into our competition.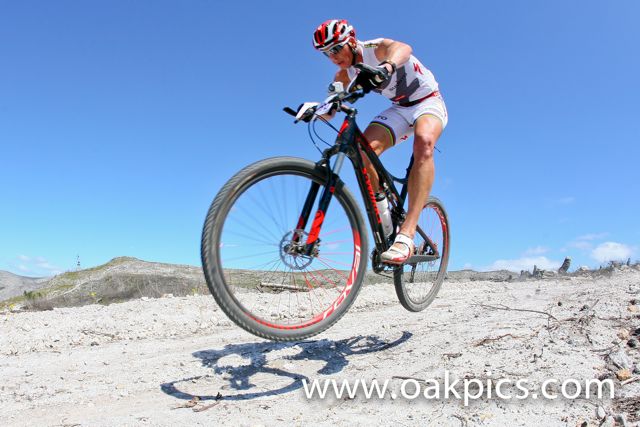 After that hard TT leg (1.02 for 45km) my legs were a little dented, but gravity provided some relief and time for play. (And to pick off a few more riders) Thanks to Fanus at Oakpics.com for the great pics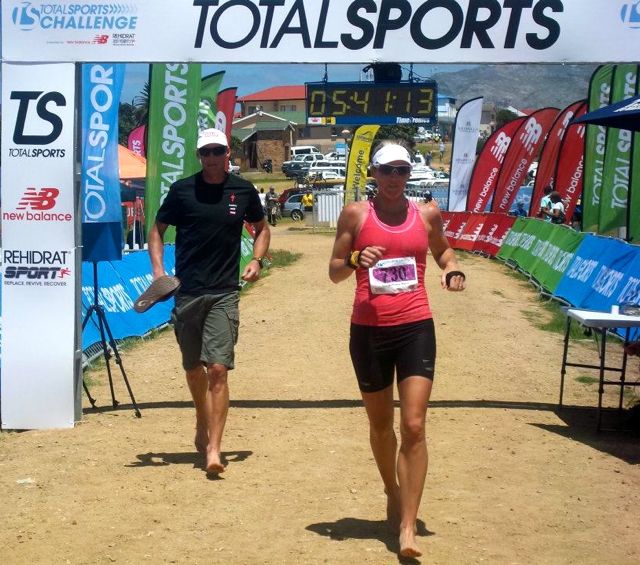 Liezel blitzed the 9km beach run bare foot and brought it home 4th in the open Terra Firma and 1st in the Mixed  teams. It was so much fun being able to race with my wife and being able to watch and support each other along the way. We do some of our training together which is great, but we are both born competitors and nothing makes our adrenaline pump like a gun at the start!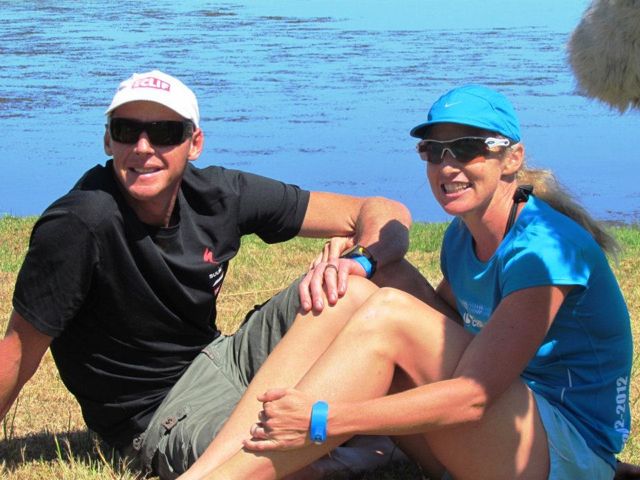 Talking to the TV  hairy squirrel (microphone) in top right…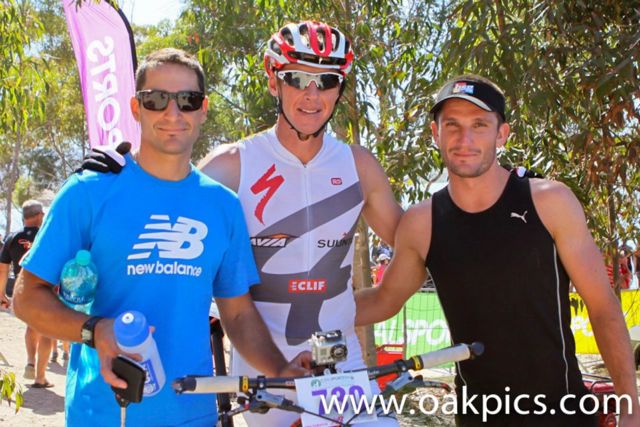 Hobnobbing with fast athletes Kevin Evans and Richard Murray instead of warming up. Notice GoPro camera- when I get some time (and skill) I'll put a video up.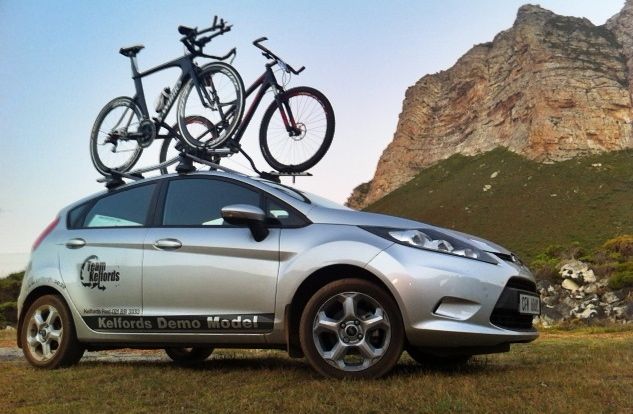 After a long day, our Team Kelfords Ford Fiesta with Thule racks, and securely locked Specialized Shiv TT and Specialized Sworks Epic 29er takes a romantic overnight break at Hangklip,  Pringle bay.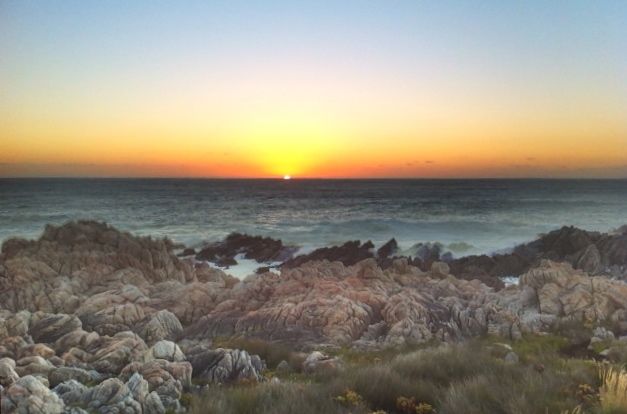 After an action packed, fun day, Team Stoltz takes a romantic break at Hangklip, Pringle Bay…