Posts Tagged 'Suunto'
Created on 07 March 2014
0 Comments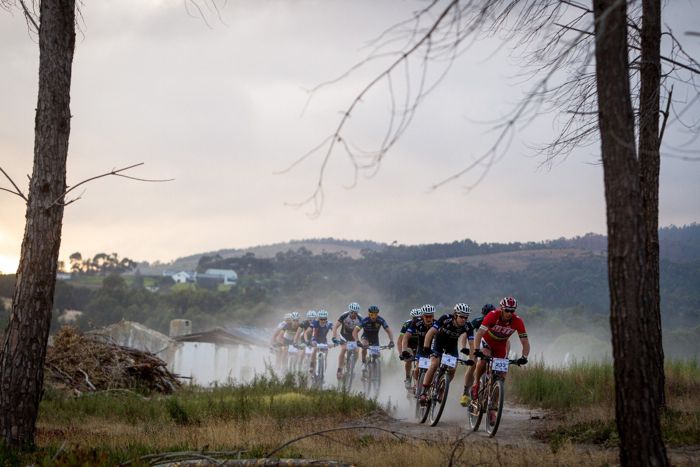 Caveman getting rid of frustration.                                                                   Pic by  Cape Town Cycle Tour Trust
A week after a disastrous day long cramping episode* at XTERRA Grabouw, I had much pent up frustration to get rid of.
*Cramps caused by Magnesium shortage. Will be taking Mg supplements for the rest of my life. (Normally I dont take any supplements at all)
And of course, "I LOVE RACING!"
Having finished 2nd (to Mannie Heymans) and 1st (on a prototype Specialized 29er) in 2010 at this event before, I was eager to hook it and see what comes out. The race was loaded with serious types getting ready for Cape Epic.
The 1st 15km was flattish (Caveman terrain) so I started like it was a 55km TT.  The field strung out nicely and what I lacked on the climbs, Christophe Sauser made up.
It was all fun and games till I started losing air pressure in the rear tyre from a small sidewall cut.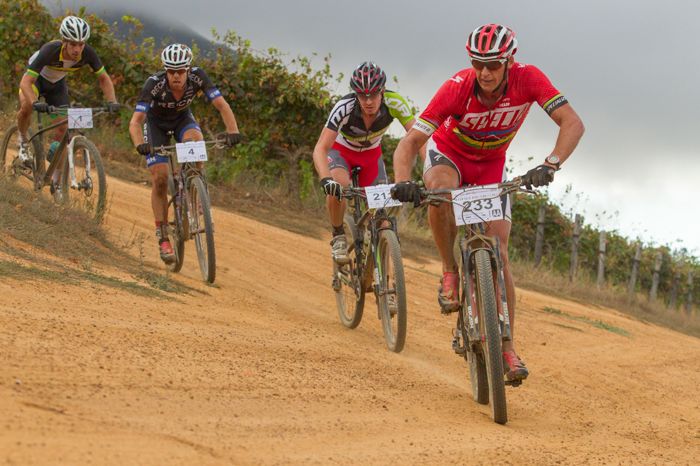 Rear tyre getting dangerously flat. Johnn Rabie, Erik Kleinhans and Kevin Evans following.     Pic by Greg Beadle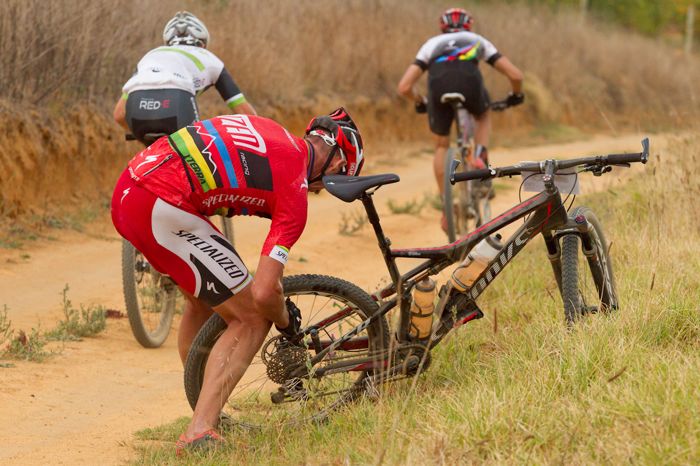 Pic by Greg Beadle
I could see the 1st aid station, and was hoping there would be a spare wheel at the Tech Zone. When I realized the Tech Zone is not till the 2nd aid station 10km further, I stopped and "bombed" the tyre- tilting it on is side (with the sidewall cut at the bottom) so the sealant would fill the cut. In hindsight I should have plugged the hole http://cialisviagras.net/.  Its the 2nd time in 3 races that I has to reach for the tools in the SWAT* box this year. I like the SWAT box a lot, but I hate having to use it!  *SWAT = Storage Water Air Tools- located between waterbottle cages on Epic bikes.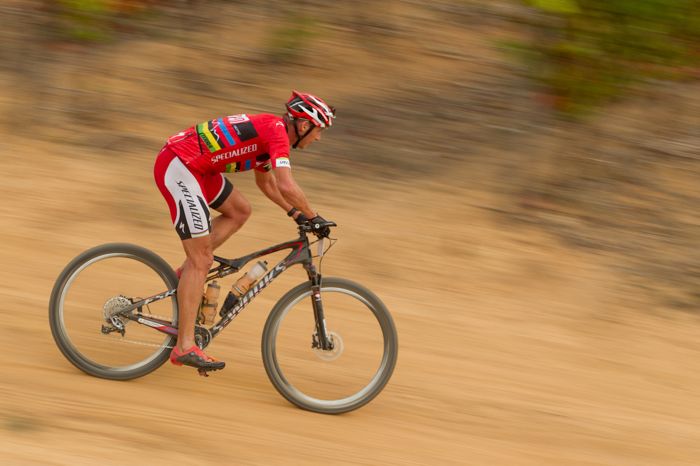 Aired up and at it. Its amazing how the lactic acid pools in your legs while fixing a flat. The next few km feels like an eternity.   I stopped and aired a few more times, and rolled into the Tech Zone on the rim. Fortunately Specialized had some wheels and Dylan quickly had me on my way again.                         Pic by Greg Beadle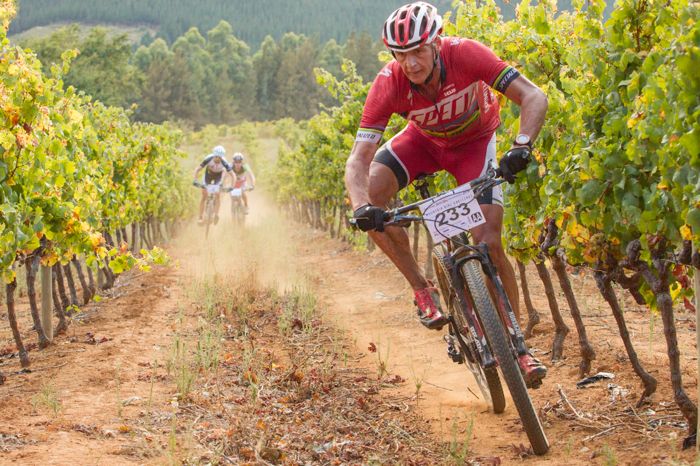 Pic by Greg Beadle
Stunning vinyard racing and good cornering technique: Drop the saddle, (Command Post) lean the bike, keep body weight over the pedals, look at the exit, finish braking before the corner.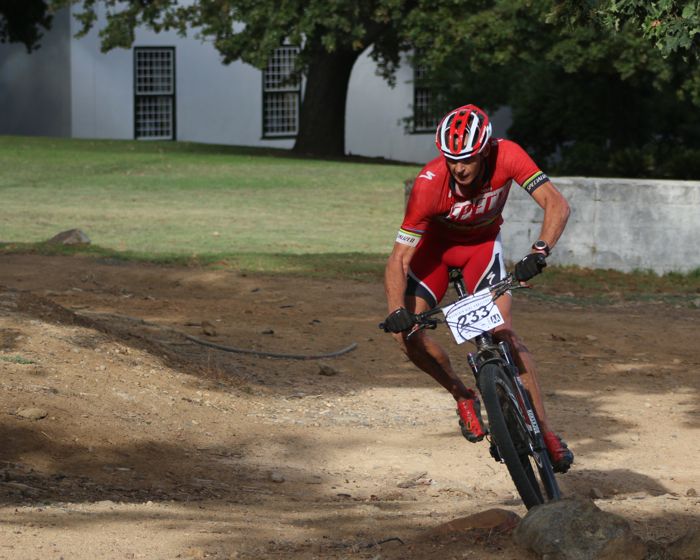 Pic by Princess Hotstuff
Strava file:

Somewhere along the way the leaders were taken off course, of those behind them some waited – and gave them a head start- some didnt, so the results is not what is would have been. Just like last year.
I'm amazed how the biggest MTB race in the country can have something like this happen 2 years in a row…
I think the podium would have been something like Rabie, Evans, Sauser.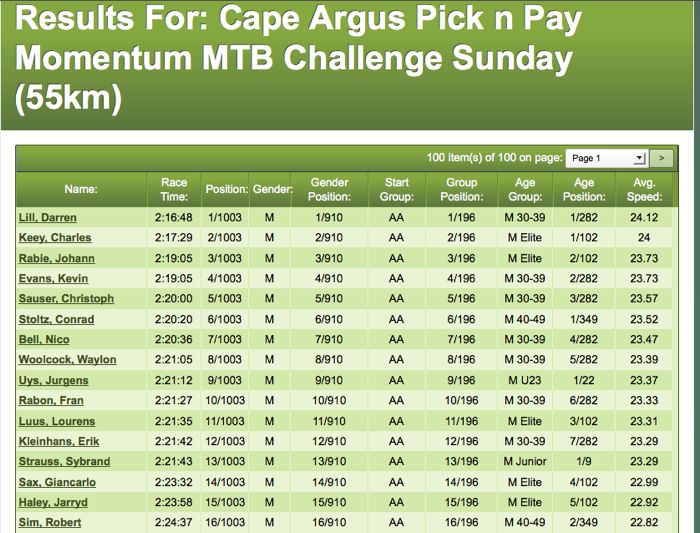 Ah well, it could have been worse…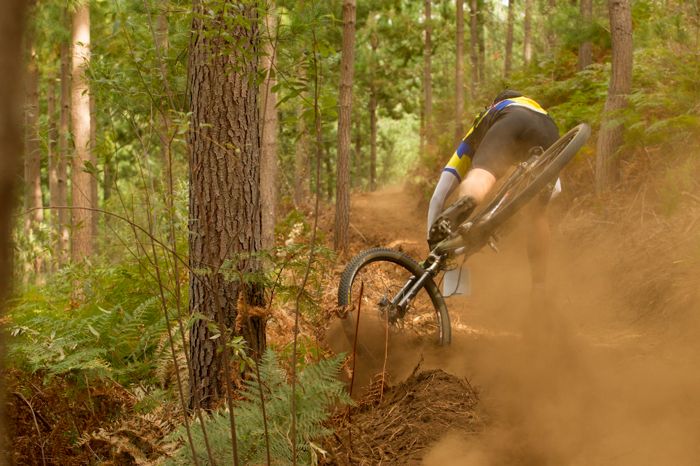 Pic by Greg Beadle
5 days till XTERRA. Know the course.
Created on 20 February 2014
13 Comments
Know the course.
The best way to have a fast(er) safe(er) race is to see the course. Once is nice, twice is great, and after 3 sightings you should have it mostly memorized and will really be able to rip.
Most people are'nt Pros who can pre ride any day of the week. (I usually travel to "away" races 5 or 6 days before to learn and practice the course) But try to ride the course at least once- preferably not the day before the race. It will take about 2h30 if you go medium pace. Running is different, you're going slower, (and fall softer) so seeing the course is not crucial. Just follow the arrows on race day. (thats an inside joke)
If you havent seen the course before race day- I suggest going hard on the open pedaling sections, and being cautious through the single track. If your skills are OK, it helps to follow someone who already knows the course and copy their lines and read their body language. Hopefully its not Greg Minnaar!
This course is really well designed- the 1st half is almost entirely jeep track and forestry road- so its easy to overtake and make up for floating the swim course, and the 2nd half has most of the single track.
Dont be afraid to get off and walk- especially in the Rock Garden. But be vary aware of riders approaching from behind. Once you're on foot, or just finished a crash, you're at the bottom of the food chain and need to make way for those on wheels- or about to start a crash.
This is not the time and space for a Caveman Skills Clinic, but keeping your mind calm, body relaxed and looking well ahead up trail, will give you enough time and sense to react.
Brake early and hard then get off the brakes! Braking in corners, down steep drops, and in places of bad traction is the number 1 cause of catastrophe…
Weather plays a big role. What to wear, hydration plan, and importantly, the terrain changes…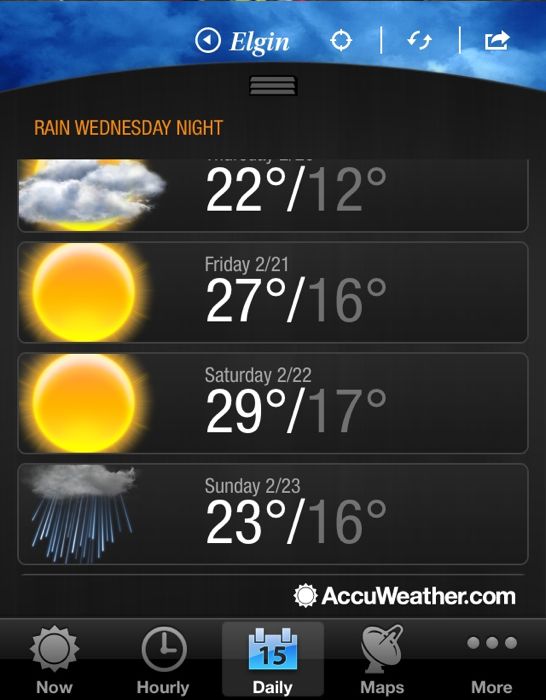 If you're not from the Western Cape- we've had a real
heat wave, I saw 42C (108F)
on my
Suunto
of the course.
Thankfully today, (Wednesday) we had a slight drizzle in Grabouw- it cooled off nicely and packed down the sand a bit.  Looks like theres more showers predicted for Sunday. Perfect racing weather! Its going to make the MTB and run courses a good deal easier.  Regarding the previous post- I'm not going to need the wide 2.3  Specialized Ground Control tyres anymore…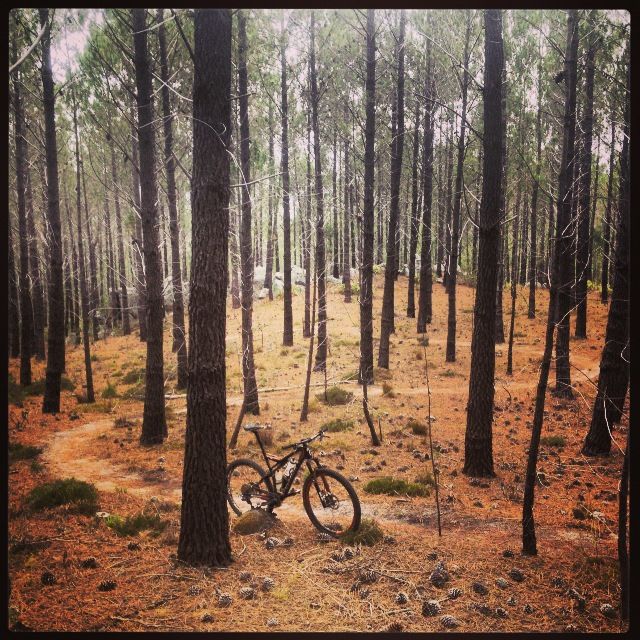 Grabouw has some of the most amazing single track anywhere. Not all of it is rocky and/or hairy- this section has a certain Zen flow to it….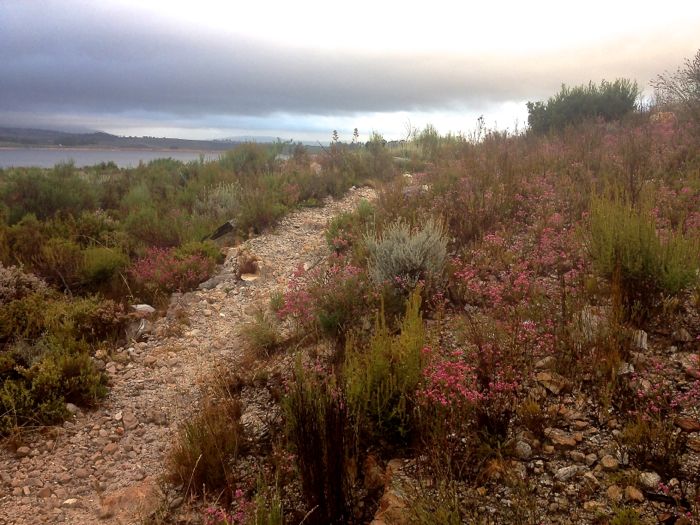 This 11.8km run course is spectacular. I didnt take pics of the whole course – but the pink Fynbos above is one of my highlights.
It really has something of everything. Scenic single track with loose rocks, pine forest, a  deep river crossing, a big climb and a huge climb, and some beach sections where you get to pick your own line.
Dont let the scenery fool you- this run is really tough! The bike course is like a WWE wrestling match- its a full body workout and you'll probably start the run WORKED!  Once you have your running shoes on, you're onto trail right away, with this run you have to think all the time- find good footing, pick smart lines, keep your balance, stay fast and relaxed and dont forget to pace yourself wisely and stay hydrated. Oh yes, remeber to enjoy it. Thats why we're here, right?!
The stretch home- a long, sandy beach run where you can get adventurous and pick your own line. At your own peril- I was knee deep in wet quicksand on my 1st try!
Finding traction on an old tree root.
More traction on a grass clump.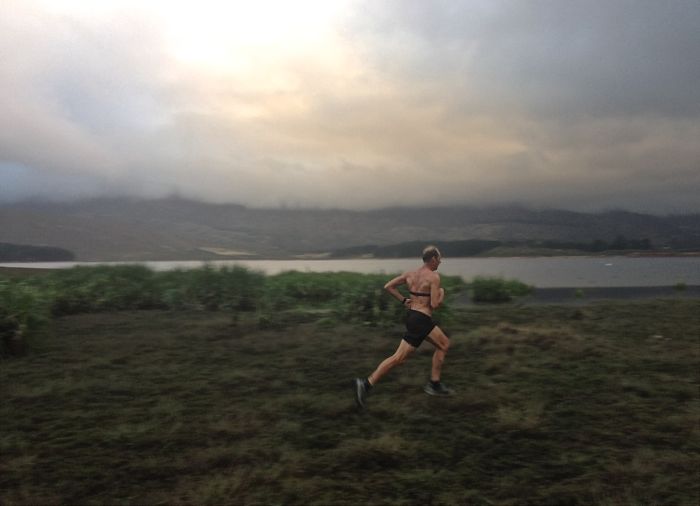 A marshy section near the finish. Tighten your laces properly- you dont want to loose a shoe.
#CavemanFootprint.  The Hokas has a big footprint. Floats on top of stuff- where humans and guinea fowls sink in…
Next blog: 4 Days to go: Tapering
Caveman at XTERRA Abruzzo, Italy 2013. Video
Created on 22 January 2014
0 Comments
Caveman wins EAI Val De Vie MTB Challenge
Created on 27 November 2013
0 Comments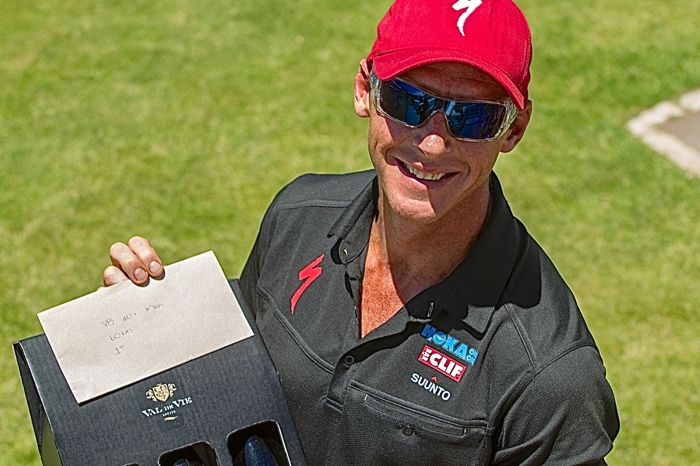 I was totally surprised when called up to collect the first prize in the "Veteran" devision! (for those who dont know – I turned 40 last month) During prize giving, I was chatting to Princess Hotstuff when I heard something about " Giniel de Villiers 3rd, Linus van Onselen 2nd, and Conrad Stoltz 1st…" I was quite shocked ans hesitantly went forward thinking, "but I raced the laaities (boys), why am I called up for the Vets category?" But when I saw Ryk Neethling waving the the Val de Vie collection of flagship wines, I became more sure of my step and accepted my new prize enthusiastically.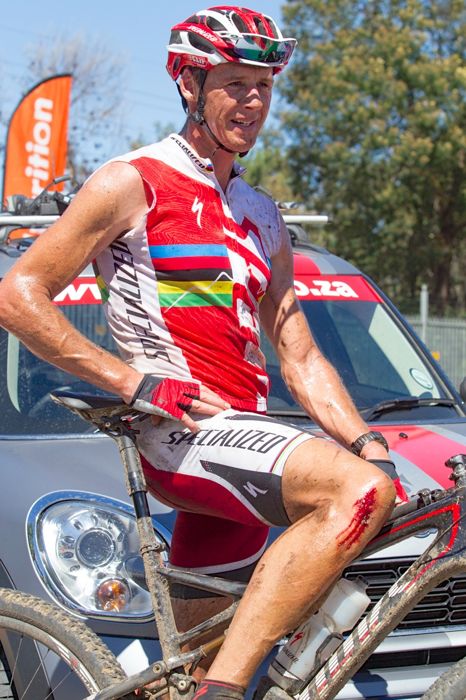 The new Double "O" M  won by 15+ minutes.
The route and conditions were tough! Super rocky and sandy and very very hot. Hence the sleeveless shirt, roadie Prevail helmet, non bib shorts and short gloves. I almost went no socks with open triathlon TERRA shoes…
In the 1st place there were some fast roadies turned "Black Socks" on the start line- some freshly flown in from Joburg for the event.
In the last turn of the day my handle bar hooked a cheecky Rooikrans bush and I almost landed on top of the marshall.
Background:
I had no idea of the exsistance of this race and had no intention of racing this time of the year.
I'm currently at the tail end of "Ice Cream and Beer Season" and have done very very little training. The bit of riding I did was fun single track on my Specialized Stumpjumper (aka Fun Bike). The only long ride I did was the day before this race- a 5hr30 route scout for the upcoming POOT Origin of Trails…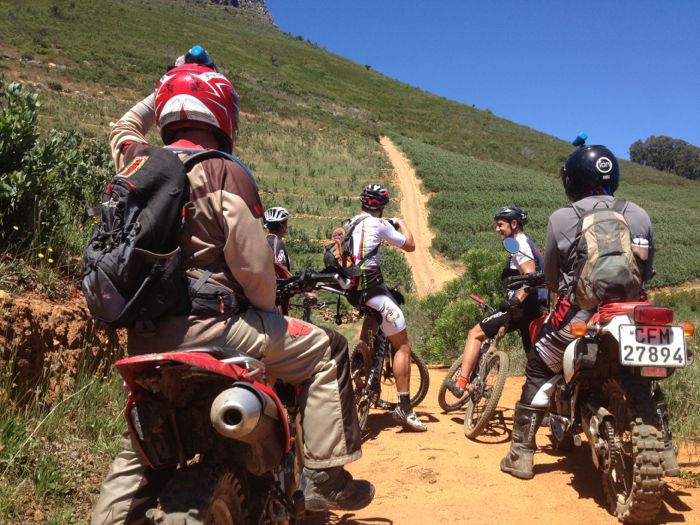 Hours and hours of single track so sweet and hills so steep…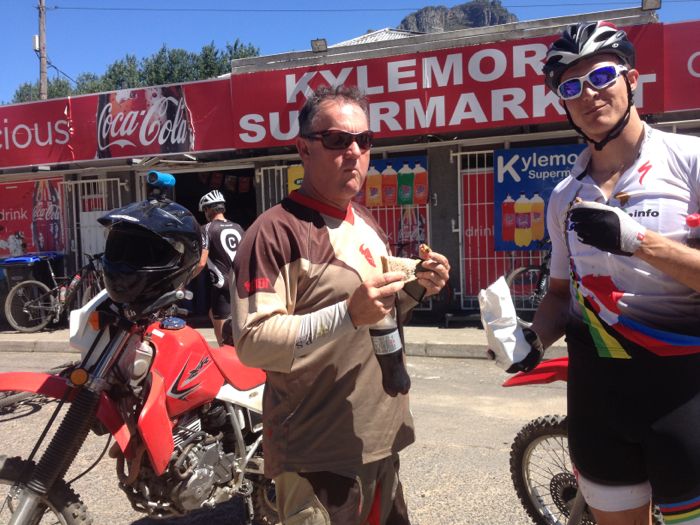 We drank Kylemore Supamaket dry (of Coke) and tore through James' backpack load of peanut butter sandwitches. BEFORE we were even halfway… At the end we tried to drink RideIn dry (of Windhoek) before tackling the huge spare ribs and chips (fries) at Jan Cats, washed down with MORE beer. Then the phone rang – my mate Max Cluer. He says theres a 60km MTB in Paarl the next day I should be doing… But Max, I'm up to my elbows in ribs…
Next morning I was on the EAI Val de Vie MTB Challenge start line: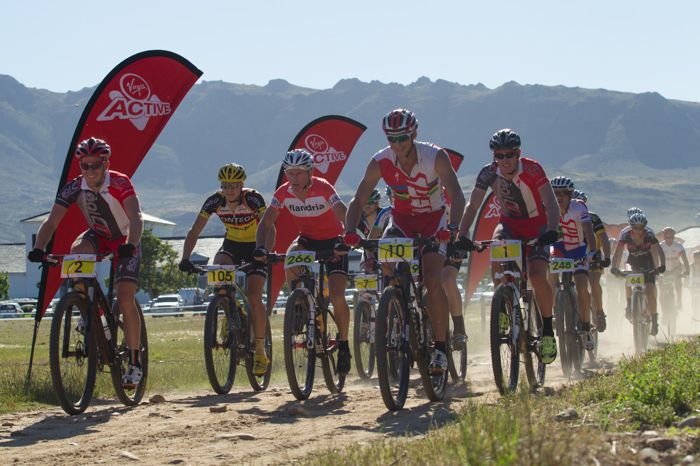 Hanco Kachelhoffer, Johann Rabie, Jurgens Uys, Linus van Onslin, Giniel Devilliers all smiles before we hit the rocks, sand and hills.
Between ravaging fires and devastating floods, Mother Nature did her best – or worst – to derail this year's EAI Val de Vie Mountain Bike Challenge in September.
"We spent months searching and manicuring trails in the area and about 70 per cent of these were washed away or damaged beyond repair. Sections of the route just disappeared under water. It was crazy!"
But the hardy organisers from ASG Events pressed on and the event will finally roll out across 21 farms in the Cape Winelands on November 24.
"The Western Cape will become a cycling mecca for that week; it's going to be an amazing time, this is the curtain raiser for Africa Bike Week, which follows in Stellenbosch.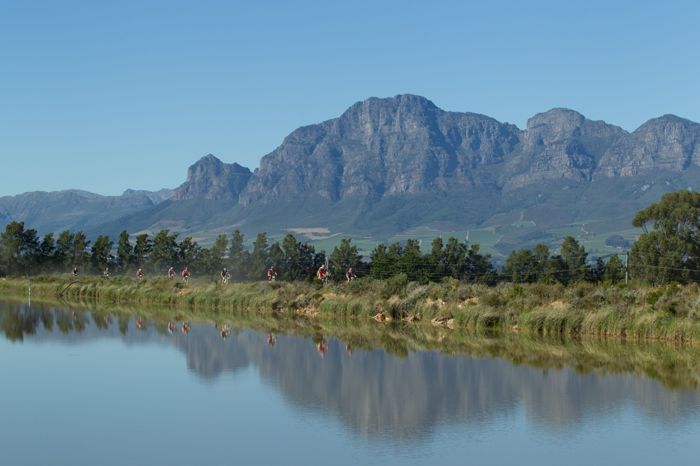 Stunning scenery with Simonsberg in the back ground. We were truly blessed to be able to ride on so many farms – a welcome trend picking up steam on the local farms in the Boland.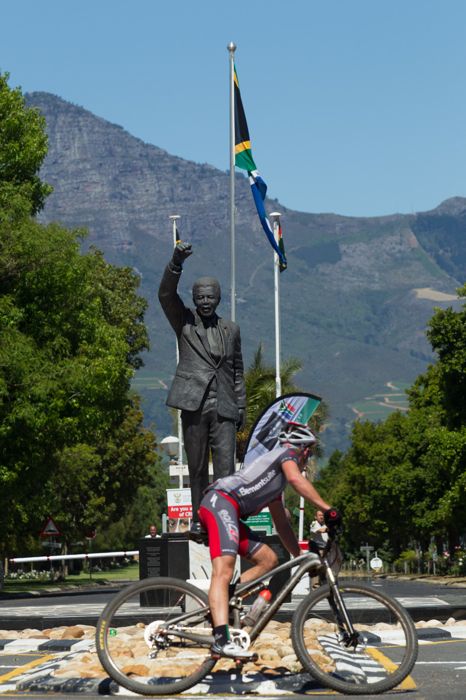 Hanco Kachelhoffer (finished 2nd in a 3 man sprint for 2nd) making the U-turn at the Nelson Mandela Steps to Freedom statue.
The course wound through the Drakenstein Prison where Nelson Mandela was held and did his monumental "walk to freedom" on his release in 1991. Cyclists got to see where he lived and also ride through a working prison, and when I went through I could hear the prisoners singing.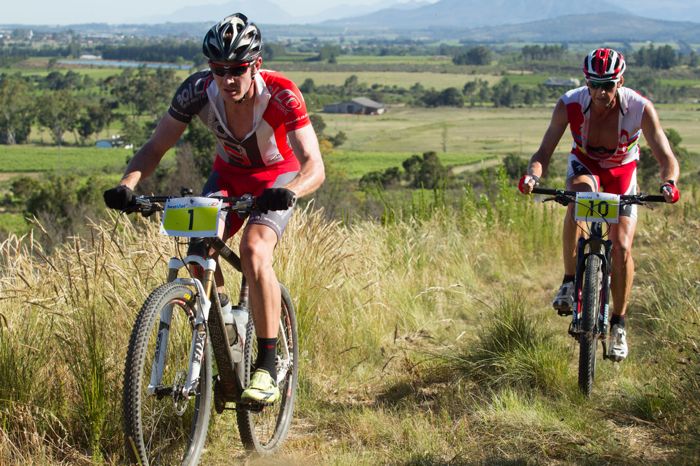 Johann Rabie – Pro Roadie turned Black Sock, pushed the pace on the climbs early on. Unfortunately he brought a knife to a gun fight. Translation: He brought a hard tail to an African race and got a flat tyre in the sea of rocks.
I took my Sworks World Cup Epic out of the travel bag, changed the XTERRA Worlds tyres for "Africa tyres", (Specialized Control 2.2 Fast Trak – wide and strong tyres) and put some Squirt lube on the chain, and rolled to the start line. The dual suspension,  beefy strong tyres and dropper seat post was perfect for these conditions.
Lead moto Africa style! On one of the hairier dowhills I had to whisper in his ear to please go faster. Later overheard him say: "%@* maar die ou kan jaag!"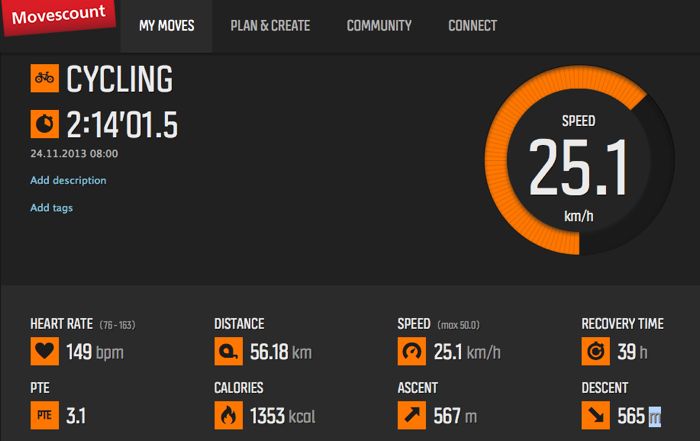 Suunto Ambit 2S on Movescount heart rate file- click on the link or pic.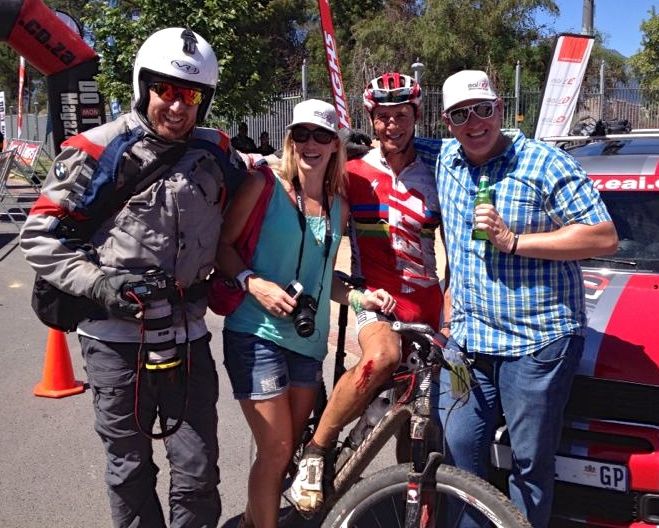 Great to catch up with friends: L-R Greg Beadle, Princess Hotstuff, Caveman, Max Cluer.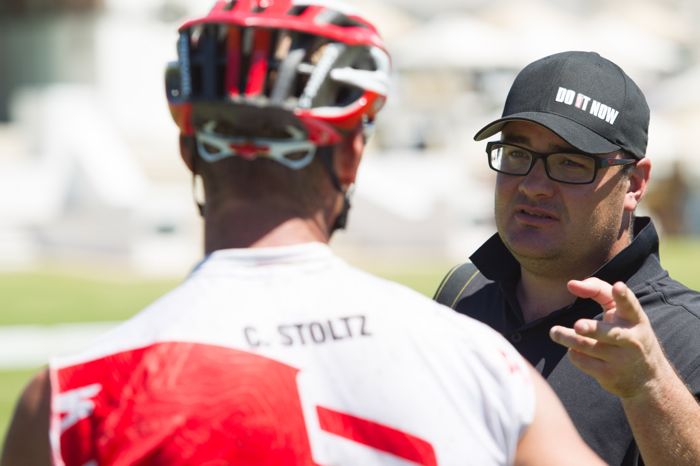 New friends. Morne Labuschagne from DoitNow magazine.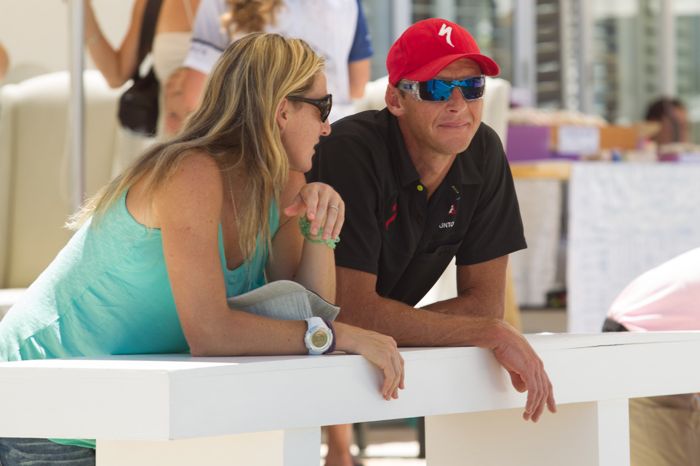 That blisfull moment – chatting with Princess Hotstuff – seconds before someone called me a "Vet."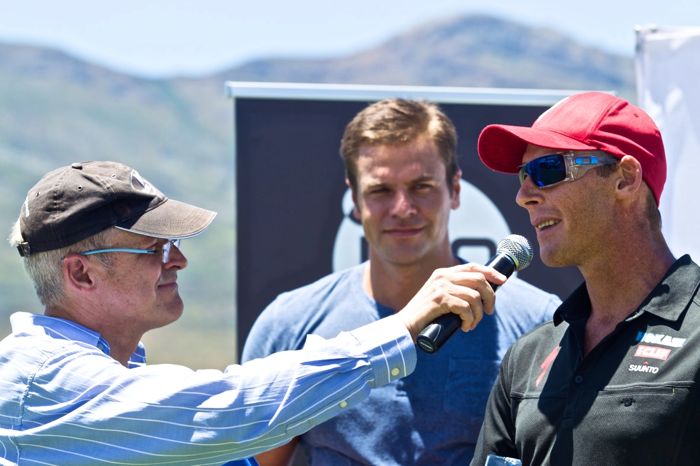 With 2 legends- Cyclist Johnny Koen & swimmer Ryk Neethling.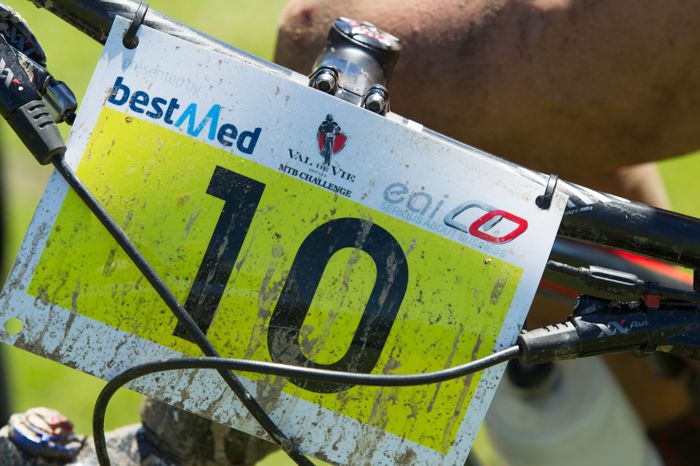 Encouraging to see the sponsorship behind non rugby/cricket/soccer/golf events nowadays: Title sponsors eai, bestMed and Val de Vie Estate.
"We also had teams from Virgin Active, Vrede Foundation, Raw Nutrition, Scheckter's Organic Energy, some of the landowners and a host of others en-route to make the water stops fun.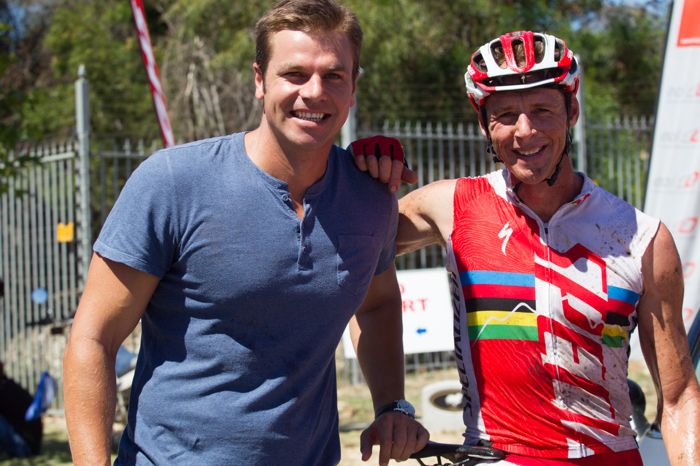 Team mate from Sydeny Olympics- swimming legend turned business man Ryk Neethling.
Looking forward to the 2 day Penny Pinchers Origin of Trails in and around Stellenbosch this weekend.
Created on 05 November 2013
12 Comments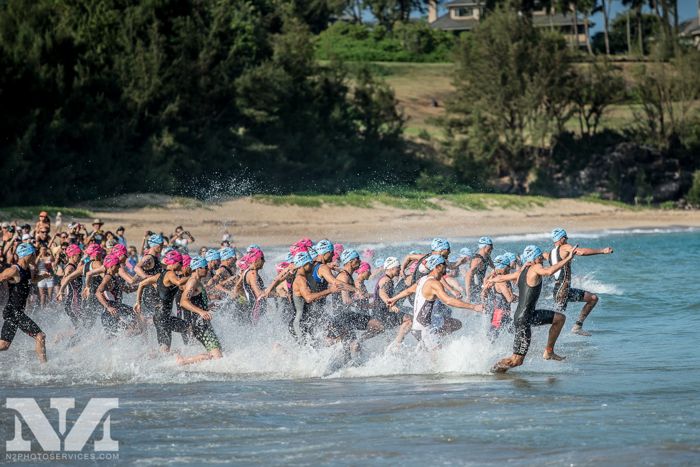 XTERRA Worlds 2013 swim start. Nils Nilsen pic.
I came into Worlds really well prepared, hungry for my 5th XTERRA World title. I had 6 weeks' of good training at altitude in Boulder and 4 weeks of good prep at sea level in Kona and Maui.  I poured everything I had into this race. Even lost a few kilos.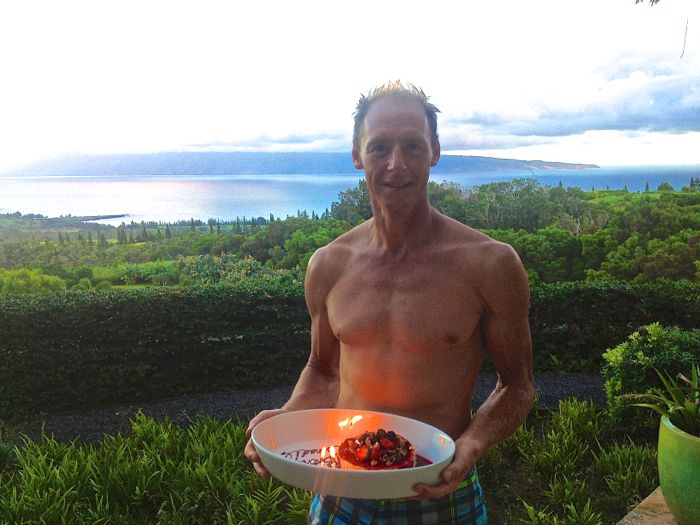 4 days before the race I turned 40 and Princess Hotstuff (and our homestay) spoiled me- as much as you can get spoilt before a big race. (ie no big party)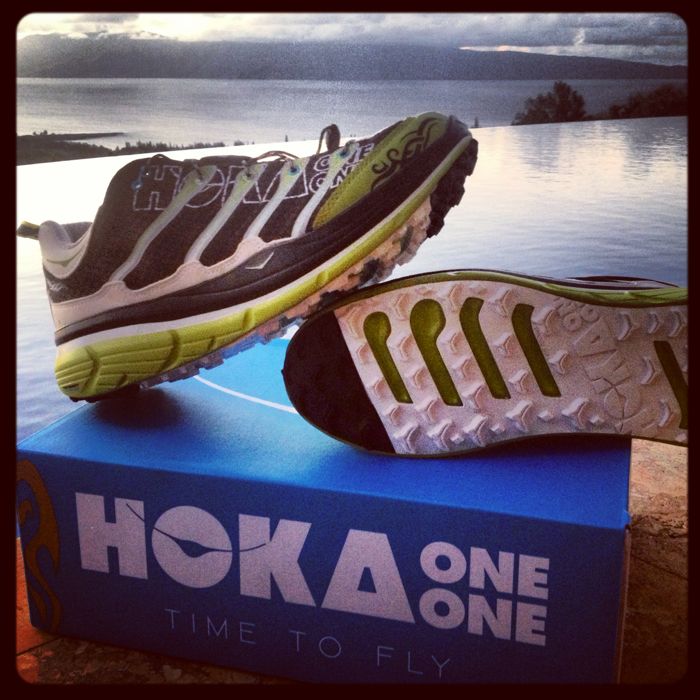 Hoka One One also spoilt me- they sent the new Rapa Nui trail shoe all the way from France. I was so excited when they arrived. By far he best trail shoe I've ever worn.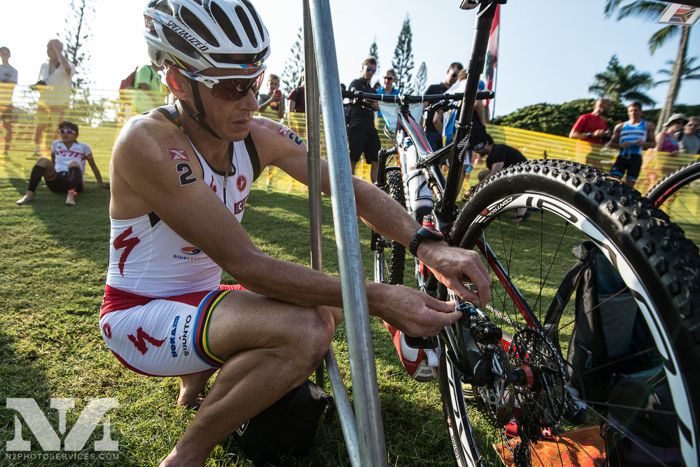 Hooking my Specialized TERRA shoes (already clipped in pedals) onto the suspension's Brain adjuster with a piece of elastic- the elastic keeps the shoe horisontal (to get feet in easily) and once your foot is in the shoe and you start pedalling, the elastic breaks and falls off. Not very environmentally friendly, I know, but time is money…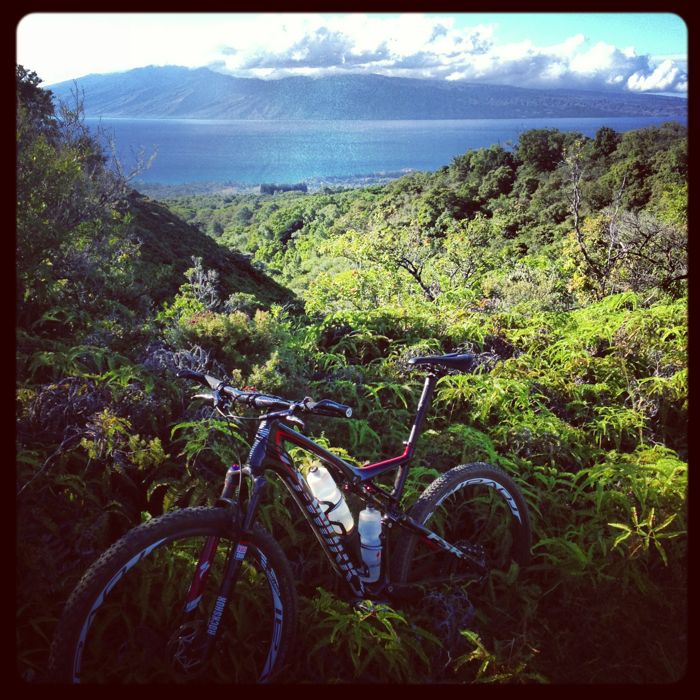 The bike is really pretty- when you stopped and got off  for a look. The view was scenic too…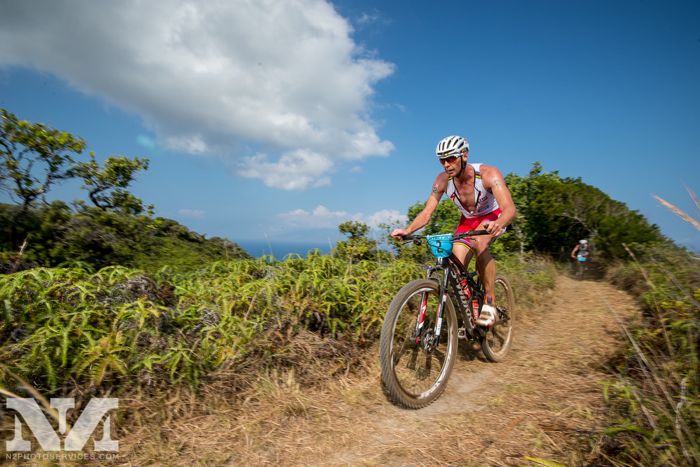 The swim went well, I lost only 30 or 40 seconds to the front group. Once on the bike you start climbing right away. With over 1000m of vertical gain over slow surfaces, uninspiring "down hills" and high heat and humidity, I had my hands full trying to stay cool, go fast and make time on athletes 20kg lighter than me. Ex pro MTB racer Ruben Ruzafa had a monster ride – sat in my draft on the long downhill before aid station 2, and took off up the following climb – building a 2 minute lead by the end of the bike.
My new 2014 Specialized Sworks Epic World Cup 29er  features in my previous blog post – check it out there.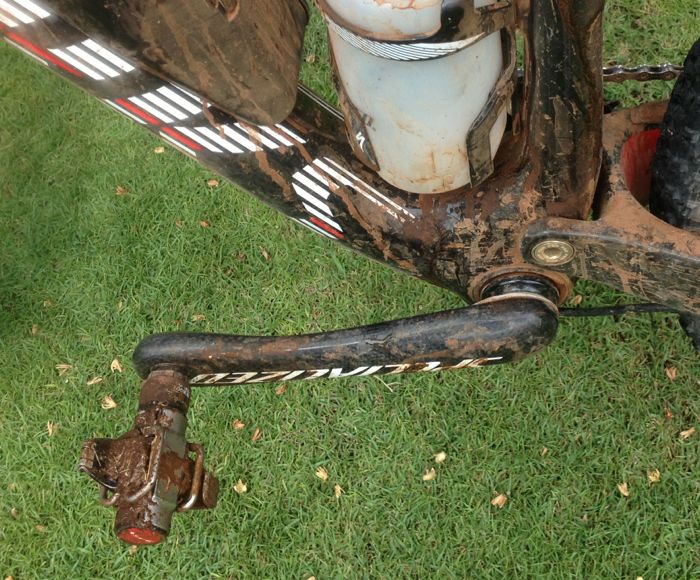 "Wet Pedal" Sweat Rate Indicator. Over race weekend the Trade winds died down and the Kapalua coast got even hotter and more humid than usual. Even on a medium effort ride I sweated straight through my shoes and onto my pedals. The heat became a major factor on race day and quite a number of athletes stumbled and crumpled across the finish line.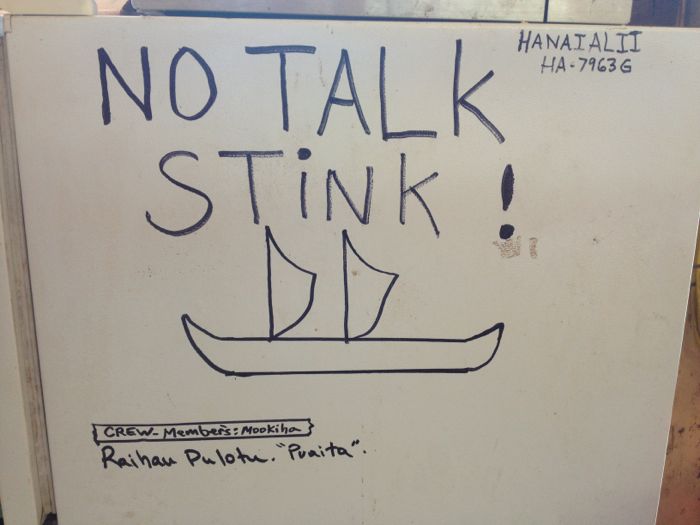 I'm taking a leaf out of the Hawaiian Voyaging canoe (the Hōkūalaka'i) building crew's fridge door notes, and wont say much about the course…
Instead a newspaper qoute by womens winner Nicky Samuels:

At least she had 2 weeks' mountain biking more than last years winner Javier Gomez.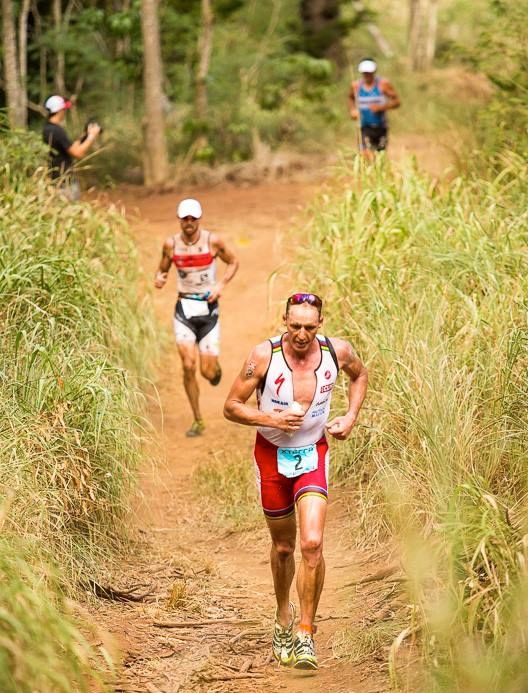 To me the run was not so much against my competitors (Josiah Middaugh and Asa Shaw behind) and it wasnt so much about running at anaerobic threshold, but more a battle against overheating. Out of T1 the slow 20 minute climb through tall grass (blocks any breeze) was like driving a car with no radiator. Push just a little too hard and blow a gasket.
Jesse Peters pic
Underwhelmed with 6th place. My dream is to win 5 World titles on Maui. Back in SA with my coach Ian Rodger we will analize, regroup and refocus on what it will take to win on this course next year.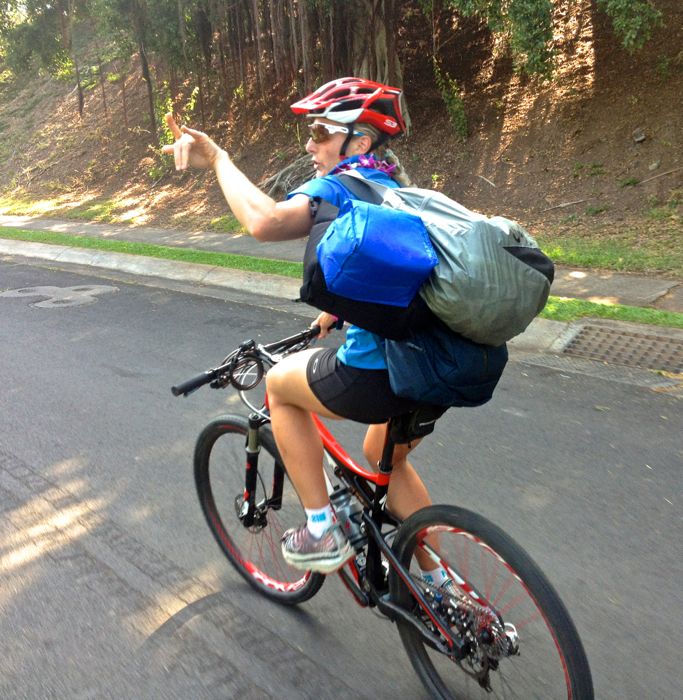 A huge thanks to the most avid Sherpa/supporter/split giver on the World!
Also a big thanks to Specialized Racing mechanics Dylan and Eric for a fast, clean bike, and also videographer JB for making me look "pro".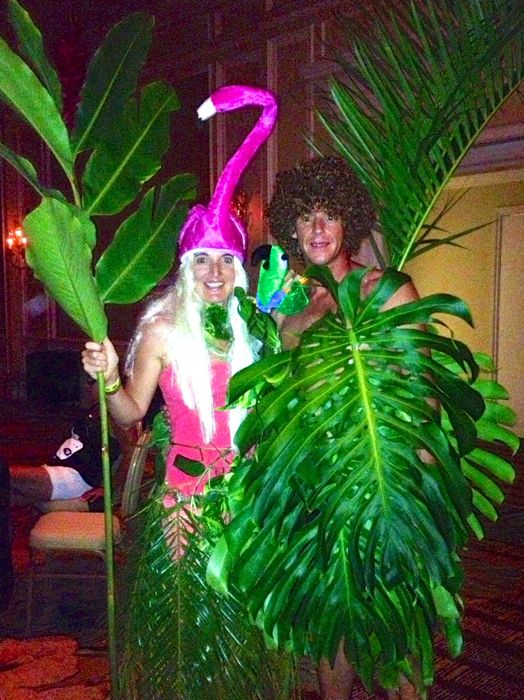 We didnt start thinking about our Halloween costumes till after the race- I grabbed some garden sissors and snipped like crazy in our home stays lush tropical garden. I had to chase the geckos out of our new costumes before heading down for awards dinner. We built the costume in the parking lot with boxing tape and borrowed hair, a flamingo and a parrot from out home stay. We didnt have a "theme", but when we walked through the lobby (scraping the chandeliers) and the first person we saw said "Tropics!"