10 Questions with Nikola Tosic
Created on 01 September 2009
Last Updated on 01 September 2009
3 Comments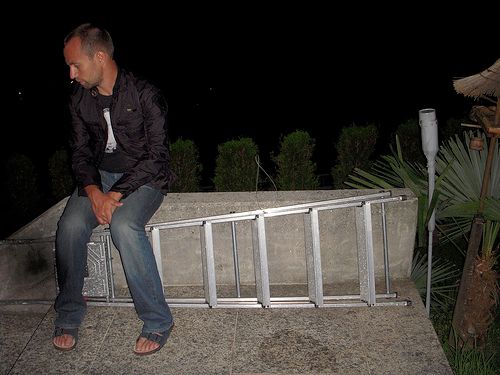 For starters, and the reader's benefit, write a short paragraph about yourself:
Born in 1977 in Belgrade. Grew up in Lagos, lived in Serbia, USA, Italia, South Africa and a bit in France. I love internet and work with online content for living. I enjoy doing sports and art (same stuff). I love good food. I like living close to my parents and have been together with Martina, my girlfriend, for eleven years.
[Note from Conrad: Nikola is The Master, The Brains and The Teacher behind TriathlonTeam.org. Before I met him I could only read emails and attach photos.  Nikola started putting the team together about 2 years ago.  Dan Hugo was 1st, who introduced me (over a great seafood linguine on the Cape Town ocean front) and from there on the team grew quickly to 8 guys. We are still looking for a worthy girl blogger… (send applications here)
Nikola has helped me with brand building, logo design, race kit design, technically correct blogging and so much more. We also share a mutual love for good food and coffee. All our brain storming meetings go hand in hand with culinary delight.]
How you feel about your season so far?
Six years ago I started with 30kg overweight and somehow managed to finish Ironman in a decent time in my fifth season. This, my sixth season, is a complete failure when it comes to results. I am fat lazy and stupid. But I have managed to spend great time training in Stellenbosch, Greece, Switzerland and I still have Croatia and few nice places left. I have met really cool people and had a lot of fun. So from numbers side its shit, from emotional side it could be the most dynamic and interesting season ever. Since results mean very little to me it is a great season.
1 )  Your favourite all time memory?
Argh… there is million. Some I will not tell as they can get some people in jail, trouble or are just too private. Pretty much everything that I remember is actually just great. I guess I suppressed everything which is not great.
2 ) Your biggest/ most memorable sporting moment?
Again, it is hard to make anything so special to classify it as biggest / most etc… but… a small local race when I was super slow. I raced against this old guy and I gave it 110%. It was awesome. No other race was so hard.
3 ) Describe the earliest computer you had.
Spectrum ZX 64k RAM. During late 80s one needed a tape recorder to load games and it took forever. I still think this Spectrum is one of best industrial designs. People are amazed by what Apple is doing now but Spectrum was just so beautiful. I still have it and will always keep it. Those rubber buttons are just so great. Its shape and weight wonderfully perfect. Unfortunatelly 64k RAM is less than what watches have now.
4 ) Who is the best blogger you know?
First, I do not focus on blogging as much as overall branding, marketing through content production. Blogs are just an easy way to learn and get the content going.
Conrad, you are very intuitive with your content, artistic yet you manage to remain popular. Artistic people sometimes become very exclusive while you are able to communicate to general public easily – this is great talent. I wish I had it.
Also George Martorano is a prisoner I work with and he blogs through letters. His dedication and persistence is inspiring.
Everybody in triathlon team is doing great. I do not like to compare people with universal results, like visits, sales, whatever. I think that everybody is doing awesome related to their character and interests. I am happy everybody is enjoying this triathlon team experience.
All my clients are very cool, they all try hard and do the best they can. I am not so much into popular bloggers and people I do not know. I am amazed when I know everything behind the scenes and I work with someone for a year to get something going – than I truly can appreciate the quality. It is like making a fine wine or something. You can only truelly love it when you were part of the entire process.
5 ) The holidays got the better of you and all of a sudden the scale is telling an unhappy tale. How do you get rid of your blubber?
Thats where I am at now and I came to Bellinzona Switzerland hopefully to cycle 3 hours a day and not eat… Somehow I ended up eating 5 times a day and cycling 2 hours every third day. Igor's family, who are my hosts, own a bar and they make awesome food every day. I can not say no. I will deal with the weight next month… or the month after… or after 🙂 My next big race is in 11 months so I have time.
6 ) How many languages do you understand- how do you make sense of ? There are about 4 blogging languages just in the team, not counting the Irish and Scottish…
I speak Serbian, English and Italian. I understand some German. Serbian is very similar to Croatian (Dejan's language) so I also speak Croatian. With the languages I do not understand – Aleksandar's Danish – I improvise. It was a test and I wanted to see how much I can help him if I do not speak his language. It worked out because a lot of things we speak about are general and he does it himself. Actually it is easier if I do not speak the language so I do not tend to check details (I get obsessed with details) and I focus on bigger stuff.
I am constantly trying to get someone from Japan in the team so that will be a bit of a challenge but a good one.
7 ) Send a picture of an earthly belonging that makes you happy.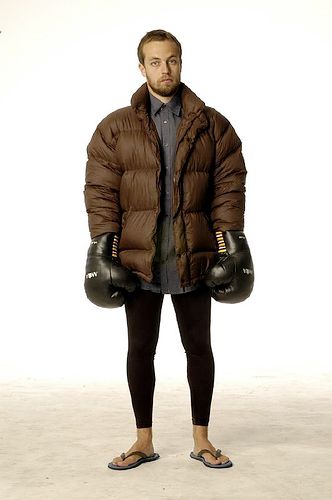 Boxing gloves, should start using them a bit more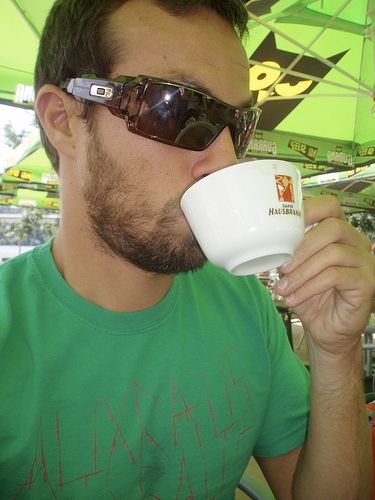 Oakley sunglasses you gave me, they work, I can keep my eyes open during sunny days 🙂
8 ) Tell us a funny/weird travel story.
I have been traveling last 10 years non stop (have not spent more than 6 months in one place with constant small trips) so I have probably million stories. I have smuggled drugs intro Turkey (did not know it!), have been robbed, lost and saved, I have been mean and good, have once spent a month doing 10 000 km over Europe which included Istanbul, Vienna, Venezia, Milano, Paris and Rotterdam (some several times). Etc etc etc
I can not really choose anything in particular. I am also not so much into these big one time things. My experiences are more even: I rather enjoy a nice easy week with good friends and constant positive feeling than one big funny thing. Time in Stellenbosch was great, it is like a good dinner with friends stretched over 4 months.
Anything which involves Aleksandar and Igor is super funny, I am not saying other team members are not funny, its just that Aleksandar and Igor and I share some weird frequency sometimes.
Reading Gavin's blog is funny. Fraser is funny in a very particular way, many times he is funniest, also when I meet him, he just seems very funny to me but I do not laugh as I do not want to confuse him.
Can not really choose, I think it is all just equally great and it never stops. I really feel like that. I am very lucky.
9 ) You know some interesting people- how about a few random facts? Was it Igor who put butter in his bottles?
Ah all people are interesting. Have not met anyone who is NOT interesting yet.
In Denmark they call Aleksandar the Hobbit. His father is Serb but he did not speak to him in 15 years. I bug him that we should go and visit his father when the racing season is over.
Three times we have met to talk "business" for one hour, we ended up spending the whole day. [Oh, so its like you and I doing "business" – we eat and drink coffee for hours – Conrad]
Dan is creationist and I found that out when I said creationists are silly and he told me he is one. I like to think this is the last time I was so arrogant, but probably this is not true.
Dejan is an architect and his father is an architect. Dejan has designed some interesting furniture for his house in Croatian island of Hvar. He designed it to work around his energy or something. He also lets his hair grow in some places as it helps with energy flow. Really not sure how this works. [Cant wait to about THAT blog!]
Fraser has a brother who is probably as talented as Fraser is for triathlon. With Fraser's brand we almost went down the route which at the moment I though was interesting, but his mom, I think, thought its not so he listened to her. This was a good choice.
Gavin has 4 brothers and sisters and 2 parents. I envy his huge family. It really is super cool.
Igor lives in a small town of Bellinzona, he has to say Hi about 50 times every time he gets out of his house. Everybody knows him and he knows everybody. Today his father suggested we go hiking together in the mountains and collect mushrooms and this is the first time in ten years that Igor spent two hours with his father. Unfortunatelly I had to answer this interview so I had to ask them to come back sooner.
Will's girlfriend Clare co-designed the logo with me but she lost the font she used.
10 ) How 'bout a quick poem?
michael jackson last words
while michael jackson was taken to the hospital
the nurse heard him whisper
"please take me to the pediatrics department"