2011 ITU Cross Tri World Champion, Conrad Stoltz
Created on 10 May 2011
Last Updated on 10 May 2011
10 Comments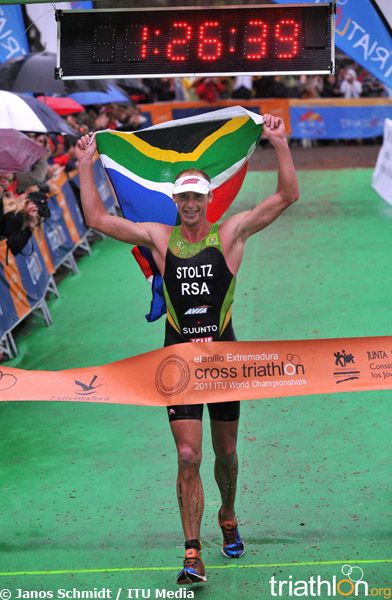 Photo by Janos Schmidt/ ITU Media
2011 ITU Cross Triathlon World Champion. Has a nice ring to it. Didnt anticipate the 5th World title to come so quickly. But it was a lot of fun.
I didnt know what to expect of the ITU's new off road triathlon concept, but I was curious to see how it would be, the timing was good and of course, it was World Champs! So I got the visa and climbed on a plane from Denver, not quite knowing what to expect.
I really enjoyed the shorter distances and the lap course (4 lap bike for 20km) and 2 lap (for 6km) run. The spectators (mostly age groupers who raced earlier) really got into it and lined the course to cheer and watch the action.
ITU style pontoon start. No Euros creeping forward and starting when they feel like it.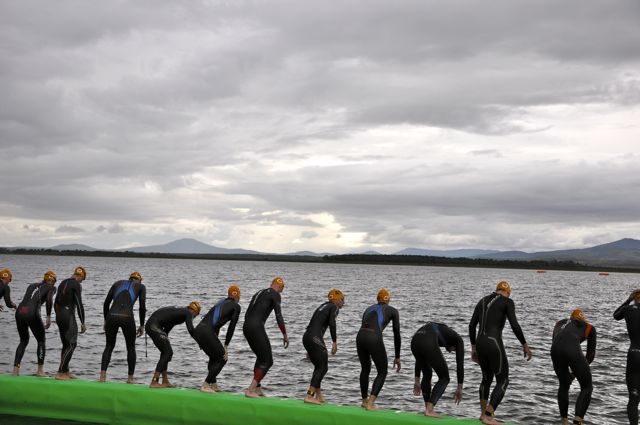 Somehow I managed to lose 90″ in the 1000m swim – maybe its because I was too late to warm up and dove off the pontoon cold turkey. So when I hit terra firma, I hooked the bike flat box right out of T1.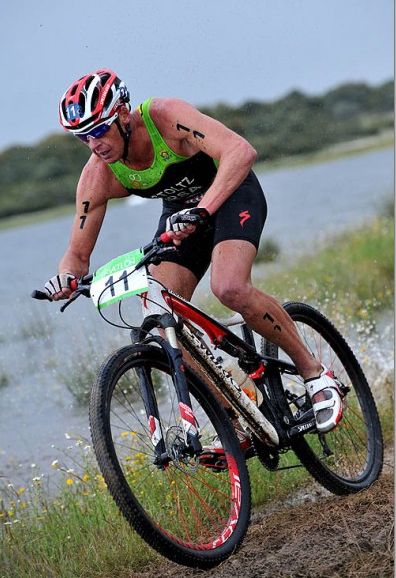 I think I started the bike in 18th place, 1.30 down, but soon started catching some big names. As I flew the big wheels by them I kept thinking, "oh, Eneko must be having an off day", and  "oh, Marceau must be hurting", Richard Stannard on a fully rigid Niner and skinny tires was bouncing around like a pinball. So that, by the end of the Bliz lap, I was in 2nd, only 10″ behind Seth Wealing. Thats when I knew I had the race in the bag. So I throttled back a little, tried not to make mistakes, (esp when the rain came down) and started building on a good lead for the run. I prefer winning races on the bike and "jogging" it in on the run. It doesnt happen often, but when it does… it hurts a lot less.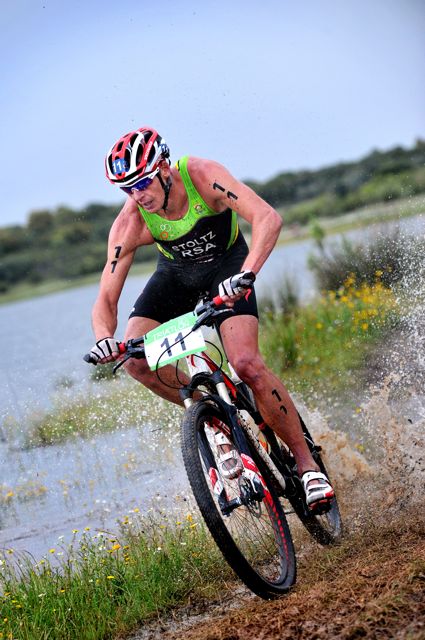 Photos: Triathlon.org Janos Schmidt/ITU
As you can see I went with my trusty Specialized S-works 29er Epic with which I plowed through the grassy, sandy, muddy and rocky lake shore. I went with the fast rolling, short knob Specialized Renegade tires, because there was relatively little cornering, and traction was pretty good everywhere. In practice… Of course on race day the skies opened halfway through the bike and the course became quite slippery in places- resulting in a few giggles.
The Specialized Terra shoes were great in the water crossings- the 1st few pedal strokes after a dunking there would be little fountains of water squishing out, but I knew they'd drain better, and be lighter when wet than any other shoe out there. We have worked on these Caveman custom off road specific tri shoe for a few years now, and by August they'd be available at the Specialized dealer near you!
Sometimes there was a wet line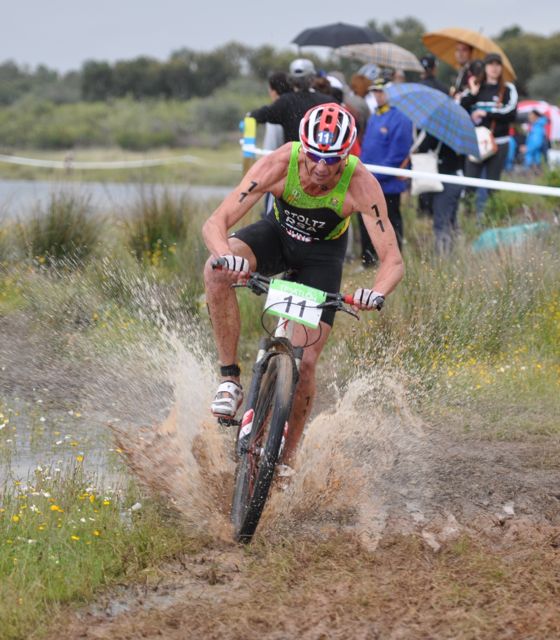 Photo: JACVAN
And sometimes there was a muddy line. Couldnt figure out which is the fastest.
Photo: JACVAN
But I did know the fastest line through the rocks. Straight!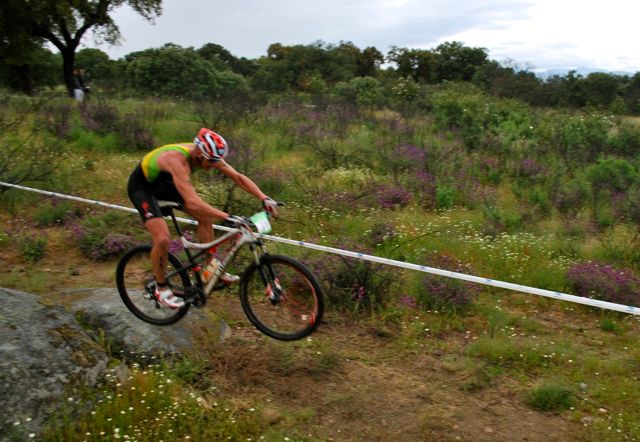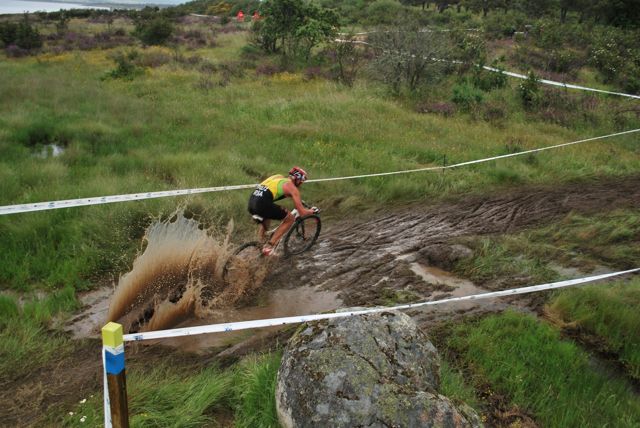 The crowds were great. The bike course had 4 laps of 5k and he run 2 laps of 3k so the age groupers and spectators could really get into it. Even when the rain came down.
I had a 2min 30 lead on Seth and 3min on Olivier coming off the bike, which I thought was comfortable enough, but I thought I'd make sure, and since my running form came around nicely, I nailed a good 1st lap and gave away only 20″or so.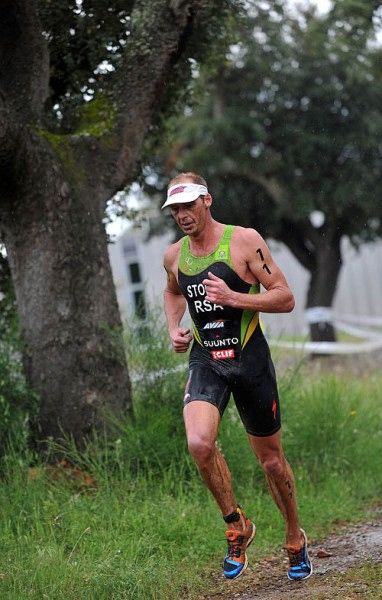 Photo: Triathlon.org Janos Schmidt/ITU
Come on Seth, 2nd is not that bad! Seth Wealing (2nd), Caveman, my Sydney Olympics buddy Olivier Marceau 3rd.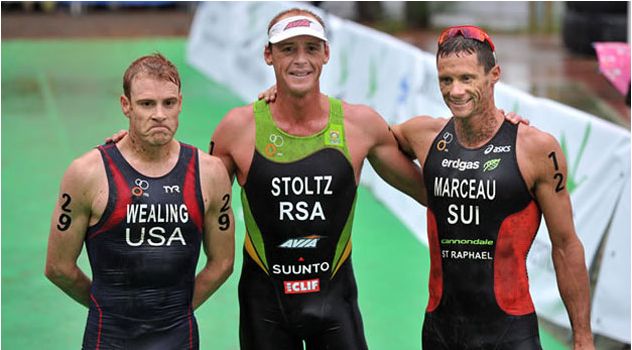 Photo: Triathlon.org Janos Schmidt/ITU
Felt a little weird but warming to represent South Africa after all these years* of racing for my sponsors and myself only. *My last SA representation was at the Athens Olympics
Results from ITU website

Behind every fast/strong man there is an even faster/stronger woman! This is one of my favourite sporting memories and I'm so happy to have been able to share it with Liezel. The volunteers behind us were doing the "whooooooo la la" thing. Before I got whisked off to Doping Control. How romantic…
The South African team! A great bunch indeed. Boerewors bly koning!
Spain was really great. Particularly the region of Extremadura where the race was held. Quiet, beautiful country side, and old, crowded cities where seemingly each town is part of an old fort or castle. Strangely I have never been to Spain, but my French and limited Mexican Spanish from the USA allowed a fair amount of communication, but we did have a few very interresting food experiences…
Liezel and I were in Castell y Leon the same time as the Soccer World Cup trophy and Alberto Contador. Didnt touch the beef here either.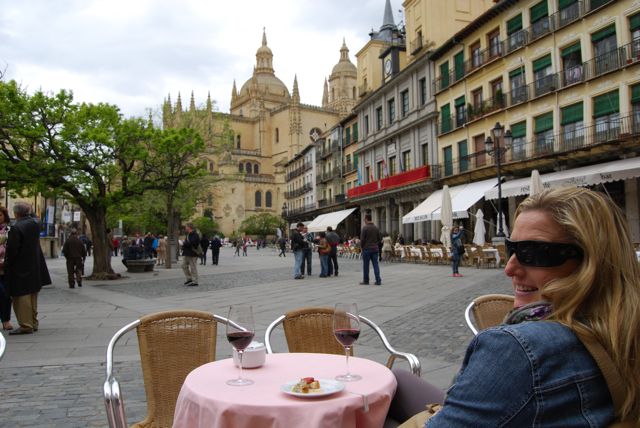 Home made hotel room tapas with real Roquefort and amazingly cheap anchovies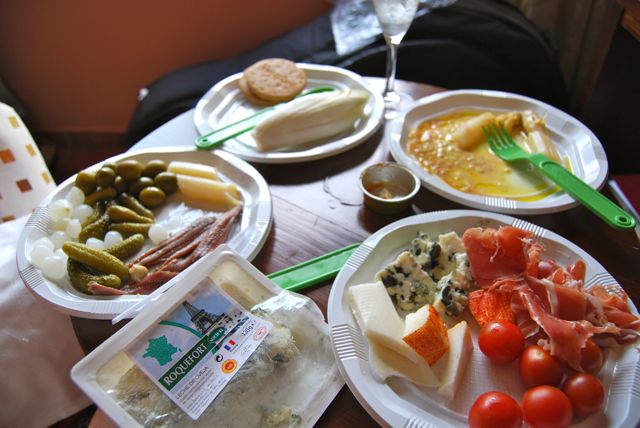 No Spanish meal is complete without wine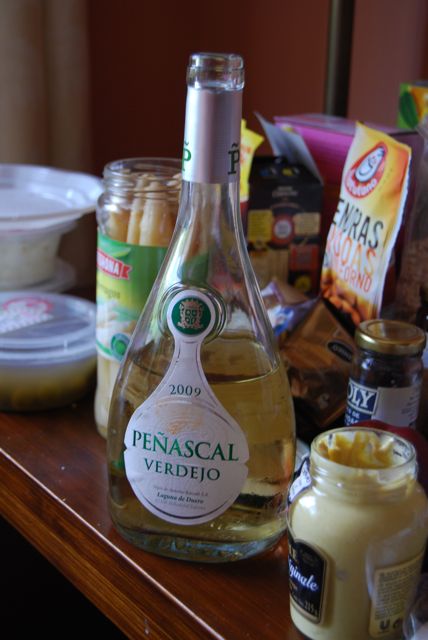 Still cant get over the Extremadura country side.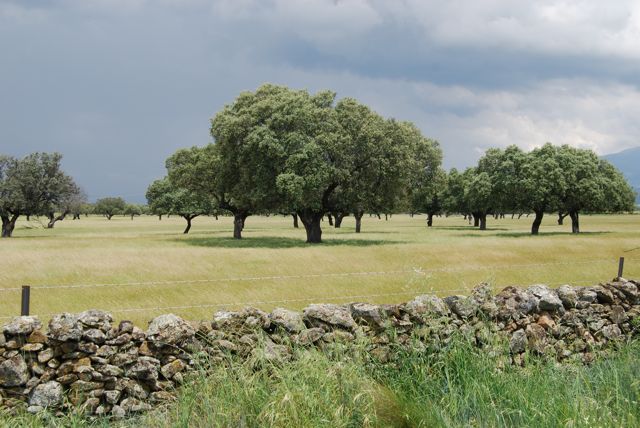 Hotel bike wash. Just like I did back in our apartment in France back in 1992. Hey Kevin? "Hey! Ek moet my gat daar was!"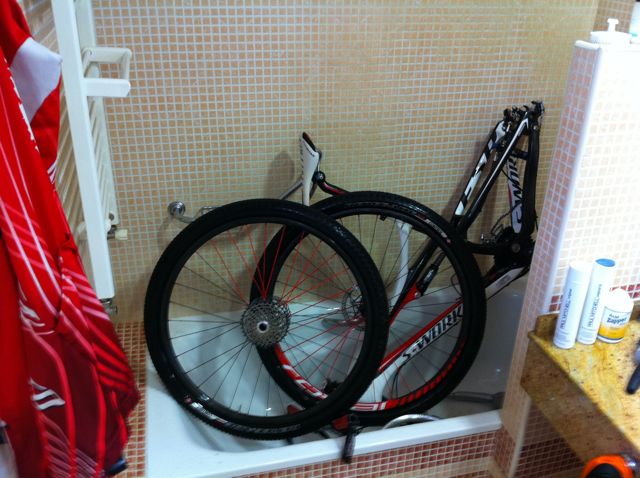 Found the perfect use for that foot wash thing in the bathroom… (I've been tempted to google "bidet" to see what that thing really is meant to do)