Category: Bicycle
A clever story about a flat tire, Caveman teeth and ingenuity.
Created on 17 August 2010
0 Comments
I never tire of this episode from XTERRA Richmond Virginia 2009. "Tire" pun intended…
Dan Hugo and I  pre rode the XTERRA Richmond course shortly after our arrival from XTERRA Northwest Cup in Coeur D'Alene, where I had a 4 inch nail puncture my tubeless tire in 2 places. See previous blog.
My replacement tire was in the mail, so I rode the tire with the 2 nail holes, and just put in a tube. Of course it flatted. I changed the tube. It deflated faster than I could pump. Before putting our last tube in I carefully inspected for sharp objects.
It also deflated faster than what I could pump.
We still had a lot of riding to do and I wasnt going to call it quits.
I was going to make that tire tubeless again- no matter what!
First I used a bottle cap to scoop the sealant from the healthy front tire and put it in the rear. With the 2 huge holes.
Hoping the front tire seals up, (since I took out almost all the sealant) I poured energy drink in the tire…
Summer time is soul riding time
Created on 06 July 2010
0 Comments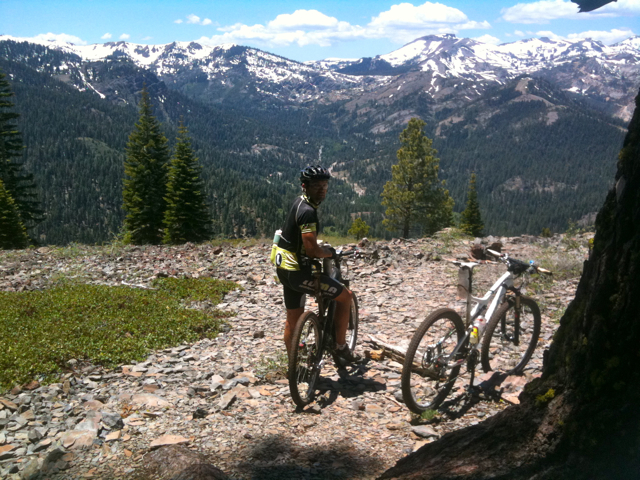 3hrs of rocky single track with Conor- Squaw Valley below.
Training is not all "tearing it up" and "no pleasure." On the easy days I enjoy fun trails & scenic views with  good friend or 2.
Created on 11 June 2010
1 Comment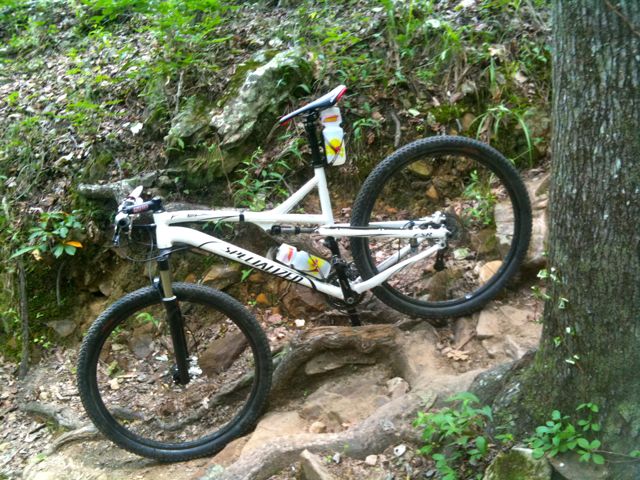 Yup, I brought the big dog. This is the perfect 29er course- fast, rocky, rooty and technical.
For more on 29ers, visit my my 29er page on Facebook
-Command Post telescopic seat post. (notice dropped seat height for the technical terrain) I wrote about the Command Post exhaustively on this previous post
-Specialized Fast Trak LK S Works 2.00 tires.  24psi front and 29 psi rear. This course has a super rocky high speed section with some water bar jumps, so I run more psi than I normally would.
I'm very tempted to run The Captain 2.00 in the front- it has taller knobs and corners better in the loose (or if it gets wet), but they roll quite a bit slower, (about 30W vs Fast Trak) so I'm going to go with the Fast Trak, use the Command Post and finesse the loose corners.
-Roval carbon wheels- super stiff and light.
-LOOK Quartz Ti pedals
Blood Rock is famous here on the Oak Mountain, Alabama bike course. Thanks to BUMP for building, maintaining and advocating this epic course. On race day, its lined with spectators, who take incriminating pictures of failure and cowardice…
Now THIS is a race report!
Created on 27 February 2010
0 Comments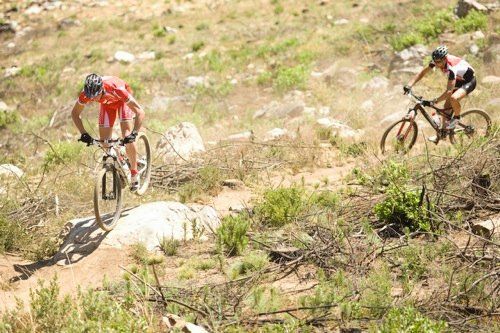 Pic by Gary Perkin
Xterra Grabouw
Kevin Flanagan, 23 Feb 2010
Grabouw, 1.5km swim, 25km mtb, 10km trail run
By Kevin Flanagan
I "raced" the Xterra off road triathlon on the weekend. It's really the grand daddy of off road triathlons in South Africa. It is a series of triathlons held around the country, and it was Cape Town's / Western Cape's turn last weekend.
(Note: you have a big artery running down the inside of your legs, so if you want to cool down quickly, drop ice in your pants… this will help explain the last little bit of the race report)
Keeping the faith – Xterra race report
Don't worry; I'll be that good oke! I'll give you +-300 days of warning before the next Xterra. If you think you are going to pitch up on the day, take on the Xterra, go out there and dazzle someone, please kindly get back in your car and go home. I had been warned, I had seen the weather the report (42 deg C), I had even put in some extra training, but crisis I did not get told I was going to be racing in hell.
For once the passenger won. An air travel story with a happy ending….
Created on 10 December 2009
2 Comments
This story made my day…
I play a bit of guitar myself, (on a $100 cheapy, and "play" used loosely) but being a frequently frustrated traveler with a $8000 Specialized bike in a box, I can really relate to this story: (feel free to substitute "guitar" with "bicycle" in the youtube video)
A musician named Dave Carroll recently had difficulty with United Airlines. United apparently damaged his treasured Taylor guitar ($3500) during a flight. Dave spent over nine months trying to get United to pay for damages caused by baggage handlers to his custom Taylor guitar. During his final exchange with the United Customer Relations Manager, he stated that he was left with no choice other than to create a music video for You Tube, exposing their lack of  cooperation. The manager responded, "Good luck with that one, pal."
He posted the following retaliatory video on You Tube. The video has since received over 6.5 million hits. United Airlines contacted Carroll and attempted settlement in exchange for pulling the video.  Naturally, his response was, "Good luck with that one, pal."
Taylor Guitars sent Carroll two new custom guitars in appreciation for product recognition resulting from the video that has led to a sharp increase in orders.