Created on 11 June 2010
Last Updated on 11 June 2010
1 Comment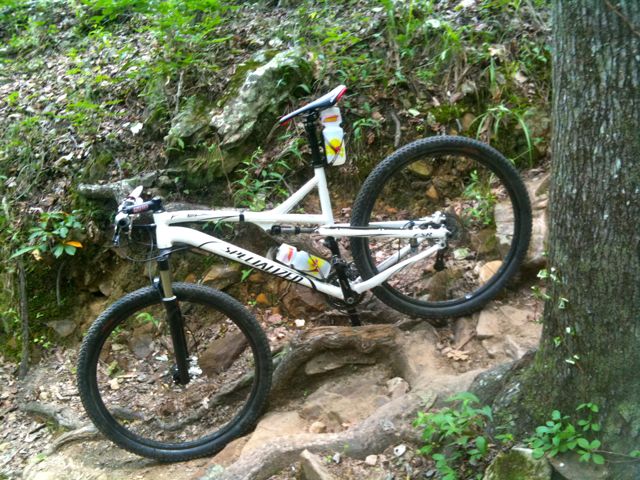 Yup, I brought the big dog. This is the perfect 29er course- fast, rocky, rooty and technical.
For more on 29ers, visit my my 29er page on Facebook
-Command Post telescopic seat post. (notice dropped seat height for the technical terrain) I wrote about the Command Post exhaustively on this previous post
-Specialized Fast Trak LK S Works 2.00 tires.  24psi front and 29 psi rear. This course has a super rocky high speed section with some water bar jumps, so I run more psi than I normally would.
I'm very tempted to run The Captain 2.00 in the front- it has taller knobs and corners better in the loose (or if it gets wet), but they roll quite a bit slower, (about 30W vs Fast Trak) so I'm going to go with the Fast Trak, use the Command Post and finesse the loose corners.
-Roval carbon wheels- super stiff and light.
-LOOK Quartz Ti pedals
Blood Rock is famous here on the Oak Mountain, Alabama bike course. Thanks to BUMP for building, maintaining and advocating this epic course. On race day, its lined with spectators, who take incriminating pictures of failure and cowardice…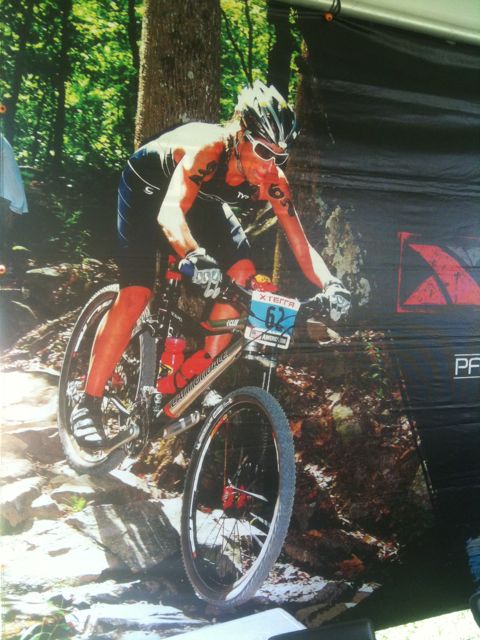 A huge poster of Jamie Whitmore nailing Blood Rock. We miss you Jamie…
Lots of log piles. Need to be on top of your bunny hopping to clear these at speed. Otherwise, brake early and just roll over them.
After running the last 3.3km (2mi) of the infamous run course (the hairy part- it took me 18min!)  I was wet as a sponge and thought I would take a refreshing dip in the lake. But alas, the water temp is 84F (29C), and it feels like you can boil an egg in the top 2 inches. This weekend, the heat and humidity will be the fiercest competitor.
Here is a little riding tip for the weekend. If you're an XTERRA male pro, dont waste your time here, its not important.
Cornering:
Like XTERRA Waco, this course has hundreds of turns. With the BUMP and Grind MTB race here last week, the trails are quite ridden out, which leaves the corners slippery at best.
If you look at the picture below, you'll notice that the gravel gets ridden out and accumulates in the outside of the turn- where you would normally take the corner.
I would do anything not to touch that gravel with my front wheel. In fact, I wouldnt even touch it with Nico LeBrun's front wheel!
The inside line seems inviting- nice and smooth, but you would have to slow down quite a bit to get around the corner, and there is a tree on the inside- which limits leaning. When I ribbed Greg Minnaar for a cornering tip, (I rode Sani2C with him in 07 and could not believe his cornering ability) he said: "Its all about the exit speed"
The 5 green leaves indicate the line I would take at speed. Great traction, a nice, banked surface and you get to stay off the brakes and rail the outside of the corner- where the old, wise men go… (the young ones dive for the inside)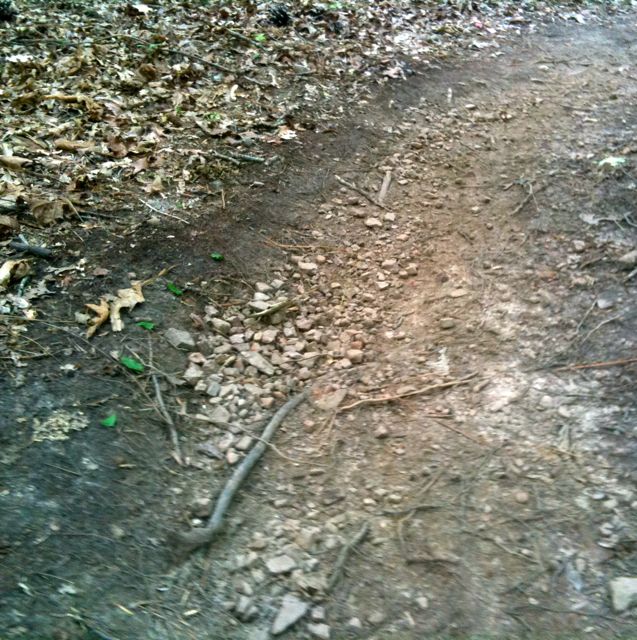 Speaking of old, wise men, here is my home stay Casey and Andrea Fannin and their new kitten. Casey is many time XTERRA age group World Champion and Iron Man. (Not sure if racing 14 IMs disqualifies you as a wise man?)