Endurance Sports Awards 2008
Created on 04 February 2008
Last Updated on 04 February 2008
0 Comments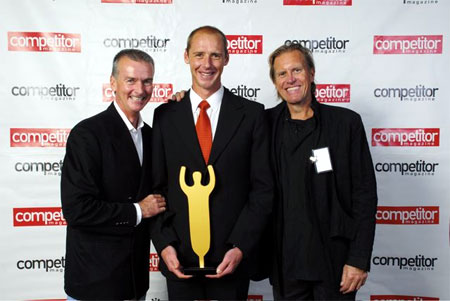 Tom Keily (XTERRA CEO), myself, Scott Tinley (Tri Legend and one of my childhood heros). Photo by Rich Cruse
I honoured to receive this special award here in San Diego. The 40hr flight was fully worth it. The Competitor Awards are amazing, and the other award winners were truly inspiring. Saul Raisin, Scott Rigsby, Ryan Hall, Chris McCormack, Heather Fuhr – some amazing stories: EnduranceSportsAwards.com.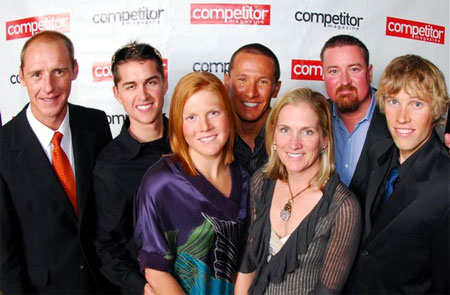 Me, Saul Raisin, Sam McGlone, Chris McCormack, Heather Fuhr, Scott Rigsby and Ryan Hall. Photo by Rich Cruse
I hardly ever wear a suit, and definitely don't have one with me on the farm, so I wore the only suit on the valley: My dads wedding suit. From 1966. Even the shoes are original. We are same size.
The tie I borrowed from a friend in San Diego.
I'm staying 3 weeks in the US. I did a talk hosted with Bob Babbit at B&L bike shop, I met with exciting new sponsors (Avia and Acid Zapper) and will be doing a photo shoot for Specialized with our 4 other World Champions: Paolo Bettini (Road), Chris McCormack (Ironman), Christoph Sauser (Mountain bike marathon) and Rebecca Rusch (24hr Mountain bike). Then Amber and I will follow the prologue and 1st stage of the Tour of California from a team car.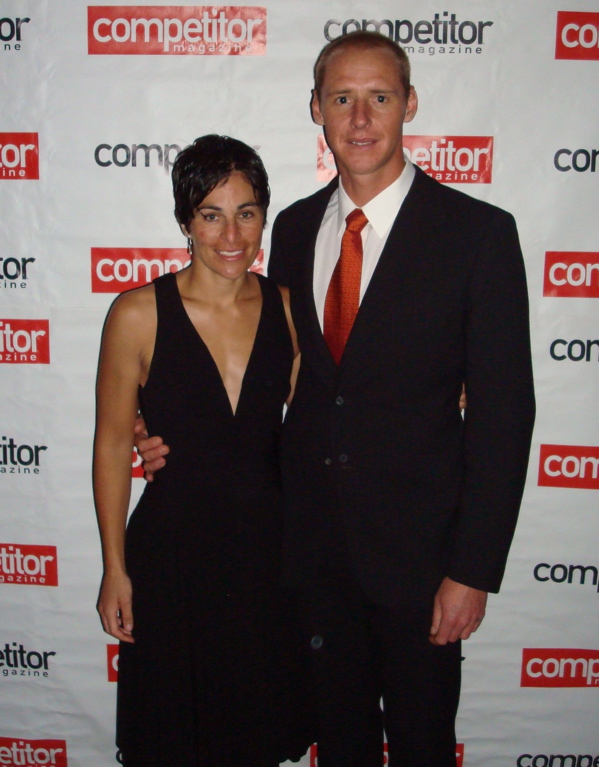 Amber in a little black number. And me in my dads wedding suit…
Exciting times. Stay tuned. EnduranceSportsAwards.com.