Specialized tire testing video on i-am-specialized
Created on 05 April 2009
Last Updated on 05 April 2009
0 Comments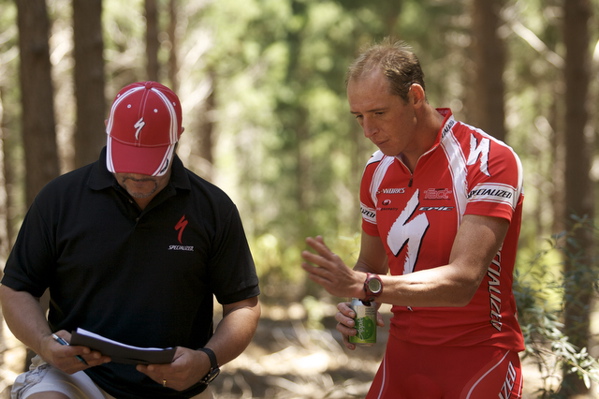 Specialized tire specialist Frank Stacey and I talking tires at the Stellenbosch testing in January 09.
Photo by Gary Perkin.
I have been incredibly busy since my arrival in the US 2 weeks ago. Moved to Reno NV from Bend OR, did 3 days' tire testing with Specialized and I bought a car. (yes, the legendary Red Rocket fizzled and died, now I have a 95 Toyota Previa- I like last centuries' cars)
Of course there is training too.
And the 112 unread emails! As I plowed through most of them this morning I bumped into this great video for our Specialized Tire testing camp in Stellenbosch, South Africa earlier this ye
ar. Its a great piece: It features Christoph Sauser, Burry Stander, Lene Byberg and myself as riders, and Frank Stacey, Benno Willeit and Dylan van der Merwe as tech crew. Enjoy!
Tire testing Stellenbosch video on i-am-specialized.com
While you are out there, browse the new i-am-specialized site. It has all the news on Specialized riders and happenings in the racing scene.