Posts Tagged 'bradley weiss'
Caveman wins 50th XTERRA title
Created on 29 January 2013
14 Comments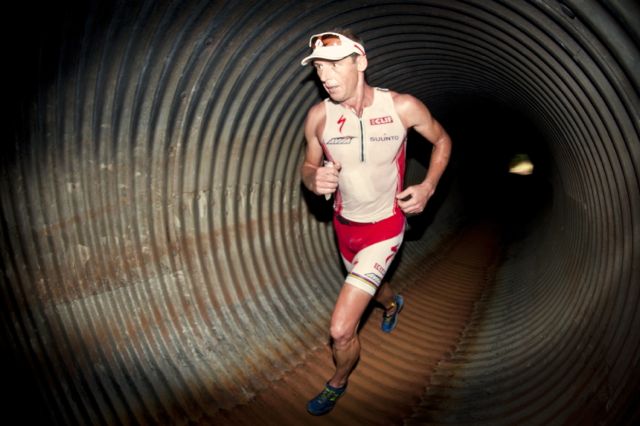 Photo Credit ~ Cherie Vale / Newsport Media
50th XTERRA win since my 1st XTERRA in 2001. By 6 minutes at that.  50 wins seems big, but yet is a small part in my career as a triathlete. I wish I had kept count of the wins. Since that first one as a 14 year old in 1988 at Ironkids in Pretoria. All those triathlons and duathlons my parents drove me to in my dads new Toyota Cressida. All those triathlons in France from 1992-1999. Some years up to 36 races a season. All those SA Champs and African Champs and Energade Series wins inbetween. All those years on the ITU circuit, racing to 2 Olympic Games. (Not too many wins those years) All those years racing non drafting short course in the USA.
How many wins would there be? 100? 200? How many races? I only started blogging (keeping track) in 2002. The days before were before internet, even cell phones. But I do have many many boxes of medals, old race numbers and newspaper clippings (thanks to my Ouma) to go through with the grandkids one day…
Winning at home is always fun, so it was great to reach the 50th XTERRA win in South Africa, where it all started.
The lead up- 10 days out:

The 10 days "toughen up" training camp in the altitude, heat, rocks and thorns in Windhoek (Namibia) came in quite handy at this tough Buffelspoort race. Heat, hills, altitude, rocks, thorns and amazing single track. Repeat.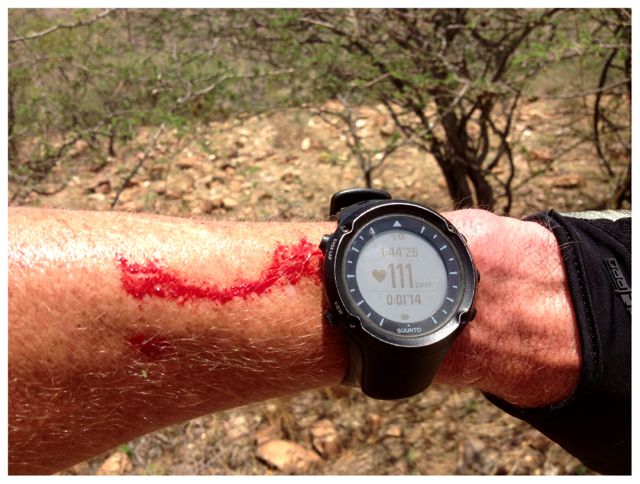 During this training camp, I lost a fair bit of weight. Unfortunately I later realized its because of all the bleeding I did through this hard, thorny country. Qoute of the week was by Willie, (Still the Hope of Namibia): "Here in Nambia, the softest part of our bodies is our teeth…"
Cave couple takes TotalSports Challenge Terra Firma
Created on 24 January 2013
0 Comments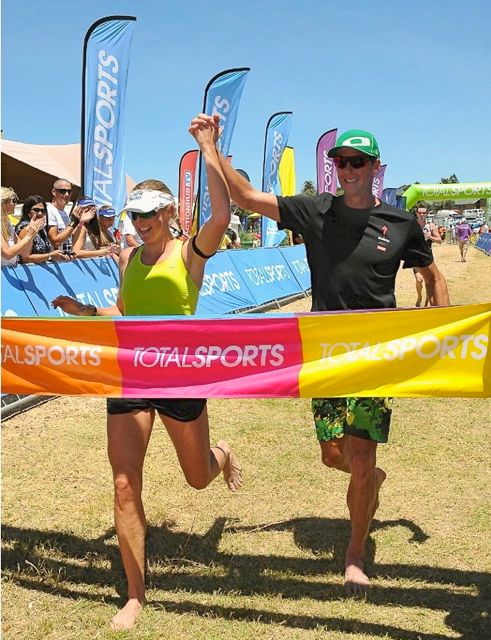 Racing for Burry Stander
TotalSports Challenge Terra Firma: 50km road cycle (Caveman), 14km road run (Princess Hotstuff), 25km MTB (Caveman), 9km beach run (Princess Hotstuff)
My coach Ian Rodger wanted me to ride steady TT pace "so we can look at the watts and see how we measure up with last year (at this race)" I said, actually Liezel and I are doing this race for Burry, and instead of towing everyone from Gordons Bay to Kleinmond, I want to arrive at the hand over alone- like Burry did 3 years ago.  Ian thought about it, and said, "ok, you haven't trained for that kind of riding, but hit them hard on the rolling technical section through Gordons Bay, see who's with you, and then attack them when you're into the wind" He finished off with: "Kick them in the nuts till no one is left standing"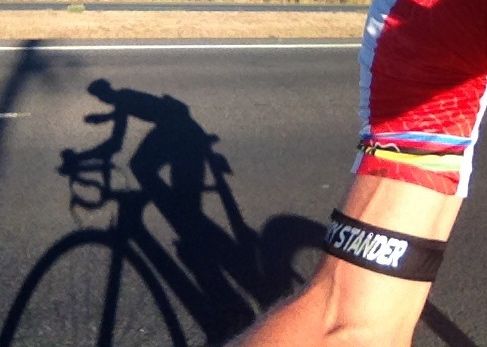 Still raw from Burry's funeral, I rode to Gordons Bay filled with emotion. Angry Battery 9 soundtrack seemingly the only suitable companion.
Althoug it was wind-still in Stellenbosch, it was howling in Gordons Bay, so I went with a training wheel in front. I rode my UCI legal SHIV TT bike,  and warmed like I would for a big TT race, and got to the start simmering and ready to kick crotches. But on the start line the mood was very somber- Songo Fipaza and a number of the Songo kids were at the start line in memory of Burry. Songo made a stirring speech celebrating Burry's extraordinary life before Songo and the kids slowly led us through the neutral zone of Gordons Bay. Obviously I had to go to plan B and attack the guys on the open road to Rooiels- a much harder task.