Caveman wins 50th XTERRA title
Created on 29 January 2013
Last Updated on 29 January 2013
14 Comments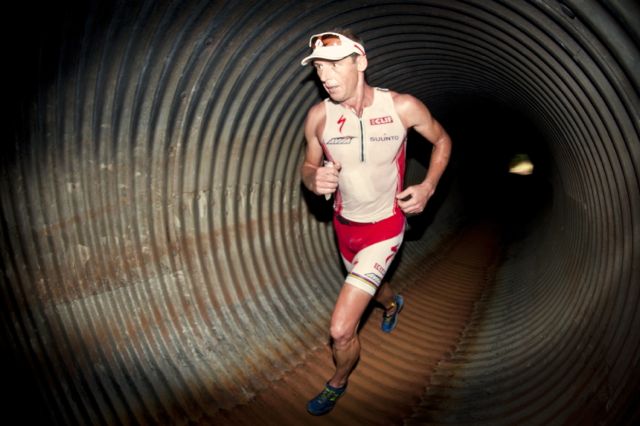 Photo Credit ~ Cherie Vale / Newsport Media
50th XTERRA win since my 1st XTERRA in 2001. By 6 minutes at that.  50 wins seems big, but yet is a small part in my career as a triathlete. I wish I had kept count of the wins. Since that first one as a 14 year old in 1988 at Ironkids in Pretoria. All those triathlons and duathlons my parents drove me to in my dads new Toyota Cressida. All those triathlons in France from 1992-1999. Some years up to 36 races a season. All those SA Champs and African Champs and Energade Series wins inbetween. All those years on the ITU circuit, racing to 2 Olympic Games. (Not too many wins those years) All those years racing non drafting short course in the USA.
How many wins would there be? 100? 200? How many races? I only started blogging (keeping track) in 2002. The days before were before internet, even cell phones. But I do have many many boxes of medals, old race numbers and newspaper clippings (thanks to my Ouma) to go through with the grandkids one day…
Winning at home is always fun, so it was great to reach the 50th XTERRA win in South Africa, where it all started.
The lead up- 10 days out:

The 10 days "toughen up" training camp in the altitude, heat, rocks and thorns in Windhoek (Namibia) came in quite handy at this tough Buffelspoort race. Heat, hills, altitude, rocks, thorns and amazing single track. Repeat.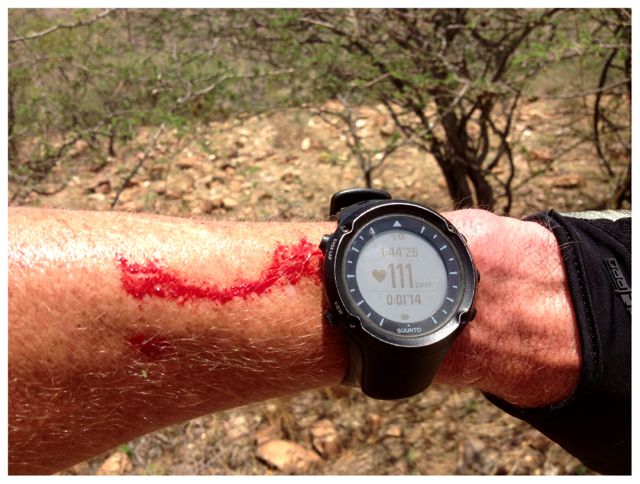 During this training camp, I lost a fair bit of weight. Unfortunately I later realized its because of all the bleeding I did through this hard, thorny country. Qoute of the week was by Willie, (Still the Hope of Namibia): "Here in Nambia, the softest part of our bodies is our teeth…"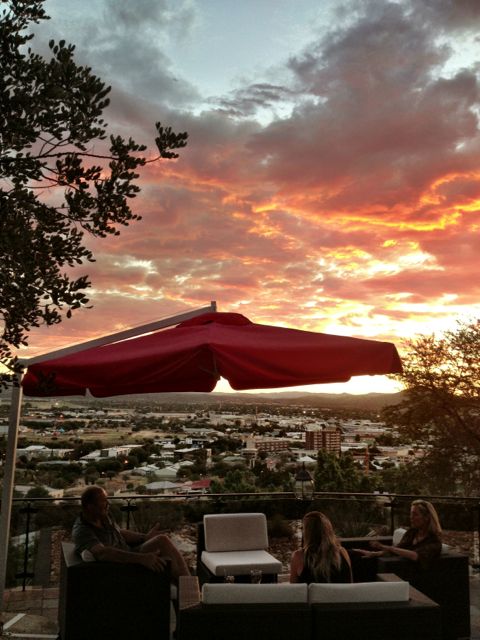 We also enjoyed the company of amazing friends- some old and some new. Harsh country, warm people – sunset and German beer over Windhoek…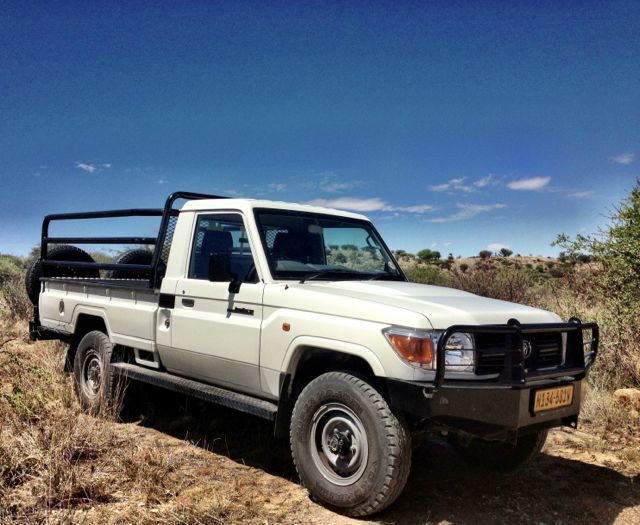 When in Nam, roll like the Namibians: Thanks to Patrick de Goede and Frank Bombosch from Specialized dealer Cycletec Windhoek for the wheels loan. Check out their website for amazing cycle tours through the best parts of Namibia- where lion and elephants roam wild. Where stars are brighter than imaginable. A trip on our bucket list for sure…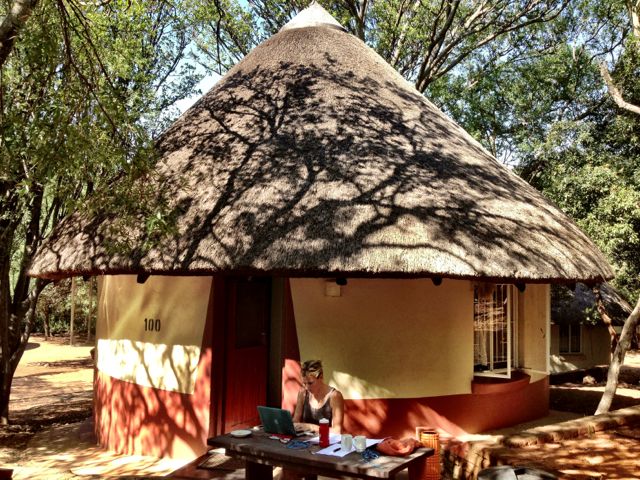 We flew to Johannesburg, drove to Buffelspoort and stayed in a ATKV rondawel, – Namibian neighbours David and Genevieve Weber. Its the middle of contract season and Liezel used the taper time to work up a storm.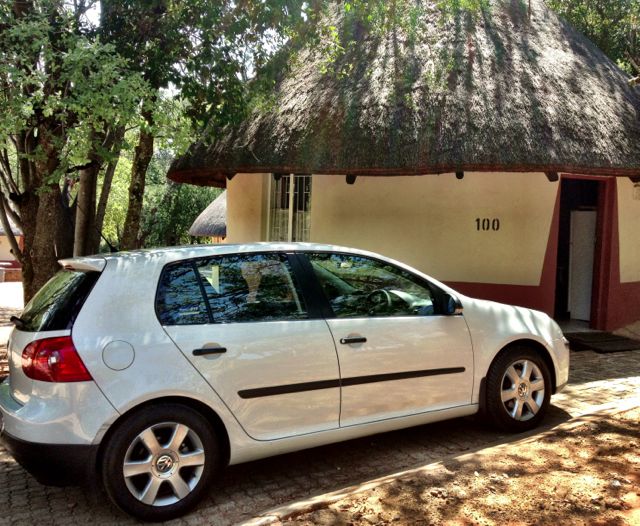 When in Joburg, roll like the Joburgers! Thanks to Bronwyn Blunden for the wheels loan. As you can see, we're blessed with amazing friends from around the globe.
Now to the racing:
This race was also a qualification for the SA team to travel to ITU Cross Tri World Champs in Den Haag, Holland later this year. ITU Worlds will take place on the beach and around the dunes of Kjikduin- probably the flattest place on earth. I found it quite ironic that our SA team would be selected on a run course with 450m vertical gain over 12km. But I figured this is a hard man's sport, may the hardest man win.
The past few months I have been training for the Abu Dhabi Triathlon- a wild race with 3km swim, 200km road TT and 20km road run. Completely outside my comfort zone, (and what I'm known for) but I liked the challenge and my coach Ian Rodger said its doable.- Racing Adu Dhabi and XTERRA at a high level. He figured the many hours of training will supplement my XTERRA racing nicely.
We decided that in order to have a shot at Abu Dhabi:
– I need to swim longer and harder. No more 7-8km per week splashes
– I need to spend many many hours on the TT bike at 300W. (My XTERRA race pace is 400something)
– I need to be able to run a solid 20km after riding 4hr30 in the desert. Fortunately, after 3 years of not being able to run much, "much" meaning 10-20km/week, I'm happy to report: "I can train running again!" What a wonderful feeling. I really missed it. The runners' high you don't find anywhere else, the deep fatigue you can manifest in your legs in a relatively short outing, the feeling of getting better every day…
I'm also learning about race nutrition. Like counting calories. For the first time. Ever. At XTERRA I know I'm fine if I slam 5 Clif Shots and drink about 1L of water somewhere between the start and finish. Now I count one gram of carbohydrate for each minute spent at 300-340W. Sounds easy, but it gets tricky when you start slamming Cokes or other "fun food" along the way.
Coming into the season opening XTERRA (always telling how the year will progress) we were a little worried about my top end speed, as I only had 1 quality session (i.e. shorter reps at 420+) and one fun race. (TotalSports Challenge blog above) And no real swim or run reference points.
XTERRA in South Africa has grown from strength to strength. Roughly doubling in competitors every year. XTERRA Buffelspoort had 2500 participants over the weekend. 600 in the full distance. With Xterra featuring extensively on TV and the advent of social media, the sport has grown and sprouted quite a field of budding pros. Looking at TSC 2 weeks ago, we saw Stuart Marais, Dan Hugo, Bradley Weiss and Theo Blignaut racing heatedly at a high level. Exciting stuff.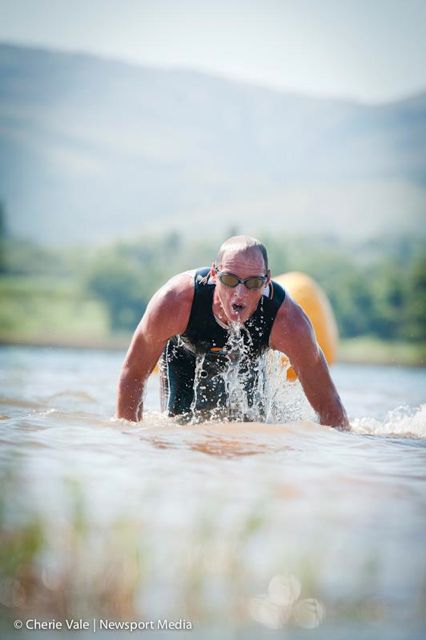 The water was nice and warm, so we went no wetsuits- which blew the field wide open.  I was 2nd out the water-20″ behind Dan, but Bradley (1.30) and Stuart (3.00) lost chunks of time. Unfortunately Theo Blignaut- ace swimmer and ITU kid crossing over to XTERRA, also training with Ian Rodger now- came down with flu the day before, so we were spared the swimming lesson.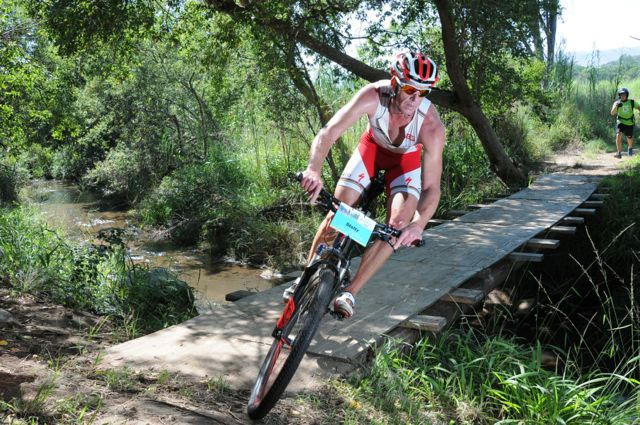 The 29km bike course was a bit of a cake walk- hardly anything technical other than a few rough rocky sections. True to tradition though, I did encounter one closed gate on the course (as opposed to last years' 2 closed gates) but this time, like a good farm lad, I closed it behind me. If I have to open and close gates, everyone can. Being the leader is hard enough. I cant tell you how many times I've found marshals and water station volunteers asleep or sitting in the shade, updating their Facebook profile. Not to mention the cobwebs (with cobs still in them) in the spooky forest and bats in the pipleine I had to clear. Also narrowly missed a head-on collision with a car on the bike course, and nightmarish flashes of Burry and Liezel's scream going through my head. None the less, I rode 1hr03 and had a 4,20 lead on 2nd (Dan) and "a lot" on the rest.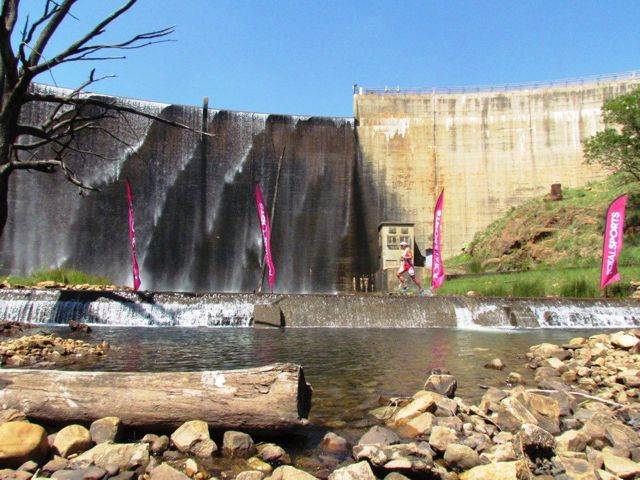 The 12km run started off cute enough- the usual dam crossing and the subsequent thigh buster up the other side, but then it got interesting: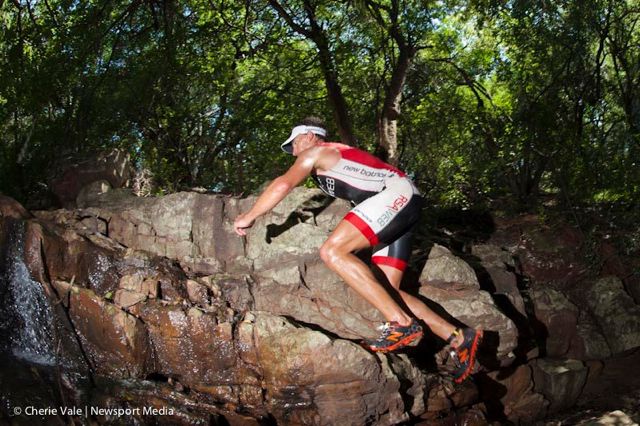 Serious river bed running with a scramble up a small water fall. Demonstrated here by Stuart Marais, The White Kenyan, last week a new father…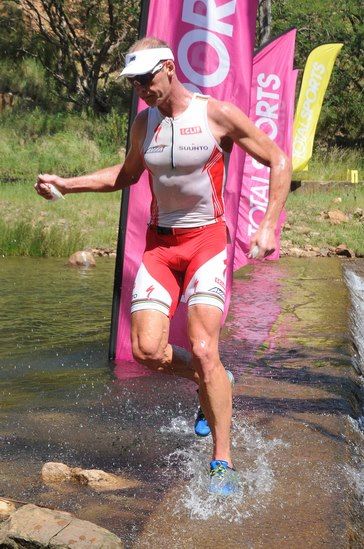 Because Avia (my shoe sponsor) folded like a wet newspaper over Christmas, we've been running around to find a suitable shoe sponsor. In the meantime New Balance South Africa kindly pimped my ride with this cool (and robust) trail shoe: Leadville 1210 with Vibram sole. For a course as hairy as this one, I appreciated the firm mid sole and tacky traction. Offers still welcome.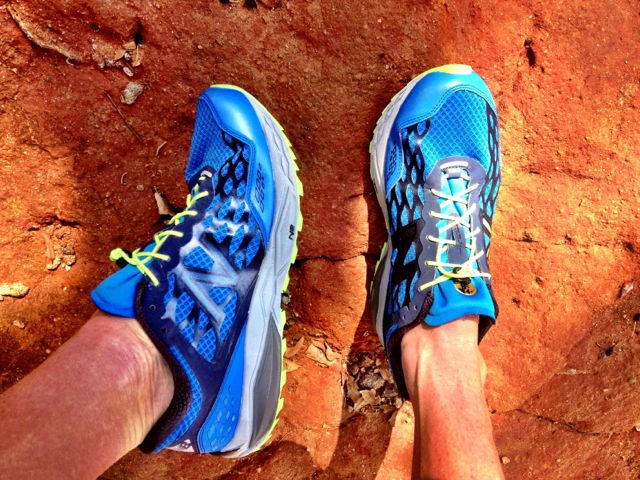 I only rolled my ankle once. That one time I tried to enjoy the view.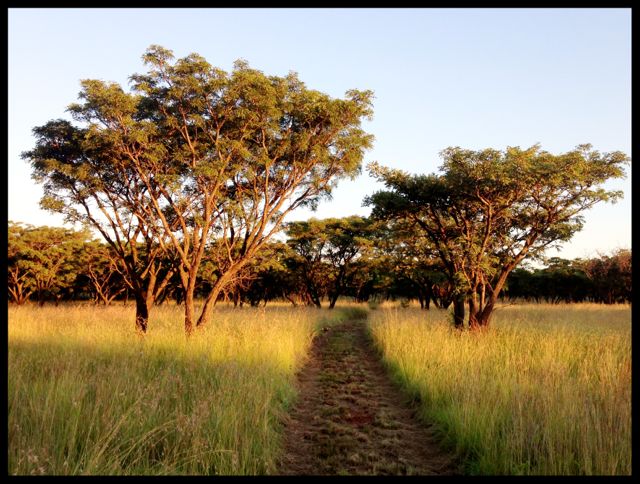 Probably the only part of the run that wasnt either straight up, straight down, or littered with rocks. African Savanna at its best.
Curiously, my run and bike times were almost the same- 56min run and 1.03 bike. Usually its about 2-1.
The run route had a 450m vertical gain, and considering the technical nature and 35deg C temperatures made for slow going. It felt like a death march in slow motion, but I posted the fastest run split by 90″, which I'm very happy with. Especially considering the hilly course, small, fast runners (ie Stuart) and the fact that the biggest (and only) quality set I've run so far was 2km reps at tempo – a tester for Abu Dhabi.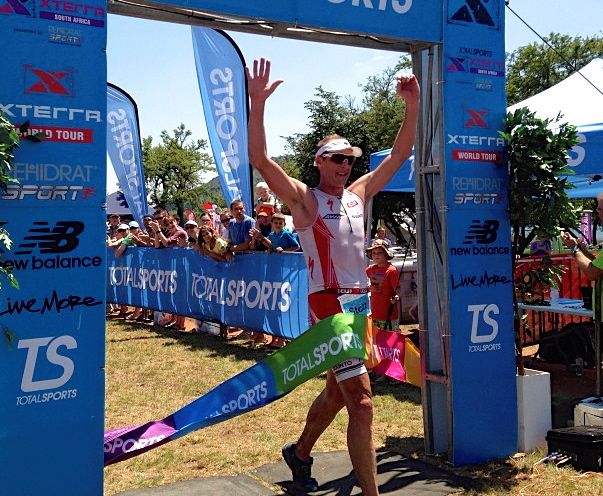 50th XTERRA win. Dan was in second place- 6 minutes back- and Stuart 3rd, 9 minutes down, Nico Sterk in 4th and Brad Weiss had a mechanical.  Photo by my mom, Liesbeth Stoltz.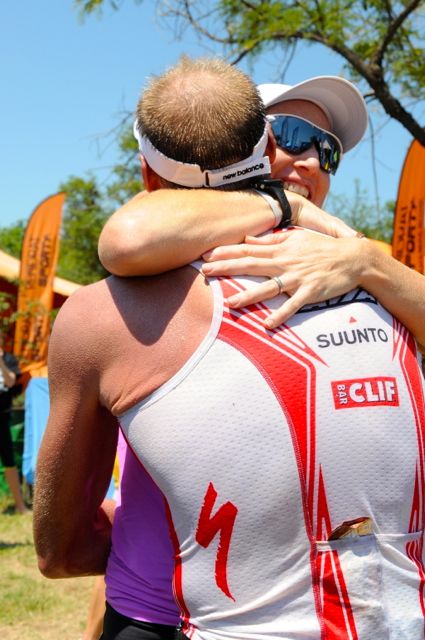 Very happy to celebrate the milestone with Liezel. The wins seem to come faster and furious-er since she's at the races.
Click here for XTERRA Buffelspoort Results 2013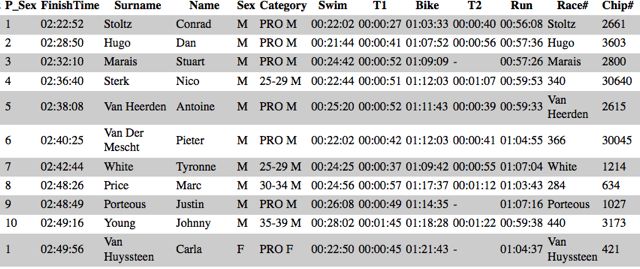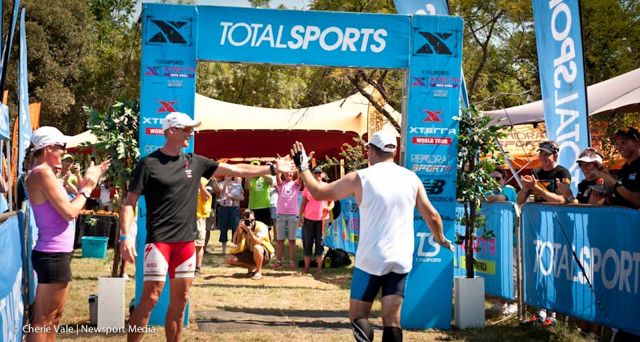 Welcoming home the last competitor. (In about 6hrs!) Afterwards I asked Reno if he walked around the dam in order to clock a 1h33 swim? (7min/100m) All smiles he said, maybe he should do the XTERRA LITE next year…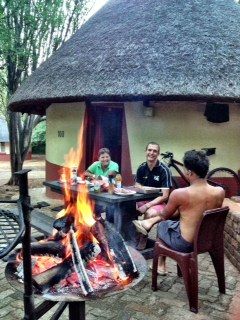 Celebration African style- a braai with friends and family.
When in the Western Cape, we roll in style! Thanks to Kelfords Ford (and Mazda) in Somerset West. Tristan, the owner, is one of South Africa's top amateur IM athletes (and getting faster every day) and has blessed a number of local triathletes with wheels. Dan Hugo & James Cunnama.