Posts Tagged 'xterra buffelspoort'
Caveman ready for XTERRA Buffelspoort, South Africa
Created on 14 January 2015
0 Comments
Gearing up (read "tapering" – once over 40, tapering starts early!) for XTERRA Buffelspoort next weekend.
More info on Stillwatersport XTERRA page.
Here is a cut and paste job from Ride Magazine:
Xterra legend Conrad Stoltz will kick-start the 2015 season in Buffelspoort (North West Province) when he toes the line at the much anticipated Totalsports Xterra Full presented by Rehidrat® Sport on Saturday, 24 January 2015.
Stoltz started his Xterra career in Richmond in 2001 when searching for a way to get motivated after the 2000 Olympics. "I felt burnt out and had a hard time getting motivated for another four year slog to the next Olympic Games," says Stoltz. "My coach at the time said that I could do anything I wanted to get my mojo back. Paging through a USA Triathlete Magazine, I saw a picture of Steve Larsen running his mountain bike through a knee deep stream. This really appealed to my sense of adventure".
"I made a few rookie mistakes at my first event including not knowing the course, borrowing a bike, riding with road pedals and road shoes to mention just a few," continues Stoltz. "For most new triathletes swimming is the biggest hurdle, but once you've learnt to swim it's by far the easiest of the three disciplines. If you're new to swimming, spend the time and money to get private lessons. Swimming fitness is not a big deal. It's all about having a good stroke, being comfortable in open water and being able to swim straight without having to follow a black line on the bottom. The Xterra Buffelspoort mountain bike course is not exceptionally hilly or technical, but you need a decent level of fitness and skill to get through it in good shape. You'll need some reserves for the run. It is a tough run that starts out fun, scenic and technical, trail running at its best. After about 5km, the trail points to the sky and you start climbing. It will probably be hot, you'll definitely be tired and the hill is long, really long. Xterra is not easy, but I recommend it to all athletes because it is fun, it's an adventure and you get to meet really cool people".
Adventure enthusiasts that are not yet ready for the challenge of the Totalsports Xterra Full, can enter the less daunting Totalsports Xterra Lite.
Calling all trail runners: Forming part of the action of South Africa's largest off road triathlon, the Puma Trail Run incorporates the Xterra trail run routes and will take place on Sunday, 25 January 2015.
Event Information
Totalsports Xterra Full
Date Saturday, 24 January 2015
Venue Buffelspoort Dam
Format 1.5km swim, 26.5km mountain bike and 12km trail run
Totalsports Xterra Lite
Date Sunday, 25 January 2015
Venue Buffelspoort Dam
Format 400m swim, 17km mountain bike and 6km trail run
Puma Trail Run
Date Sunday, 25 January 2015
Venue Buffelspoort Dam
Format 6km and 12km
–

Caveman wins 50th XTERRA title
Created on 29 January 2013
14 Comments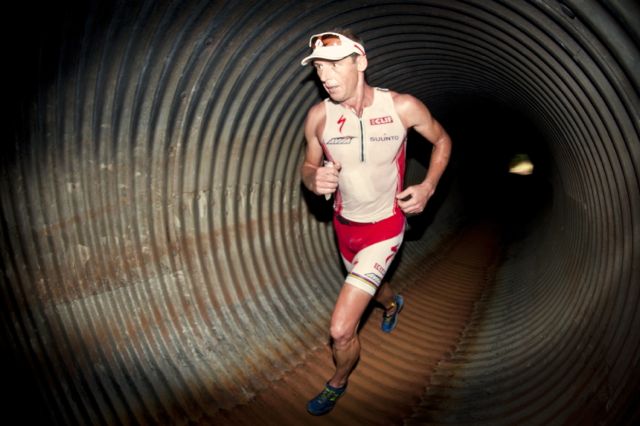 Photo Credit ~ Cherie Vale / Newsport Media
50th XTERRA win since my 1st XTERRA in 2001. By 6 minutes at that.  50 wins seems big, but yet is a small part in my career as a triathlete. I wish I had kept count of the wins. Since that first one as a 14 year old in 1988 at Ironkids in Pretoria. All those triathlons and duathlons my parents drove me to in my dads new Toyota Cressida. All those triathlons in France from 1992-1999. Some years up to 36 races a season. All those SA Champs and African Champs and Energade Series wins inbetween. All those years on the ITU circuit, racing to 2 Olympic Games. (Not too many wins those years) All those years racing non drafting short course in the USA.
How many wins would there be? 100? 200? How many races? I only started blogging (keeping track) in 2002. The days before were before internet, even cell phones. But I do have many many boxes of medals, old race numbers and newspaper clippings (thanks to my Ouma) to go through with the grandkids one day…
Winning at home is always fun, so it was great to reach the 50th XTERRA win in South Africa, where it all started.
The lead up- 10 days out:

The 10 days "toughen up" training camp in the altitude, heat, rocks and thorns in Windhoek (Namibia) came in quite handy at this tough Buffelspoort race. Heat, hills, altitude, rocks, thorns and amazing single track. Repeat.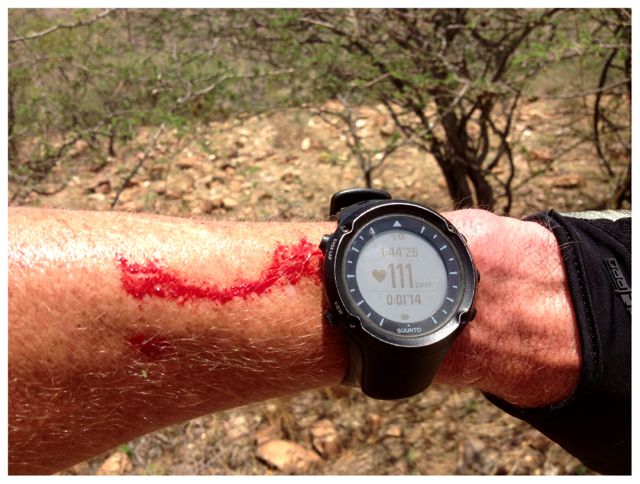 During this training camp, I lost a fair bit of weight. Unfortunately I later realized its because of all the bleeding I did through this hard, thorny country. Qoute of the week was by Willie, (Still the Hope of Namibia): "Here in Nambia, the softest part of our bodies is our teeth…"
Caveman wins XTERRA South African season opener at Buffelspoort
Created on 30 January 2012
0 Comments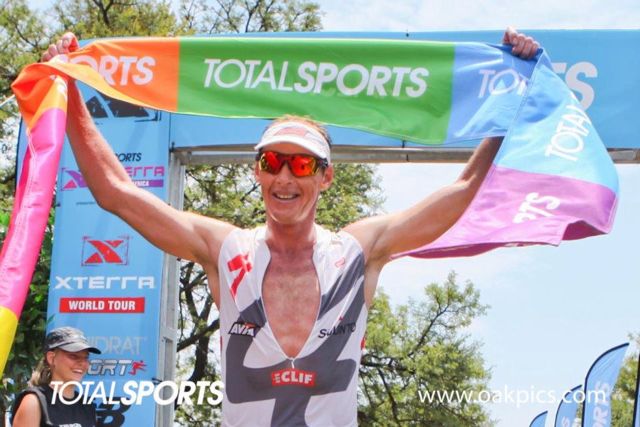 Caveman wins XTERRA Buffelspoort 2012 despite a broken zipper.
Stoked to kick the season off with a win. The Festive Season on the farm is over, so is the twice weekly splash in the dam, but the never ending honeymoon is full steam ahead.
Even though its the start of the season, I'm happy with a solid performance – set up by a reasonable swim. I'm busy fixing my swim stroke (again) and just started real THRICE weekly swim training- tailor made by Mikael Mendonca.
The bike leg was quite eventful early on- about 10 minutes in I was pumping it, and there was no one in the rear view mirror. I then came upon a closed gate as the road forked. The arrow pointed towards the gate, but in my disbelief I went the other way. It was a 6ft game fence with bladed wire rolls on top. How can the route go there?! But I knew it saw the right way, and turned around, opened the gate, just as the 2nd guy and Dan rolled up.  5 Min down the road there was another closed gate- this one had a lock on it. I got off the bike and started to look for a place to throw my bike over. Was still pondering the consequences of climbing a bladed wire fence in white Lycra. (and how 500 other guys in Lycra would fare) I took a last look at the lock- the shackle was not clicked in. A loud "BLIKSEM" helped it open quicker – a minute gone – I hopped on, just in time to have Dan and Theo velcro onto my wheel. Ah, a pretty swim wasted. I had to rebuild a new lead, and got off with a 2 min 30 gap.
XTERRA Buffelspoort, South Africa
Created on 30 January 2011
2 Comments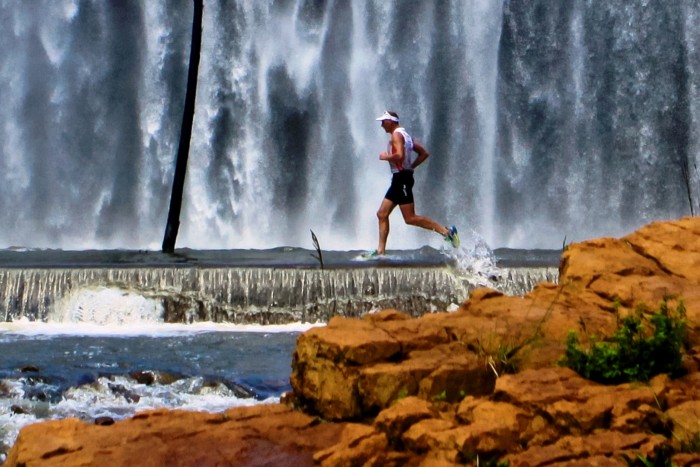 Won the biggest XTERRA ever held. 1300+ participants. The sport is growing like crazy here in Souf Effrica. Race was held at Buffelspoort outside Pretoria, South Africa.
On my way to PE for SA road TT champs on thursday.
More later
C