Posts Tagged 'oakley factory pilots'
Gert Stoltz 1992 World Duathlon Champs
Created on 05 February 2015
1 Comment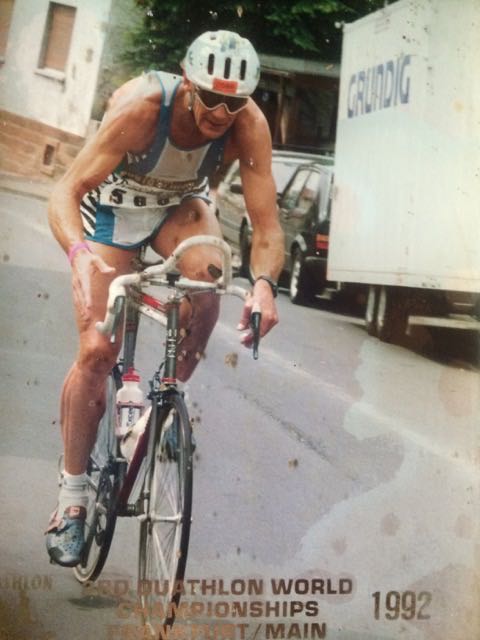 Gert Stoltz, or Tarzan, as my friends called him, at Duathlon Worlds 1992.
Gear: Oakley Factory Pilot glasses/goggles. Oakley's first shades. They were a bit "old fashioned" by 1992, but probably the most prized Oakley item one could own today.  Size 61 Zini bike bought from Bruce Reyneke Cycles with Reynolds 501 steel tubing, Shimano 105 group set with down tube shifters and Biopace non round chainrings. Patrick shoes, (the cheapest) LOOK clipless pedals (a novelty) and a frame pump which today is the size of a rocket ship.
Since I can remember, my dad and I did sport together. When I was a toddler, "Rofstoei!"  (wrestling) was my favourite, in part because my dad was the strongest in the whole wide world (thats a fact)- with only one hand, he could pin me down so tightly I couldnt blink an eye.
Soon I graduated to other sports which we did together – bikes, motorbikes, running, archery, canoeing (paddling) yup and even swimming. He hated swimming, (legs made from steel dont float) but tolerated it in order to compete in Biathlons and Triathlons.
We had many fantastic sporting memories together,