Posts Tagged 'olympics'
Created on 08 December 2009
0 Comments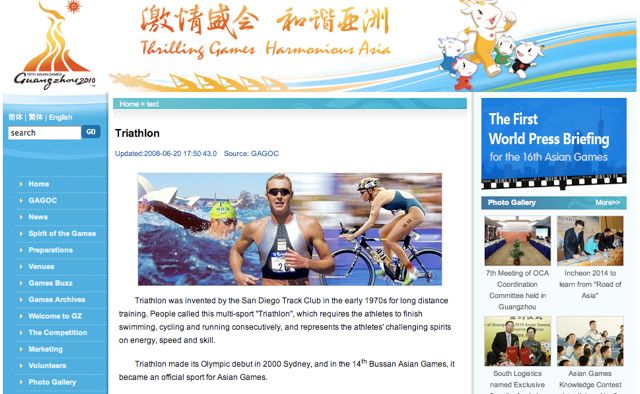 Somehow a picture of me at the 2000 Sydney Olympics made onto the 2010 Asian Games banner. Quite an honour, considering I'm sharing the space with Eneko Llanos (swimming) and Michellie Jones ( cycling)
A lot of people dont know that I raced road tris for 2 decades before I dipped my hairy Cave toes into the murky XTERRA waters. During the early 90s I raced 6 seasons in France and South Africa. Then came the 2000 Olympics in Sydney- triathlons' Olympic debut- where I broke away on the bike with Olivier Marceau and lead for quite a while.
In 2001 I started racing seriously in the USA and did my 1st XTERRA. 2001 was probably my best season on and off road. Here is a bit where I won the 2001 Chicago Mrs Ts Triathlon (ahead of Greg Bennett). Article and pics of Caveman in Speedo here.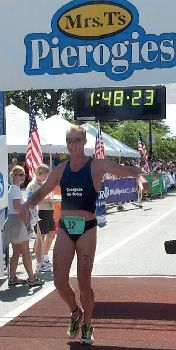 Its interesting looking back to what we used to wear just a short few years ago. That short funny Speedo top in the Sydney photo was the very 1st generation Shark skin which is so controversial now. They fit so tight (and badly) it felt more like a "Sausage skin".
Now with the new FINA rules, maybe we'll make the full circle to speedos and tank tops…
Created on 31 January 2008
1 Comment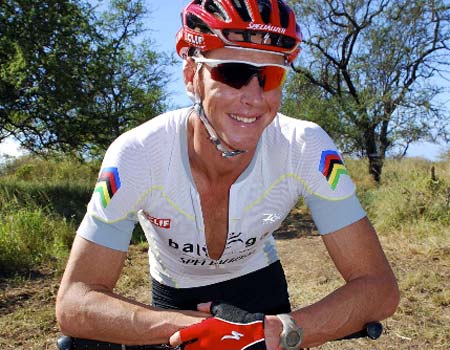 They call me "the Caveman." I am: 6ft 3, weigh 85kg, 33 or 34 (?) years old. Professional triathlete for the past 16 years. I am an African. (Gets me funny looks in America)