Created on 31 January 2008
Last Updated on 31 January 2008
1 Comment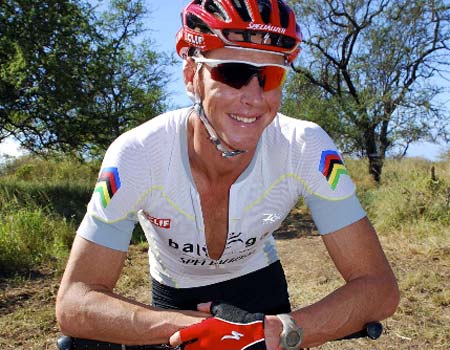 They call me "the Caveman." I am: 6ft 3, weigh 85kg, 33 or 34 (?) years old. Professional triathlete for the past 16 years. I am an African. (Gets me funny looks in America)
I am also: Two time Olympian, three time Xterra World Champion,(off road triathlon) 5 time All Africa Triathlon Champion and 5 time South African Triathlon Champion.
I spend: 6 months in the USA racing, 5 months in Stellenbosch training, 1 month in Mpumalanga farming with my parents. I raced 6 seasons for French clubs Montpellier and Cahors in the mid 90s and this will be my 8th year racing mostly in the US.
I speak: Afrikaans, English, French and a smattering of Sotho, German and American.
Food: I strive to eat 8 potatoes a day. Cream, vegetables for breakfast and lots of red meat is my trademark. Self admitted coffee snob. Think infatuation. The only good experience I had at the Athens Olympics was my encounter and subsequent love affair with the real Greek "Café Fredo". Served in a short glass: two shots sweet espresso, swimming amongst ice cubes, topped with an equal amount real whipped cream, tastefully decorated with a few coffee beans. Refreshing stuff.
I like: Unspoilt nature. Unspoilt people.
I dislike: Being deported.
Great moments: Breaking away on the bike at the Sydney Olympics in front of 300 000 spectators, and running in 2nd place till the last few kms . Also, winning Xterra Worlds by 10 minutes as a rookie.
Worst moment: There has been a good number, but here are a few lowlights: While leading comfortably I suffered 5 punctures at 2003 Xterra Worlds, at 2004 Xterra Worlds I smashed my pedal on a rock, and at 2004 Olympics my seat post broke early in the bike.
Regrets: Not training with a coach earlier. The first 7 years of my pro career I was either overtrained, or injured, or both. A sad waste of talent and time.
Influential people:
-Fresh out of high school, triathlon ace Kevin Richards took me to France for my first taste of international racing, and a rendez vous with the surreal life of an athlete racing his guts out every weekend to pay for food and rent.
-In my late 20s Libby Burrell picked me up as a broken, overtrained athlete, and took me to the Olympic Games and two World titles. On the way there she taught me a life lesson in what it means to listen to your body, and to feel the "feel".
-Benita de Witt's "way" of physio. (Based on applied kinesiology) Apart from crashes and falls, I haven't had any injuries in over 6 years. Soon Yellow Pages shoe inserts and stabilizing "bankie" exercises will be common practice.
-My parents, who brought me up right: The hard working way, the honest way. Thanks for letting me suffer when I needed it most.
I am proud: "Stoltz" is a German name and it means "proud". I am proud to be a South African. I'm am proud to be part of our rapidly changing, highly exciting new country. I am proud to be described as "humble", "nice" and "down to earth". I am proud to have made a decent living from a fringe sport. (Although for many years it was very much hand to mouth!) I am proud of Ryk, Roland, Trevor Manuel, Geniel de Villiers, Hezekiel Sepeng, Elana Meyer, Nelson Mandela, Gary Player, Ernie Els, Charlize Theron, Ester Mahlangu, Greg Minnaar, Hestrie and Jurie, they are such a cute couple, and yes, even the Great Whites in False Bay.
Biggest lesson: I think my biggest lesson is still on its way: Fitting into a "normal" lifestyle. Maybe I'll bunk that one.
Hobbies:
– Property investment and development.
– Black and white photography.
– Ride dirt bikes
– Playing with my website.
– Camping solo on the banks of a mountain stream in Oregon. Or Chile or Zimbabwe. Fly fishing the stream. Running and mountainbiking in the surrounding forest.
When I'm done with pro triathlon I will:
– Feel what it feels like to participate for fun. Multi sport and mountainbike events.
– Develop my properties.
– Kite surf, sail.
– Ride off road motor bikes all over Southern Africa, and feel free to crash as much as I want.