Posts Tagged 'ruben ruzafa'
XTERRA Worlds review 2015
Created on 07 November 2015
4 Comments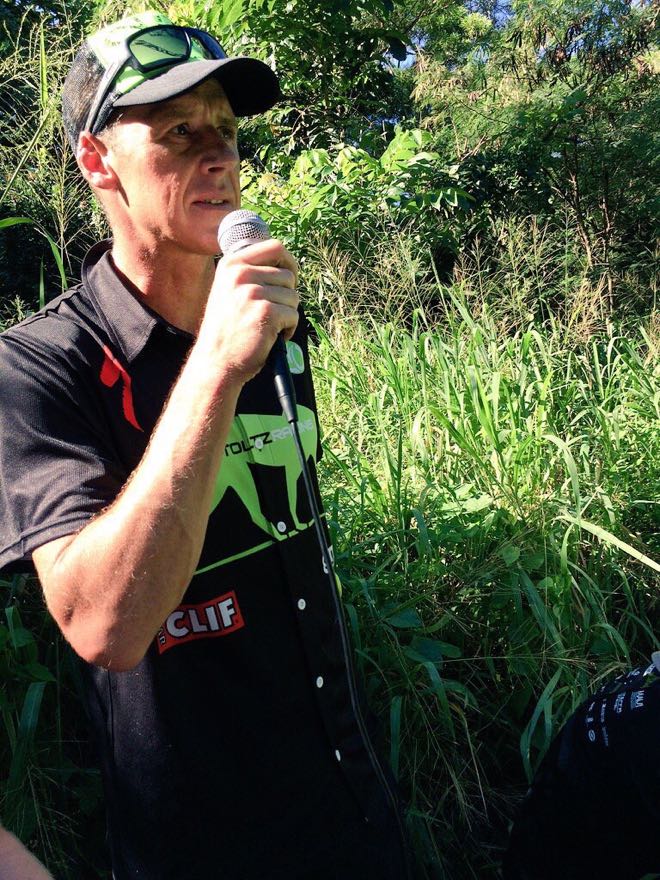 Watching (and commentating for LiveStream) from the sidelines was quite insightful and more fun than I expected.
Here's some thoughts from "Caveman the outsider" – who used to be on the inside:
This race was really loaded and promised to be quite exciting:
Listed in finishing position. First part on each athlete are my thoughts before the race and below the image, the actual race.
Josiah Middaugh USA: Supreme competitor. Scientific & focused prep. Physically gifted. Awesome guy (outside of racing 🙂 and humble with a quirky, fun loving family.
Strengths: Climbing, any kind of running. Halloween costume.
Weakness: Swim, technical riding. (except in Bama when its raining)
Had 15 tries at Maui! Really wants to win.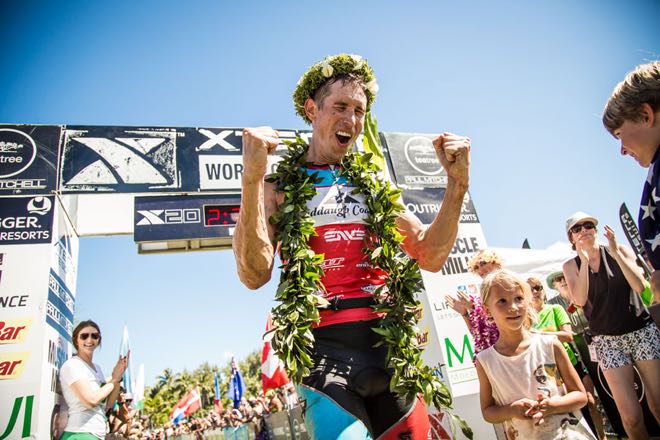 And win he did! An epic and mostly close fought battle with seemingly unbeatable Ruben Ruzafa (15 wins in a row, 4 World titles) and rising star Braden Currie.
Josiah had the swim of his life to get out the water on Rubens feet – usually he is 1min+
Caveman does hatrick at ITU Cross Triathlon World Champs, Den Haag 2013
Created on 14 July 2013
76 Comments
Above foto by Jeroen Tibbe.
My 7th World title. It didnt sink in till the last kilometer. So proud. Happy. More like exstatic. I'm blessed with an amazing career. Wonderfully supportive sponsors. Genes- I'm turning 40 in October and still winning. (thanks Mom and Dad) Rocket scientist coach Ian Rodger. My wife Liezel. So much goes into this job/life/career, its hard to phantom and acknowledge all in a paragraph or even a blog. It really reaches deep.
For example- the guy in the purple shirt with the big smile- his name is Andre de Beer from Pretoria, South Africa. (raced AG earlier in the day) From when I was 14 and onwards, (thats 1988) my dad and I did douzens of triathlons in Verwoerdburg (now Centurion) organized by Andre de Beer. We also raced together back then. (I still remember pacing advice he once gave me.) He is one of the many many people who helped form my career. Seeing his smile and shaking his hand in thanks afterwards is just one of the many things which give me shivers and makes me realize the intricacy of  life, never mind success.
A quick race recap- full blog coming soon:
Thanks to some "specialized" equipment, (pun intended) #aeroiseverything Specialized Evade helmet,  TT bars (on a mountain bike?!) crazy wheel/tire setup, a few clever lines, some skills, some luck and a lot of hard pedaling and serious suffering, I caught the leaders (Ben Allen in pic above) on the 1st lap of 4 and made some good time on almost everyone.
Beach racing is much tougher than I expected. My legs were broken towards the end of the bike, and looking at the bike splits behind me, everyone was broken.
More pix on Beach Challenge.
Barging into the long soft, deep, sandy sections, you need all the speed you can get off the stairs. With 12 psi in the tires, it becomes a circus act. Remember Caveman-ism, "Speed is your friend…"
I did have to keep my eye on 2008 XTERRA World Champ, Ruben Ruzafa, who was 1.15 down going into the 9km sandy slog through the dunes. Also referred to as "the run leg." After one lap (of 3) I only gave up 5 seconds on the lighter Spaniard, and knew I had the race in the bag. The last few km I made sure to enjoy the people and especially the emotions. I thought of Burry Stander (his mom, Mandie sent a special message "remember Burry is there with you" the night before) I thought of my dad who would have LOVED my 7th World title. I thought of my Creator and the way He has blessed my life, and I thought about my wife Liezel who often puts even more into my career than I do…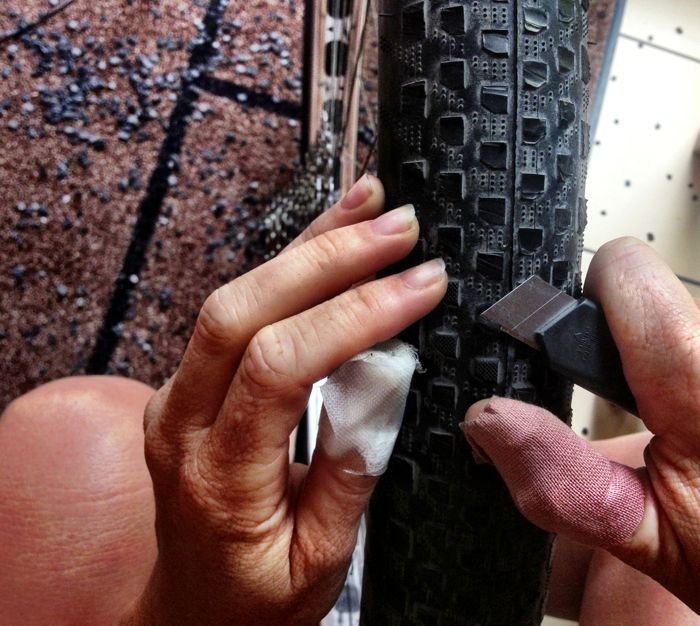 Like this pic above. More about my equipment and "how many knobbies on a 2.3 Specialized Renegade tire?",  tire cutting and strategy in the next blog….
In the meantime, hats off to Ruben, Brice and everyone who did battle on the dunes of Kijkduin, Holland.
Interesting how the podium is a mixing pot of athletes from various disciplines:
From L to R: 2nd- Ruben Ruzafa- long time professional Mountain Bike racer, now 70.3 and off road triathlete. 1st long time Caveman from Duathlon, ITU Olympic dist, Olympic non drafting, off road triathlon and some MTB background. 3rd Brice Daubord– ITU Olympic dist athlete.
| Pos | First Name | Last Name | Country | | Time | Swim | T1 | Bike | T2 | Run |
| --- | --- | --- | --- | --- | --- | --- | --- | --- | --- | --- |
| 1 | Conrad | Stoltz | RSA | | 02:01:38 | 00:10:05 | 00:01:03 | 01:11:08 | 00:00:29 | 00:38:54 |
| 2 | Ruben | Ruzafa | ESP | | 02:01:52 | 00:10:21 | 00:01:07 | 01:11:56 | 00:00:29 | 00:38:02 |
| 3 | Brice | Daubord | FRA | | 02:02:37 | 00:09:48 | 00:00:57 | 01:14:43 | 00:00:25 | 00:36:46 |
| 4 | Kris | Coddens | BEL | | 02:03:04 | 00:11:36 | 00:01:13 | 01:12:32 | 00:00:25 | 00:37:20 |
| 5 | Gonzalo Raul | Tellechea | ARG | | 02:03:15 | 00:10:10 | 00:01:03 | 01:15:20 | 00:00:32 | 00:36:11 |
| 6 | Tomas | Jurkovic | SVK | | 02:03:30 | 00:10:20 | 00:01:10 | 01:13:50 | 00:00:24 | 00:37:48 |
| 7 | Victor Manuel | Del Corral Morales | ESP | | 02:03:53 | 00:10:51 | 00:01:04 | 01:15:06 | 00:00:25 | 00:36:30 |
| 8 | Ben | Allen | AUS | | 02:05:18 | 00:09:22 | 00:00:50 | 01:14:15 | 00:00:31 | 00:40:22 |
| \9 | Paul | Embrechts | BEL | | 02:07:06 | 00:10:44 | 00:01:06 | 01:14:49 | 00:00:31 | 00:39:58 |
| 10 | Diederik | Scheltinga | NED | | 02:07:15 | 00:10:38 | 00:01:03 | 01:14:51 | 00:00:32 | 00:40:13 |
Click here for full results.
I'm writing this from Rome. I'm racing XTERRA Italy this weekend. We traveled somewhat Caveman style last night- Princess Hotstuff caught some winks in Zurich- with the podium flowers refreshing in a ClifBar water bottle on the side.
More adventures (and a proper Cross Tri blog) to come…
When giving everything is not enough
Created on 03 November 2009
4 Comments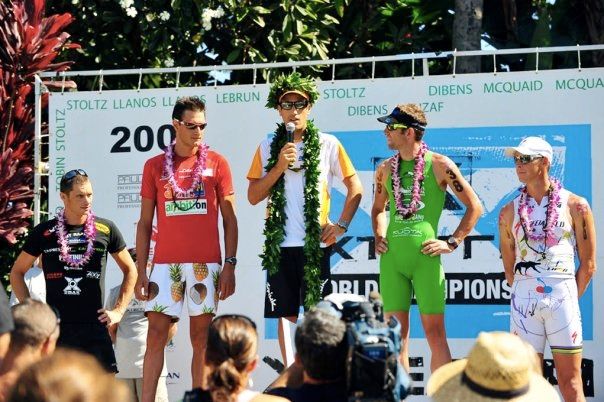 2009 XTERRA World Champs podium by Rich Cruse
From L to R: Olivier Marceau (4th), Micheal Weiss (3rd), Eneko Llanos (1st), Nico Lebrun (2nd), Conrad Stoltz (5th)
Yes, I am disappointed. (Thanks for the nice e-mails. True friends are the ones who cares no matter the result) I did everything in my power to get to this race in top form and win a 4th World title. My equipment was faultless. But I was 5th best that day. I gave 100% in preparation and execution. I am content with that knowledge.
Winners look great and when you win a race it feels easy.(ok, relatively easy) Winning means you're in control, within your limits. Losing is hard, physically. It means you gave 110%, played all your cards and lost. I gave it all, as can be seen here in my rare "Rocky Balboa on the ropes" look…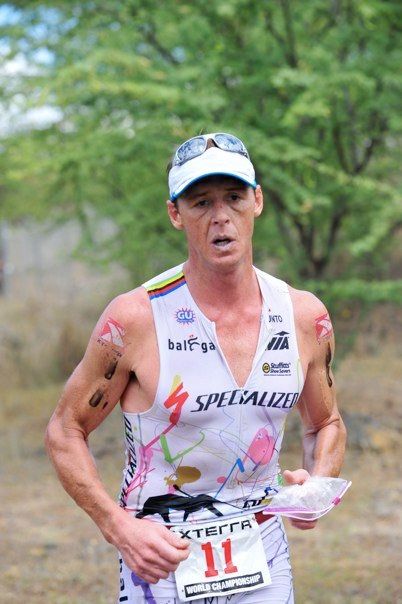 Pics by Rich Cruse, visit his album here
Too much:
The 2nd half of this season was just too much.
That cut in my foot was too deep, too long and too dirty.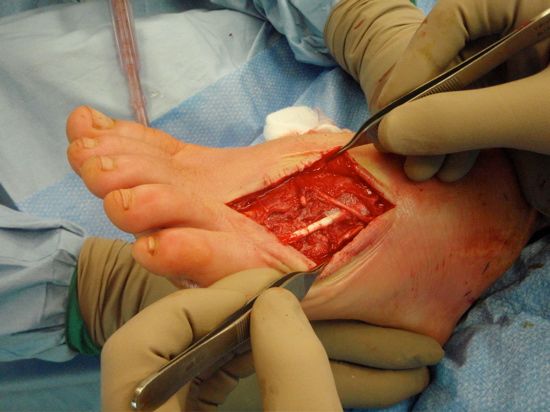 Yes that cut: (Late June at XTERRA Richmond- read race report and surgery report) Dr Moose Herring in Richmond, VA is the coolest surgeon/triathlete you'll ever come across- have your next surgery with Moose Herring…
Too much hospital time.
Too hard nosed to not race 2.5 weeks later: (with hardly any training, but it helped me win my 7th USA Series title)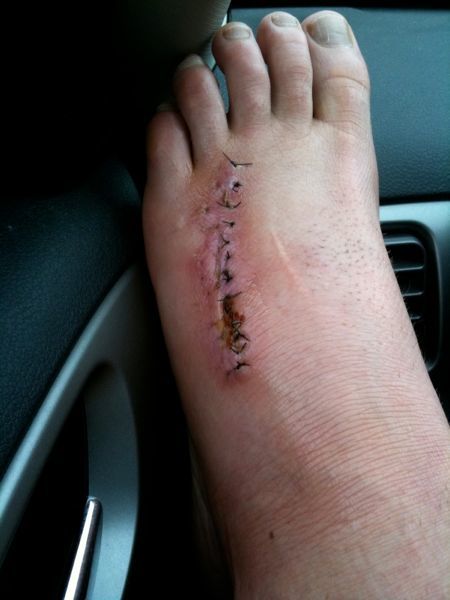 The day before XTERRA Vermont. "My foot is fine"
– Too many injuries. When I resumed training early August, the injuries started. Typical Caveman, I thought "once the hole closes, I can carry on as if nothing happened". This time I was wrong. It feels like I spent more time (and a small fortune) getting massage/ rehab/acupuncture than I spent training. I would fear running sessions, not knowing what was going to hurt next. I havent had a training related injury in ages, and I was reminded about the head games injury plays with an athlete on a deadline.
– Too little time. 3 weeks before USA Champs (7 weeks before Worlds) I realized I was in trouble. I was self coached this year, and knew how to get to Worlds in the right shape if everything went right. But everything was going wrong. I started panicking and needed someone to help me with a quick fix. Like anyone else would, I reached for Facebook. Ian Rodger was a sport scientist at the Sport Science Institute in Cape Town where he did lab tests on my preparation for the 2000 Sydney Olympics. I didnt know him well and it took me a while to track him down on Facebook. (I knew I had the right Ian Rodger when I saw the Ian with the profile pic of a cyclist riding a slimy cobblestone "road" somewhere in Belguim) I havent seen him in over 5 years, but I remember being impressed at how he combined the science of sport with the practical aspect of sport, especially cycling, and how he could look at wattage numbers and get a ton of information form it. First thing he did was to put me on 180mm cranks. A 6ft 3 guy with a 33inch saddle height warrants long levers. The 2nd thing was to lower my saddle to alleviate the lower back pain that has been bothering me for many years. (Was great in training, but in the race it showed up again- so if you see me riding sitting up, with no hands, bouncing through loose lava- its to relieve my QL pain.)
He very much liked the numbers he saw in those tests back in 2000 which instilled confidence in me. (512W Peak power and 430W for 20km) His knowledge of numbers also meant we could to some extent overcome the 12 000mi geographical coach/athlete problem. Ian did damage control during a really tough time for him personally- his mom was dying from cancer.
We only had a handful of sessions "to count" between racing USA Champs and traveling to Kona where I trained in the heat and did some appearances for Specialized and Avia. I knocked out a few good sessions- the last recorded one being 5x 10min hill climbs at an average of 451W. Of course I did too much faffing around at Ironman and subsequently missed a few days fighting a cold. Not much fun spending 3 days in a hotel bed on a tropical island.
I know its a cliche amongst athletes, but I really needed at least 4 more weeks of prep…
Too much of a road race. I dont mean to whine, but this course technically, gets easier every year. Apart from a few patches of loose pebbles, 2 turns and a few steep climbs, its really a road ride with 3000ft of climbing. What happened to laying awake the night before the race, trying to remember which gnarly root section came after the 3ft drop off? Its cool to have 500 people in the same race at the same time, but if the course gets any easier we'll have to start calling it "Ironman."
Too bad bad luck strikes all too often: 2 Days before Worlds Ruben Ruzafa (last years champion) crashed on the practice course and got 40 stitches, Brent McMahon was injured last minute and DNSed. Dan Hugo's season was similar to mine- got hit by an apple truck in the spring, struggled with subsequent injuries and then finally H1N1 finished his season off- bad things happen to great athletes– its the nature of the game. Especially this one.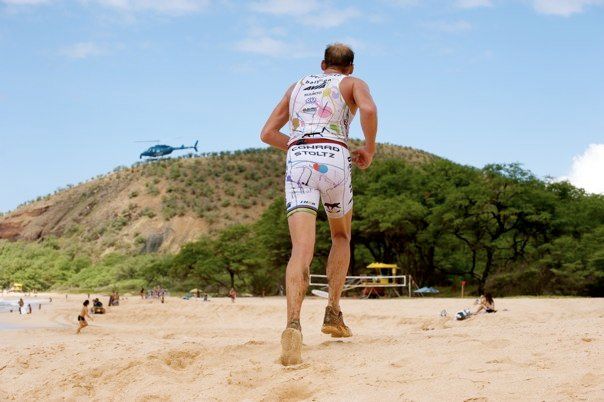 I fought them on the landings, I fought them in the trenches and I fought them on the beaches, but I was seeing so many stars, I cant even remember on which beach Olivier Marceau passed me for 4th.
Hindsight. After a long, hard and stressful season with seemingly more time on the massage table than in training, a $45k hospital bill (thankfully USAT took care of that), it was nice to wash away the dirt, stress and bad memories of a good season turned bad. And temporary respite from the heavy burden of being the guy who has to win.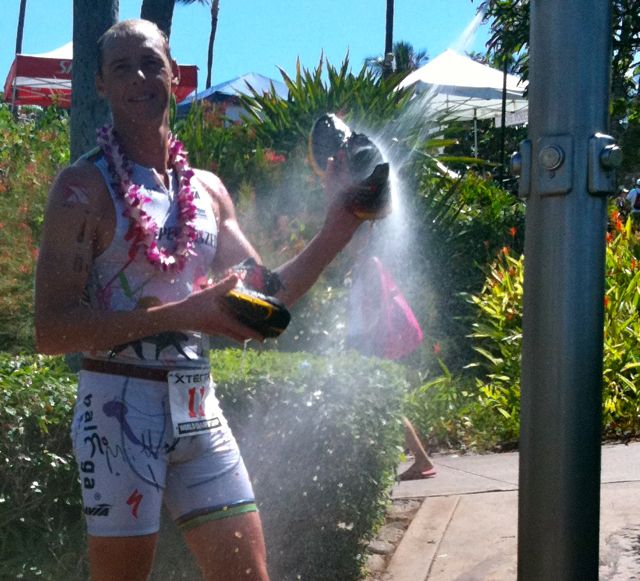 Excited about the upgrade to the new Avia AVI Stoltz we have been testing. Firmer midsole