XTERRA Worlds review 2015
Created on 07 November 2015
Last Updated on 09 November 2015
4 Comments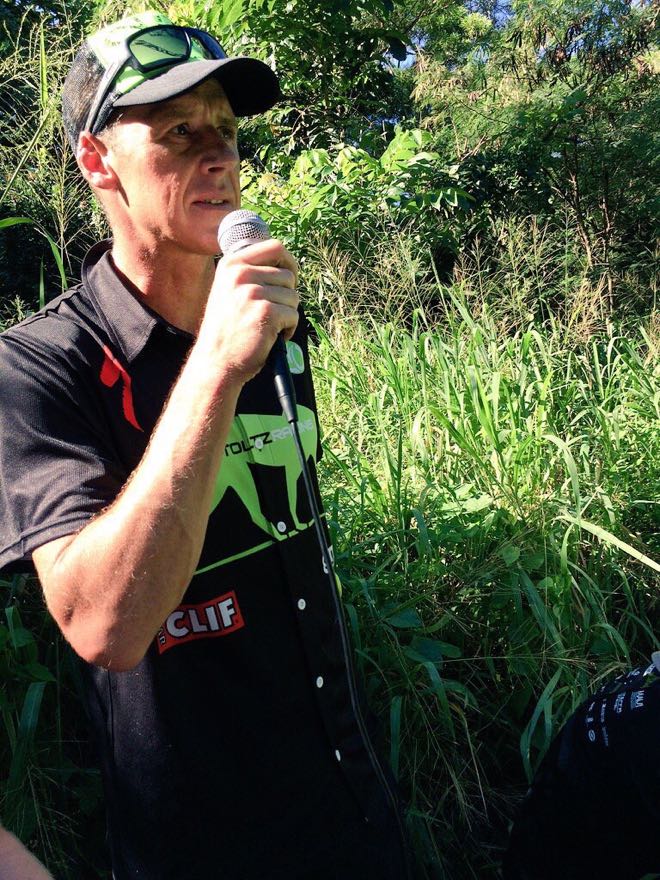 Watching (and commentating for LiveStream) from the sidelines was quite insightful and more fun than I expected.
Here's some thoughts from "Caveman the outsider" – who used to be on the inside:
This race was really loaded and promised to be quite exciting:
Listed in finishing position. First part on each athlete are my thoughts before the race and below the image, the actual race.
Josiah Middaugh USA: Supreme competitor. Scientific & focused prep. Physically gifted. Awesome guy (outside of racing 🙂 and humble with a quirky, fun loving family.
Strengths: Climbing, any kind of running. Halloween costume.
Weakness: Swim, technical riding. (except in Bama when its raining)
Had 15 tries at Maui! Really wants to win.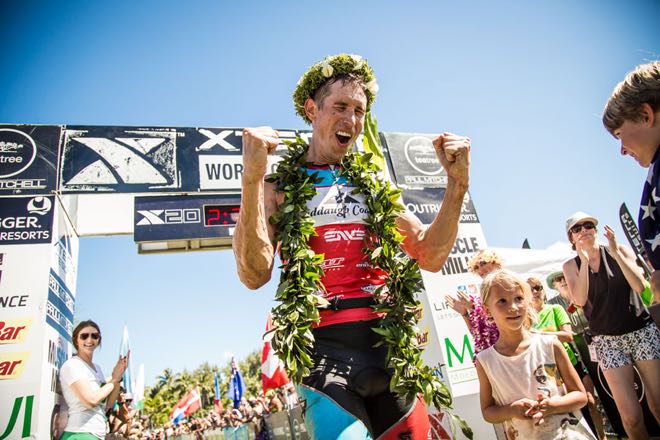 And win he did! An epic and mostly close fought battle with seemingly unbeatable Ruben Ruzafa (15 wins in a row, 4 World titles) and rising star Braden Currie.
Josiah had the swim of his life to get out the water on Rubens feet – usually he is 1min+ down on Ruben and 2 – 2.30 on the leaders. We dont really know how things went down on those nasty, early climbs, but I'm glad I wasnt there to bear the brunt of it.
["I felt really good on the bike," said Middaugh.  "I was riding with Ruben and then I had a spill on an off-camber corner.  It was a little wet, lost my front tire and went down. It was just enough to lose 20 seconds to Ruben, and I was able to stay in that gap but some people filled in – Paco (Francisco Serrano) and Braden (Currie).  Then I came down and washed out over another corner, turned the handlebars over and was then 45 seconds behind Ruben and I was just trying to keep it.  Last year he put 45 seconds on me on the last five miles, this year he put one-minute on me.  Nothing you can do, he's an amazing rider."] – borrowed from XTERRAPlanet.com
Josiah was 90″ down on Ruben into the run, and ["I caught Ruben right before the lake at the big climb.  I was making back 20-30 seconds a mile on him.  I was shocked.  Last year he was climbing at the same speed as I was.  I was charging as hard as I could, I was lifting my knees and pumping as hard as I could go and I knew I was coming back on him.  It felt good."]
He seemed to forget the mishap with a tree on the run, which was so momentous, it took me a while to figure out if it was intended or not…
Check it out the highlight video here.
Hats off Josiah. A class act. You have the recipe – now cut and paste…
"15th time's a charm"
Braden Currie NZ:   Tough as nails Kiwi. Coast to Coast and adventure racing legend switch hitting XTERRA and 70.3. Super competitive. Small – loves climbing. Great all rounder. Only possible weakness is technical riding. Will win here some day.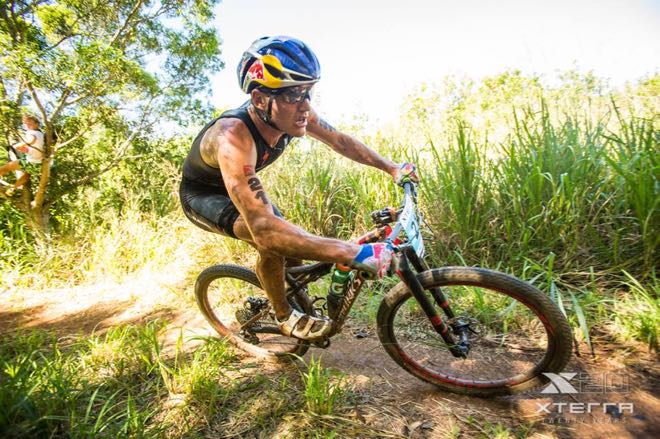 Rapidly climbing, and topping XTERRA podiums around the world, Braden executed well for 2nd place. Swam with the lead pack, rode the 3rd best time and ran the 4th best time to finish 3 minutes behind Josiah. He lost contact with the front of the race when he stopped to "fix a flat", only to find out it was a bunch of grass dragging off the rear end.
"I was disappointed with myself on the bike," said Currie. "Ruben shot past me and got away from me.  Josiah caught me up a long climb and we rode together for a while and then I thought I got a flat but it was just a piece of grass in my spokes, but I stopped to check it out and by the time I looked up Josiah was gone.  That was my chance of holding his wheel, about three-quarters through the bike."
Started the run 90″ down on Josiah and 2.30 on Ruben, he was content with 3rd, but was surprised "I wasn't expecting it at all.  The last split I got was three minutes down towards the top, and I thought that was that and I was happy with third but then all of a sudden I saw Ruben halfway down the downhill and he was sort of in a box and I think he maybe overheated," said Currie.
The few times I raced Braden, I was impressed by how hard he can push himself! Sometimes it aint pretty, (I particularly remember that last hill at XTERRA Italy) but he gets the job done.
"It was really tough racing.  I know that I made huge improvements and that's the big thing.  I haven't taken any step backwards in a few years.  Stoked with my mountain biking now to know that I can match it with those guys and push them hard enough that they are at their absolute limit.  So yeah, Josiah is older than I am and I'll catch him one day."  Watch out for Mauricio 🙂

Ruben Ruzafa ESP: Proven track record. Ruben has been unbeaten in the past 15 races – including 4 World titles- quite a significant winning streak! Never a mechanical, never an off day, also considering the varied courses and high level of competition.
Swims & runs well, wins on the bike. Strengths: Any kind of cycling, any kind of climbing, heat.
Weakness: Downhill run, loses about 60″ to leaders in swim, more if its wetsuit legal.
Seemed slightly more beatable this year.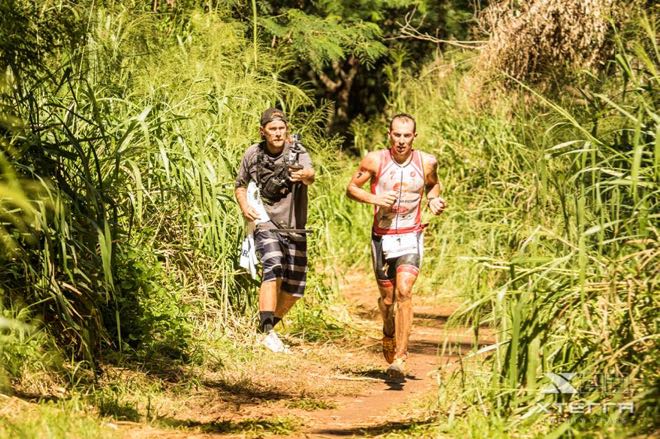 3rd. Ruben came out the ocean with Josiah right on his feet. That must be an uncomfortable place to be! Knowing he needed a 2 minute lead going into the run to be safe, he must have ridden really really hard. With a 90″ lead off the bike, he says he "exploded" early on in the run. Josiah erased the gap in only 3 miles, and Ruben's ensuing cramps on the downhill was made more miserable by Braden Currie pouncing in for 2nd. So the man is human after all. He will be back more determined next year…
Mauricio Mendez MEX: Just turned 20! Finished 5th here last year! Fantastic swimmer and insane runner. Needs to improve his bike fitness and skills some more. (has plenty of time!) Very friendly & humble, well spoken, does not over race. This guy has it all.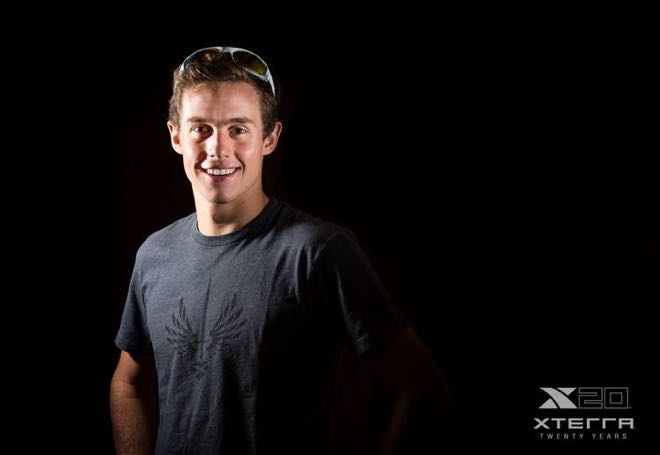 4th. Mauricio  was out the water in 4th, lost a fair bit of time (10min) on the bike, but obviously left some tiger in the tank to run all the way back into 4th. Posting the best run split by a minute! Running a full minute faster than Josiah in #BeastMode is quite special. Watch this space!
"That was cool, I was feeling good.  When I was on the beach and saw Ruben so close I tried to catch him but couldn't.  I'm very grateful.  Looking forward to next year, a top three I hope for and I'll train for that."
Courtney Atkinson AUS: Legendary Aussie ITU athlete and dabbler in XTERRA. May race in his 3rd Olympics next year. Won XTERRA Oceania this year. Best swimmer in the field. Tentative on the MTB. Maybe a bit big for all the climbing & heat?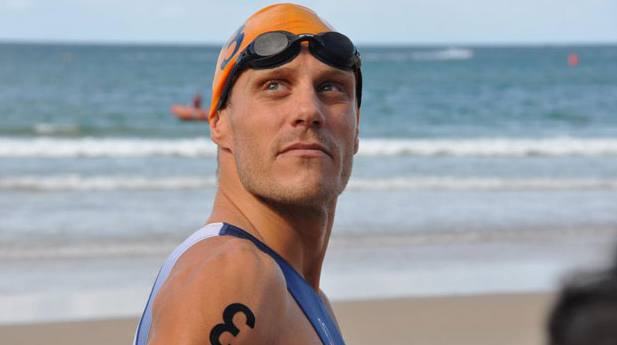 Courtney 5th. Was I wrong! Courtney may not be able to put his number on upright, (old pic 🙂 but he did put together a great race. He had a nice lead out the swim, lost a fair bit of time on the bike, but the 3rd fastest run put him all the way to 5th. XTERRA is his little hobby on the side – who knows what will happen when he puts his mind to it?!
"XTERRA Maui, its one hell of a race I tell you.  I was very fit this year.  I always said I wanted to race Maui at least one more time while I was competitively fit.  Whether I am competitively fit next year and can come back again and do it who knows, but I'm happy with that, very happy.  Time to party."
Paco Serrano MEX: Had a smoking season so far! He's been away from XTERRA due to Olympics & road tris getting in the way. But finished 2nd at ITU Cross Tri Worlds recently. Strong all round, esp in the heat. May lose some time in the more technical stuff.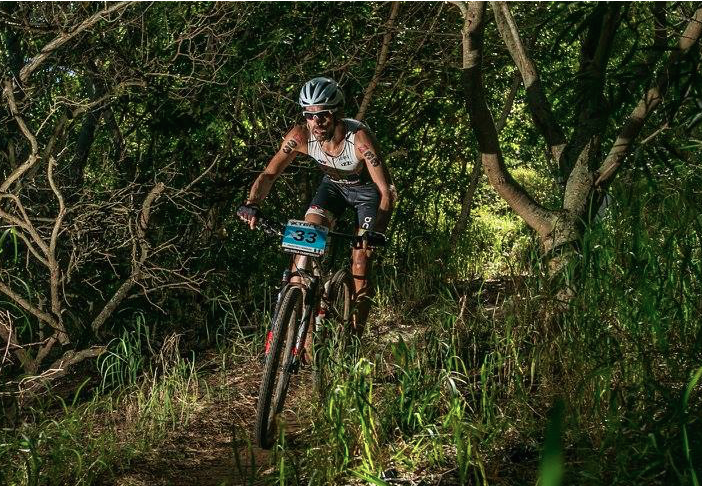 Paco sans saddle
6th. Paco was out the water in the lead pack, climbed really well, moving up to 2nd but then broke his saddle completely off the seat post halfway into the ride. "My seat went poof, and was gone" He stopped to remove the splinters and put a water bottle over the seat post and carried on riding standing up! This is Worlds and he was determined to go flat out till the end. I saw him at 10 mi to go, still in 4th, not far off the lead. But unable to sit down, take water bottles, or drink at all, was tough enough on its own, but the last 5mi was the most technical part of the course!  Not sure how he got through there safely, but obviously his legs were cooked and didnt have his usual run. 6th is great considering 99% of athletes would have thrown the towel in.
Rom Akerson, Costa Rica: Had some really strong performances this year. Can swim, bike and run. Small & thin = can climb & likes the heat. Dark horse here.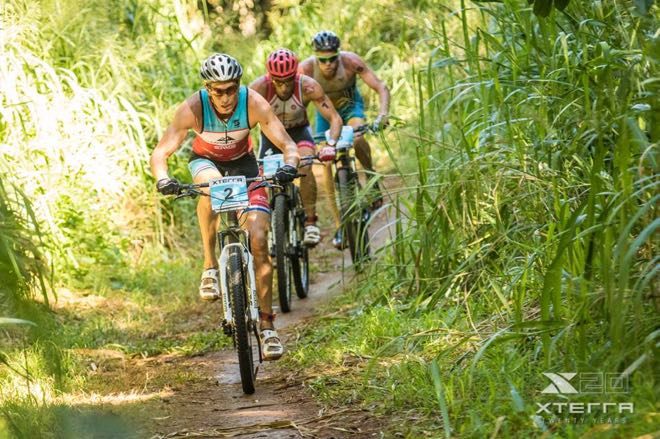 Serious chase pack – Josiah, Ruben & Rom.
8th for Rom. He was right up there at the end of the bike, but this course is a man eater, he lost some time on the run to a credible finish.
Ben Hoffman USA: Finished a disappointing 13th in Kona 3 weeks ago. Obviously can swim, bike and run. 2nd at XTERRA CO. Smaller guy – good for climbing volcanoes in the tropics. Has an Ironman in his legs. Who knows how serious (and risky) he is?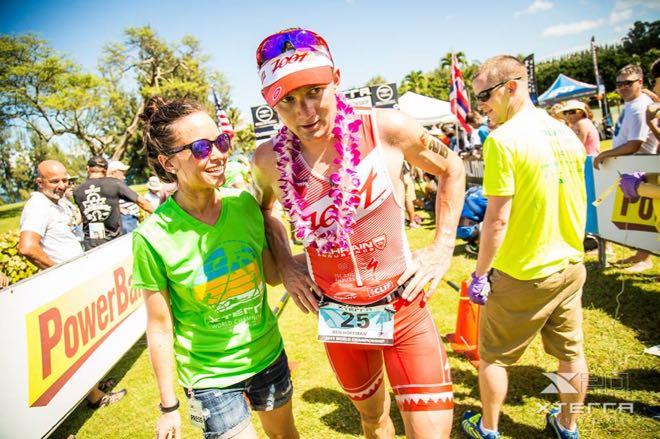 10th for Ben. Up there at the top of the climb, but lost about 13min on the bike course. Not bad for an Ironman on holiday. He must be the only pro who didnt pre ride the back end of the course, spending time in hippiedom of Paia (also kite surf paradise) instead 🙂  If Ben took this somewhat seriously, he would certainly be in the run for podium.
Ben Allen AUS: Has had an up and down year, but always had good results in Maui. Great swimmer, especially if the ocean is angry. Climbs well. Runs well. Maybe races & travels too much?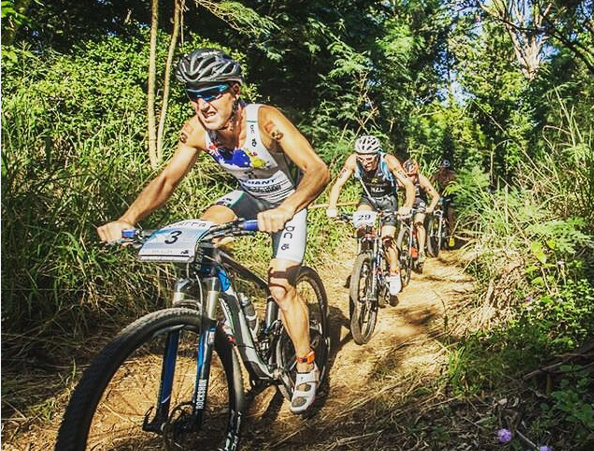 14th for Ben. He obviously had an off day, losing time on the bike and run. "Back to the drawingboard" he said.
"Josiah always says you don't really learn anything from winning.  I'll learn from this and come back and hopefully do better."
Sam Osbourne NZ:
Most underrated guy on the start list. Normally races ITU circuit. Crossing over to XTERRA. 3rd at ITU Cross Tri Worlds last month. 2nd in NZ to Currie. Swims front pack comfortably, runs ridiculously fast. Small guy, should be able to climb well. Probably needs to get comfortable on the knobbly tyre bike. Lives in Rotorua- born with the Trail Gene. 1st try at XTERRA Worlds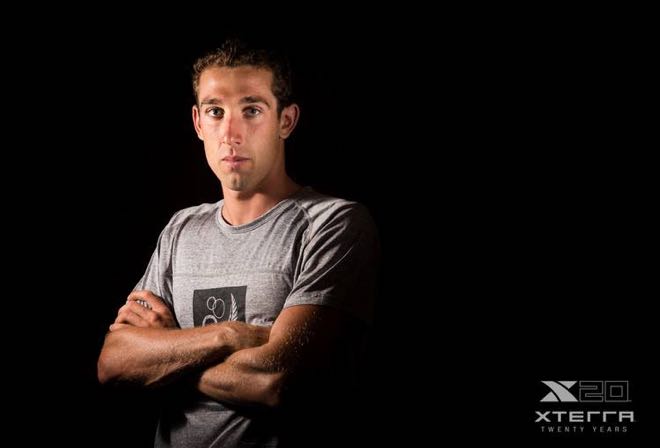 DNF: Sam was in the mix at the top of the ridge, but damaged his derailleur and had to bundu bash his way home on foot. I hope he'll be back next year. A cool guy (like all Kiwis) who fits into the XTERRA tribe nicely.