Posts Tagged 'suunto Ambit3'
Perdeberg Winery Mountain Biking – Conrad Stoltz
Created on 04 March 2015
6 Comments

Perdeberg Winery– known as "The Home of Chenin Blanc" and for producing 33 million litres of wine per year, is now also offering scenic, family friendly mountain biking routes for young and old.
This Saturday's Perdeberg MTB Funride, in conjunction with the Ommiberg Festival  is hosted by trail legends Dirtopia.  The event features family friendly* 16km and 36km routes.   *"Family friendly" refers to easy, fun to ride dirt roads with maybe a few sandy patches. No death defying obstacles and no "Wish-your-mommy-is-here-climbs." Any mountain bike will do.
A certain "Caveman" will do the prize giving…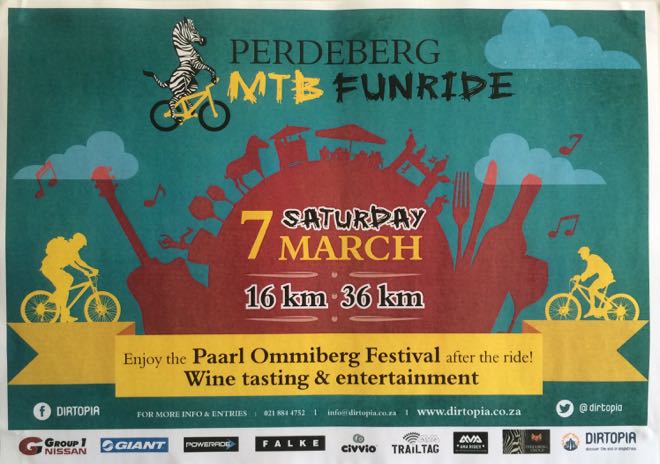 Like is says in the flyer- this is a wine festival– once you've put your bike away,  there's wine tasting- including a traditional straight-from-the-tank tasting with onion tart pairing. There will also be live bands, food stalls, a petting zoo for kids and a lively Best/Most unique dressed contest – where you can win a 3L bottle wine. Dress theme: Red Red Wine…
Make sure to meet the lively Paleo eating, winery mascot Merlot the Zebra. What a character! In his own words: "I am a LEAN,
Video: Off Season Run & Strength training #CavemanStyle
Created on 23 December 2014
0 Comments

Join me on an off season training run through the bush on our farm – Roodewalshoek Conservancy, in Mpumalanga, South Africa. Also includes strength training, stream crossings, wildlife and a peek into what makes the #Caveman tick…
Created on 19 November 2014
0 Comments
Suunto Adventure film. Take a peek into the lives and minds of Suunto Adventurers. What makes us tick?
Using my Suunto Ambit3 GPS Sports watch to push the limits, chase the horizon, and sometimes, even win races.
#SuuntoAdventure #SuuntoTri