Posts Tagged 'swimming'
Only have 30 minutes to swim? Get Caveman-BANG-for-your-30min swim set:
Created on 22 July 2014
1 Comment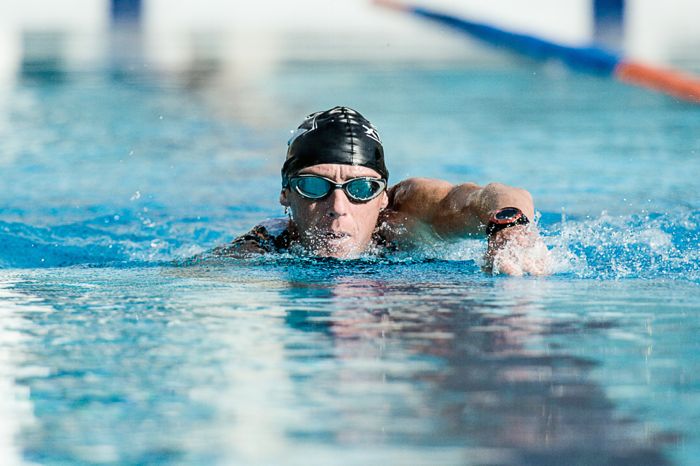 Make pool time count.                          Photo by Hendrik Steytler
Finding time to train for 3 sports is hard enough as it is.
Last week I was at the Specialized Dealer Event and between riding 2015 bikes with dealers, presentations, expo, catching up with industry friends and bike & run training, I only had 30minutes to squeeze in a quick swim.
I jogged the few street blocks to the local 25yd pool and hit the water running:
Caveman's Magic 30min swim set:
– Warm up: 8 minute easy swimming, focussing on feeling the water and concentrating on good stroke. Once I start feeling good, I like to throw in some one arm swimming (other arm by the side) and maybe a 100 IM or 2- to get the heart rate up and get some more "feel" for the water.
– Main set: 20 minutes of sprinting 25s. Sounds easy, but the trick is in the rest period: Only 3 breaths "rest." Between the hard sprinting and short rests, pretty soon I'm at theshold. Its the best of both worlds: I can swim 20min harder than race pace, but  the short rests keeps the effort high,without blowing my arms up. The 3 breaths also teaches you to control your breathing-  focus on breathing deeply and recovering as much as possible in the short time. In a 25yd pool my send off is about 20 seconds, and this work out adds up to about 1800yds. (1600m)
– Cool down: 2 minutes easy with some back stroke to flush the lactic acid.
Of course, if you're serious about swim performance, this should not be your "bread and butter" swim set, but it works great if you're short on time, just want to maintain fitness. And after all, staring at the bottom of the pool is only fun for a while.
Make every length count.
Caveman's semi secret swimming protocol
Created on 18 September 2010
4 Comments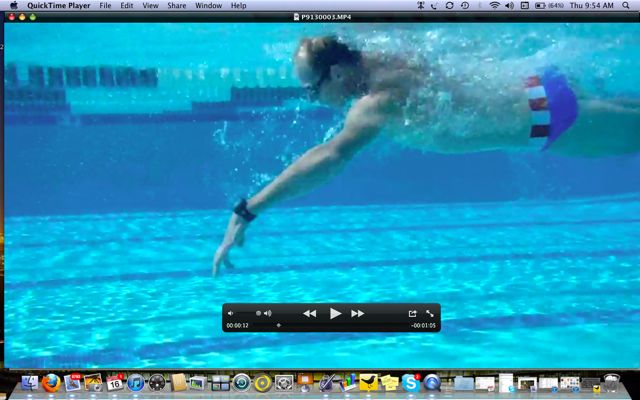 Thought you'd like the Captain America Speedo. It has a star on the front. ( I like to antagonize Speedophobes with my speedo collection, but so far I've only got smiles and comments)
Swimming is all about efficiency. Fitness and power is just a sideshow. You can quote me on that.
I've been swimming for 24 years now. I used to be able to knock out hard 6km sessions by myself all week long, I once swam a 10.5km session