This one time, at band camp, I rode 300 Watts for 3hrs
Created on 23 February 2010
Last Updated on 23 February 2010
8 Comments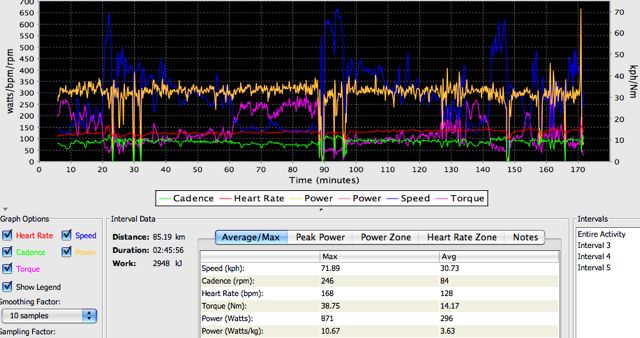 Since I ate my helmet, (and embraced training technology when we started base training about a month ago.) I have been enjoying training with my Power Tap thoroughly. (Rent your Power Tap today from the folks at Saris/CycleOps, South Africa)
For Valentines' Day, my coach Ian Rodger gave me 3 hrs at 300 Watts. So romantic.  I rode to the top of Franschoek pass, and being new to trying to keep a constant power, I'll tell you, trying to do 300W downhill through the road works in Pniel or down the main street of Franschoek with tourist drivers, speed bumps and couples on Valentines dates, gave a new meaning to "adrenaline"…
Also, going down the pass I tried to shape myself into a parachute, because the 53×11 was not enough. Fortunately those 28mm Specialized Armadillo tires at 60psi helped slow things down and smooth the road a bit.
I'm really excited about this new way of training, focusing on maintaining a specific wattage and cadence makes for serious concentration. I noted a 15 beat higher heart rate at the same wattage when using Powercranks.
The riding is a lot harder that what I used to do my long rides at and I regularly burn 1000 Calories per hour. Surprised at how quickly I ran out of food. (4 gels and 5 scoops) 2h08 into this particular ride, and things became ugly soon thereafter. I was going to knock out a big sprint at the end, but by the time I got there I could only manage 870W. (As opposed to the 1160W I did at the end of today's ride…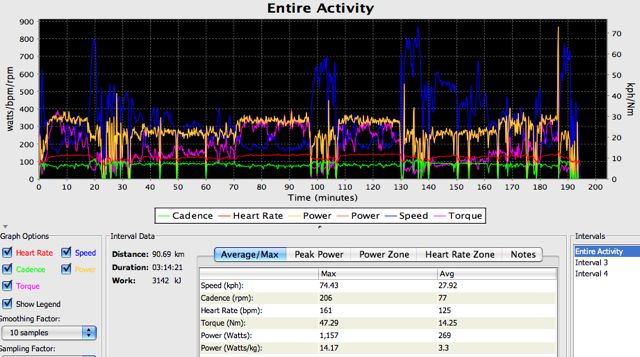 The task for this ride was: 3h30 with 4 climbs (Hells Hoogte and Franschoek) at 330 W and 75-80 rpm. The flats at 250W and 90rpm. On the flats, include 4 x 10min with Powercranks unlocked. Anyone who knows Powercranks can tell that 90prm at any watts is no joke.
The goal is 450W for 1 hr at 80kg on a 10kg bike. 11.2kg if its a 29er…