XTERRA Richmond. PG 13- B&G- Blood and Gore
Created on 14 June 2009
Last Updated on 14 June 2009
14 Comments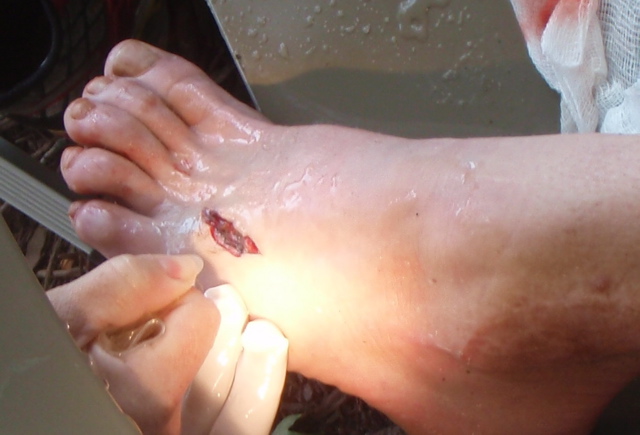 The black stuff in there is rotting steel girder and James River mud. They breed us tough in Africa…
3 minutes before the start I moved a stray swim buoy to where it should be and kicked an old, rusty steel girder lodged in the mud under water. The gash was huge and completely black with rusty steel slime. I hobbled to the waters edge and the athletes parted way in a "whooooa!"
The race was about to start any moment and I had no idea how bad the injury was. One of the age group athletes (Kristen I think) is a doctor and came over for help. She said "those are tendons", but they dont seems damaged as I could move my toes.
I somehow thrive on hardship and said: "I'm racing" A 1st aid crew quickly put gauze over it (to keep the dirt in?) and wound Ceran wrap around it.
A fellow pro yelled at me- "Race starts in 1 minute". Fortunately there wasnt any time to think- the gun went and within a few minutes minutes so did the ceran wrap. Thats when it started hurting. Skin flapping around and I could visualize the flithy funk of the James River in flood irrigating the rusty steel girder out of the wound. I didnt care about keeping up or reading the tricky currents- I just flailed arms and tried to keep my left foot still.
I came out the swim in 4th and Cal from XTERRA yelled: "there is a doctor waiting by your bike!" When I got to my bike I sat down and Dr Matt Marchal (a volunteer doctor at this event every year)  washed the wound with hydro peroxide and wrapped it in crepe tape while I put on my helmet and gloves.  It couldnt have taken more than 30 seconds- not quite a F1 pit stop, but I left transition still in 4th!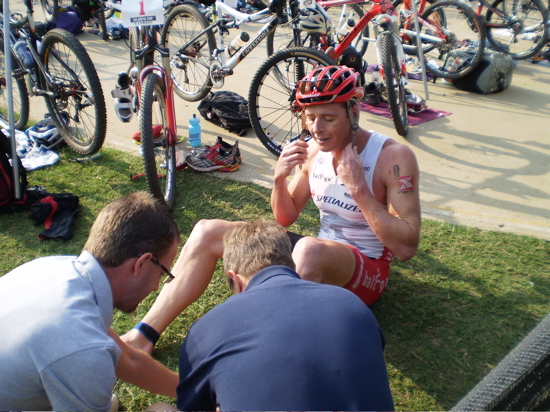 Photo by Riccardo and Marco. Grazi!
Fortunately my form is ON and I just jammed down the Watts, catching  Dan Hugo and then leader Craig Evans just before the end of the 1st single track.
More fast open road and I was determined not to take any passengers on the bus- managed to ride Dan and Craig off my wheel before we got to the technical parts. This XTERRA Richmond course is my favourite- its downtown, its fast, most of it is quite technical and spectators everywhere.
The foot didnt hurt and didnt bleed on the bike, but it DID bleed on the run!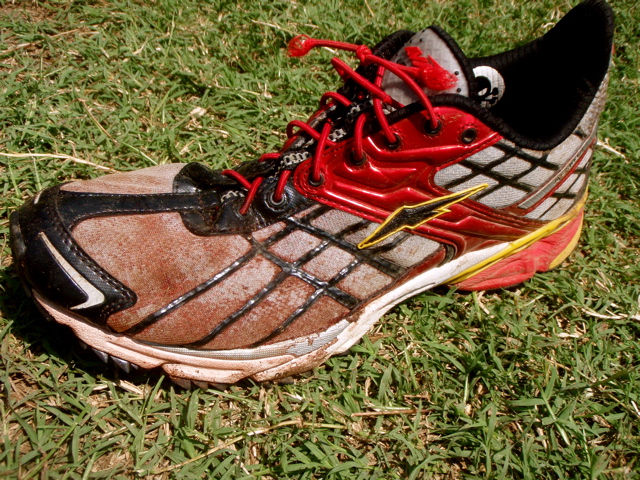 The AVIA Avi STOLTZ looks even better blood soaked. Maybe we should design the 2010 model with blood built in…
I had an ok lead  on the run- ie – couldnt see anyone behind me on the straights, but when I started feeling tired I couldnt help wondering if it was fatique or loss of blood…
I won my 4th XTERRA Richmond Champs- Josiah Middaugh was 2nd, Nico Lebrun a close 3rd, then Mike Vine and Dan Hugo held onto 5th.
Melanie McQuaid extended her winning steak to 5 in a row, ever smiling Shonny Vanlandingham got 2nd and Danelle kabush 3rd.
As soon as I crossed the line Dr Matt got hold of me propely and worked that wound good and proper- have to be ready for XTERRA Arkansas in 5 days viagra kopen online…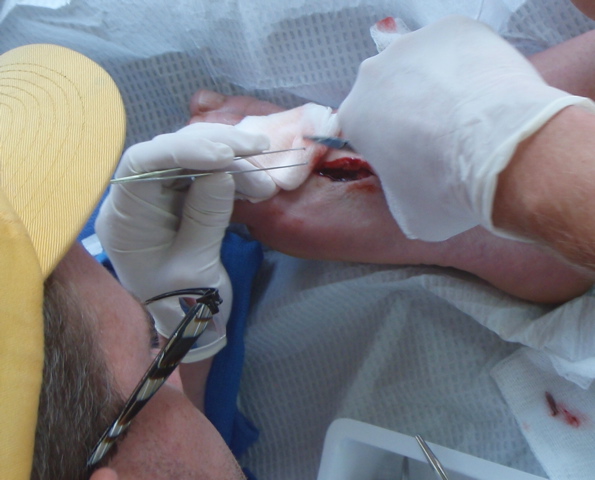 Dr Matt picking out the bits and pieces before trimming the edges at the finish.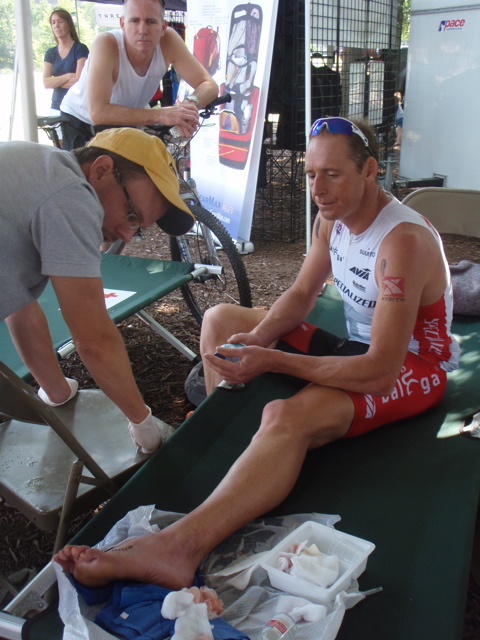 Doc says: "If its gets red or puffy- call me. No swimming, keep moving it and running and biking is ok"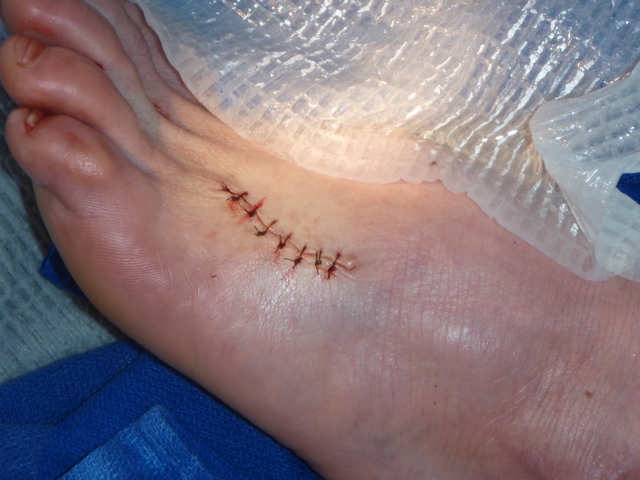 Thanks a lot to Carol Hart from Balega who took these gruesome pictures and twittered (BalegaGirl) so my mom wouldnt panic too much…