10 Questions with Irish Triathlete, Gavin Noble
Created on 28 August 2009
Last Updated on 28 August 2009
5 Comments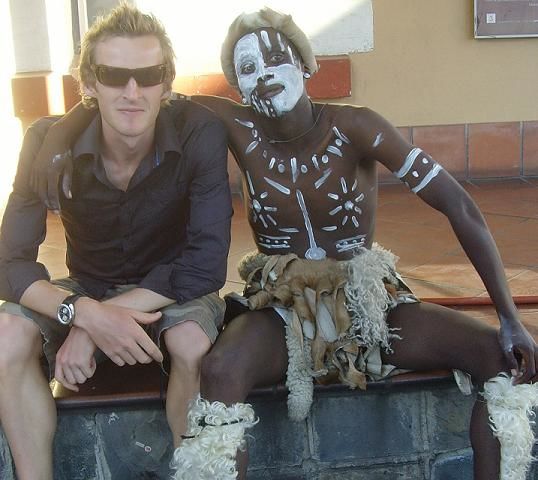 Gav is the one on the left.
Over the next 2 weeks or so I will post a series of interviews with my TriathlonTeam.org teammates.: "10 Questions with …."
Gavin replied 1st, so I'll post them in the order received.
For starters, and the reader's benefit, write a short paragraph about yourself:
I love drafting. I'm just going to put that out there. I know it's not to everyone's taste, especially in the land of hope and glory. but I have been brought up on ITU Elite Drafting Races and currently I am professional on the ITU scene.
Some people call me 'Mr pink' (I rode a pink bike for 2 seasons), some people called me a space cowboy, some people call me Maurice. My mum calls me often.
I like to do things in threes – Sports, running sessions, eating cake, waiting in the rain for the right bus to arrive.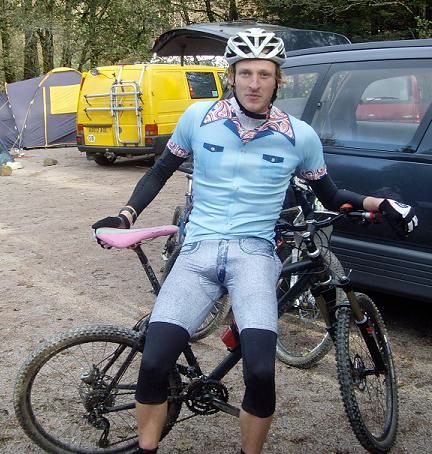 Judging by the mountain bike and the Halloween outfit, Gav could grace us at  XTERRA  Worlds in Maui some day… (Conrad)
How you feel about your season so far?
my season was slow to start – I punctured, I crashed out, I cursed in 12 degree water. Internationally I picked out 4 races and planned things around them. I raced ITU World Championship Series Washington DC (i was an american virgin until then), London and Yokohama. My results progressing from 25th in Washington to 11th in Yokohama. At the moment I am not quite sure whats the plan – the ITU season is coming to an end and winter is on the horizon. (I told you- XTERRA Worlds- you already have the bike for the race and the outfit for the party- C)
1 ) Your favourite sporting memory?
I have loads of great memories but the best race I have ever witnessed was the 1997 world champs in Perth Australia when Chris McCormack won – he led Hamish Carter and Simon Lessing out of transition and ran about 15m ahead for the whole 10k. There were no barriers on the run course so the crowd spilled out on the road – there were so many people and the noise was unbelievable. You couldnt actually see the runners coming until the last moment when the crowd parted in front of them – it was like a mountain stage scene from the Tour De France. (You're right, that was an epic battle! I watched it from about 39th place)
2 ) Your biggest/ most memorable training day?
Most of my training days are big and memorable !! During the winter in South Africa I started to run 3 times per day – easy run in the morning, intervals at noon and a progression run in the evening (between 35k and a marathon in total)- often there would have been an easy 2k swim mixed in – a 2k swim in the sun where the girls hung out – it was termed a 2k special.
I only had a couple of nights out over the winter in Stellenbosch. My most memorable training day was also my worst training day. 2 days before I left I went out on the town. Myself and others had arranged to meet Specialized Mountain Biker Christophe Sauser at 9am the next day. I rocked home at 5am ! Got up at 8.40 and just about made it for 9. I was feeling really rough and to my horror when I came along everyone was on road bikes ! 4hrs into the ride I was dropped and I struggled home for another hour in 35degree heat (thinking back 4hrs was a creditable enough effort). I was majorly dehydrated and ill by the end. That night I had fever, I was hallucinating, I would fall asleep on my bed and wake up on the front porch . . . . . it was wild. (Note: dont tell Sauser this as it is very un professional to turn up to a ride in such a state, especially on a mountain bike with a lady bird bell and pink saddle).
3 ) Who will win ITU Worlds this year?
ITU Worlds is different this year as the Champion is crowned not from who wins the race but who is highest in the rankings at the end of it. So Australian Emma Moffet and Britains Alastair Brownlee should and I think will be crowned World Champs – they already have 4 victories this year and are the current leaders.
4 ) When racing, what do you think about when it is crunch time?
I think "shit this is it, make it, just make it". In ITU racing thats normally in the first couple of KM on the bike when the groups form or even after 300m of the swim at the first buoy when its life or death.
5 ) The holidays got the better of you and all of a sudden the scale is telling an unhappy tale. How do you get rid of your blubber?
I follow the 'lollipop diet' or 'corn on the cob diet'  or the 'run 3 times a day diet'. In any case, it's not a great holiday if theres not a bit of blubber !? In fact by the end of the season I am looking forward to the blubber. A couple of months and it will disappear slowly but surely.
6 ) If you had to train to only 1 song for the rest of the year, which  one would it be?
'Pack it up, pack it in, let me begin, I came to win, battle me thats a sin' – House of pain, Jump Around.
7 ) Send a picture of something that makes you happy.
Jam – jam makes me happy.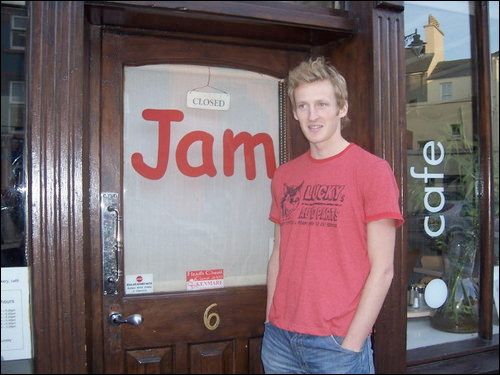 8 ) Tell us a funny/weird travel story.
Once in London Heathrow I was desperately running around looking for a toilet. The mens were closed for cleaning so I jumped into the disabled toilet. There was an angry knock on the door after a couple of minutes. Once I had done what I come to do,  I opened the door and was greeted by an angry little man in a wheel chair Slightly embarrassed I apologized and hurried off before he had the chance to 'tell me off'. Minutes later I was sitting waiting for the departure gate to be announced when out of the corner of my eye I spotted my disabled friend come flying along  . . . wearing my bike helmet !!!!!! I had left it behind me in the toilet !! I then found myself chasing this guy through the terminal. Once I caught up to him he then lectured me about using the disabled toilet.
9 ) The worst place you have ever slept?
In a disabled toilet in London Gatwick airport – I had missed my connection and had to wait 8 hours until morning –  I received a lecture about that too.  (Sounds like London airports really are Harry Potter-esque – C)
10 ) How 'bout a Gavism?
And if for only 1 day . . . oh what a day
(this quote can be applied to absolutely any dream, legal or illegal)
Gavin is the newby on i-am-specialized.com and be sure to visit GavinNoble.com for the man behind the story.